Sunday July 22, 2007, 43 miles (70 km) – Total so far: 1,758 miles (2,829 km)
43.27 Miles
     Click Here to Visit The Table of Contents
     Click Here to Visit Previous Page: Day 35: Chicago, IL to Chicago, IL: Discreetly in Chicago Video
     Click Here to Visit The Next Page: Day 37: Chicago, IL to Geneva, IL: Prairie Path Video
We woke up at 6:30am to make sure we made it to our 9am boat tour. We stopped for breakfast on the way to the boat tour. After breakfast chuck had to drop#2 and someone was in the bathroom taking a really long time. I watched chuck very politely lose his mind until that person came out. He was furious there was only 1 toilet in that entire diner. It was pretty funny.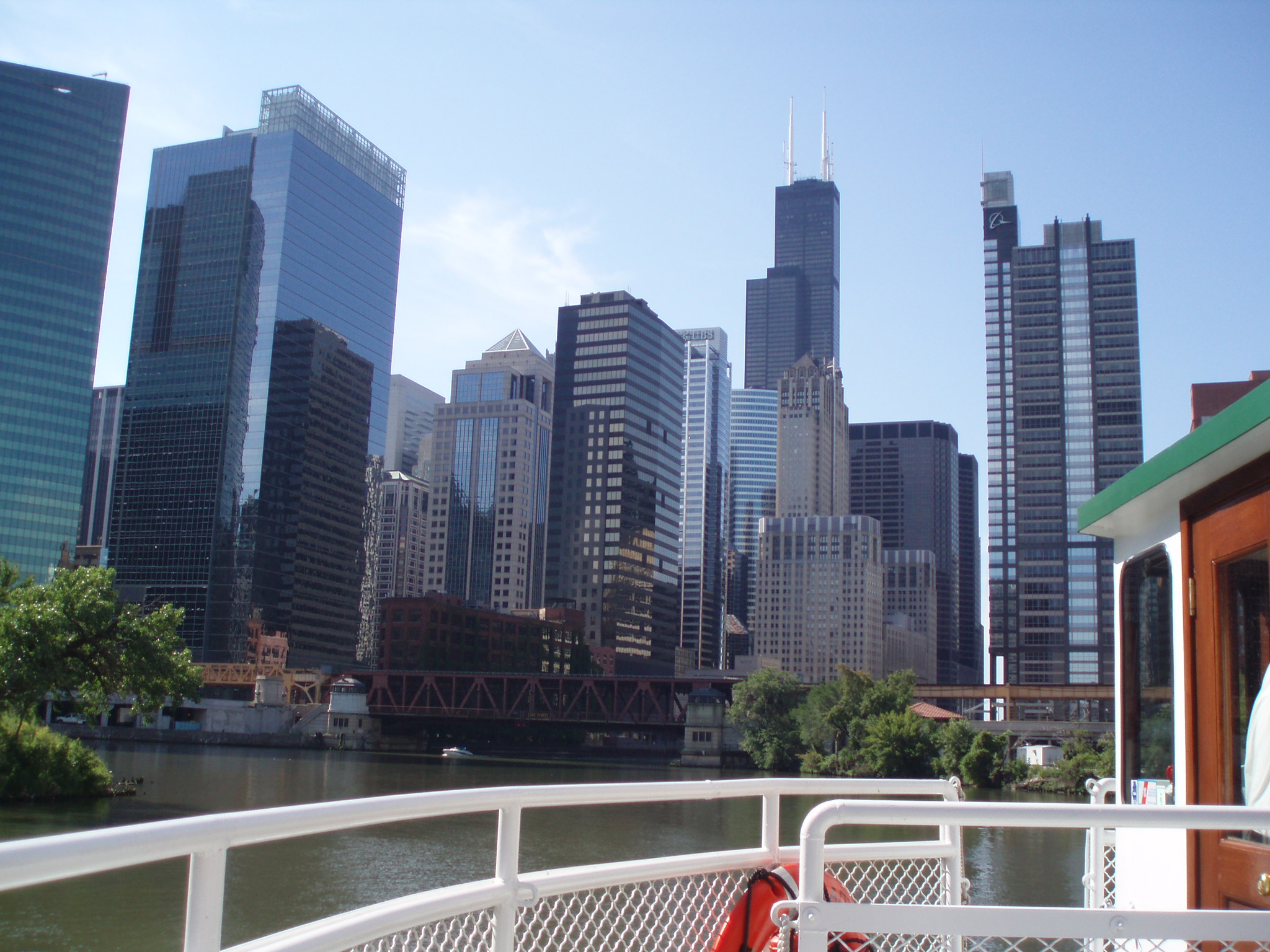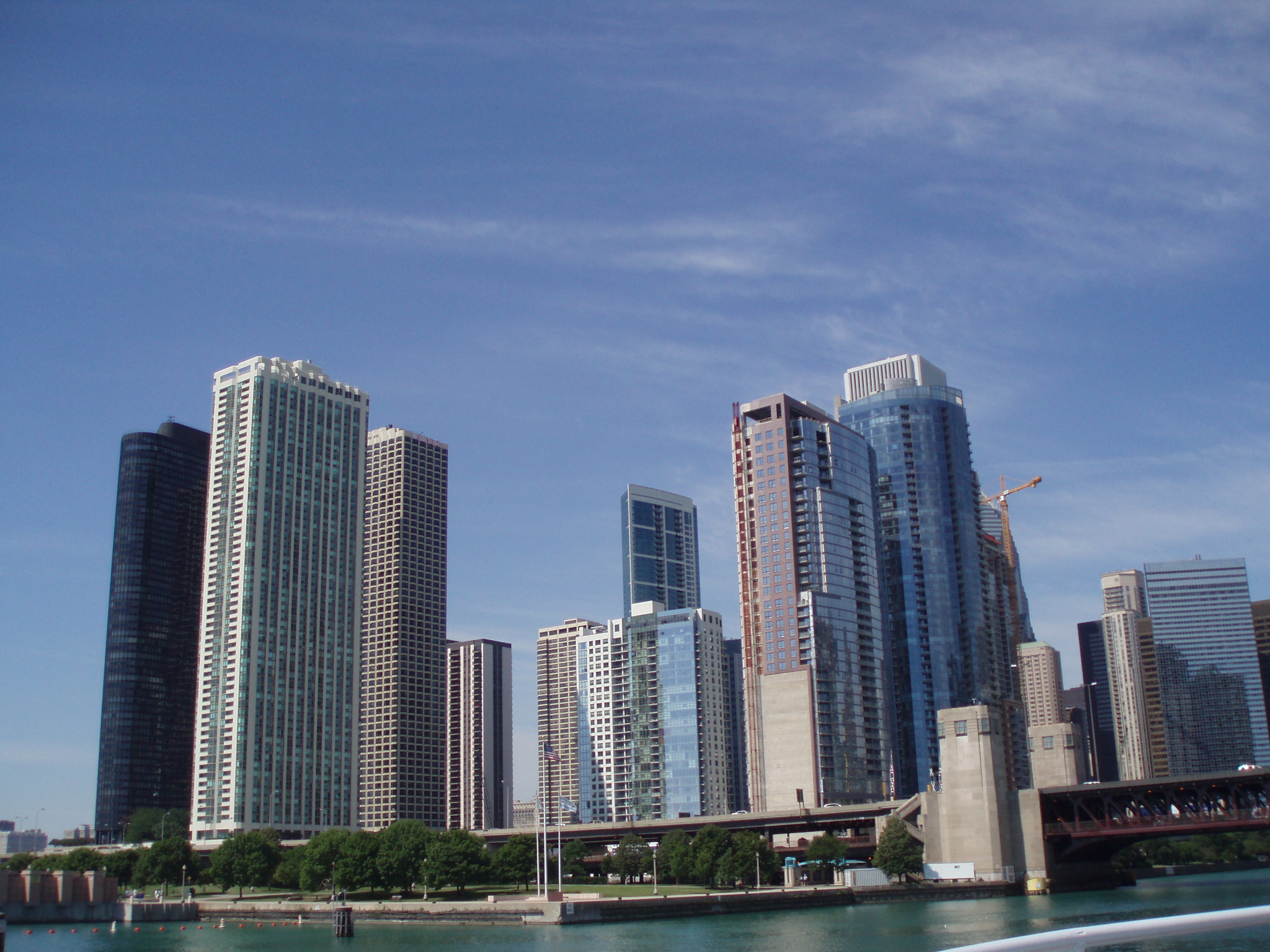 We got to the boat tour early. Jamie called and said I locked him outta the basement from getting his bike, so he has to deal with the subway. I felt really bad. We grabbed the front row seats in front of the tour guide. The architecture boat tour was really amazing; they drove us up and down the river and gave us the short and sweet version of every single buildings history. It was a really intense tour and chuck and I were really into it. The tour guide had our 100% attention the whole tour and that's very rare.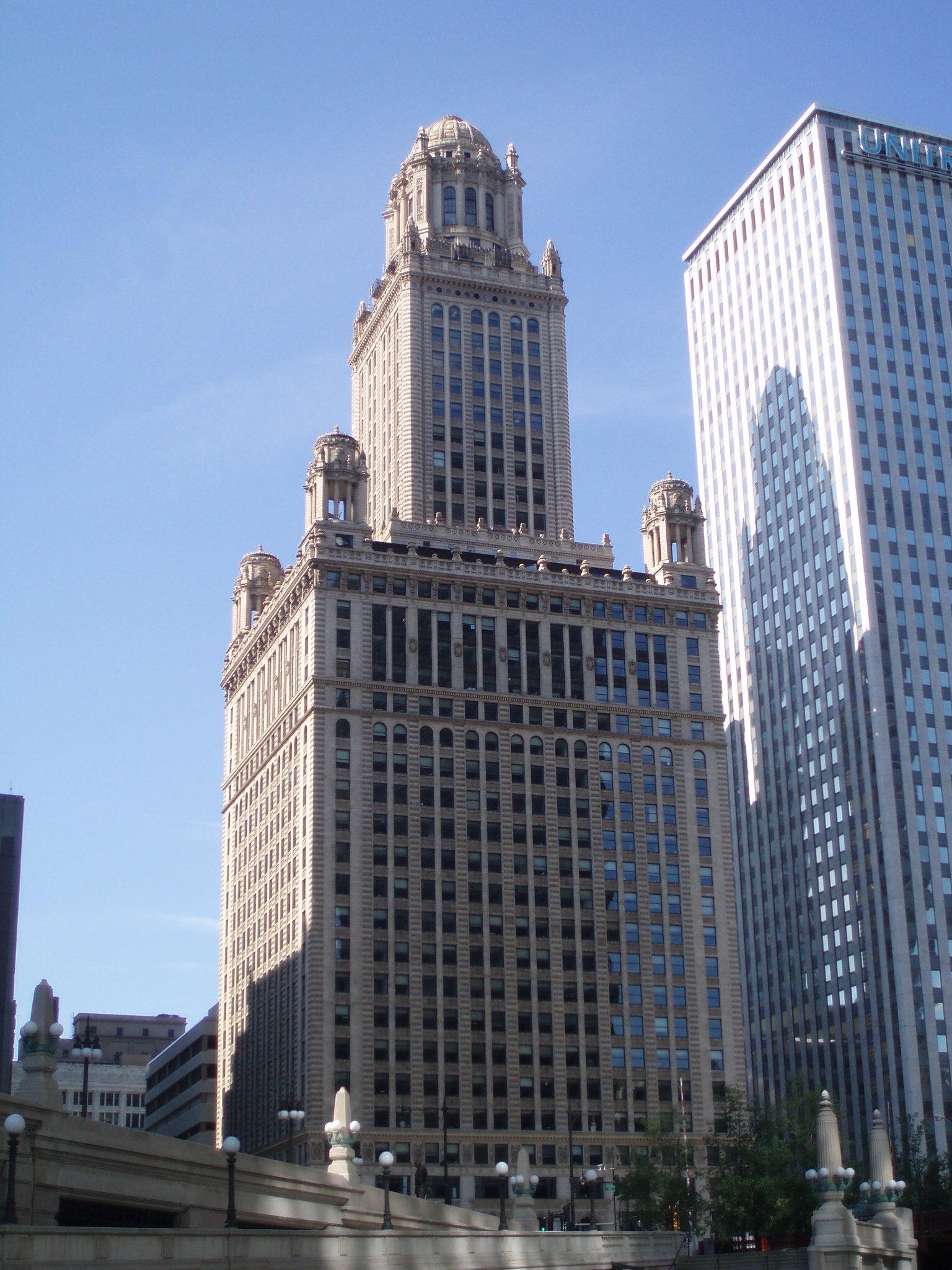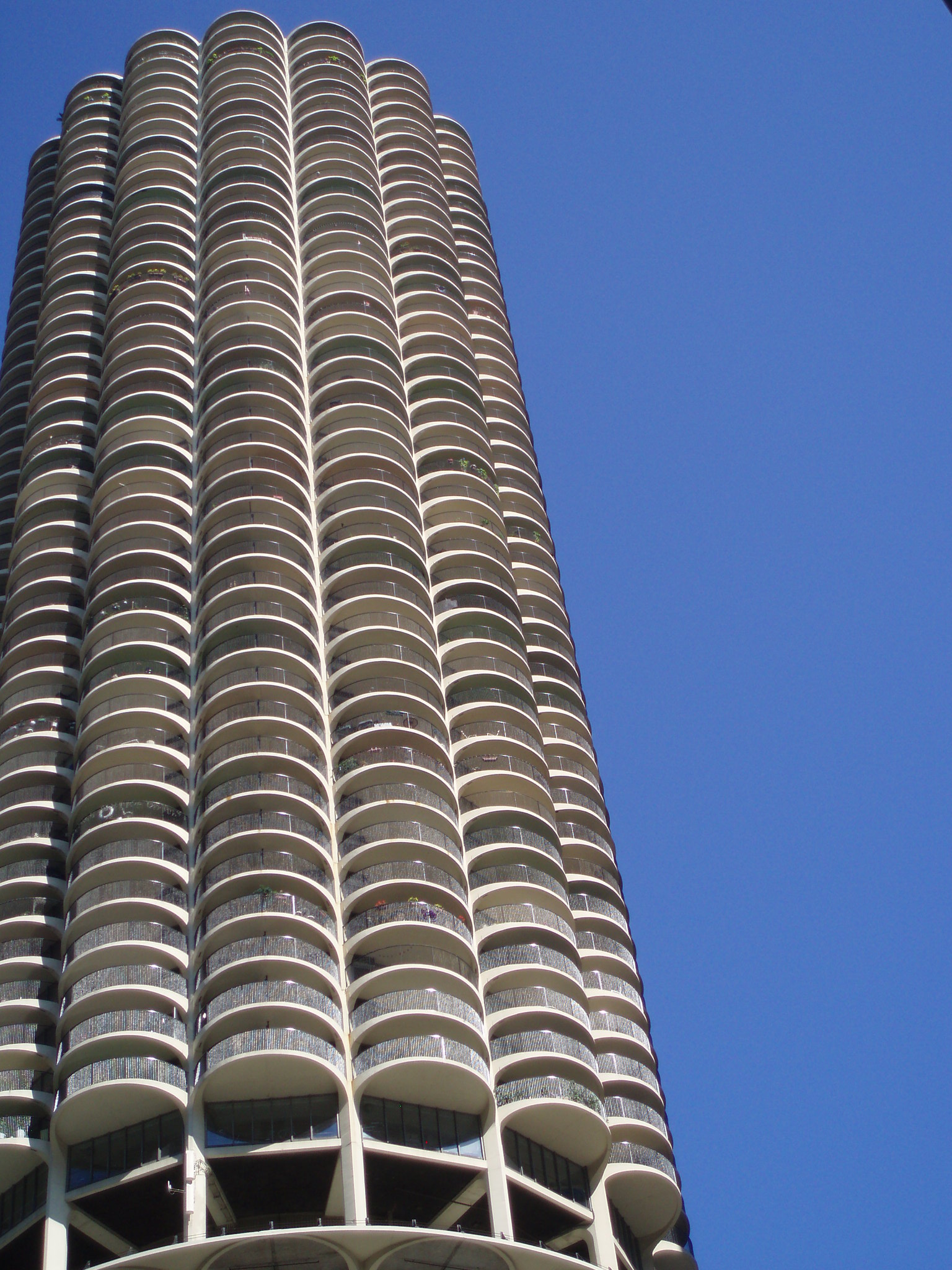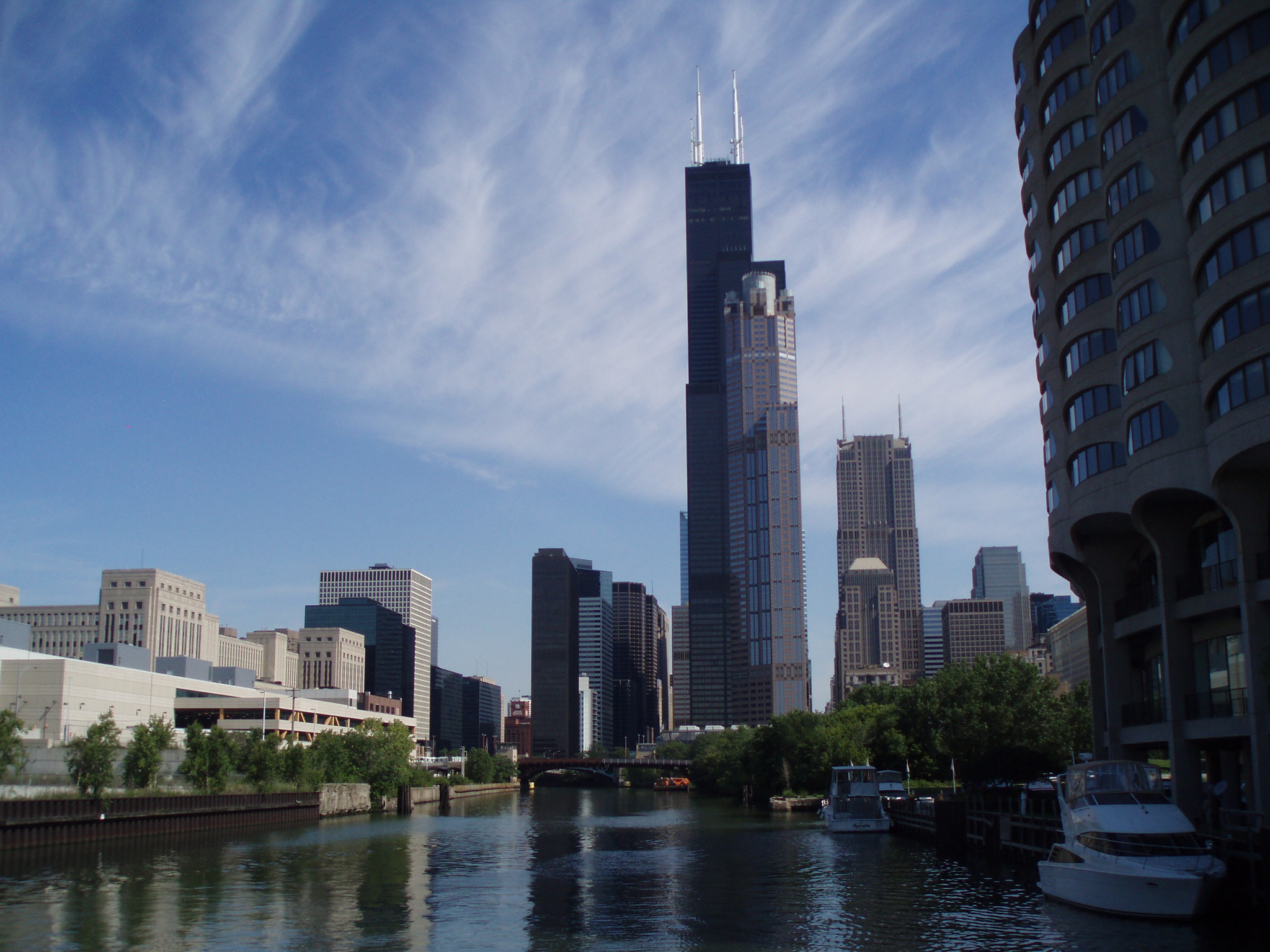 After the tour was over we approached the tour guide to say that we are really excited about the tour she just gave us. We told her that we just graduated with the 5 year architecture degree and are riding bikes across the country. The tour guide was really excited to hear about our educations and our journey and told us this bike trip is a great investment in our future. She was really awesome.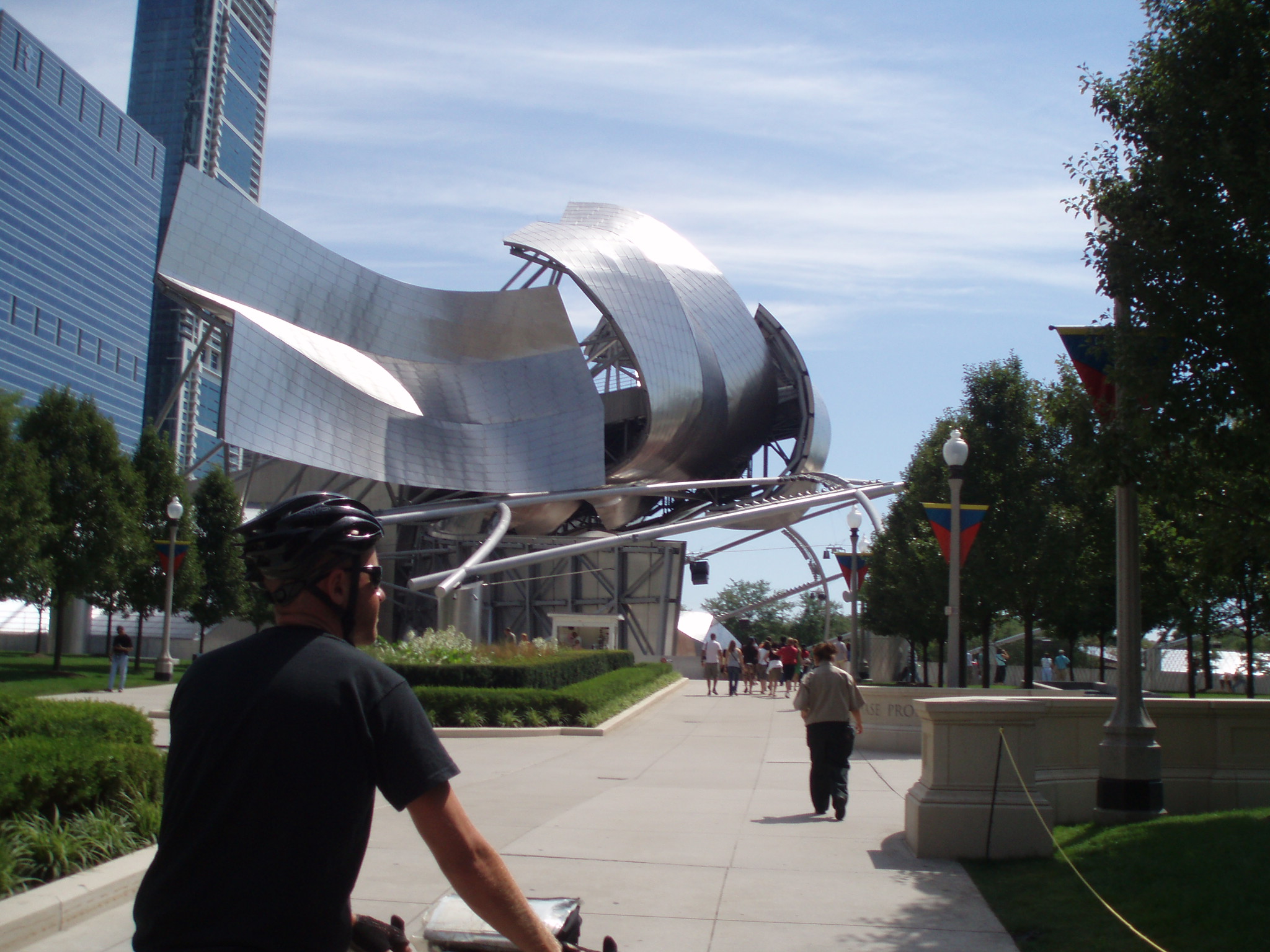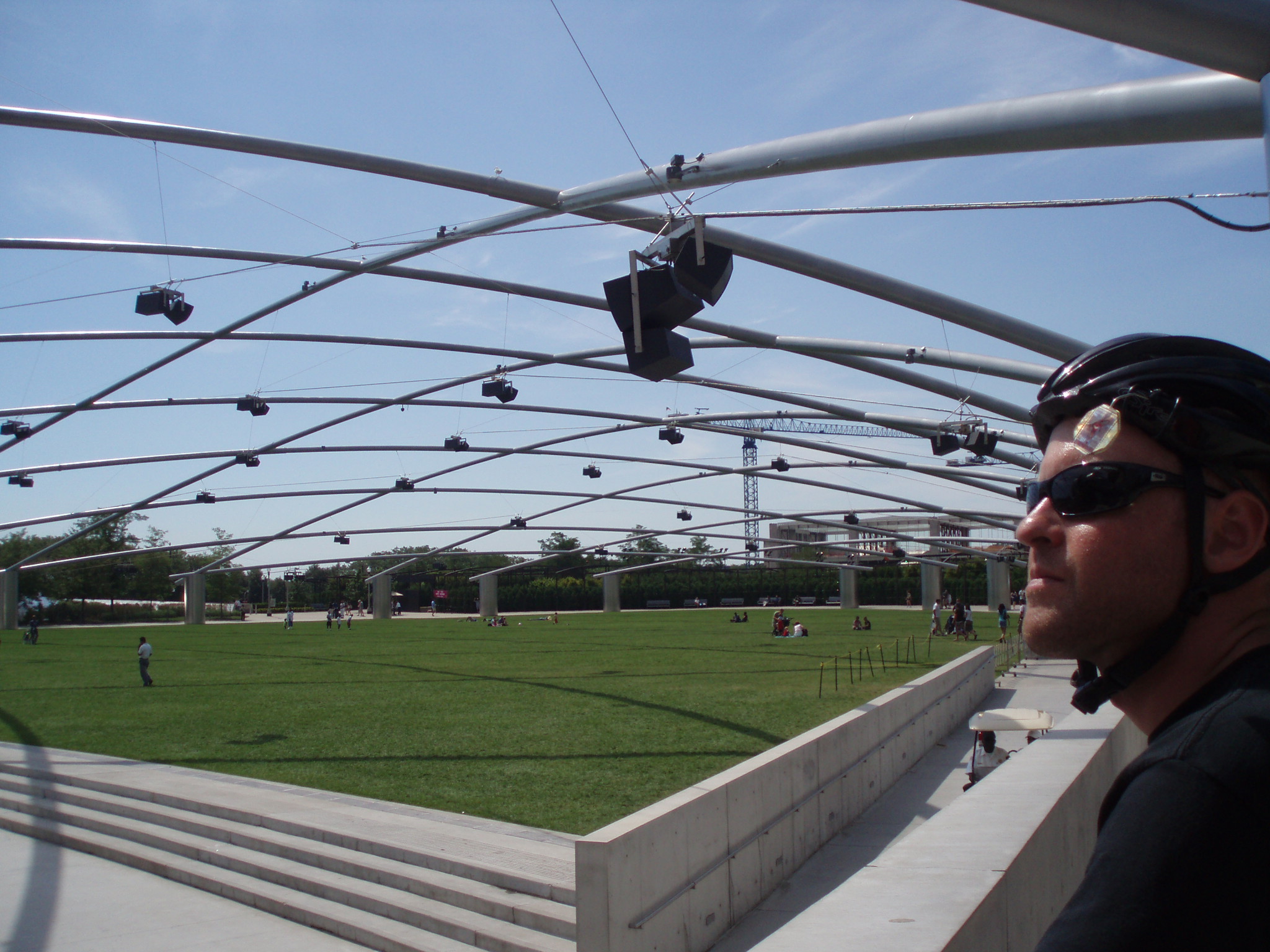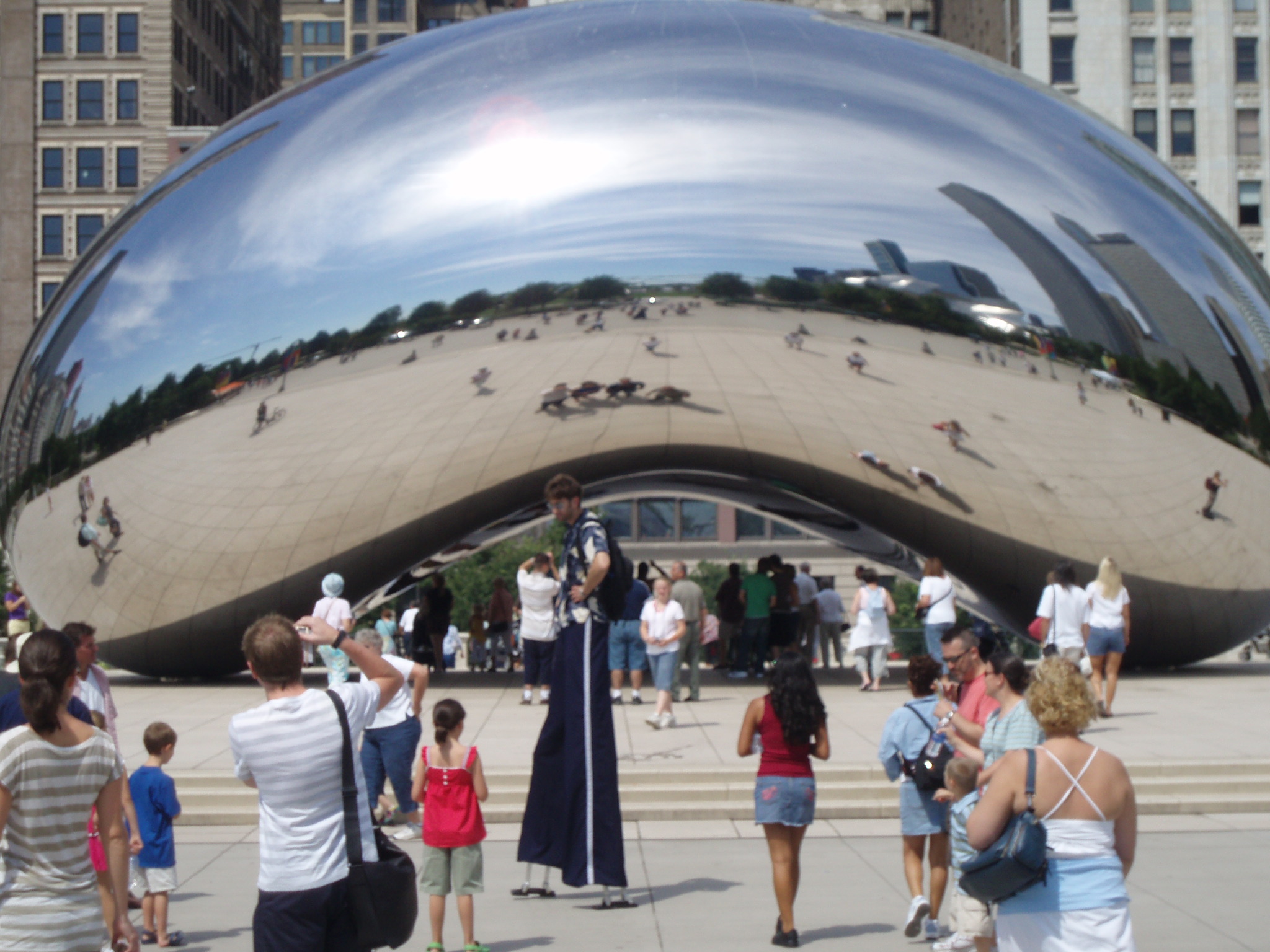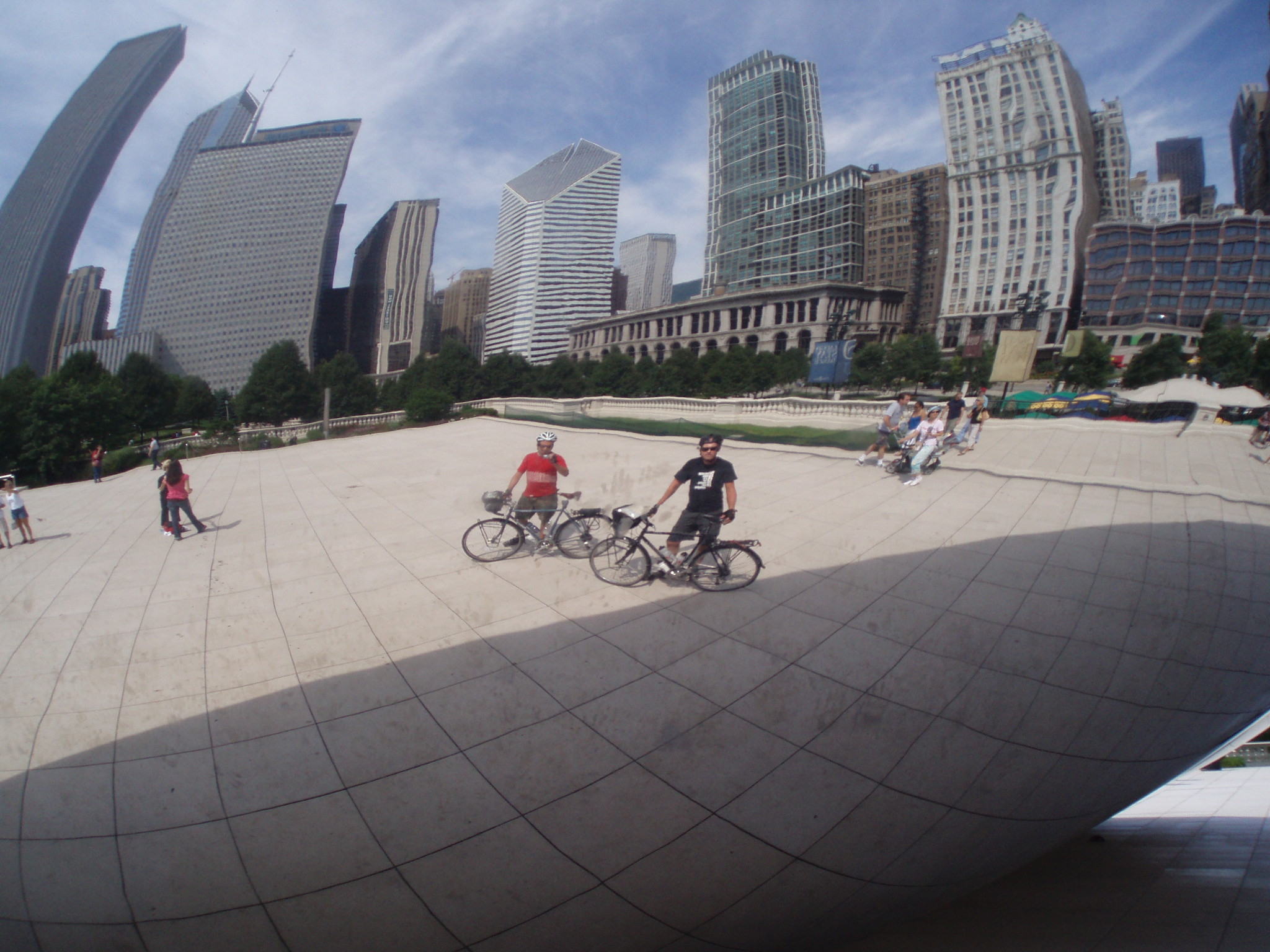 We stopped and did the Millennium park thing. Last time I was in Chicago Millennium park was still under construction and Jamie and I broke into the construction site and walked around.
Jamie was close by so we went to go find him. Chuck and I needed to eat. Our 3 hour window of eating had expired and we were both starting to go crazy. We found Jamie but he was so engulfed in editing video he didn't even wanna talk.
Chuck and I rode out to Oak Park. Luckily we had an awesome tailwind that pushed us right through some very nasty Chicago neighborhoods. When we got to Oak Park I got a voicemail from Melanie who said her friend Audrey invited us to spend the night at her place. Audrey told Melanie that she saw us riding the Lake Michigan bike path on our way into town on Friday and spoke to one of us.
We found Frank Lloyd wright's house and it was crazy. We bought tickets for the next tour and had 2 hours to kill. So we found the Unity Temple. We walked right in and got right on the next tour. The tour guide sat us in the pews and then started giving us the history of the building, and then she started giving us the history of everything. Then said 'you guys can walk around while I talk.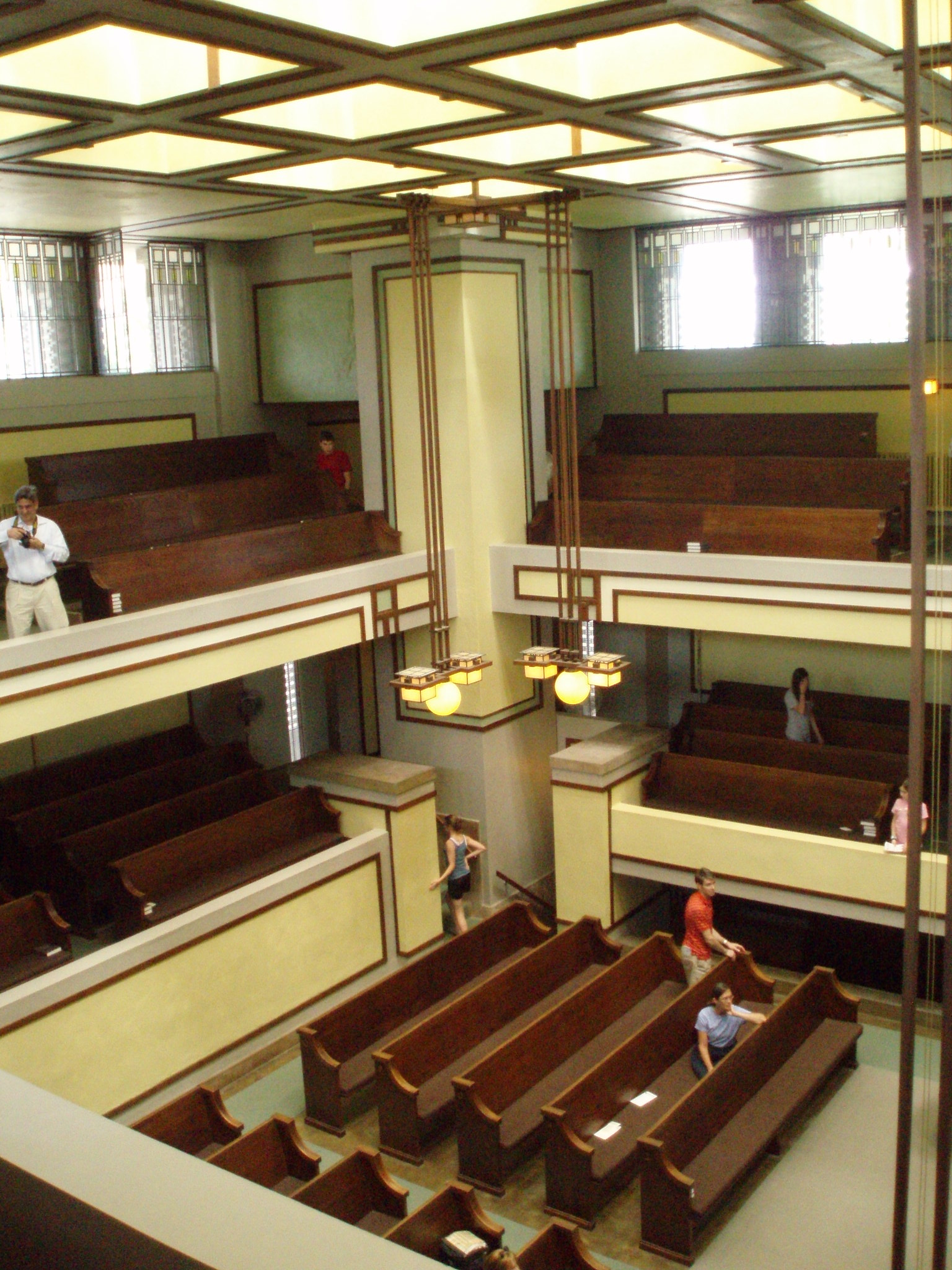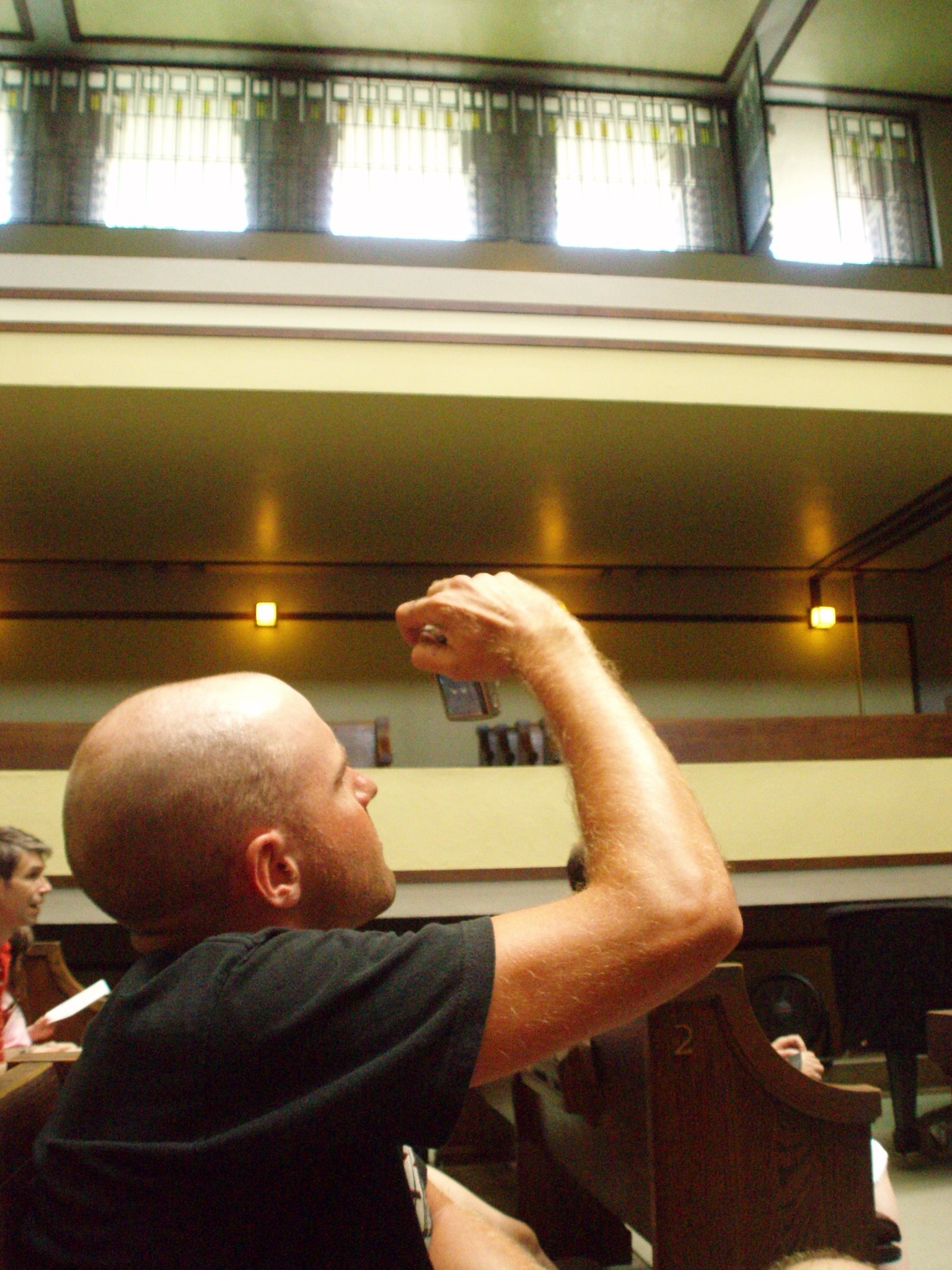 The space of the unity temple feels really great. The circulation is pushed into all the corners and works really well. Chuck and I went through every single space in the unity temple while the tour guide rambled away about who knows what. We took some pictures and then got outta there.
We needed to eat again so we went over to the hotdog place in Oak Park. The hotdogs were covered in lettuce, tomato, mustard, pickles it was like a salad on top of a hot dog. It was so great, I lost my mind. While I ate I watched some crack heads act shady on the street corner.
After lunch we went back to FLW's house and got on our tour. The tour guide was new didn't speak with any authority.  He had about 5 minutes of Mike Riscica's attention.
During the house tour, some old man in our group kept asking 3 or 4 stupid questions in every room and I quickly started to lose my mind.  Eventually I started to have a panic attack in FLW's house, the rooms were too small for that amount of people, the air wasn't fresh and this guy keeps asking about the HVAC or how the change the light bulbs and the tour guide was entertaining all this nonsense. The house tour was pretty painful, I just didn't care.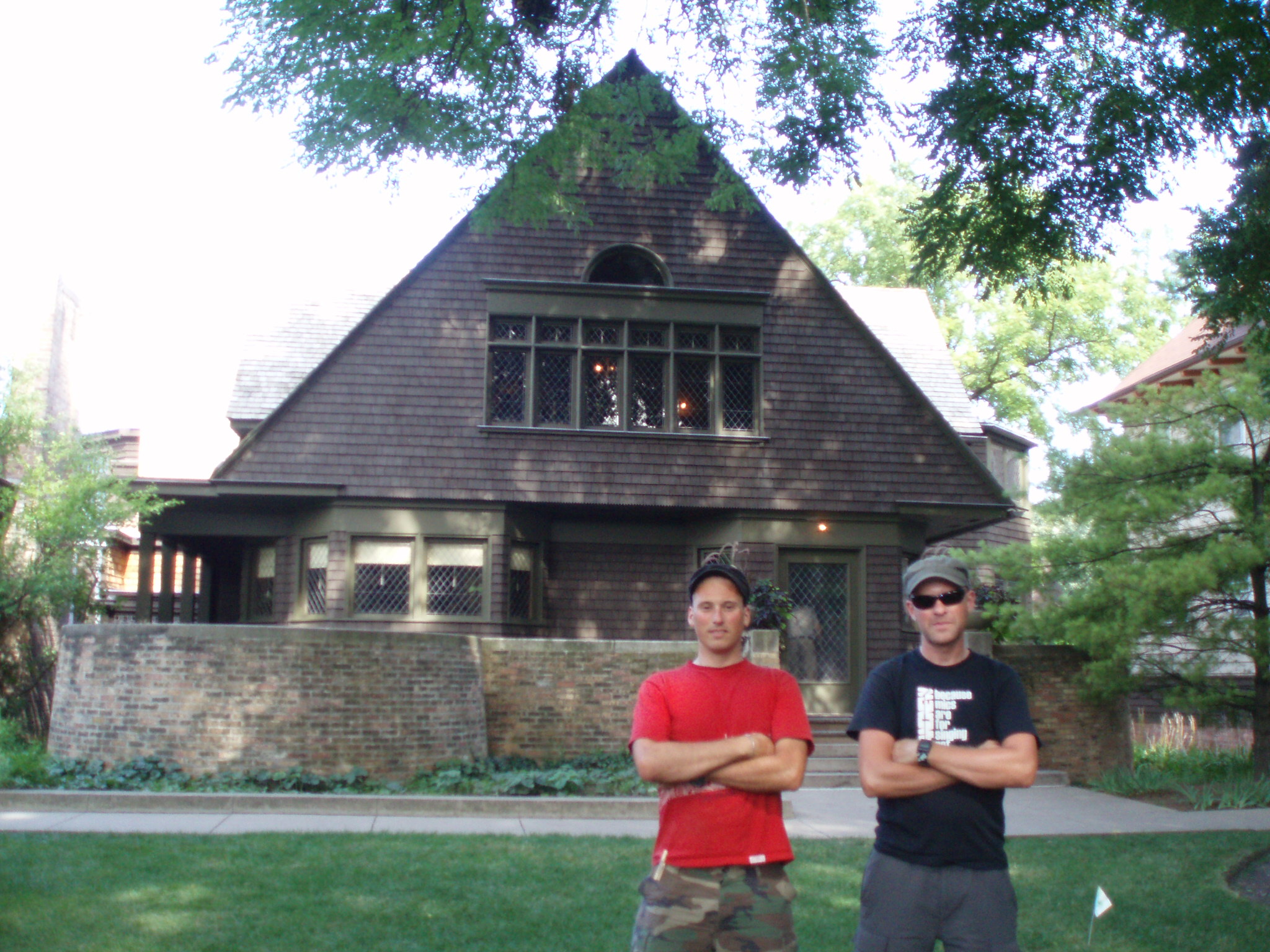 After the house tour they took us to FLW's studio which is an amazing space and was all I really wanted to see. I felt a lot better when we got there. But then the tour kept us for another 20 minutes in tight spaces and I just wanted to get out. After the tour was over chuck and I sat on FLW's lawn for a little bit to recover.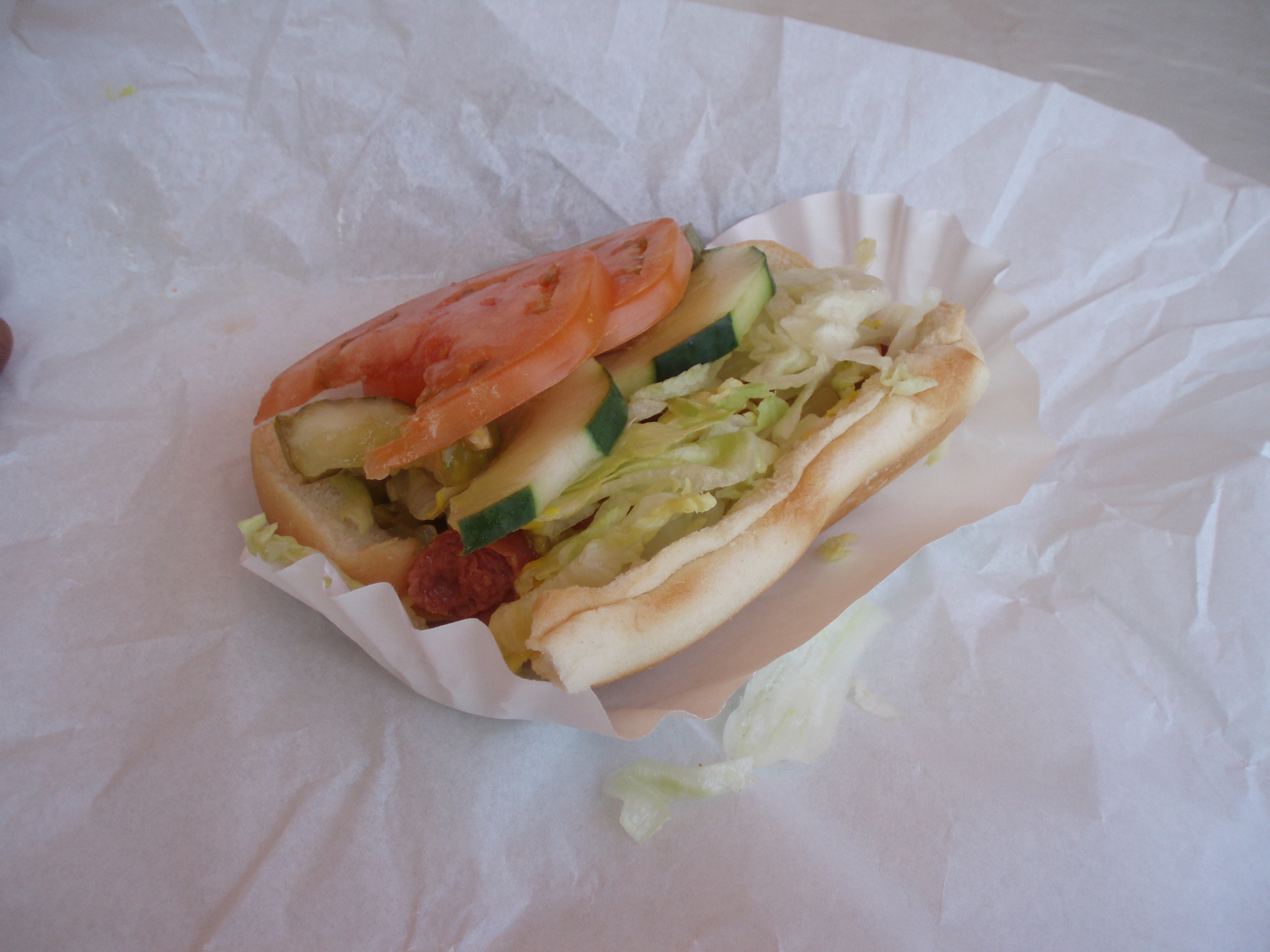 We left FLW's house and went back to Tasty Dog for another hot dog. On our way back into the City we rode back through that nasty neighborhood. We saw some pretty nasty stuff and just kept riding as fast as we could.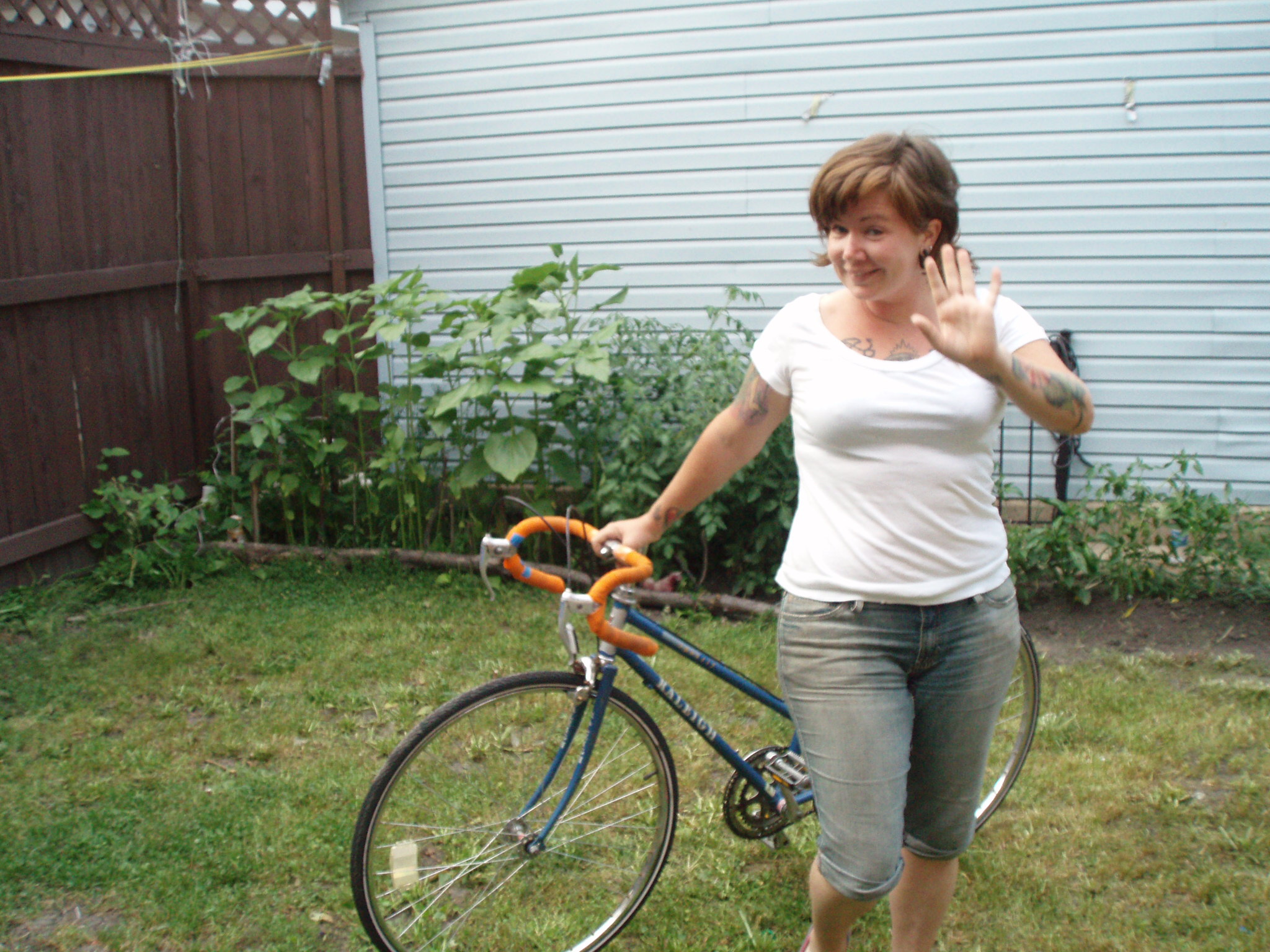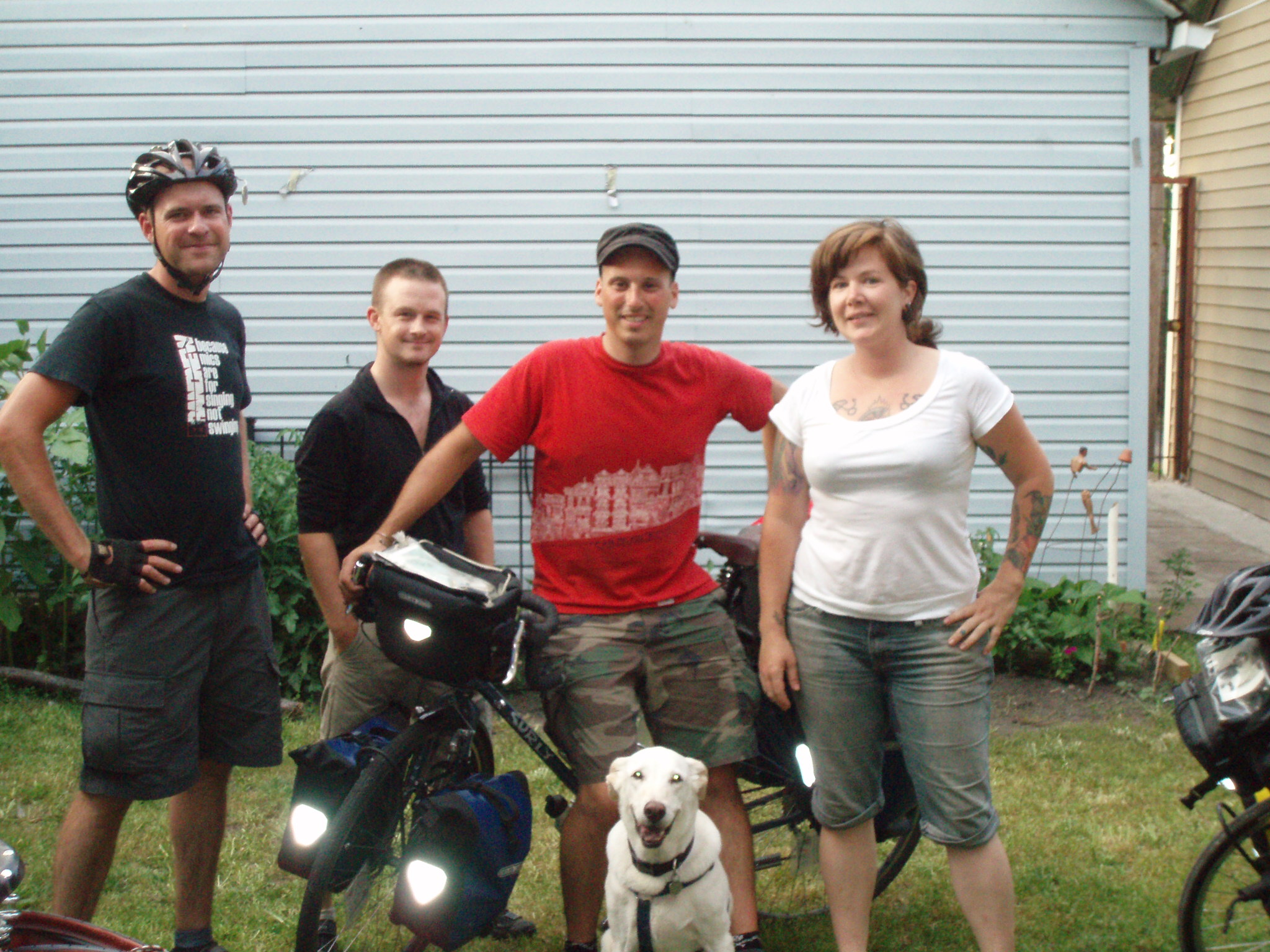 We met up with Jamie back at Melanie's. We packed up all our gear and Melanie was going to ride us over to her friend Audrey's house on the other side of town. But we had to stop and eat again.
Melanie took us to the best taco place in town. On the way there the bungee cord holding Mike and Jamie's tents broke and our tents fell off in the middle of an intersection. Luckily everything was fine and the good citizens helped Jamie pick up everything he dropped. It was a big show on a crowded corner of people waiting for the bus. Everyone was really helpful to Jamie.
I freaked out because I thought Jamie got hit by a car. Thank god our tents didn't get run over.  Then we ate burritos the size of our heads.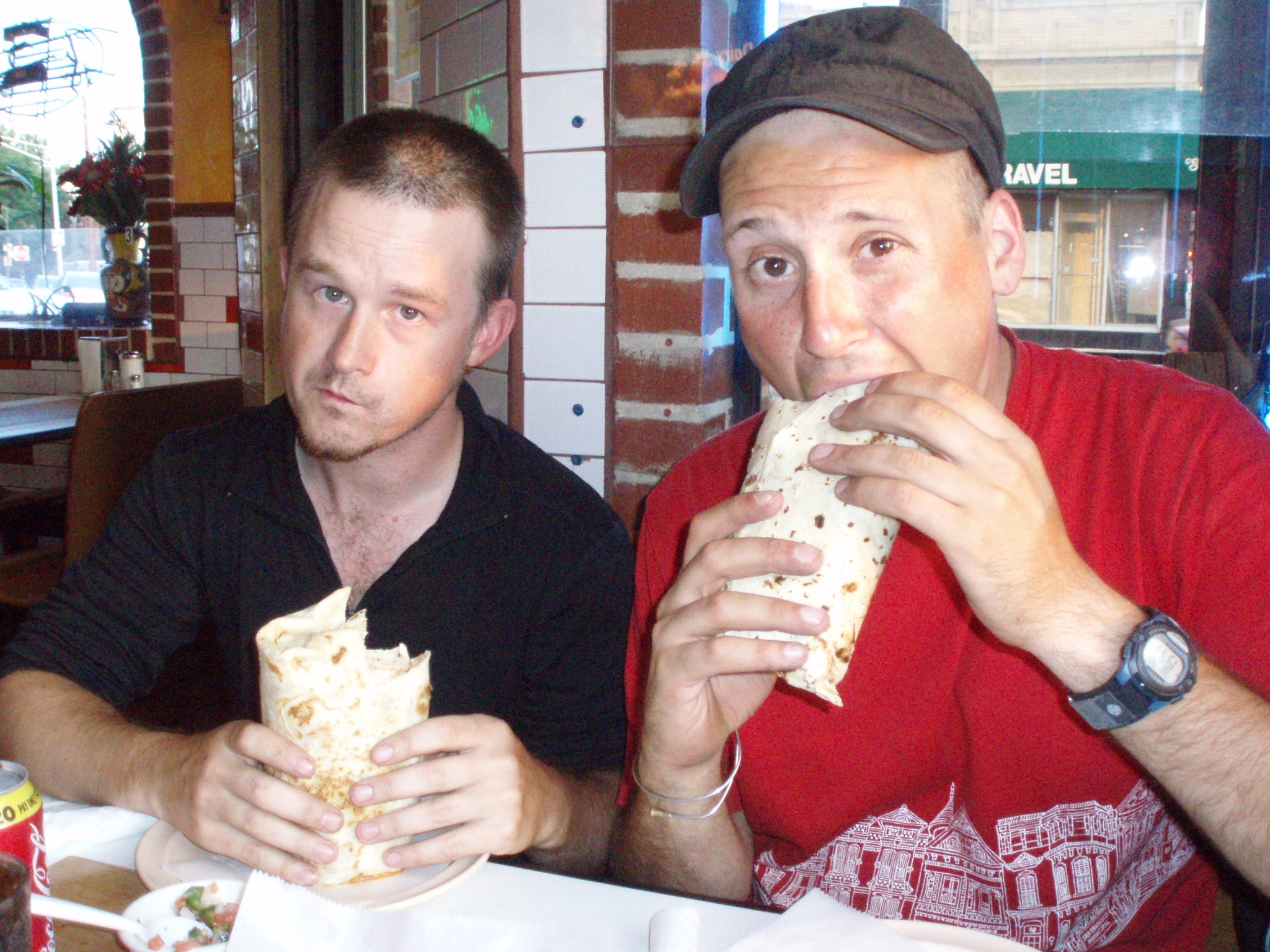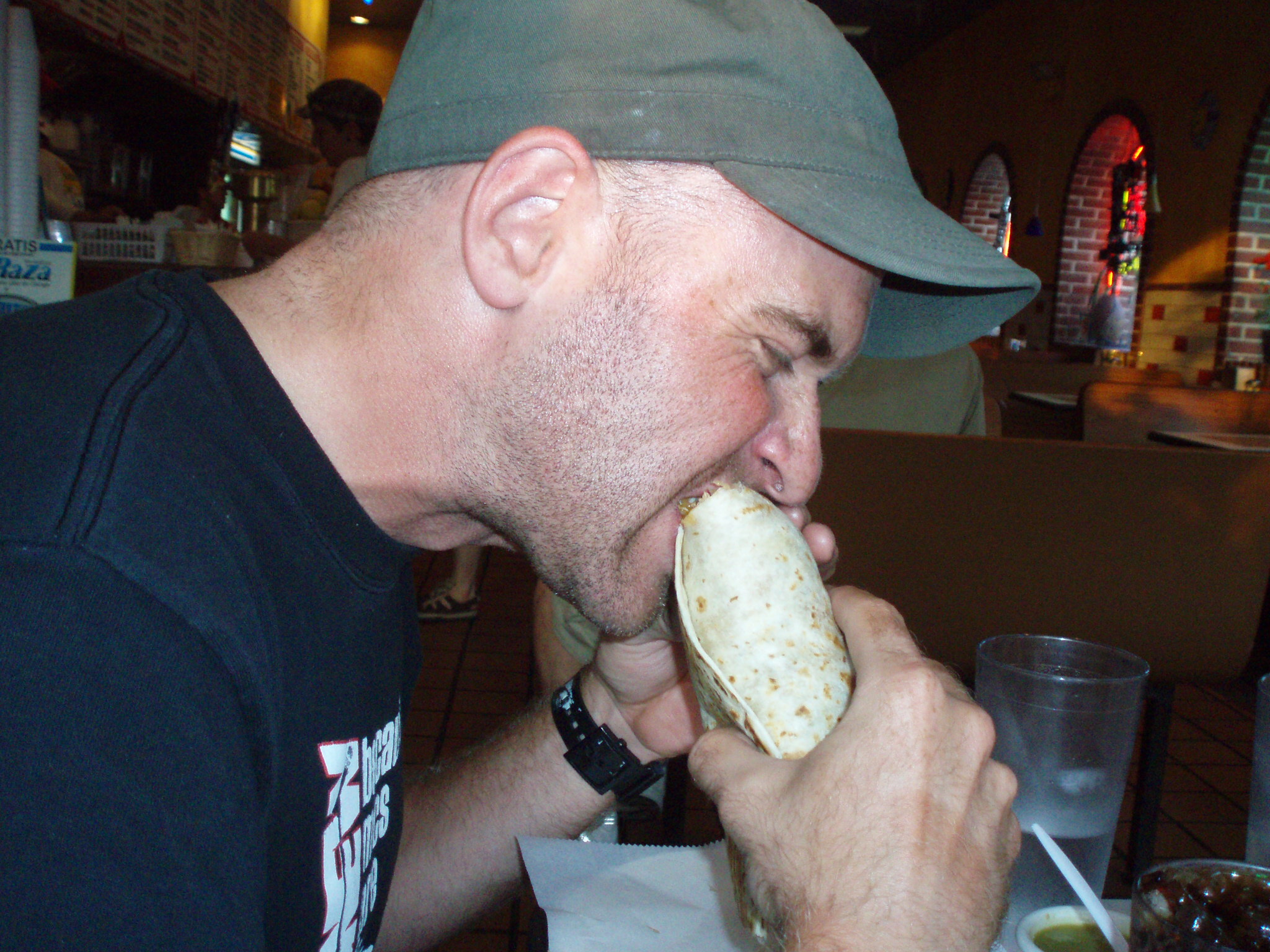 When we got to Audrey's we talked about Friday when we rode into town. She rode past us and saw the Maine license plate. She did a double take because she's from Maine and quickly spoke with chuck about us coming into town. Then she rode off. Later that night she found out from a friend that Melanie was letting we stay at her house. And now here we are at Audrey's house.
Melanie hung out for a bit but then said farewell. We thanked her and said if she ever wants to come to NYC or Portland she definitely has people to stay with.  It was really awesome for Melanie to let us stay with her. We hope to see her again in the future.
After Melanie left we talked with Audrey some more and it turns out she went to college in Boston the same time Jamie and I were living there about 5 years ago. She told us where she used to live and we mentioned how we used to crash parties in the neighborhood. Then Audrey told us that 'Yeah one time these 2 guys came to one of my parties with a megaphone and were break dancing all over the place and ruined my whole party.' Then Jamie and I freaked out screaming 'THAT WAS US!' we knew exactly what she was talking about. Turns out Audrey know a lot of the same cool kids that we used to know in Boston and here we are in Chicago. What a wacky coincidence!
We hung out at Audrey's for the rest of the night and drank cheap beer. She's hilarious and had us laughing all night long.
Tomorrow chuck will be leaving us for a few weeks.  His Aunt is very sick and he needs to go be with his family. We're going to take his bike to the bike shop to get shipped home and he's got a ticket for a 3pm flight back to Long island. Jamie and I will ride out to Geneva to visit our friend Mike Palombi, who will then ride into Wisconsin with us.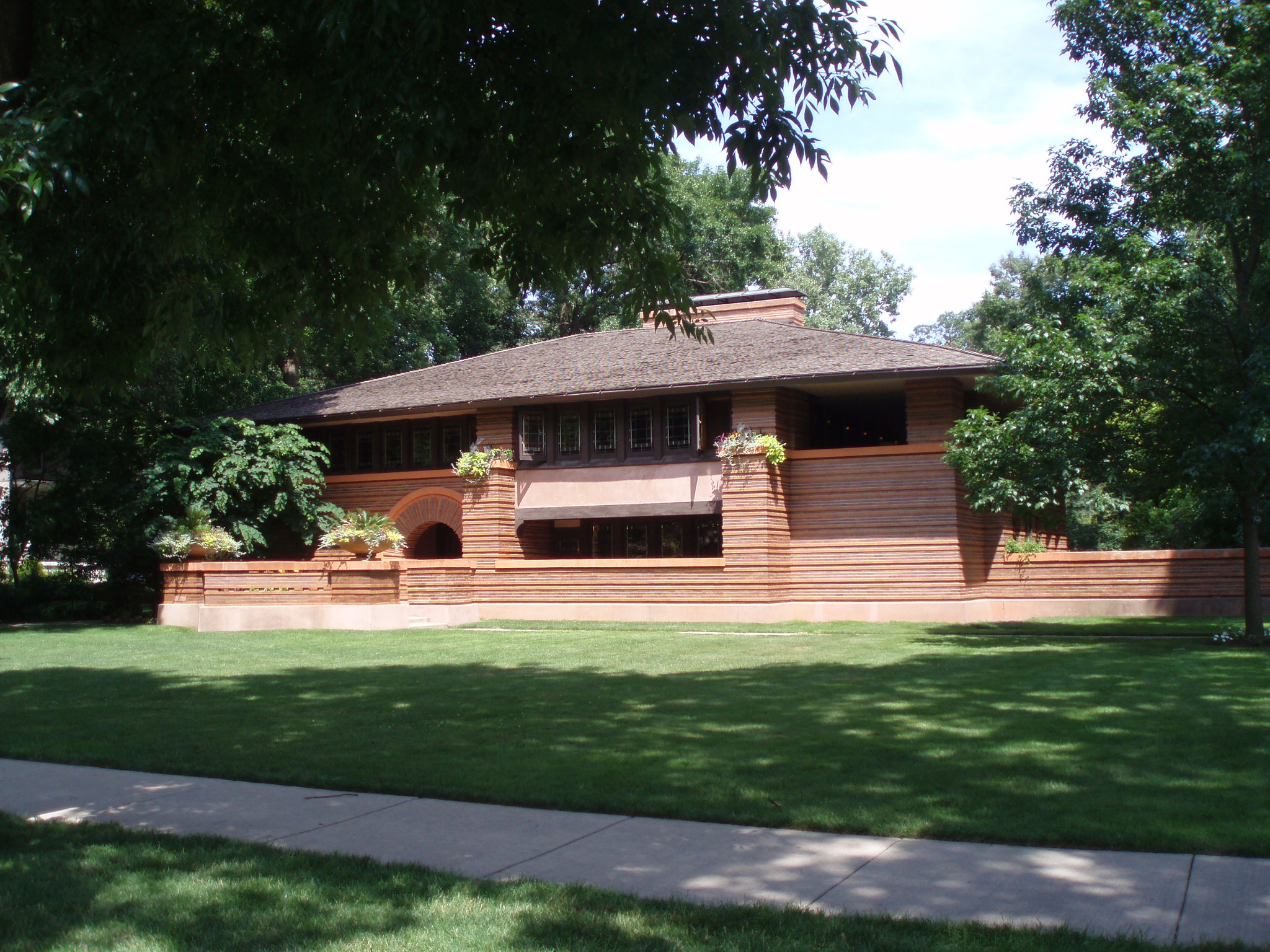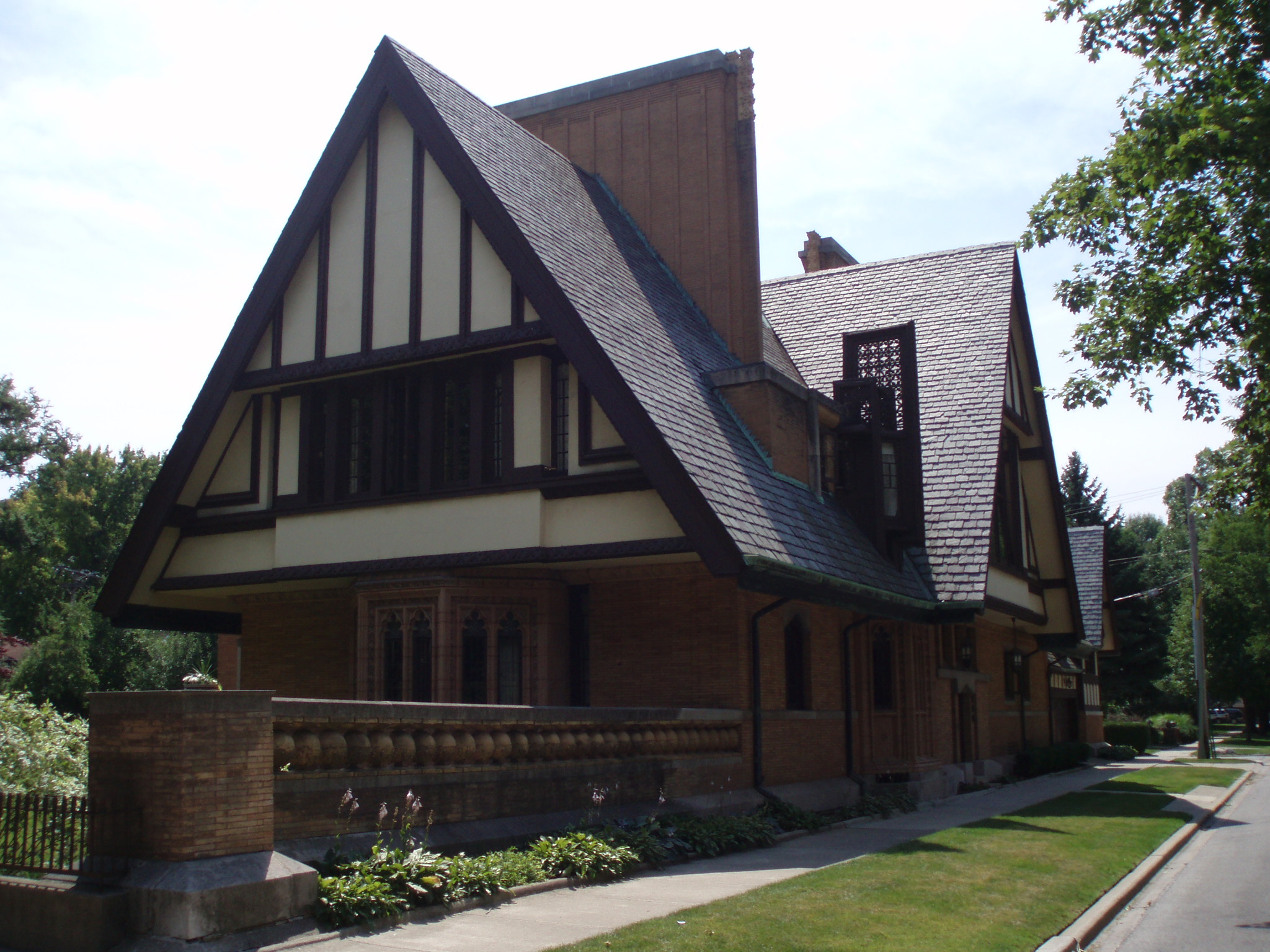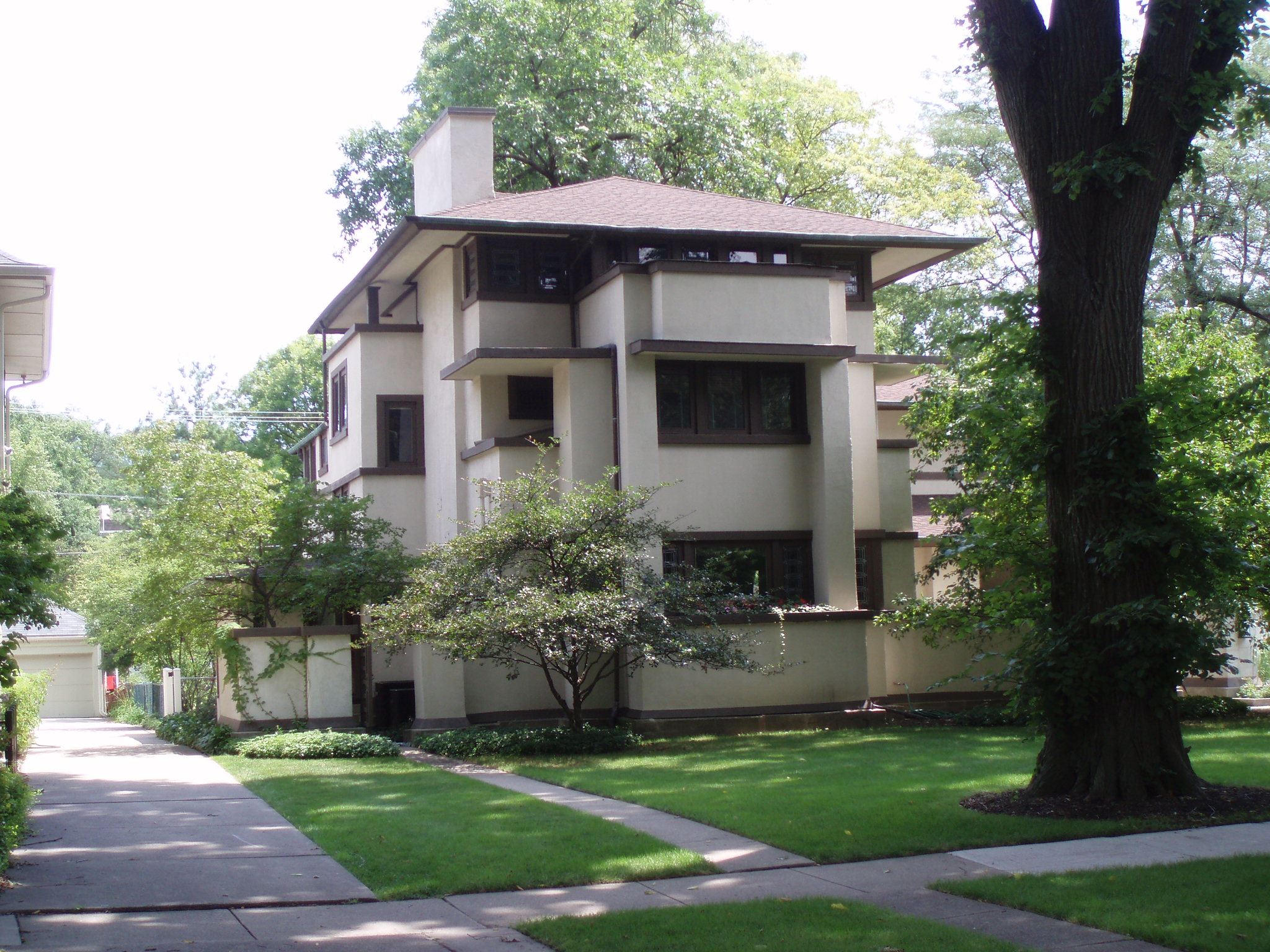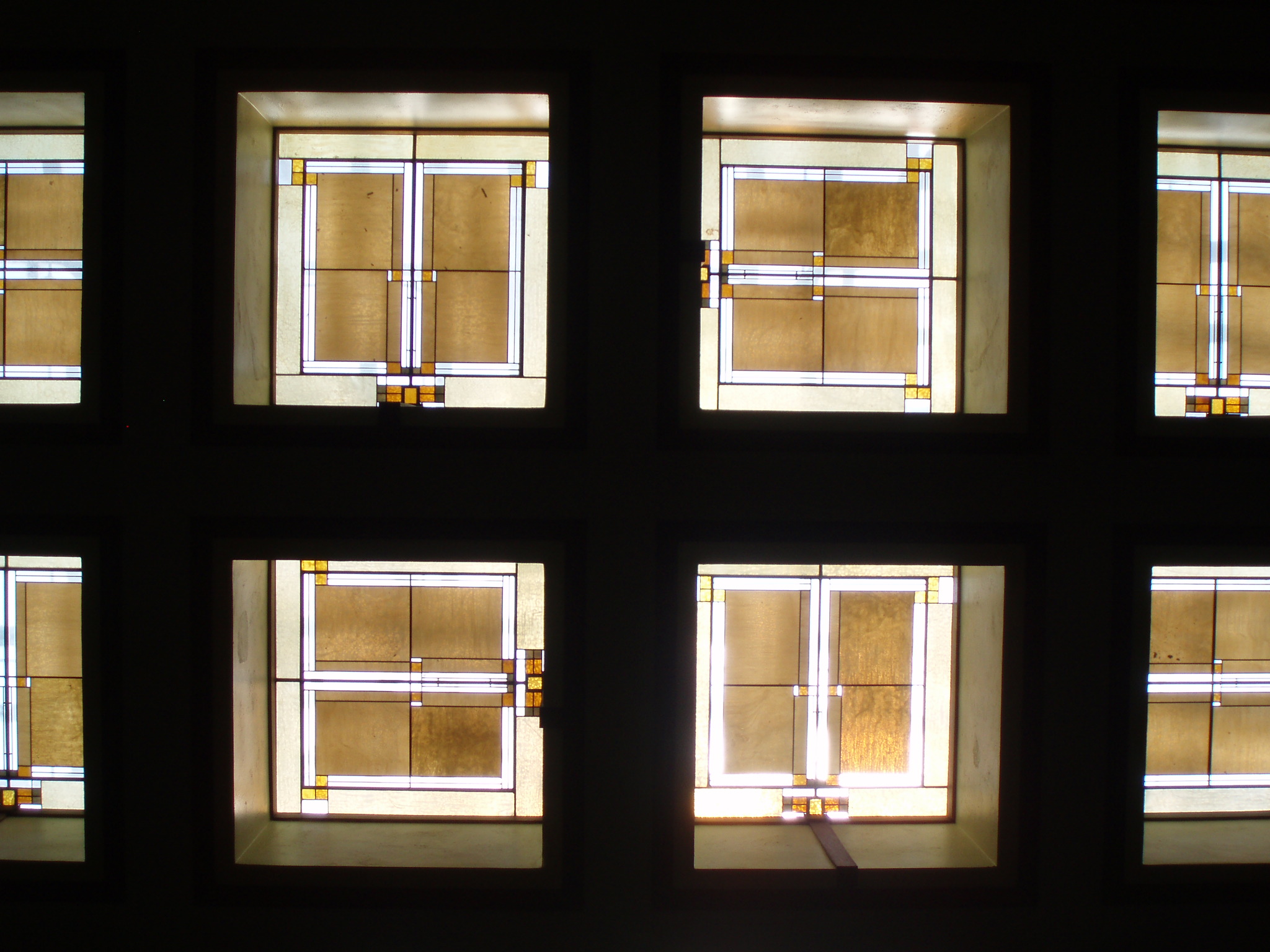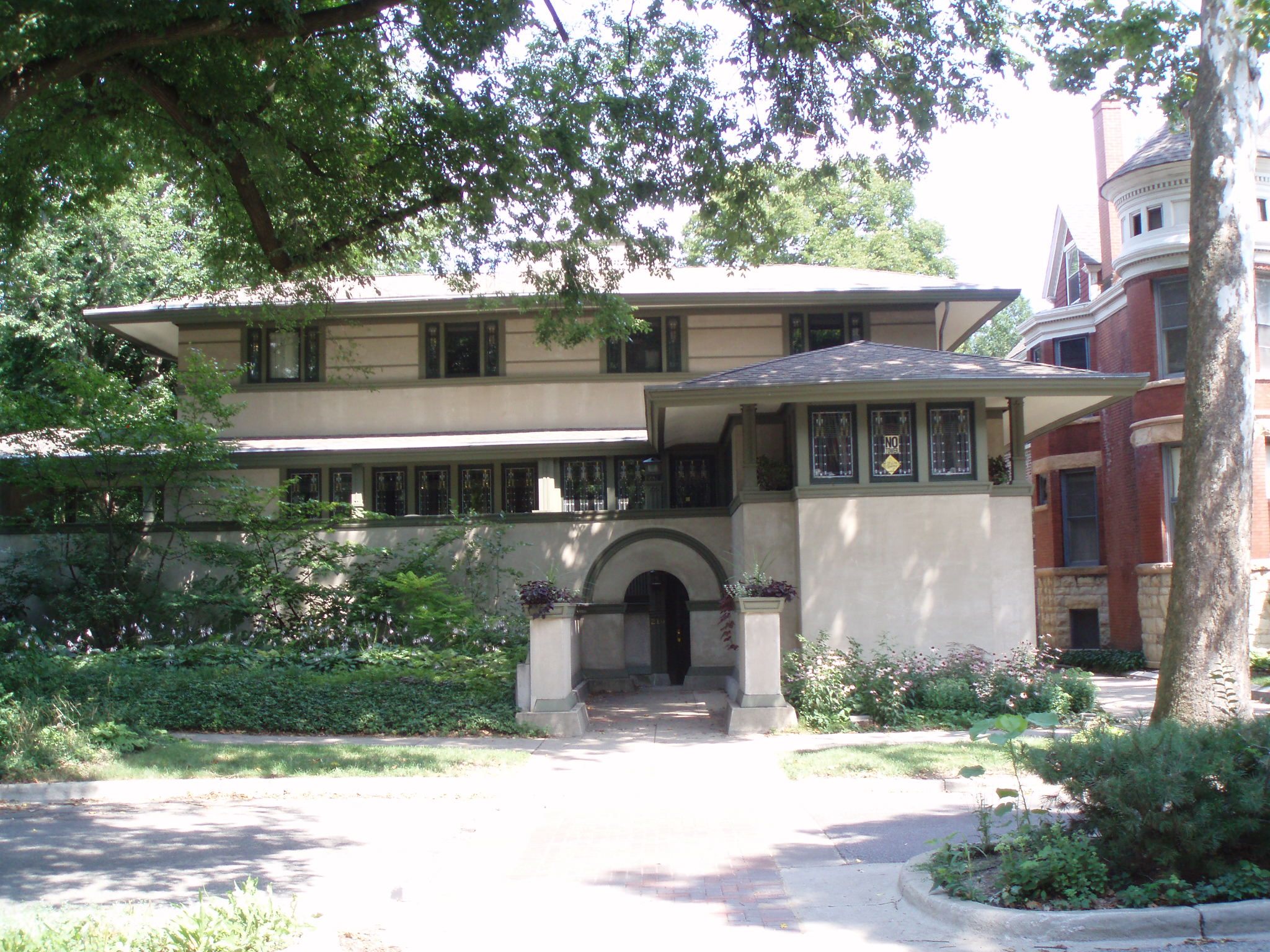 Click Here to Visit The Table of Contents
 Click Here to Visit Previous Page: Day 35: Chicago, IL to Chicago, IL: Discreetly in Chicago Video
 Click Here to Visit The Next Page: Day 37: Chicago, IL to Geneva, IL: Prairie Path Video