Monday July 23, 2007, 54 miles (87 km) – Total so far: 1,812 miles (2,916 km)
54.27 Miles 4:55 ride time 11.1 avg
Click Here to Visit The Table of Contents
Click Here to Visit Previous Page: Day 36: Chicago, IL to Chicago, IL
Click Here to Visit The Next Page: Day 38: Geneva, IL to Geneva, IL: Bike Medic & Mailbag Videos

We were up at 7:30 am Audrey made us some oatmeal with yogurt and fruit. It was really delicious. Jamie had an appointment to watch video art and chuck had an appointment to get his bike boxed up.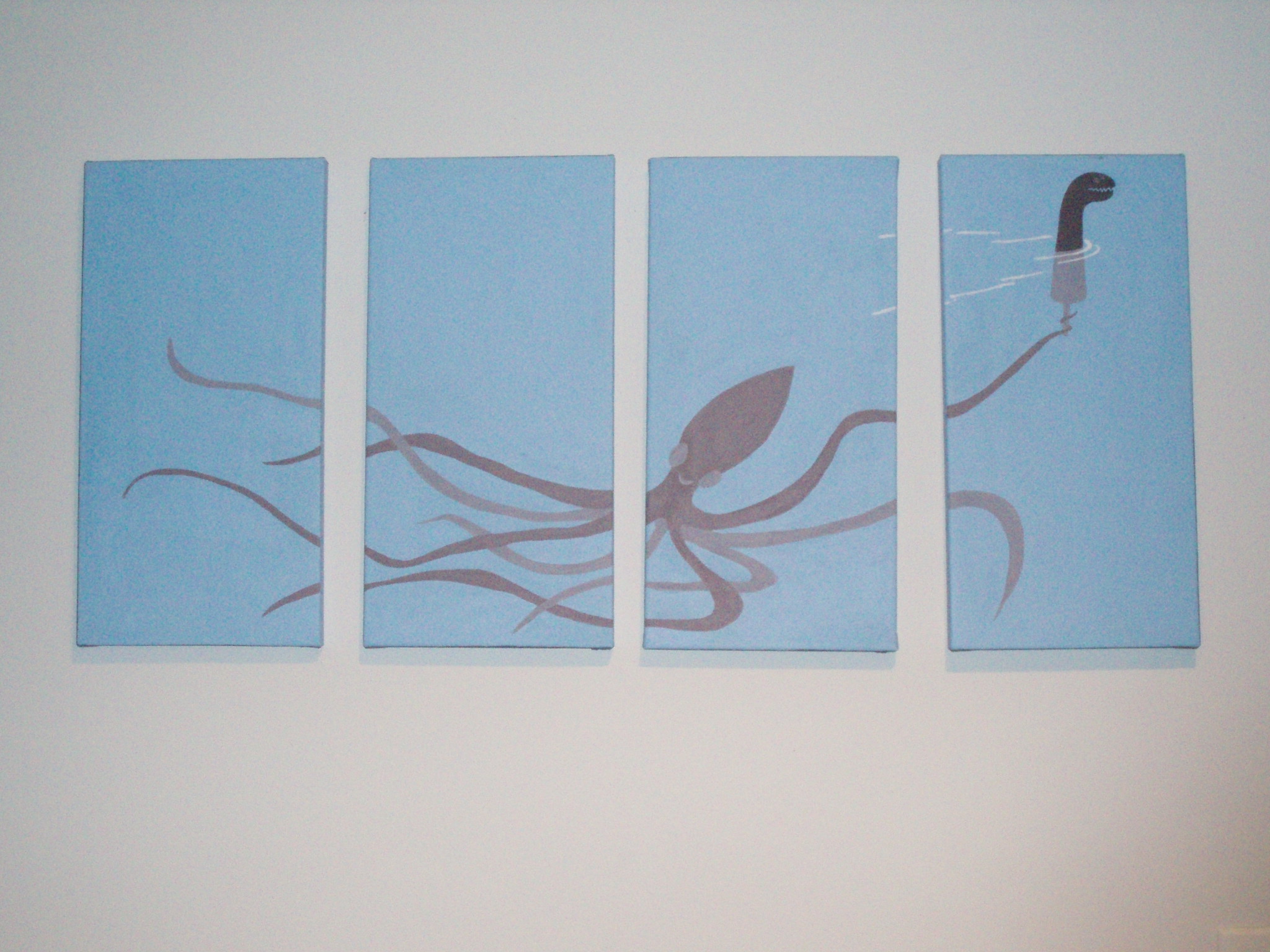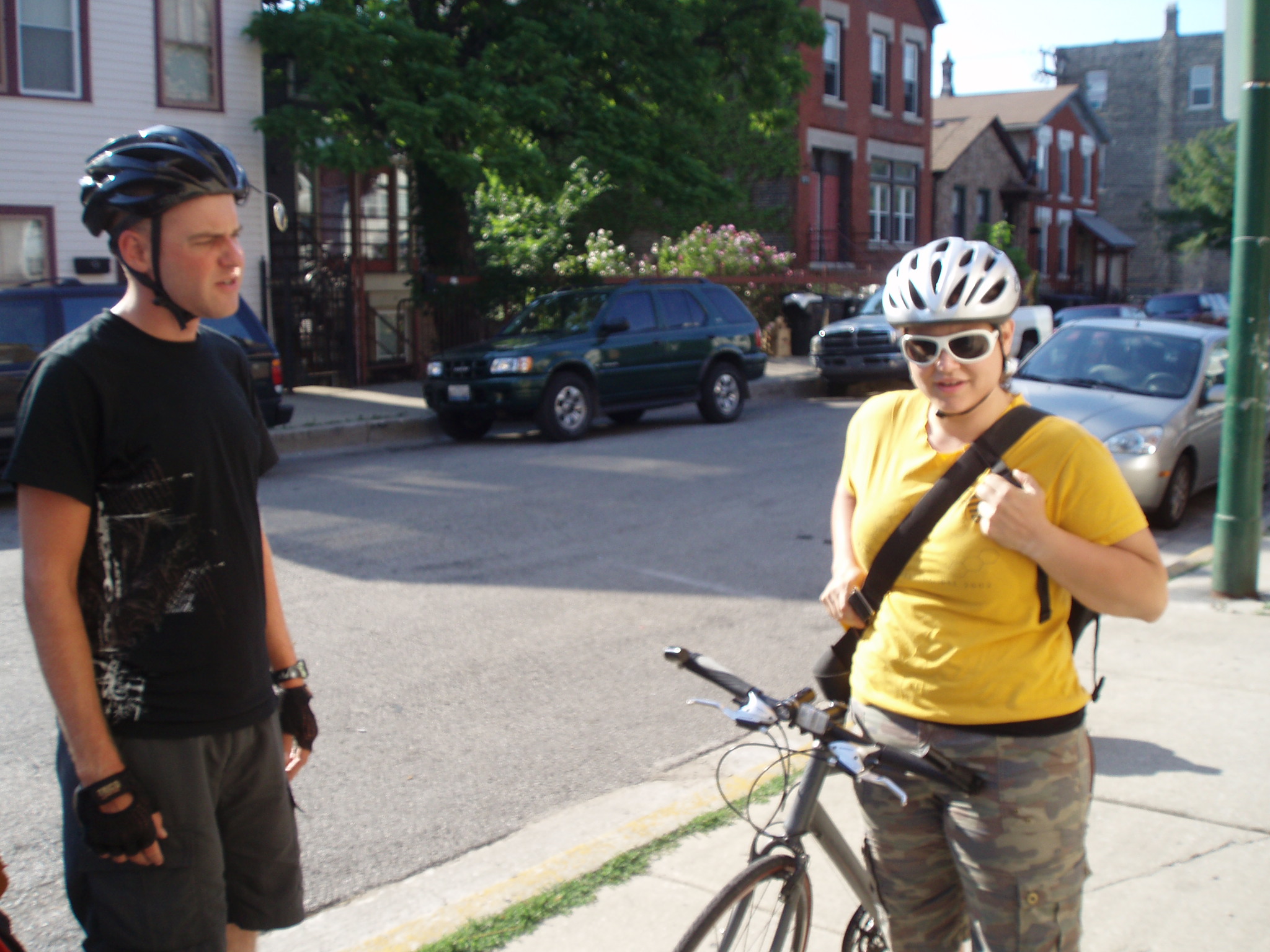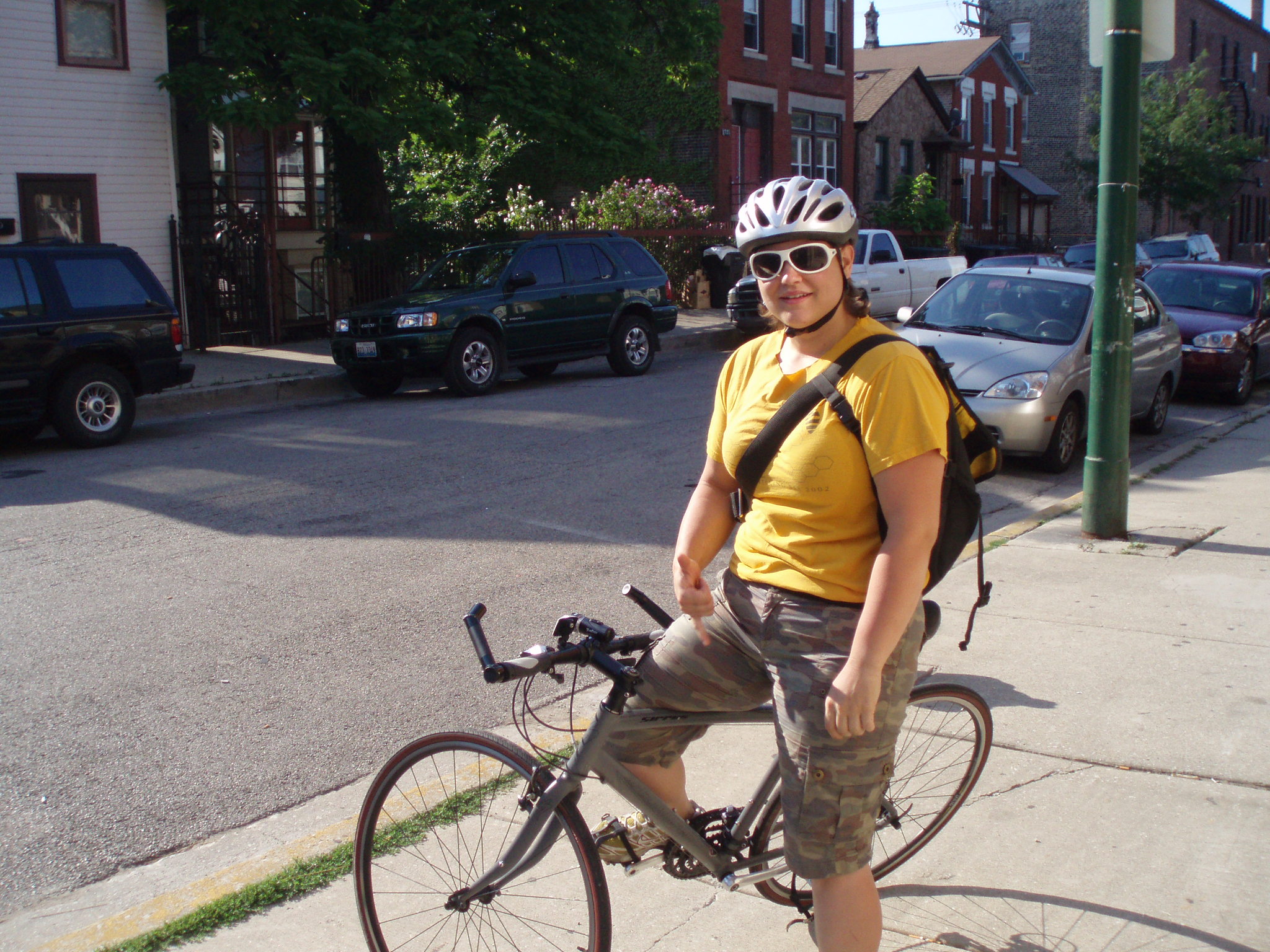 We quickly got our act together because Audrey had to leave for work. I took some pictures of Audrey and her artwork. She kept us company outside while we put on suntan and then she rode off to work. Audrey is really awesome.
Chuck and I had an hour and half to kill before the bike shop opened so we rode into downtown Chicago and drank tea, drafting out all the missing days of the Crazyguy journal that I forgot all about during the madness of our Chicago visit. Then we rode over to the bike shop.
At the bike shop chuck was busy getting his bike boxed and I found my new Specialized Carbon Racing bike that I bought just before this trip. I freaked out in the middle of the shop. It's so light and beautiful, it made me wanna just ride this touring bike off a cliff and go home so I can ride my 17 lb. racing bike.
Chuck left his bike at the bike shop, they called him a cab, I helped him load his panniers into the cab, we gave each other a hug and then chuck got taken away to the airport. After chuck left I sat around and got really upset about him leaving the trip. He and I have been through so much the past couple of weeks. Hell, the past couple of years.  I've spent all my time with that guy. Chuck is my best friend, my associate, my brother, my psychiatrist, my critic, sometimes my enemy and my favorite cycling partner.
I really hope everything goes smooth back home for him and his family.
I rode back into downtown and returned those guidebooks and maps we bought. Then I waited around for Jamie to finish watching video art. We ate a quick lunch on the side of the road talking with some bike messenger then started riding towards Geneva.
We took Washington Blvd. out of Chicago. Mike Riscica got a flat tire in Austin (a very nasty part of the city) I kept my cool and changed it as quick as possible. My tire is shot so I put on the spare that we have been carrying the whole trip.
Eventually we caught the Illinois Prairie Trail which took us all the way out to Geneva. The prairie trail is really nice and is very well marked. Jamie made this Music video about riding on the Prairie trail.  http://www.teamnortherntier2007.blogspot.com/2007/07/prairie-path-to-geneva-il.html Jamie even created that music for this video.
When we rode past the airport I called Mike Palombi http://www.crazyguyonabike.com/bikemedic  to tell him we're close. After I called him, I got really hungry and started thinking about a big piece of vanilla cake. Then I started to smell vanilla frosting. I thought I was losing my mind but Jamie said he smelled it too. It was a beautiful day, but both Jamie and I felt dehydrated all day long.
Mike P. met us on the bike path and rode us back to his house.  It's great finally seeing mike again. I've been looking forward to meeting up with him for a long time. When we got back to mike's house his friends were there waiting for us.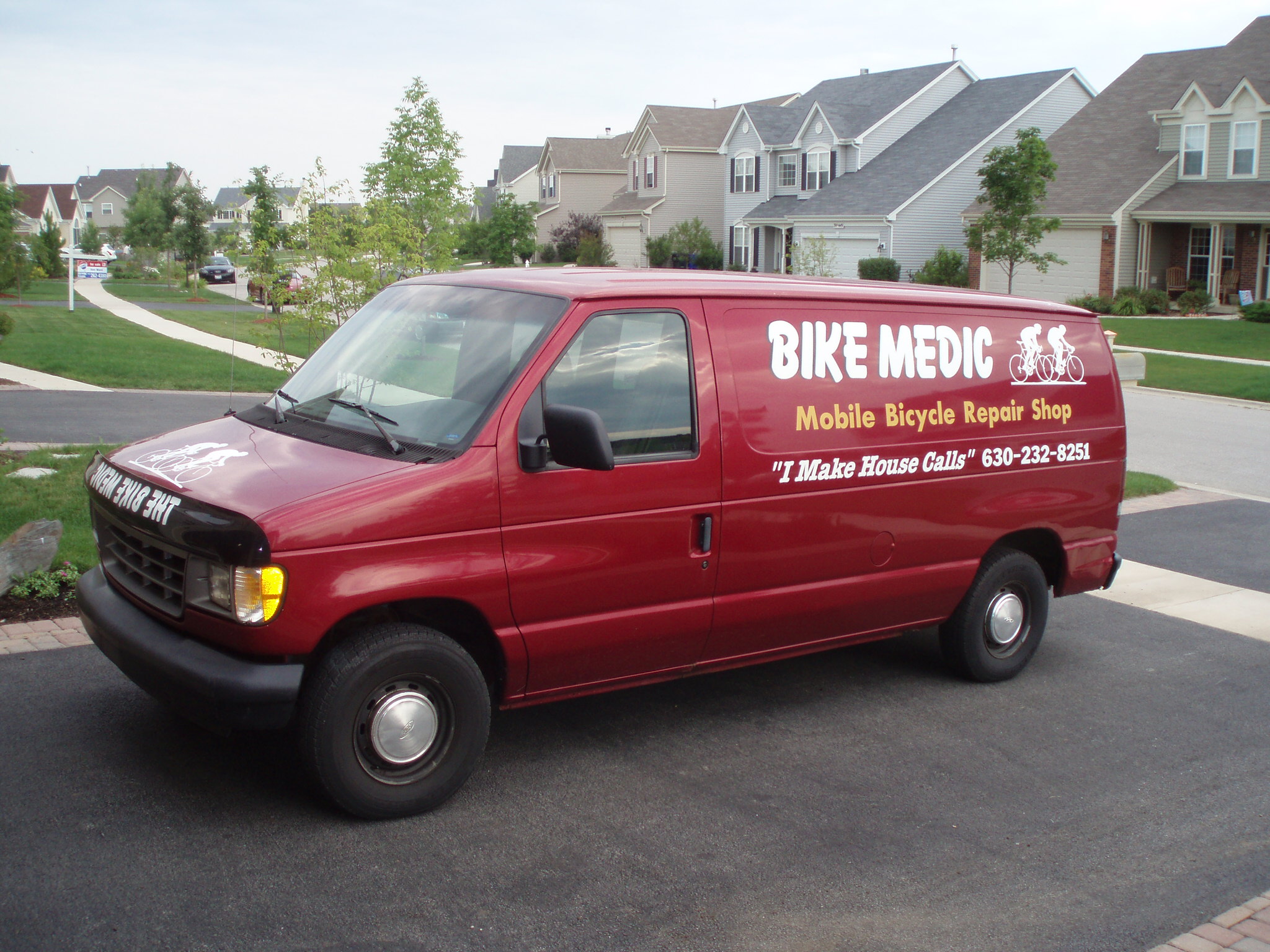 Mike's Wife, Bob Kennedy, Terry and Chris were all waiting for us to arrive. We Hung out in the garage while mike cooked on the grill. It was great to finally meet Bob; he's been following our journal since we started. And has left us a few guestbook entries. It felt great being at mike's house eating good food with good people.
Bill showed up a little late all duded up in his cycling clothes. When he arrived he announced he had a present for mike P and gave him an autographed copy of Floyd Landis's book. Bill went to the book signing last week in Chicago. Then we found out bill was only wearing his cycling clothes as part of the presentation for mikes present.
Jamie and I ate a ridiculous amount of food, at dinner with talked with Bill a lot about the bike tour that him and mike did last fall around Alabama. The journal for that trip exists: http://www.crazyguyonabike.com/doc/alabamaadventure
For the rest of the night we all watched the Tour De France and talked. It felt really great finally being at mike's house. I think tomorrow, we're going to take the day off and get caught up on the journal and some errands we have to get done.  Wednesday morning Mike's going to ride out with us for 2 days into Wisconsin.
Click Here to Visit The Table of Contents
Click Here to Visit Previous Page: Day 36: Chicago, IL to Chicago, IL
Click Here to Visit The Next Page: Day 38: Geneva, IL to Geneva, IL: Bike Medic & Mailbag Videos