Tuesday July 24, 2007 <b>ZERO </b> miles
Click Here to Visit The Table of Contents
Click Here to Visit Previous Page: Day 37: Chicago, IL to Geneva, IL: Prairie Path Video
Click Here to Visit The Next Page: Day 39: Geneva, IL to Williams Bay, WI
We were up around 8am. Mike's friend Bill Knudson made plans with us last night to have breakfast at the diner.  We casually spoke of riding to the diner, but Jamie and I were so caught up in computer stuff that we ran outta time so we took the Bike Medic van over there.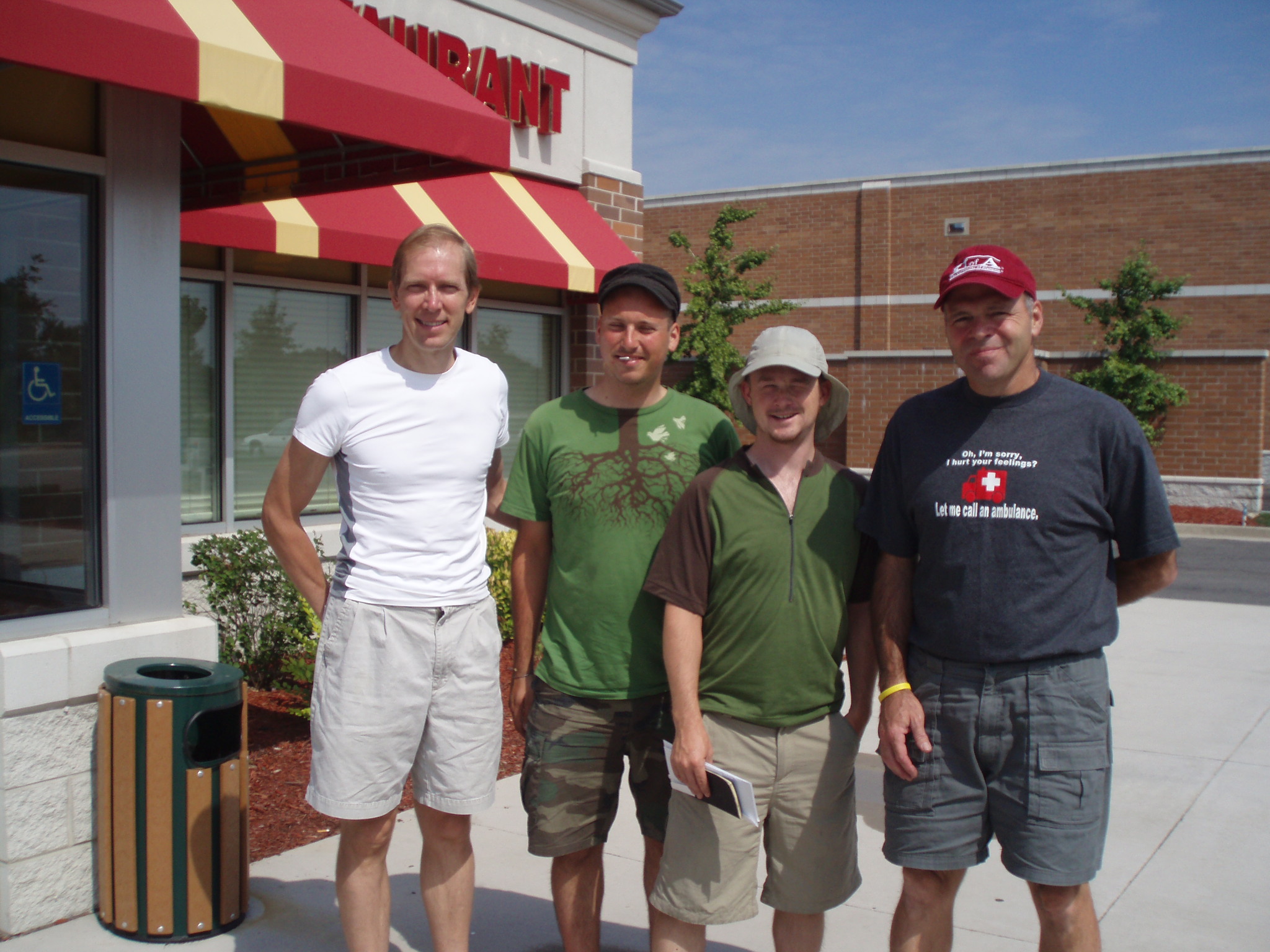 Bill met us at the restaurant and we had a great breakfast with him. We talked about cycling, bike tours, Chicago and families. Good men conversation. Bill was really excited to hear about everything that's happened to us since we left Maine. It was great to see Bill on our quick visit through Geneva; He's a very busy guy.
After breakfast mike took us to the new bike shop so I could buy a replacement tire. The bike shop was pretty fancy but unfortunately they didn't have the 2008 Trek Madone (the fastest bike they make). I've been dying to see that bike in real life, since I saw it in bicycling magazine in Ohio.
We got back to Mike's house around 11am.  I sat down in mike's office with my laptop, got comfortable and started working at updating the journal. I updated about 5 days' worth of stuff. All days with tons of shit to write about and a million pictures.
While I was working on the journal Jamie was editing video. We both did a lot of work today putting tons of stuff on the web. Which drives us crazy when no one leaves us any comments in the guestbook. The guestbook is located at the top of the page or you could just follow this link:
http://www.crazyguyonabike.com/doc/guestbook/?o=R116&doc_id=1890&v=RV
We frequently wonder if it's really worth doing all this journaling, its overly time consuming while trying to bicycle across the country.
I didn't finish with the journal until about 5pm when Mike said dinner was ready.  Mike cooked us some of his FAMOUS tomato sauce. The secret recipe has been in his family since they came over from the old country and it was really delicious sauce.  Mike Riscica ate almost all the food.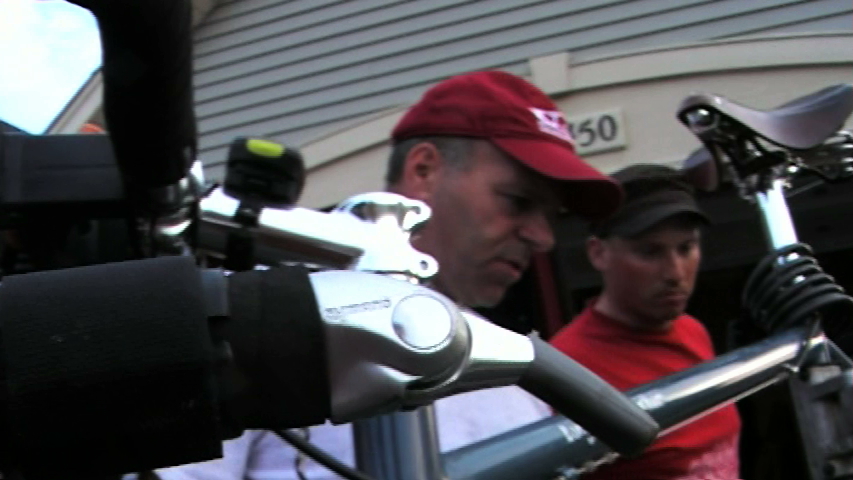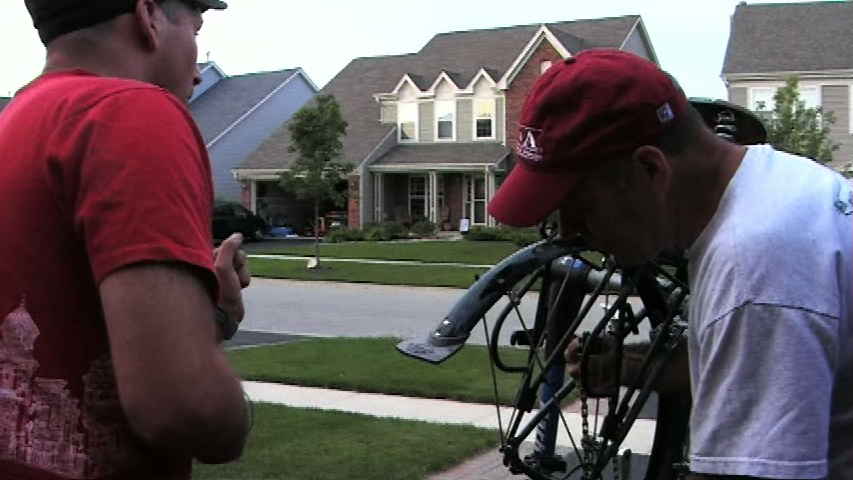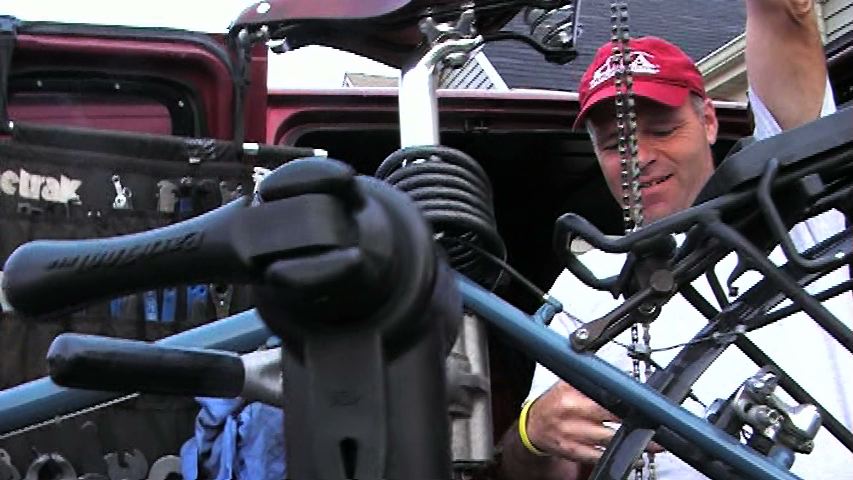 After dinner Mike Palombi helped us with our bikes. I got a new chain, cleaned cassette, adjusted brakes, Loctite some bolts, cleaned the frame, filled up tires, tightened crank, and trued the wheels. Jamie's bike got new handlebar tape, tightened headset, trued wheels, cleaned frame, adjusted brakes, blah blah blah.
While we were outside Mike's neighbors Marshall, Mark and Catherine stopped by to say hi and ask us about our trip. Their kids Conner and Alison were really cute. Conner kept saying 'I love you' and 'Don't break your wheel!'
While mike was helping us with bikes Jamie took most of the footage for the bike medic video which can be found at: http://www.teamnortherntier2007.blogspot.com/2007/07/bike-medic.html
Jamie also filmed the Mailbag video: http://www.teamnortherntier2007.blogspot.com/2007/07/mailbag.html
The rest of the night we just took it easy and got ready to ride out in the morning. Today we needed a vacation from our vacation. But most of all we needed a Zero mile day. Even though we took 2 days off in Chicago we still rode 80 miles in those 2 days making sure we saw everything.
Tomorrow we're riding out to Mike's nephew's house who lives in Williams Bay, Wisconsin.
Click Here to Visit The Table of Contents
Click Here to Visit Previous Page: Day 37: Chicago, IL to Geneva, IL: Prairie Path Video
Click Here to Visit The Next Page: Day 39: Geneva, IL to Williams Bay, WI