Wednesday July 25, 2007, 77 miles (125 km) – Total so far: 1,890 miles (3,041 km)
77.39 Miles 6:30 Pedal time 11.8 avg mph
Click Here to Visit The Table of Contents
Click Here to Visit Previous Page:Day 38: Geneva, IL to Geneva, IL: Bike Medic & Mailbag Videos
Click Here to Visit The Next Page: Day 40: Williams Bay, WI to Fort Atkinson, WI: Singing Animals in Wisconsin Videos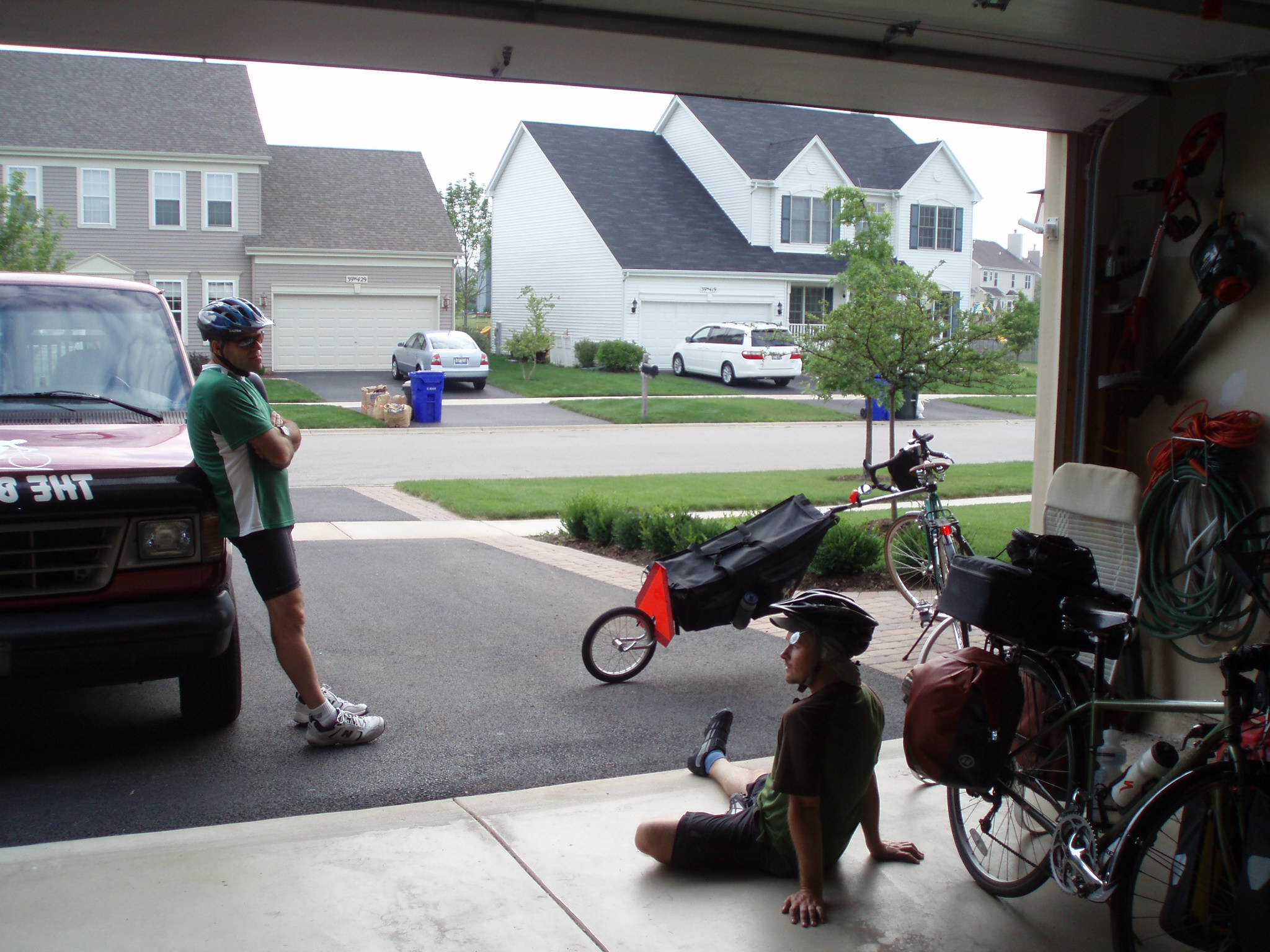 We were up at 7am and on the bikes riding by 8:15. The morning went quick cause last night we packed up the bikes so it would be an easy morning. The plan for today was to ride 65 miles north to Mike Palombi's nephew's house that lives in Williams Bay, Wisconsin.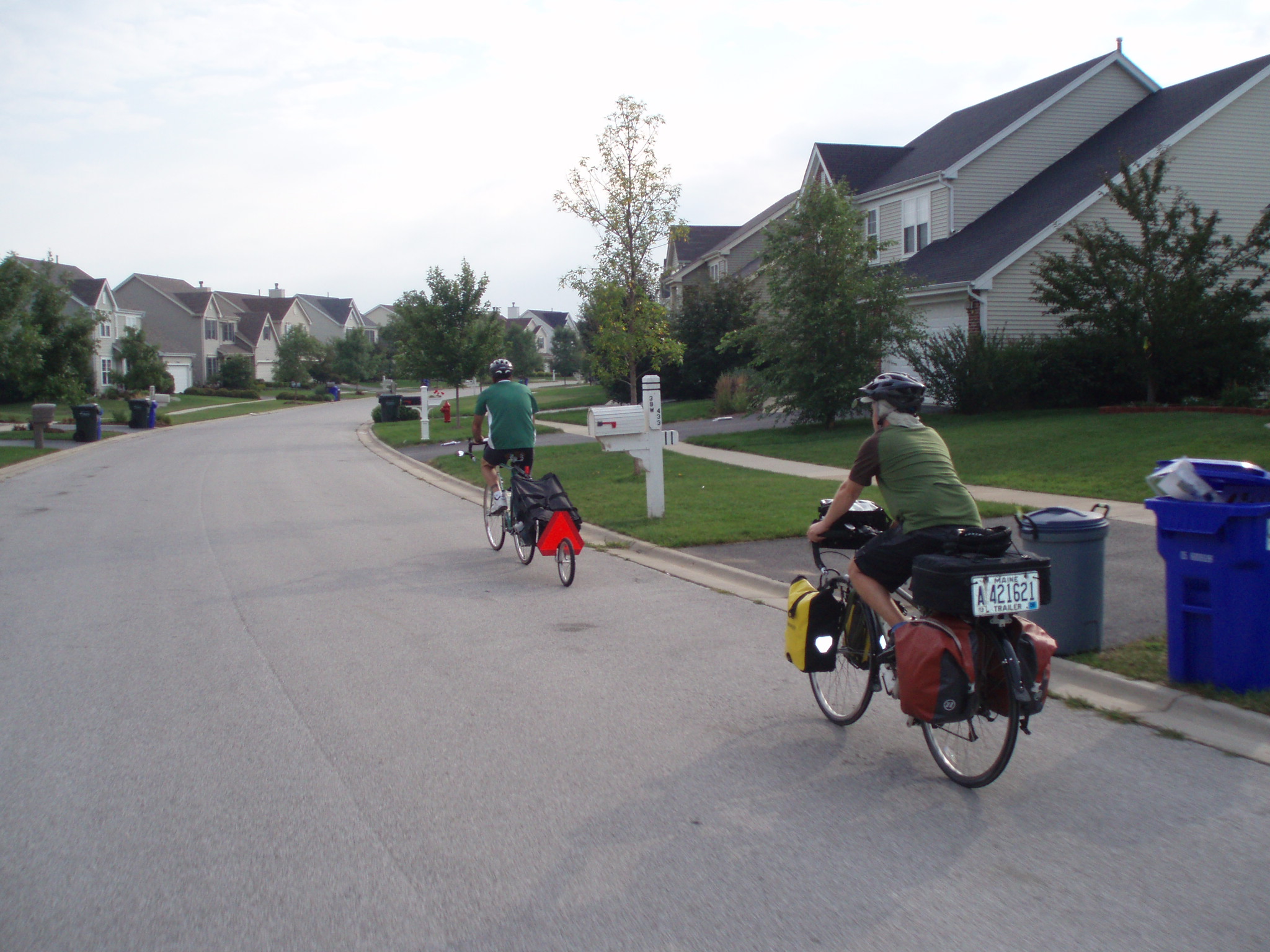 Where Mike Palombi lives in Geneva there are bicycle trails everywhere and he knows them like the back of his hand so we just followed him. Eventually we arrived at the Fox River bike trail that took us north towards Wisconsin. It was really pretty ride.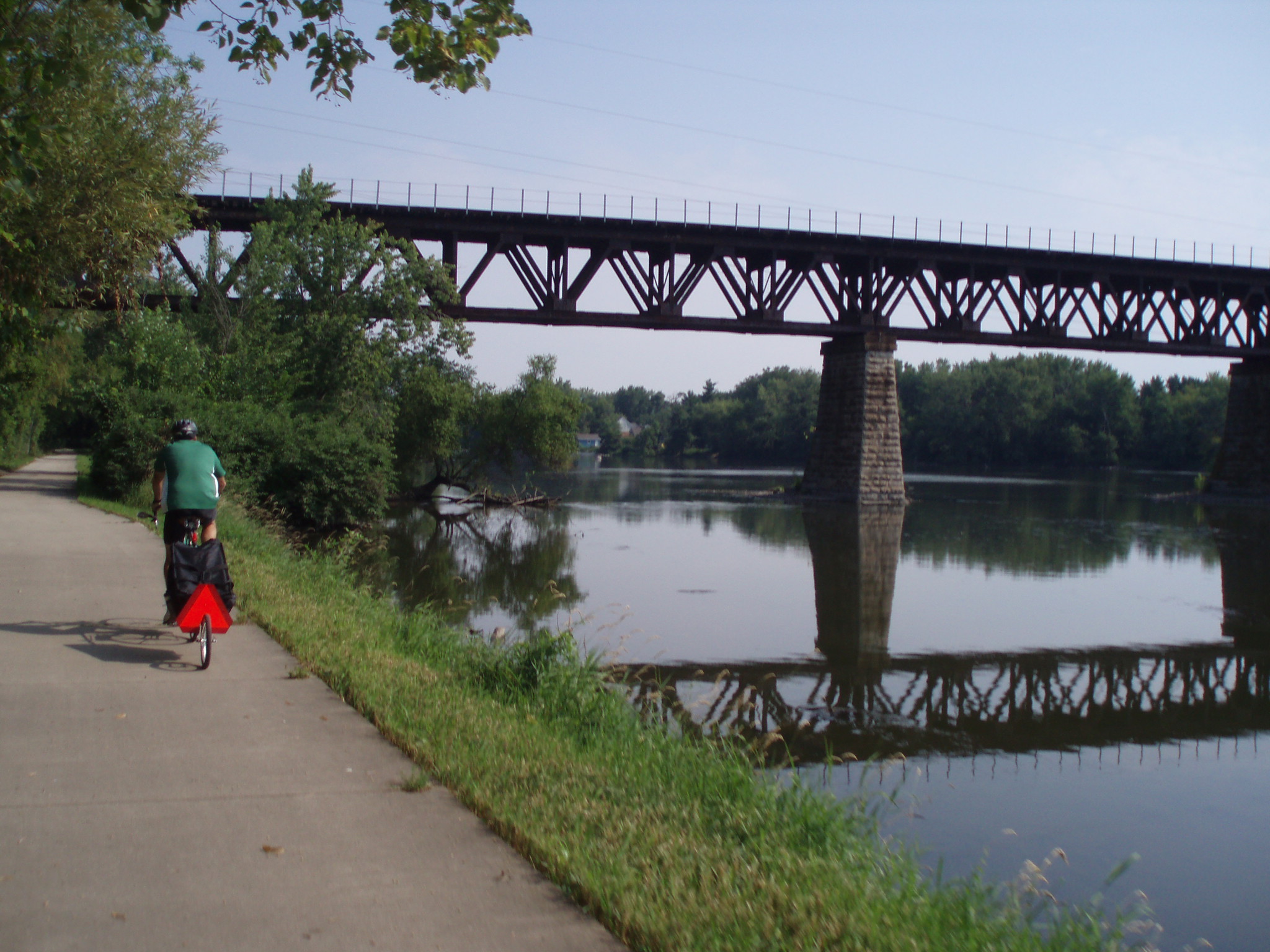 The day was perfect. The wind was from the southwest and we were riding north all day long.  When we got into Crystal Lake the bike trail threw all these awesome little curves and hills that were really a lot of fun to ride through. It felt like a rollercoaster ride. We all got really excited and charged right through those little guys.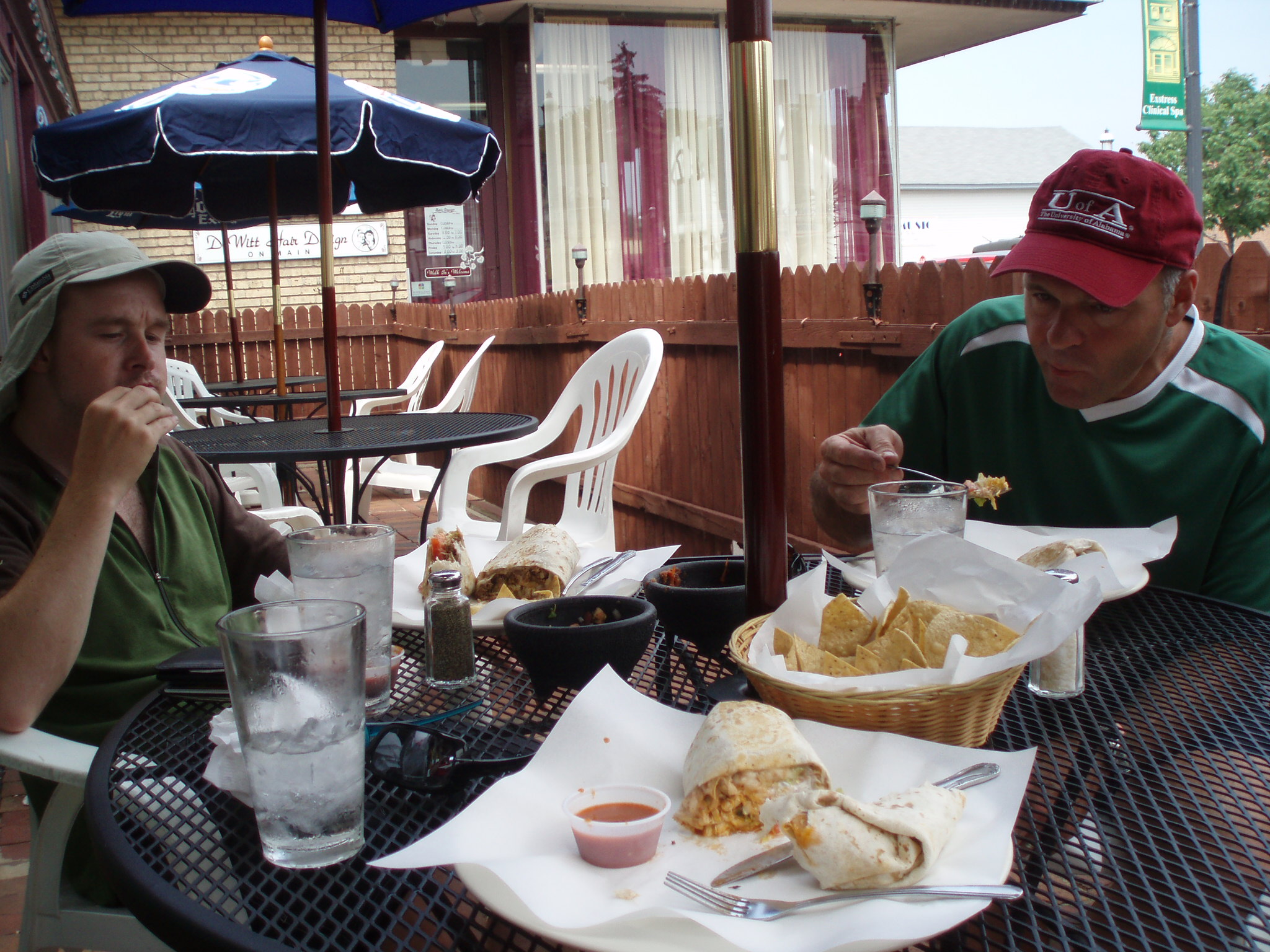 We stopped at a bike shop so mike could fix something on his bike and then we decided to have lunch at a Mexican place. I wanted the burrito because the last 2 times I've ordered a burrito it made me very happy.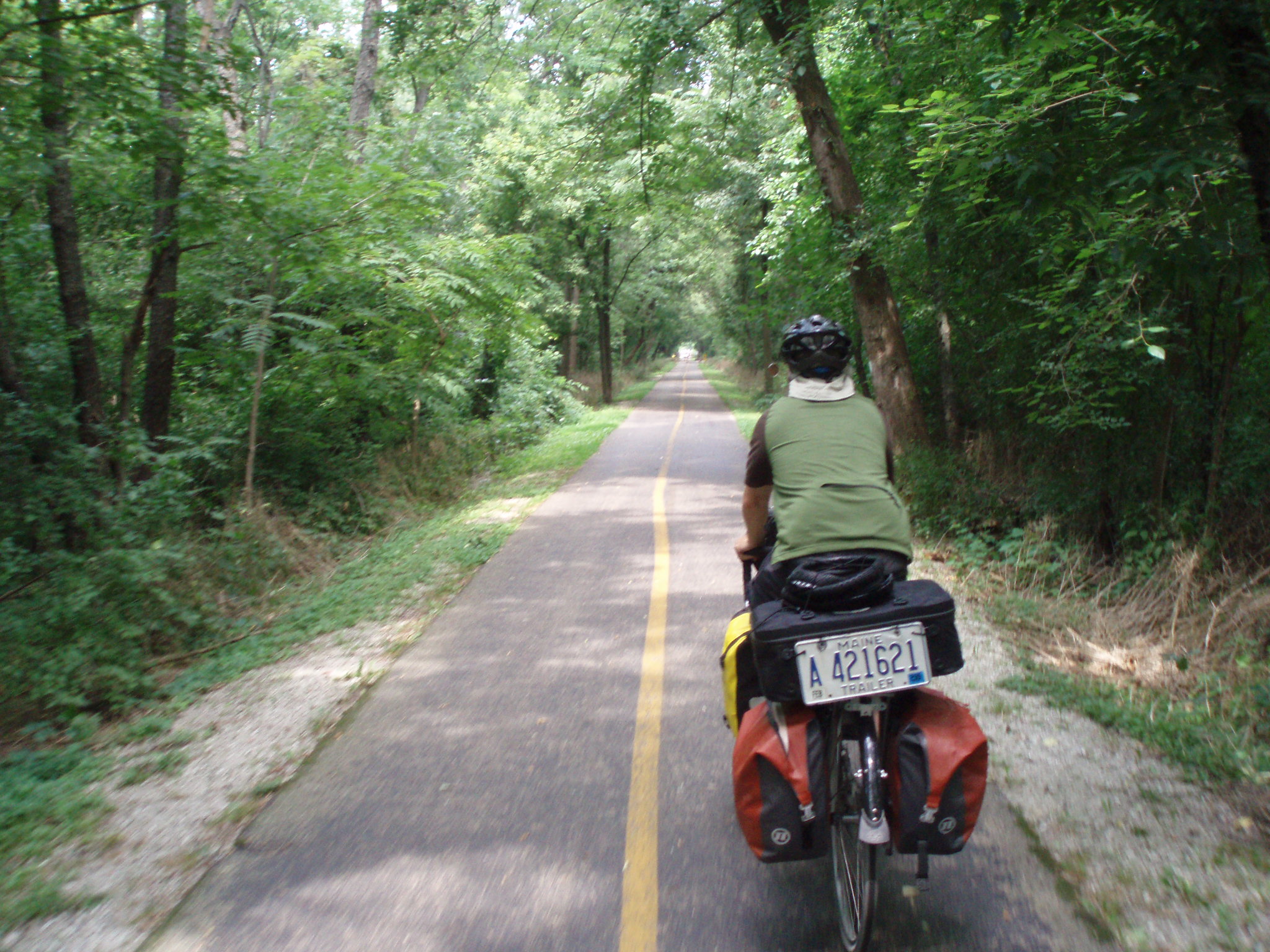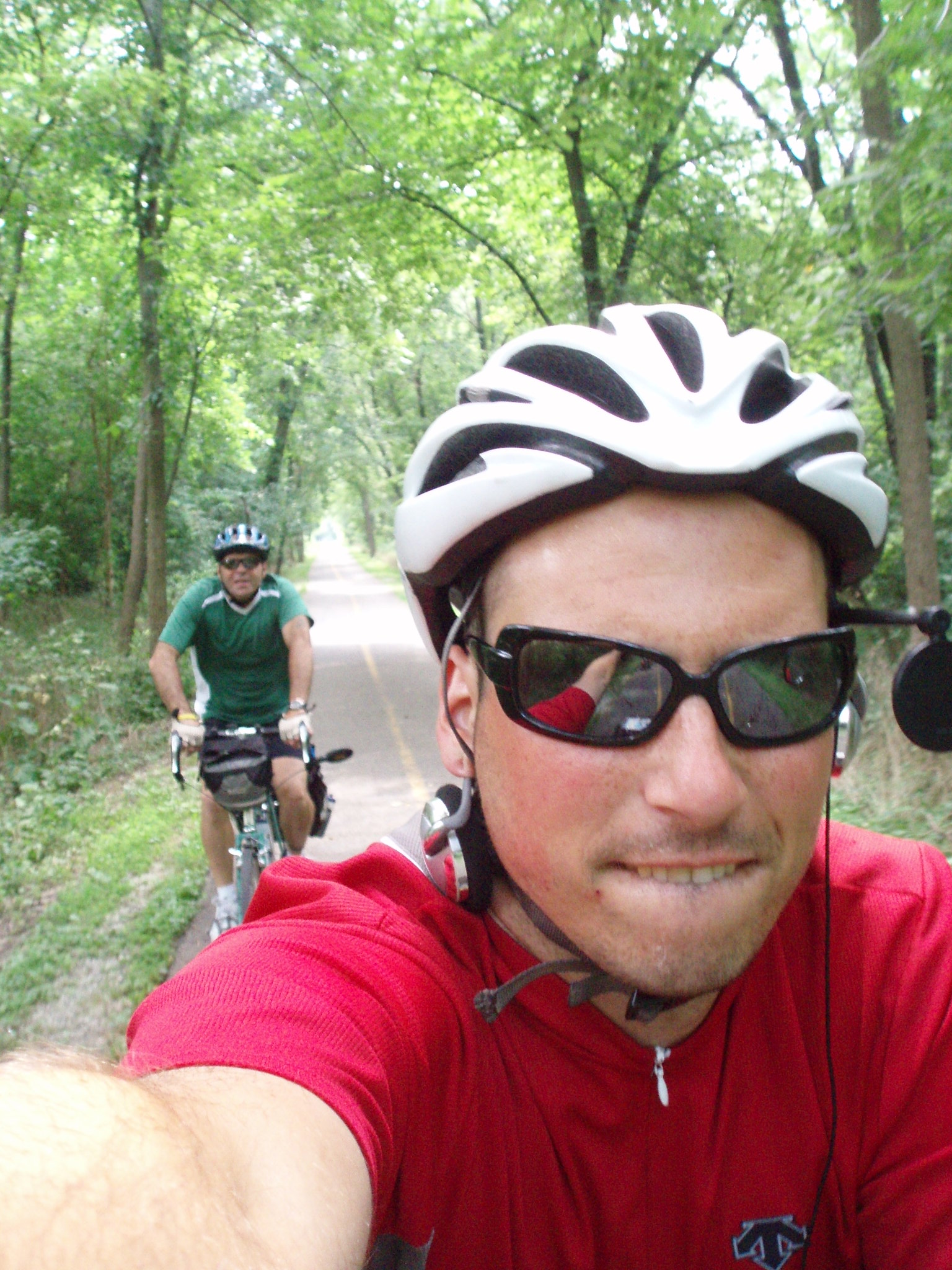 After lunch the rest of the day slowed down, due to the burritos we all ate.  Mike Riscica had to make an emergency stop at a grocery store to make some room in his belly. When we stopped some kid asked us where we came from and were going so I told him. Then he looked Jamie and I up and down and in a very doubtful way told us that we're a long ways away from getting to Seattle. I agreed with him and said 'Yeah it really sucks to be us.' then Jamie smiled and said 'Yeah, ya know this bike trip idea was a bad idea!' it was a pretty funny conversation.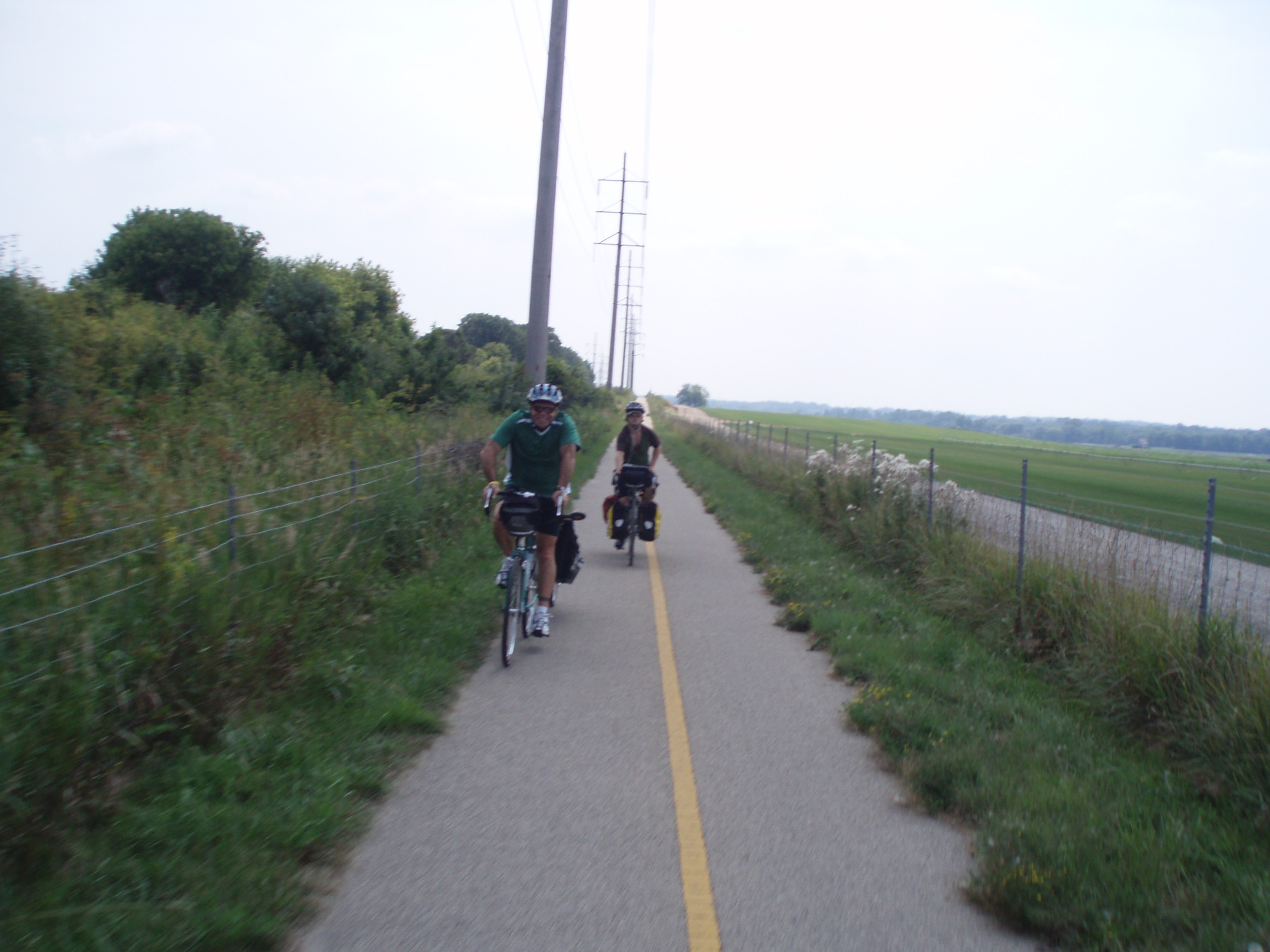 Back on the bike trail we caught a sick tailwind that had us flying like a bunch of madmen down the trail.  We quickly knocked off some miles pretty fast.
It was a real pleasure riding the Fox River trail. We rode 50 miles before we had to get back on the roads. No cars, nice weather, enjoying the good company of our friend Mike Palombi, the day was ours.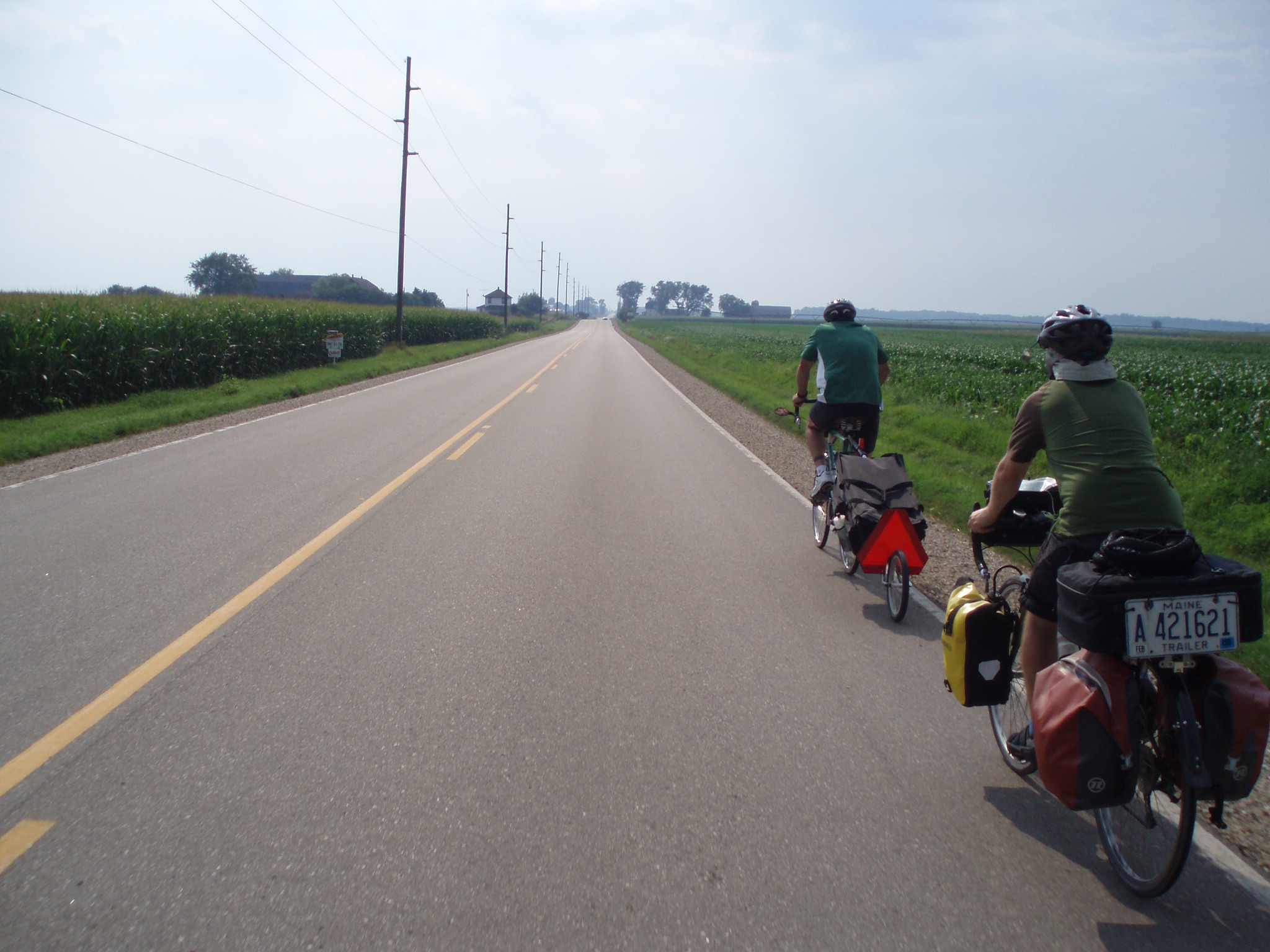 We crossed into Wisconsin. There was no sign or welcoming committee there to greet us at the border. So much for that picture. Shortly after we crossed into Wisconsin Chuck sent me a text message saying that his Aunt had just passed away.
When we got into Wisconsin it got real buggy we had to ride with our mouths closed. Jamie swallowed a mouthful of bugs by accident.
On some back road I accidentally bumped into Jamie while I was trying passing him on the road. I knocked into him with my pannier. Jamie yelled and lost control of his bike and fell right over. Mike P and I both jumped off our bikes to make sure he was alright. He's fine he just scraped his arm.
The last couple of miles Mike Riscica really struggled. Mike Palombi screwed up the mileage because it turned out to be a 77 mile day and not a 65 mile day. He told us his sister always gets mad at him when he does this and accuses him of trying to trick her. Soooooo we gave Mike a hard time and accused him of tricking us.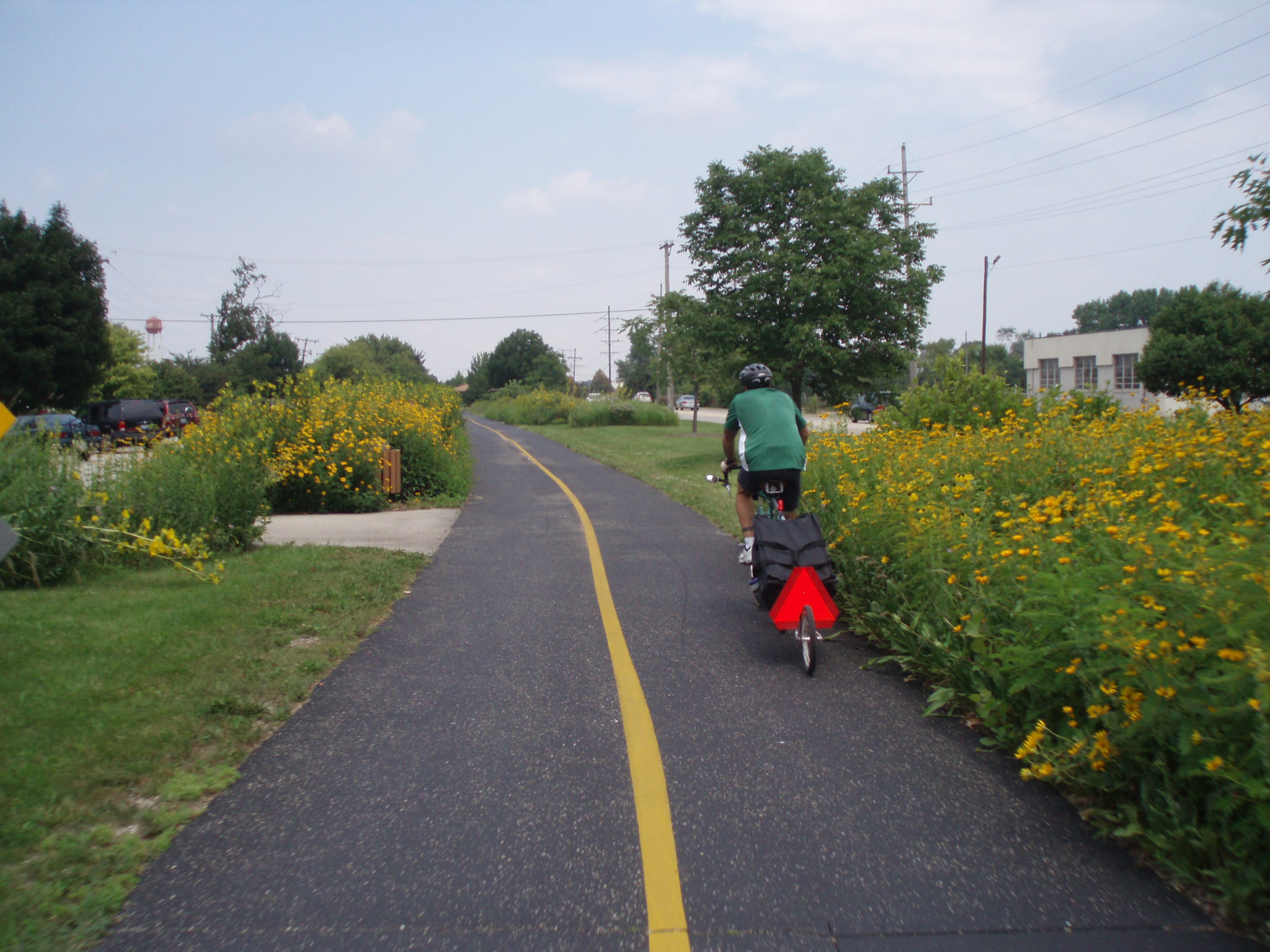 Mikes Nephew Jeff rode out a few blocks and found us on the way to his house. We enjoyed some beers and Jeff's wife Marcia cooked up an amazing Italian dinner for us. Jeff told us all about the bike tour he did with Mike Palombi last fall in Alabama.
Mike P's wife Dori stopped by for a few minutes to say hi. She was visiting her sister who lives down the block.
Before dinner Jamie and mike P busted Mike Riscica's balls about knocking Jamie over and then being more concerned with checking to make sure the computers were alright instead of Jamie's arm.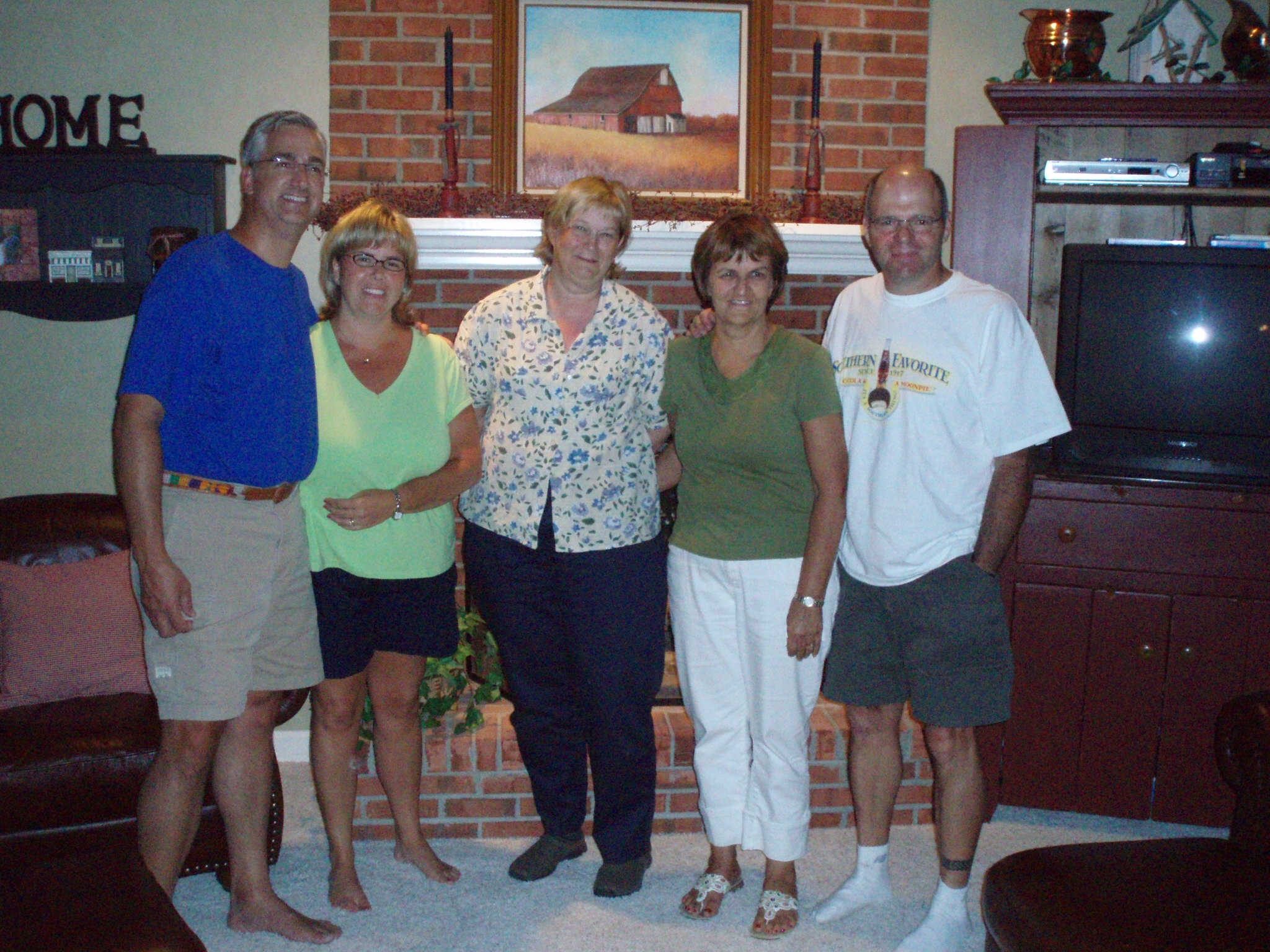 The rest of the night was pretty quiet. Mike's Wife's sister and cousin came by they told us all about Experimental Aviation show that is going on in Oshkosh. Dori's cousin has lived in Anchorage, Alaska for the past 30 years and she told a lot about life in Alaska.  We had a really nice time staying at Jeff and Marcia's they are really nice people.
Click Here to Visit The Table of Contents
Click Here to Visit Previous Page:Day 38: Geneva, IL to Geneva, IL: Bike Medic & Mailbag Videos
Click Here to Visit The Next Page: Day 40: Williams Bay, WI to Fort Atkinson, WI: Singing Animals in Wisconsin Videos