Thursday June 21, 2007, 53 miles (85 km) – Total so far: 248 miles (400 km)
52.8Max speed 40 mph by both Mike and Chuck on the same hill
11.4 average speed by Mike Riscica
4 hours 37 minutes pedalling

Click Here to Visit The Table of Contents
Click Here to Visit Previous Page: Day 3: Bar Harbor, ME to Searsport, ME
Click Here to Visit The Next Page: Day 5: Waldoboro, ME to Turner, ME
We all got up at 530 this morning. It looked like it was going to rain all damn morning. Jamie fell off his bike trying to clip out of his pedals. He didn't get hurt it was pretty stupid.
We rode for a bit and stopped to eat some ham sandwiches that were leftover from last night's dinner. Jamie said the librarian from Blue Hill who commented on his journal the other day stopped him on the road to say hi. He said he was on his way to Augusta.
During lunch I helped Jamie fix his helmet mirror that he just broke. We spent some time trying to figure out our budget, finances, checks and balances. We're all slightly over budget on all ends of this trip so far. Jamie says we shouldn't drink beer unless it's the weekend, we can't afford it. I told him to go to hell.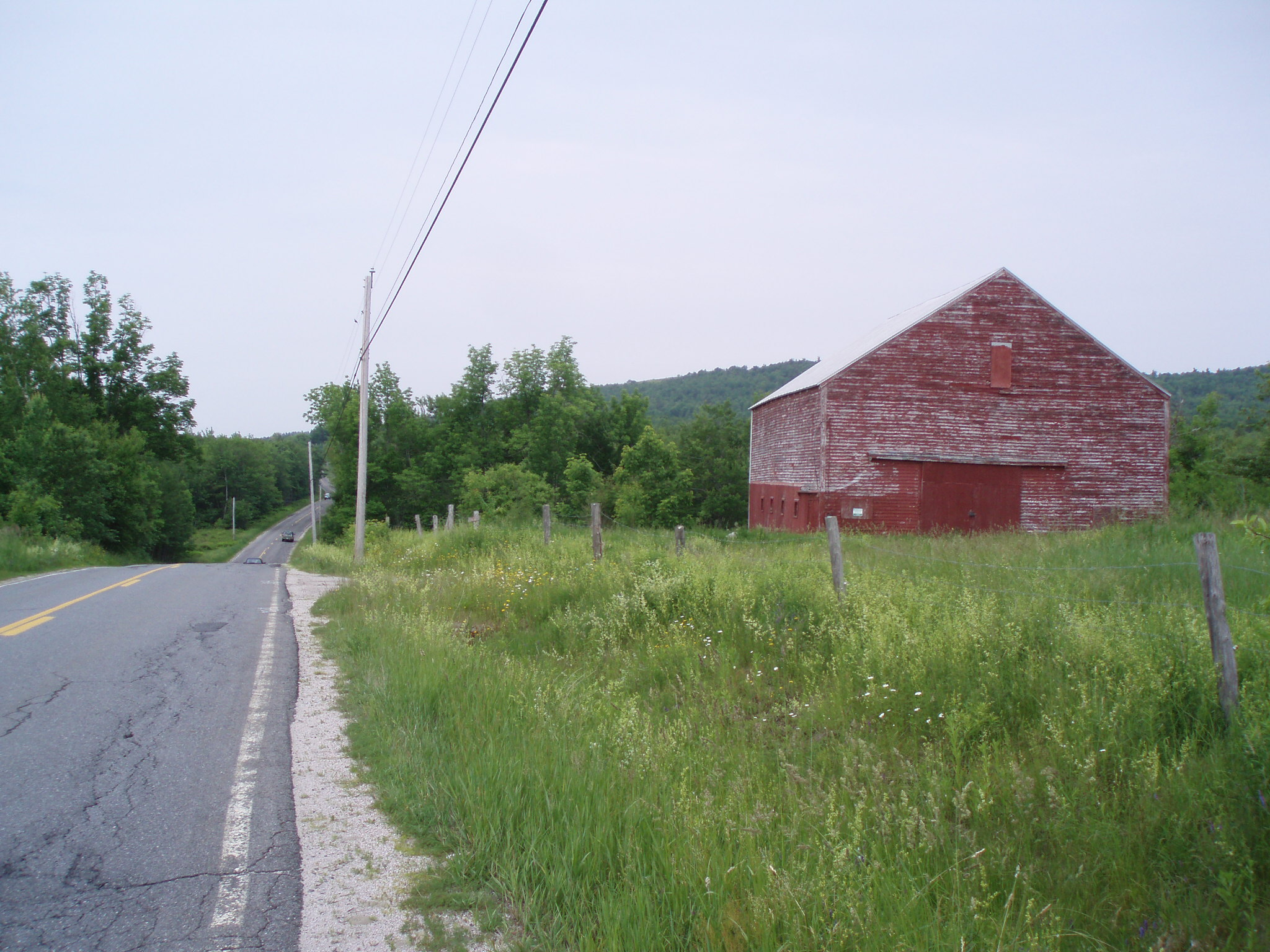 A few miles after our pseudo ham sandwich lunch Jamie stopped in the middle of the hill and stayed there for a few minutes. Eventually I rode back down to where he was and his bike was all screwed up. The fender was rubbing his tire, his rack was all bent outta shape and it was missing some bolts. Luckily I brought tons of extra nuts and bolts with us and we put his bike back together.
The scenery was starting to change from beautiful coastal views to mountains and lakes. We blasted our way down the rolling hills and let our speed push us ¾ of the way up the hill that was waiting for us.
Maybe 15 minutes after we fixed Jamie's bike, chuck went to flip his kickstand and the whole thing was really loose. So we tightened his kickstand and I looked at his rear rack and most of the bolts were loose and he was missing 1 or 2 bolts. So I fixed Chuck's rack. I'm starting to think this rack that comes with the trek 520 is a piece of shit. When we got back on our bikes, chuck noticed my rear tire needed air. So I pumped it back up to 90 psi.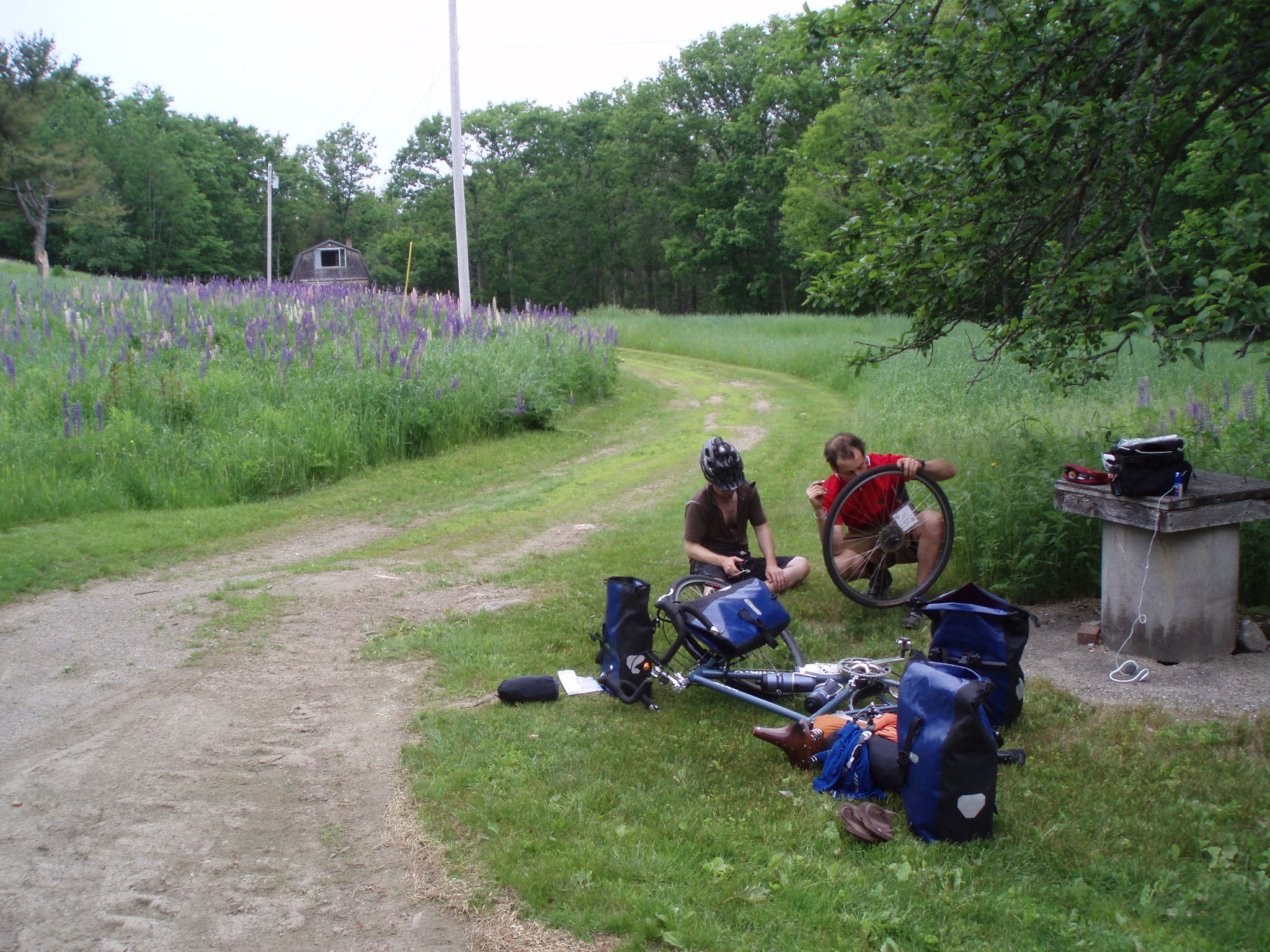 5 minutes later I got a flat tire. I was already cranky from the cold and the gloomy look of the day. The mosquitoes ate us alive as I changed the flat. Jamie videotaped while I cursed a lot and showed the video camera how to change a flat with my bad attitude. We're debating putting it on the web. It's kind of dumb and I just cursed a lot. If we do put it on the web it will exist at this site:
http://www.teamnortherntier2007.blogspot.com/2007/06/how-to-change-flat-tire-with-dirty.html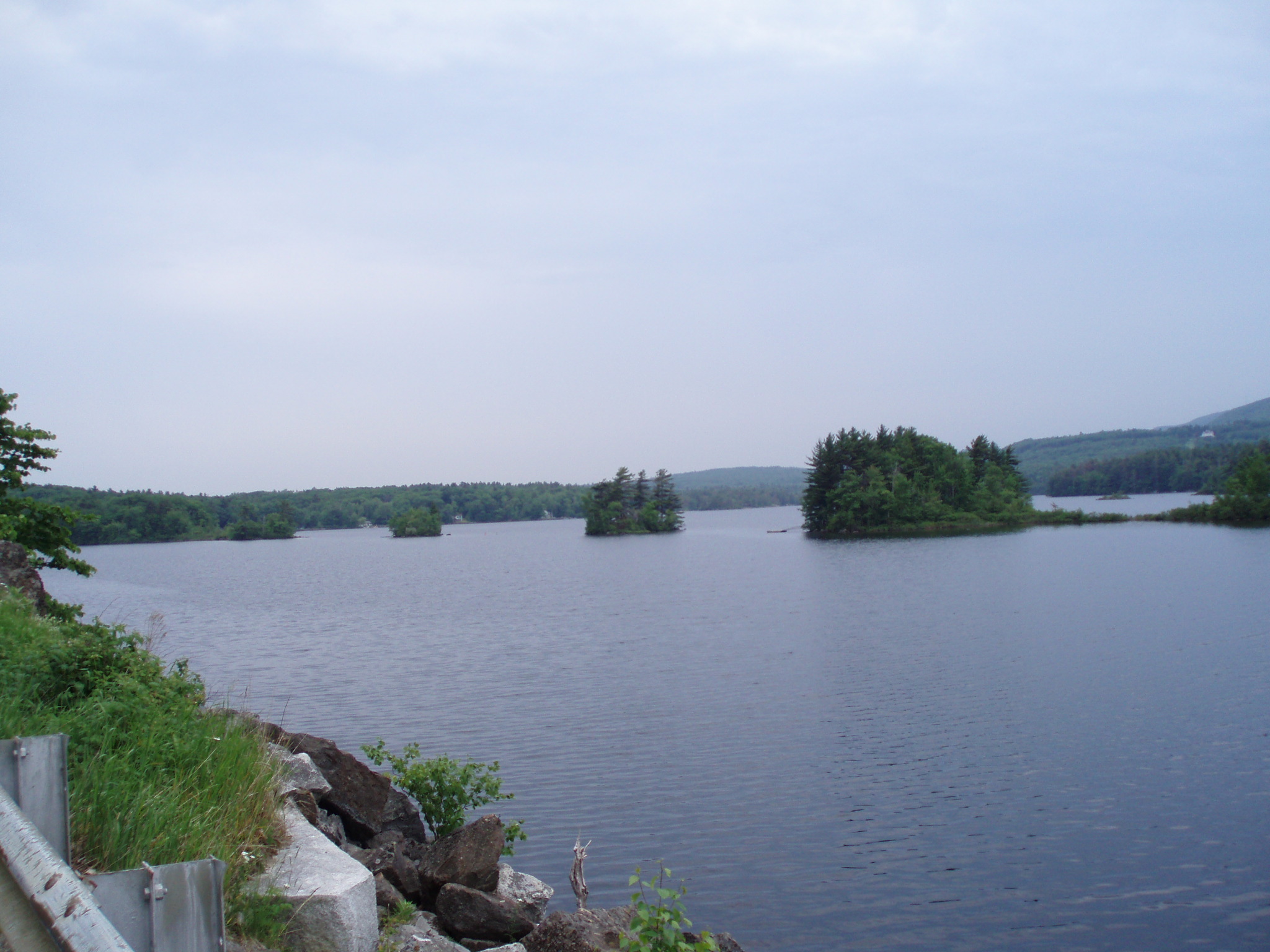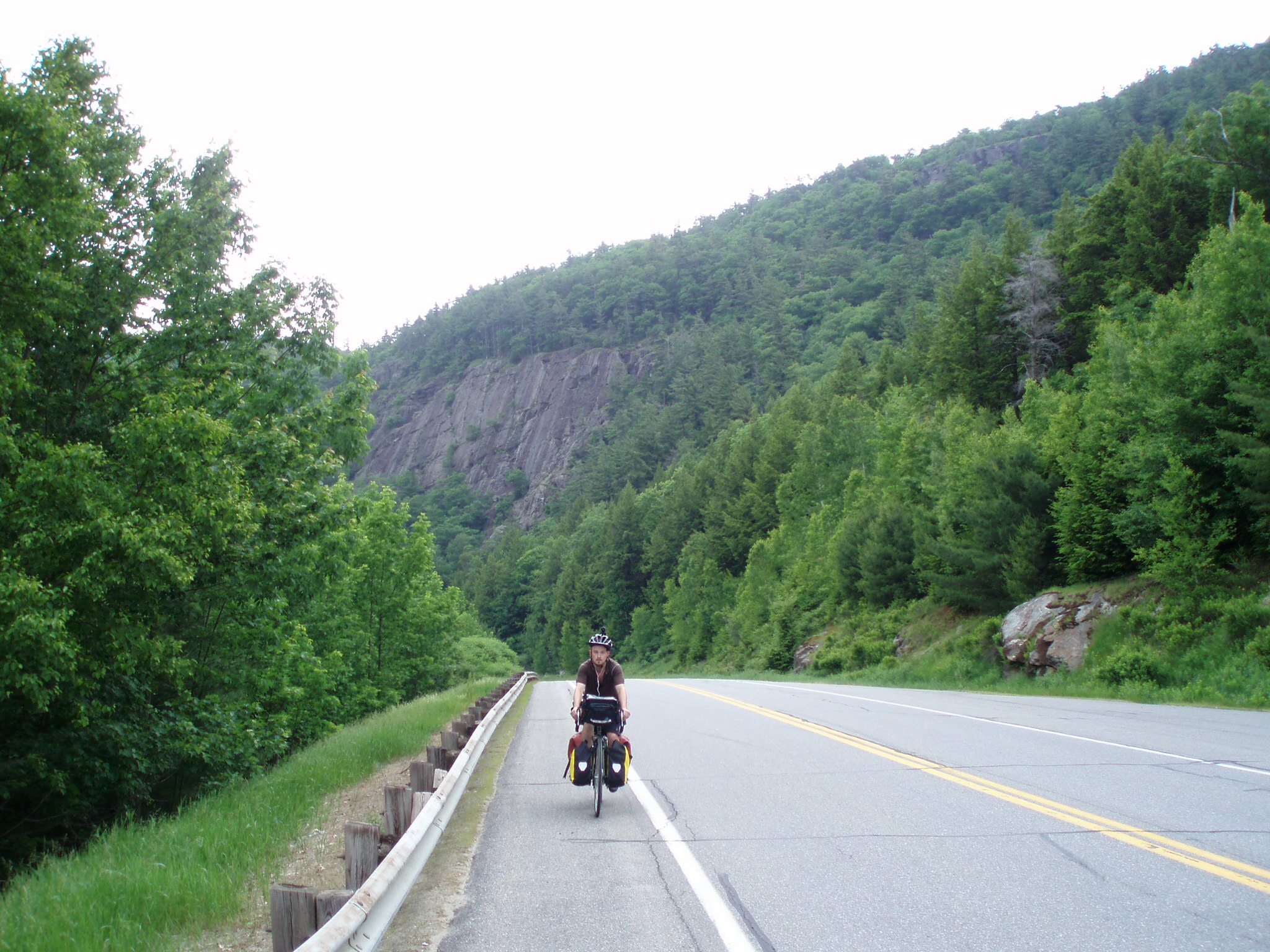 After the flat the day slowly got better. The riding got really great. The northern tier put us on some beautiful roads that had minimal traffic.  We rode through a nice town called Camden. It reminded me of Bar Harbor with a million gift shops we were all hungry so we just rode through to the next town. And stopped for lunch in Rockport. After lunch we spent some time in the library.
While we were hanging out at the library the rain finally caught up with us. We rode through like champs for the last 15 miles of the day.  I found this license plate on the side of the road; I picked it up and brought it with us. I'm going to try to zip tie it to the back of Jamie's bike. We stopped at the library at the last town for the day, Waldoboro. I got all the journal entries up, finally.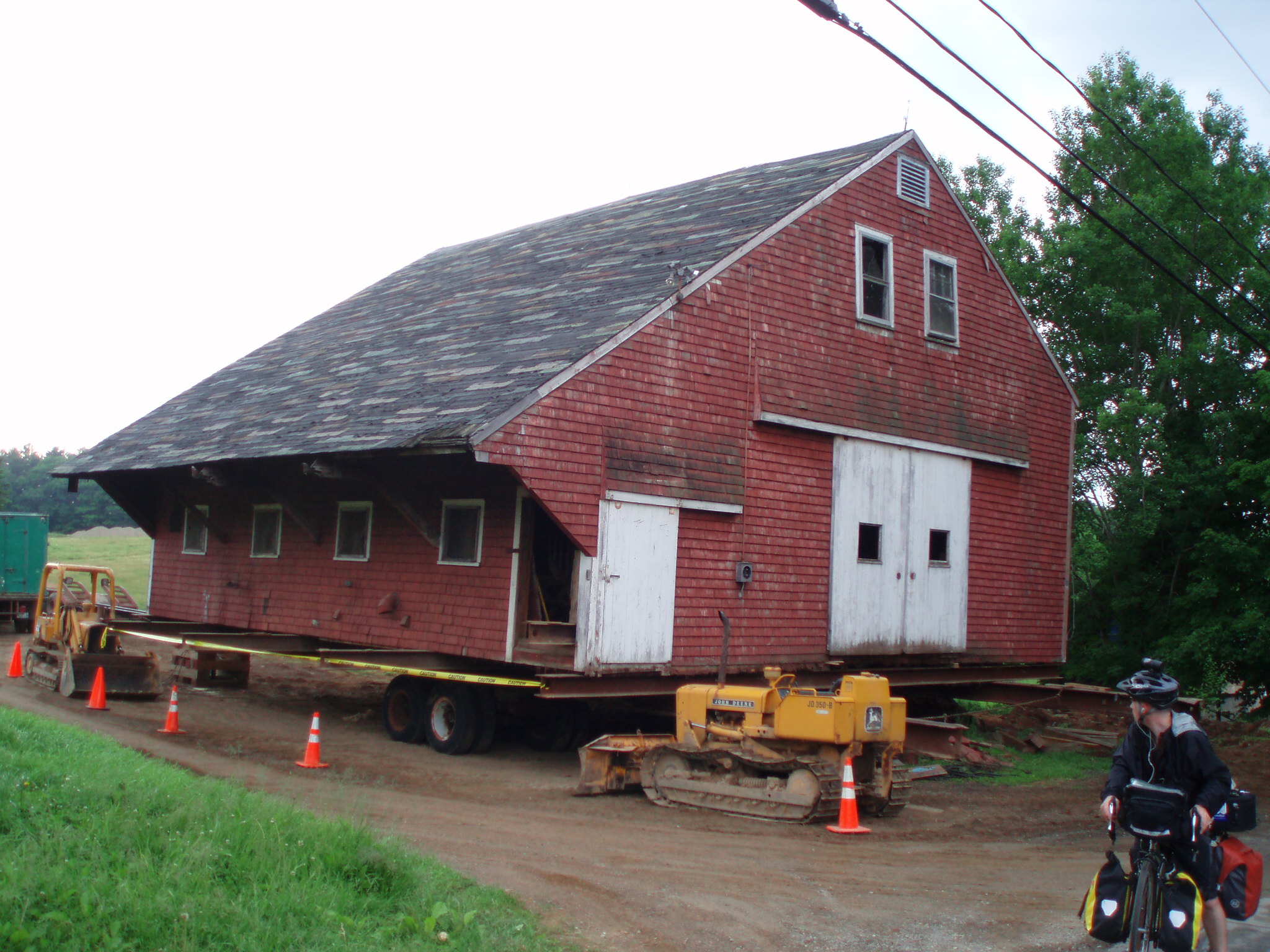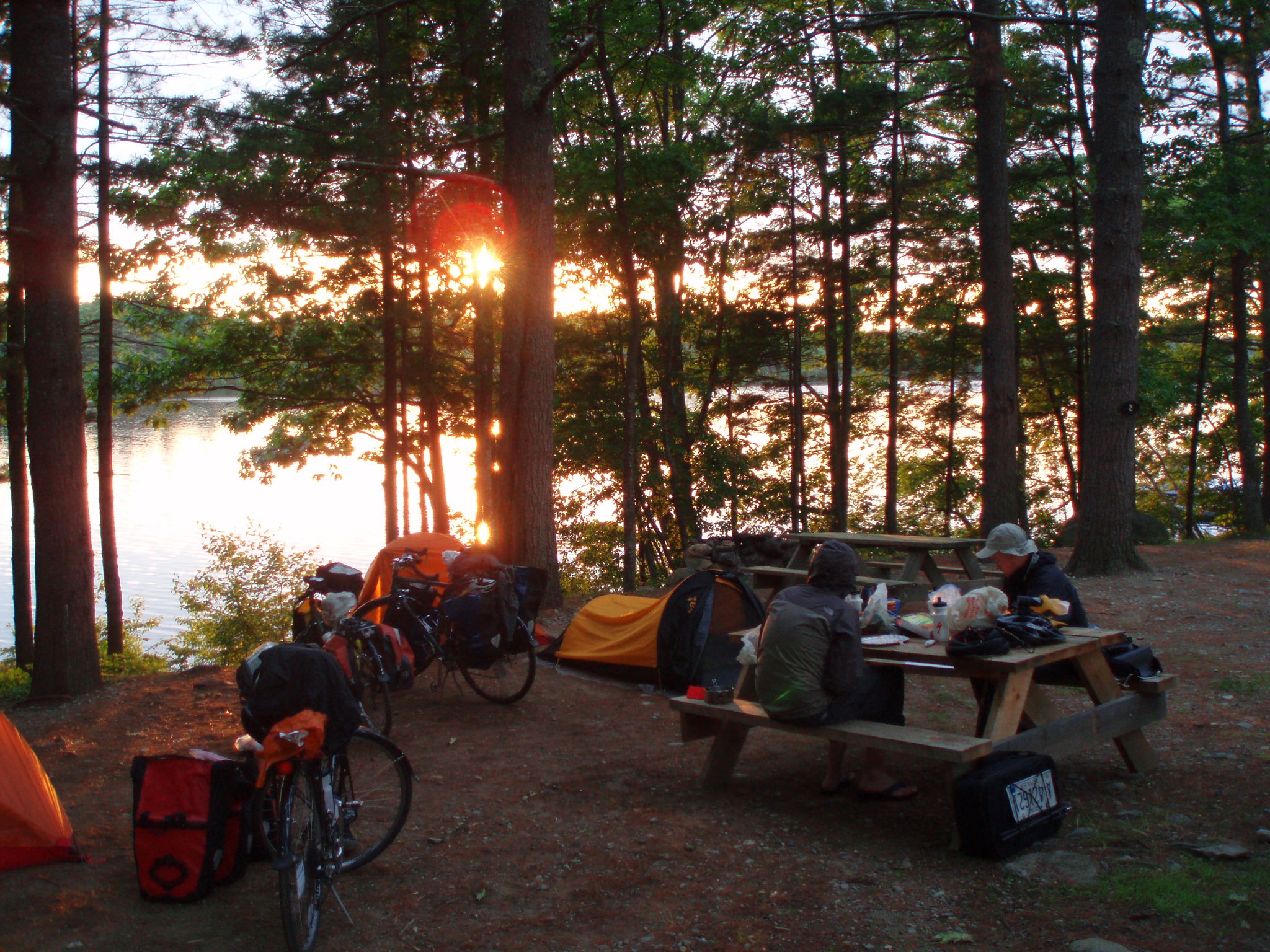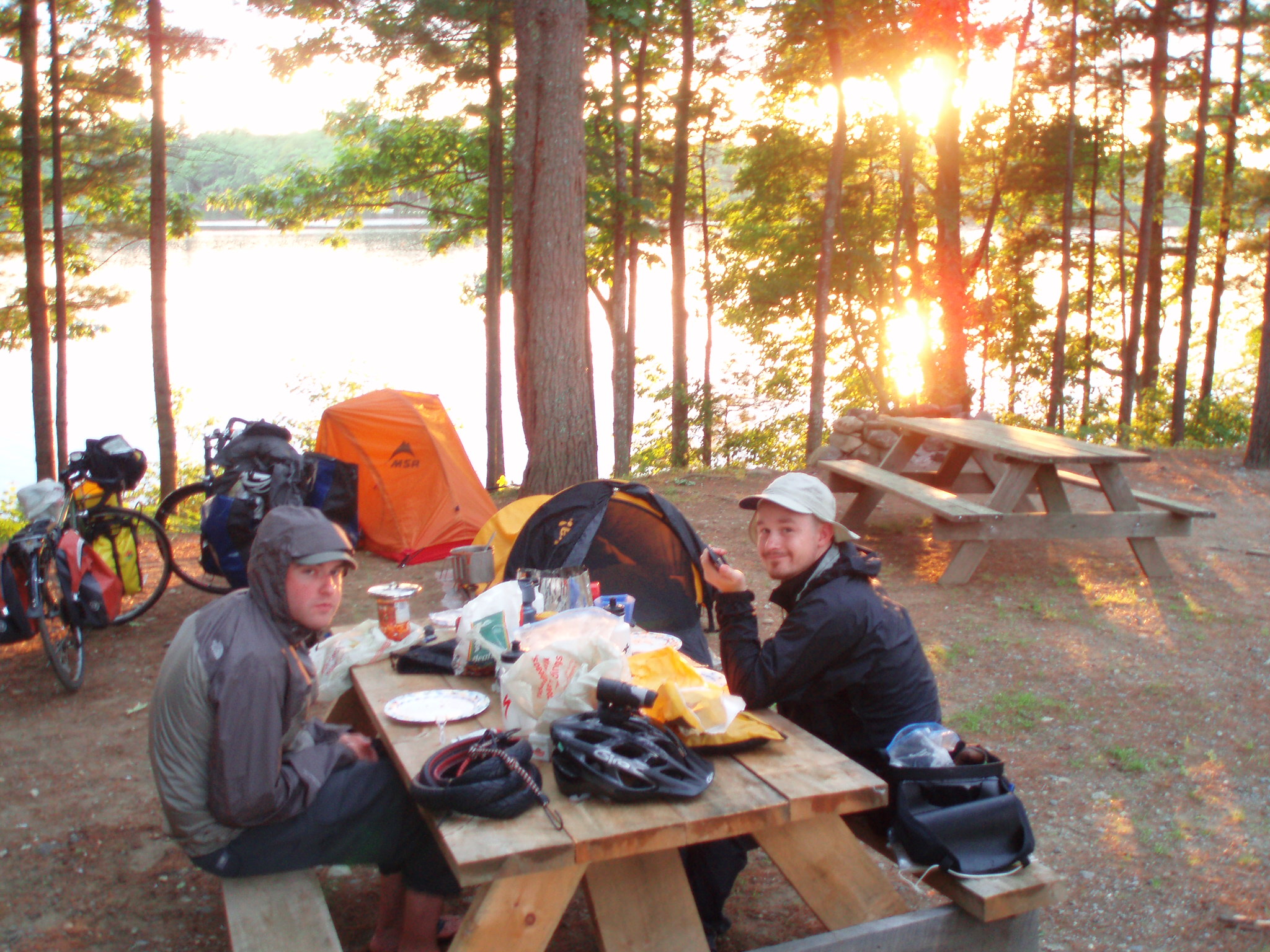 The sky cleared up and the sunset was gorgeous. We decided to spend a few extra dollars and got the lakeside campsite that was probably a bad idea cause the mosquitoes went crazy on us and we are still over budget.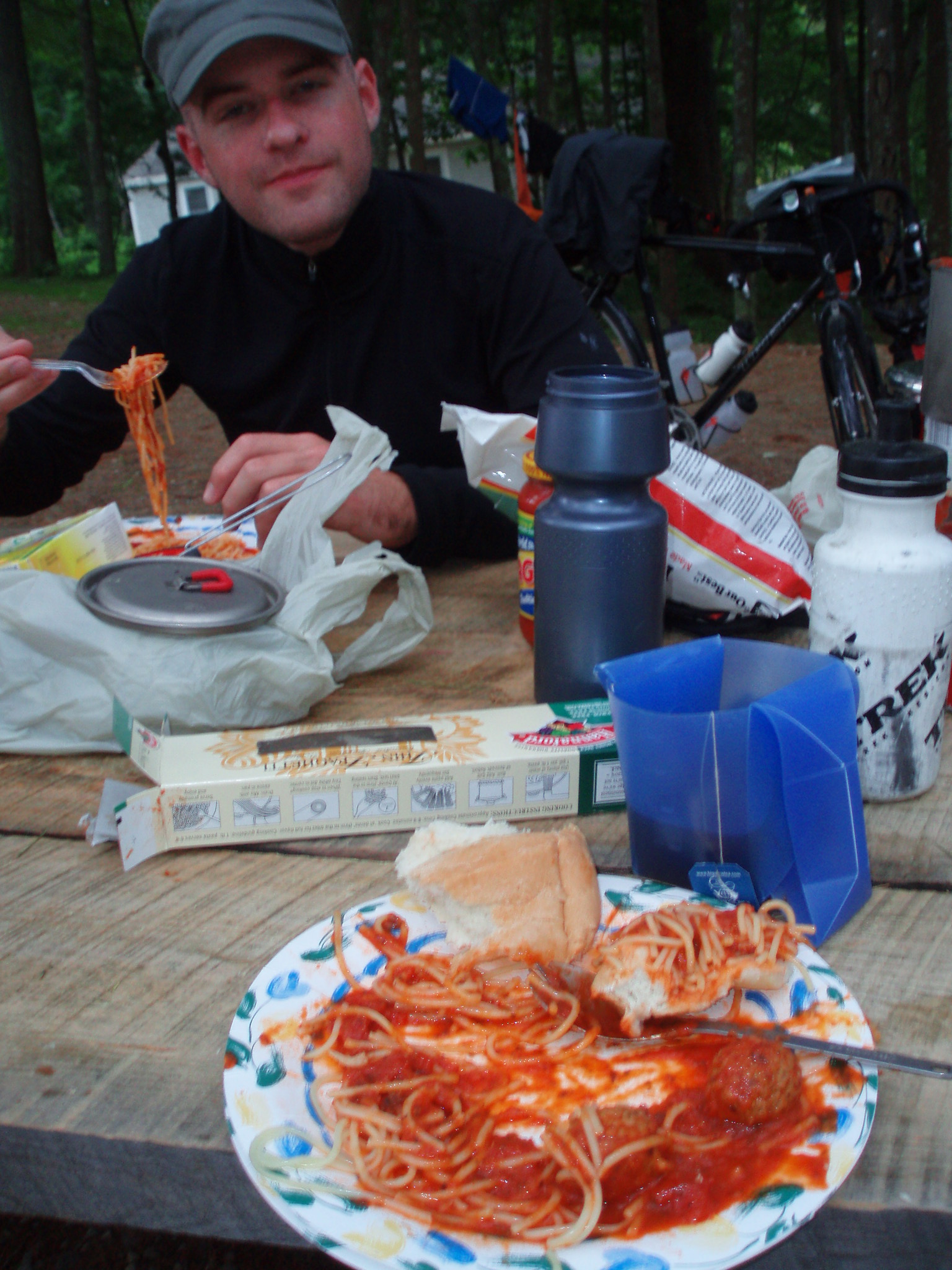 Chuck has been fighting this awful battle with poison ivy. Each day he's been putting on this cream but tonight it looks real bad, eventually we might have to stop at a hospital somewhere so he can get a shot of cortisone. See what happens and how things look in the morning.
Mike and Jamie worked on Internet stuff from their tents for the rest of the night.  The mosquito situation is a little off the hook tonight.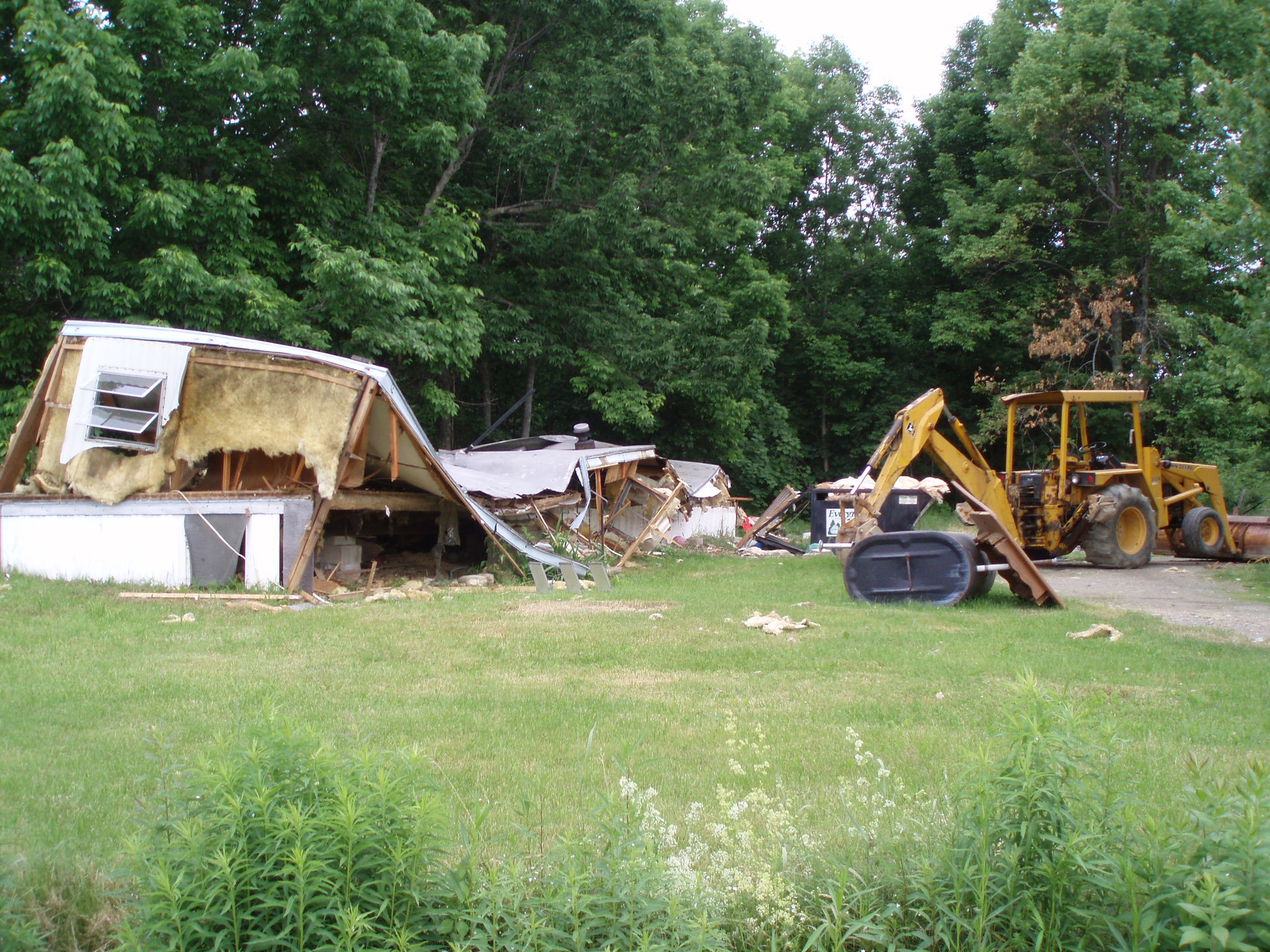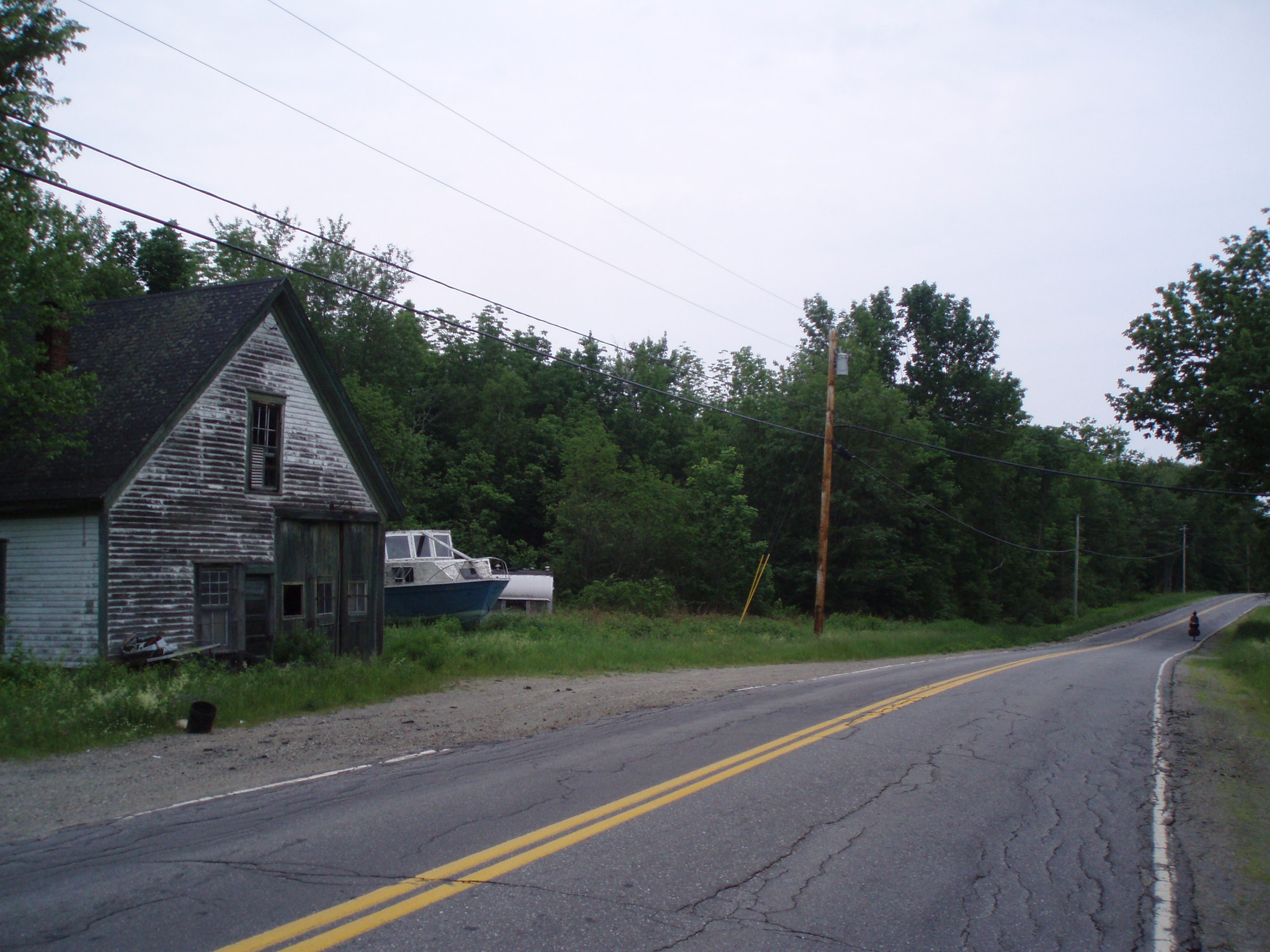 Click Here to Visit The Table of Contents
Click Here to Visit Previous Page: Day 3: Bar Harbor, ME to Searsport, ME
Click Here to Visit The Next Page: Day 5: Waldoboro, ME to Turner, ME