Friday August 10, 2007, 61 miles (98 km) – Total so far: 2,787 miles (4,486 km)
## map55 ## 60.92 miles 37 max speed 4 hours 15.3 avg mph!
Click Here to Visit The Table of Contents
Click Here to Visit Previous Page: Day 54: Fargo, ND to Page, ND, Sunflower VideoDay
Click Here to Visit The Next Page: Day 56: Binford, ND to Tolna, ND

We all got up at 6am. Chuck says the alarm I have set on my phone sounds like the alarm they would use to announce the Russians are coming.  I think this is going to be our alarm for the rest of the trip. Todays the day we're supposed to have 30 mph winds coming from the east. All day we're riding north and west.
We had breakfast at the town diner. It was ok. We all wanted to just get outta Page and get some North Dakota miles under the belt.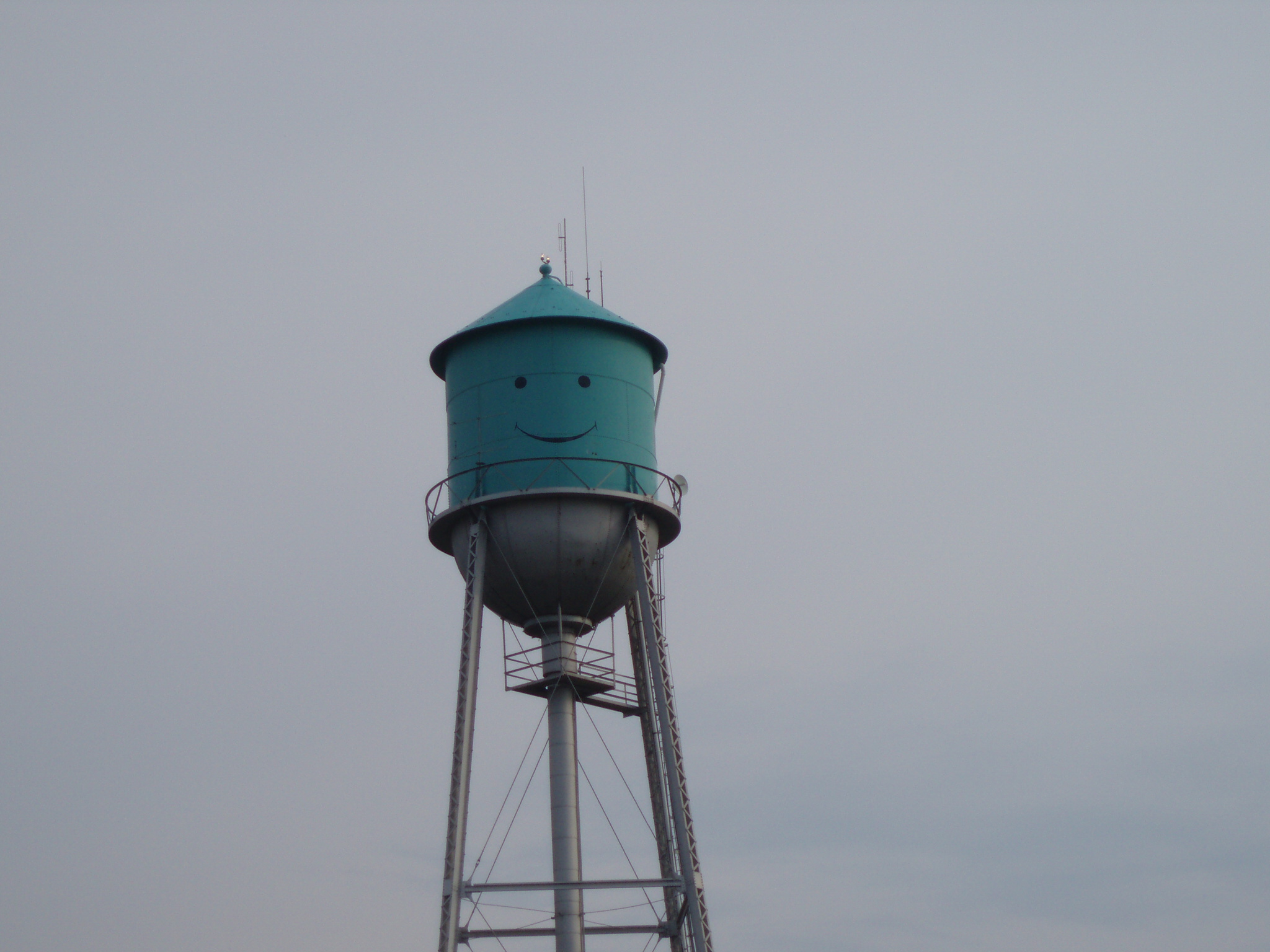 After breakfast we got on the road and we all caught the tailwind and rode 17-20mph to the next town 'Hope'. We all got fresh water, hung out in town for about 10 minutes and then got back on the road.
Our tailwind was amazing we were flying all day long.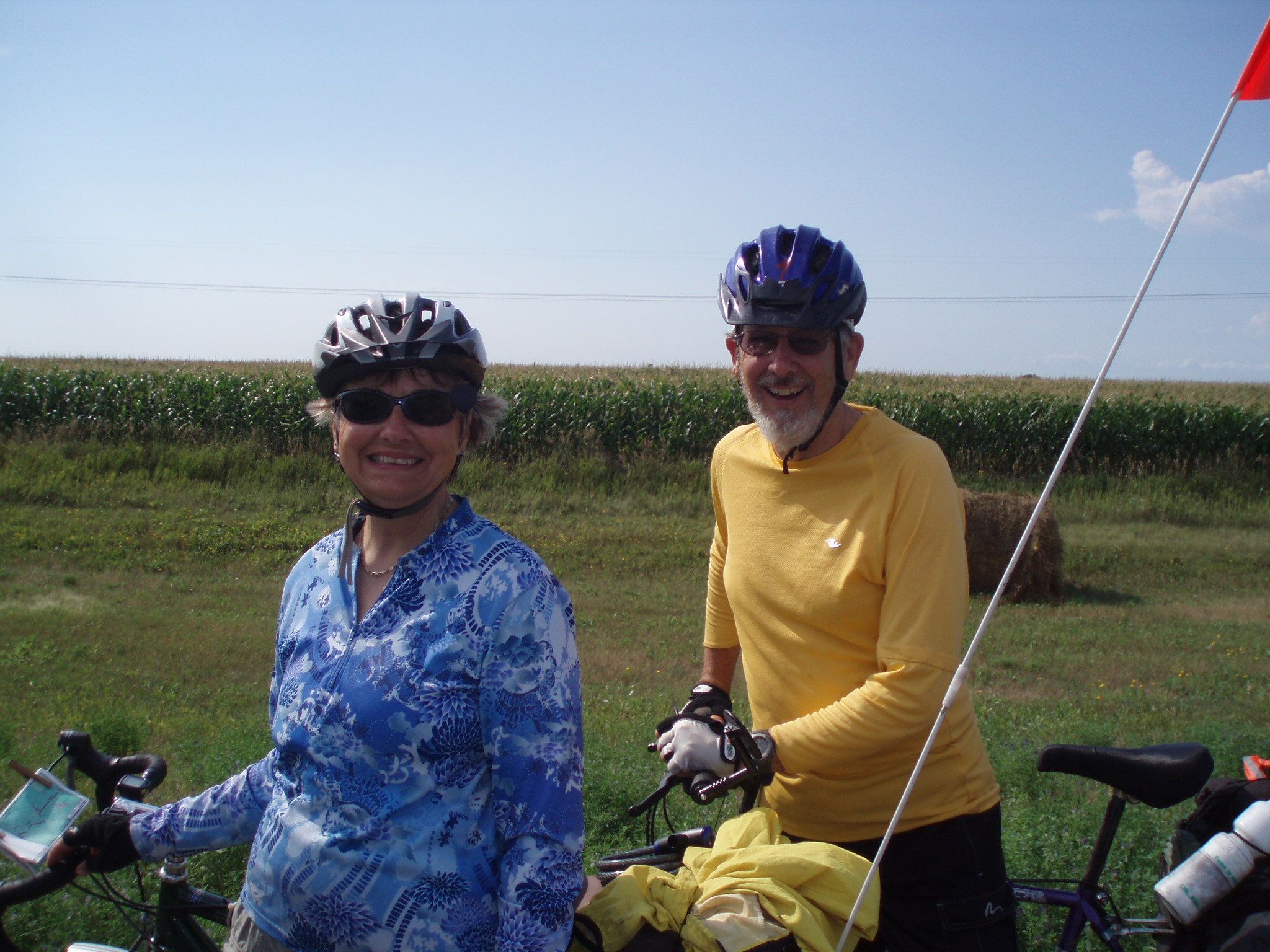 Shortly before we hit Cooperstown we saw cross country cyclists Barbara and Dave Curtis. They are on their way to Bar Harbor. We had a great time talking with them on the side of the road. Dave mentioned he thru hiked the AT last summer and used the name 'The Old Drum' I stared at him for a few minutes and then remembered meeting him last summer in the mountains of New Hampshire when I was out backpacking on the AT last year. We had talked about cycling the Transam and I remember he mentioned his wife had ridden cross country twice before. What a small world. Anyways they gave us lots of great advice about the road up ahead. Seeing them really made us excited about riding through North Dakota. They had nothing but great things to say, which is what we really needed to hear.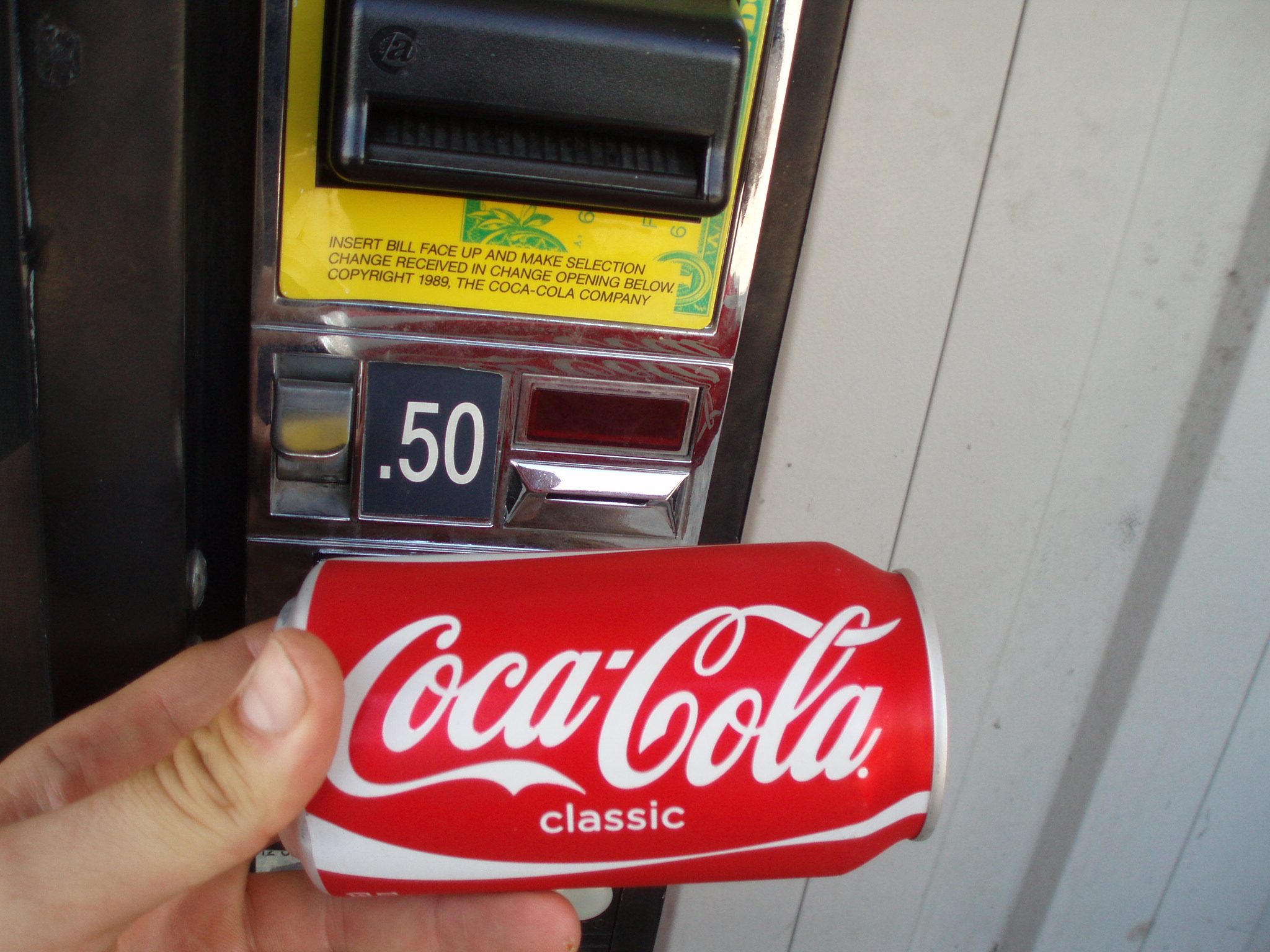 We rode into Cooperstown and took a quick break at the grocery. The sky was threatening insane weather, we picked up a Wi-Fi signal and chuck said 'I'm tired, I'm going to go to the park and take a nap!'  We both yelled at him that he was not, because we had the strongest tailwind we have ever had. We drank some $0.50 cokes and 10 minutes later the skies cleared up and we were back out on the road.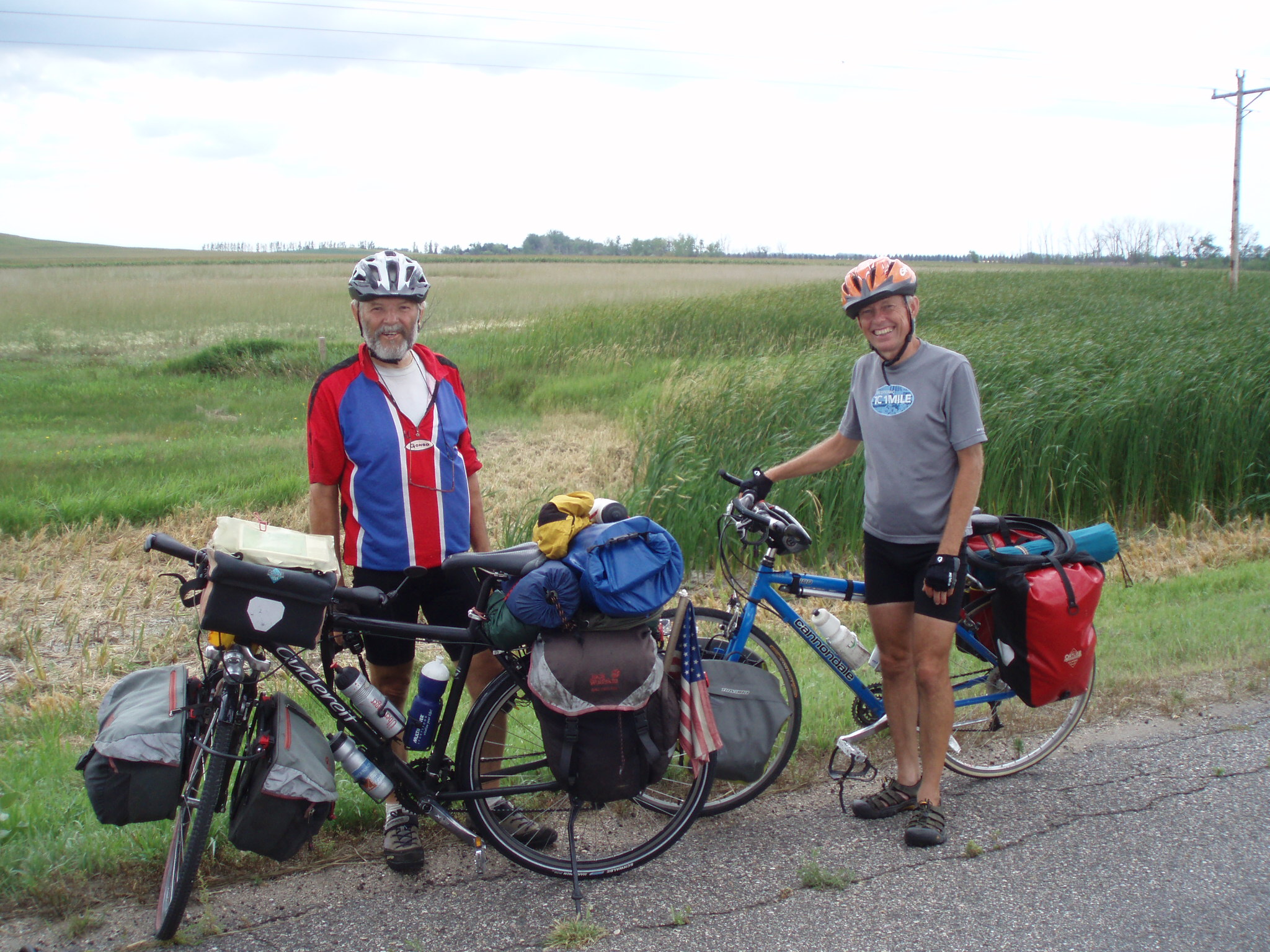 5 minutes outta Cooperstown we saw 2 more cyclists.  One guy was from Germany (on the left) the other was from St. Paul. They were really nice. They had only been riding together for about 5 days. The guy from Germany is going to Chicago then he's getting on Route 66 and riding towards LA. We didn't talk to them long.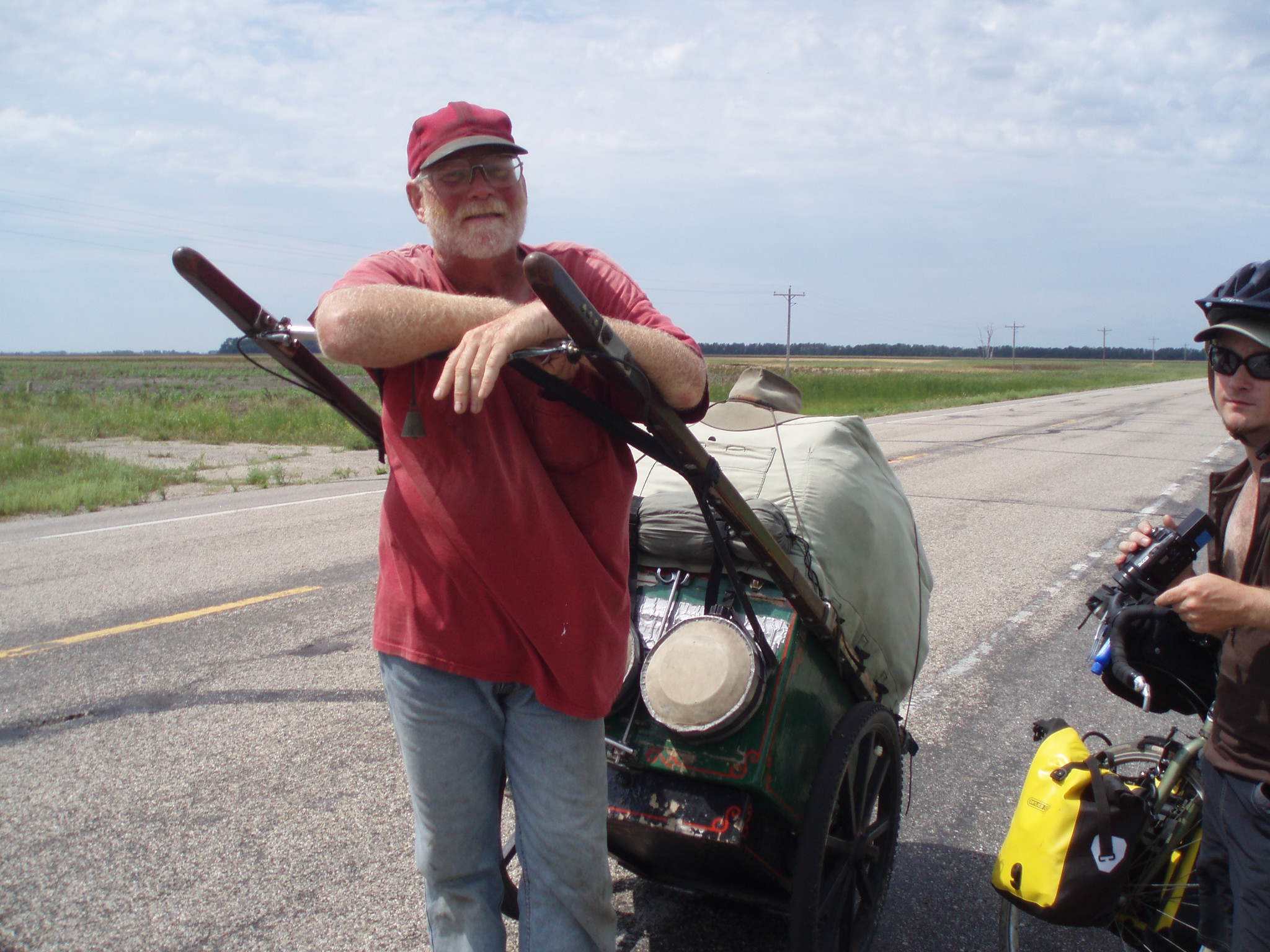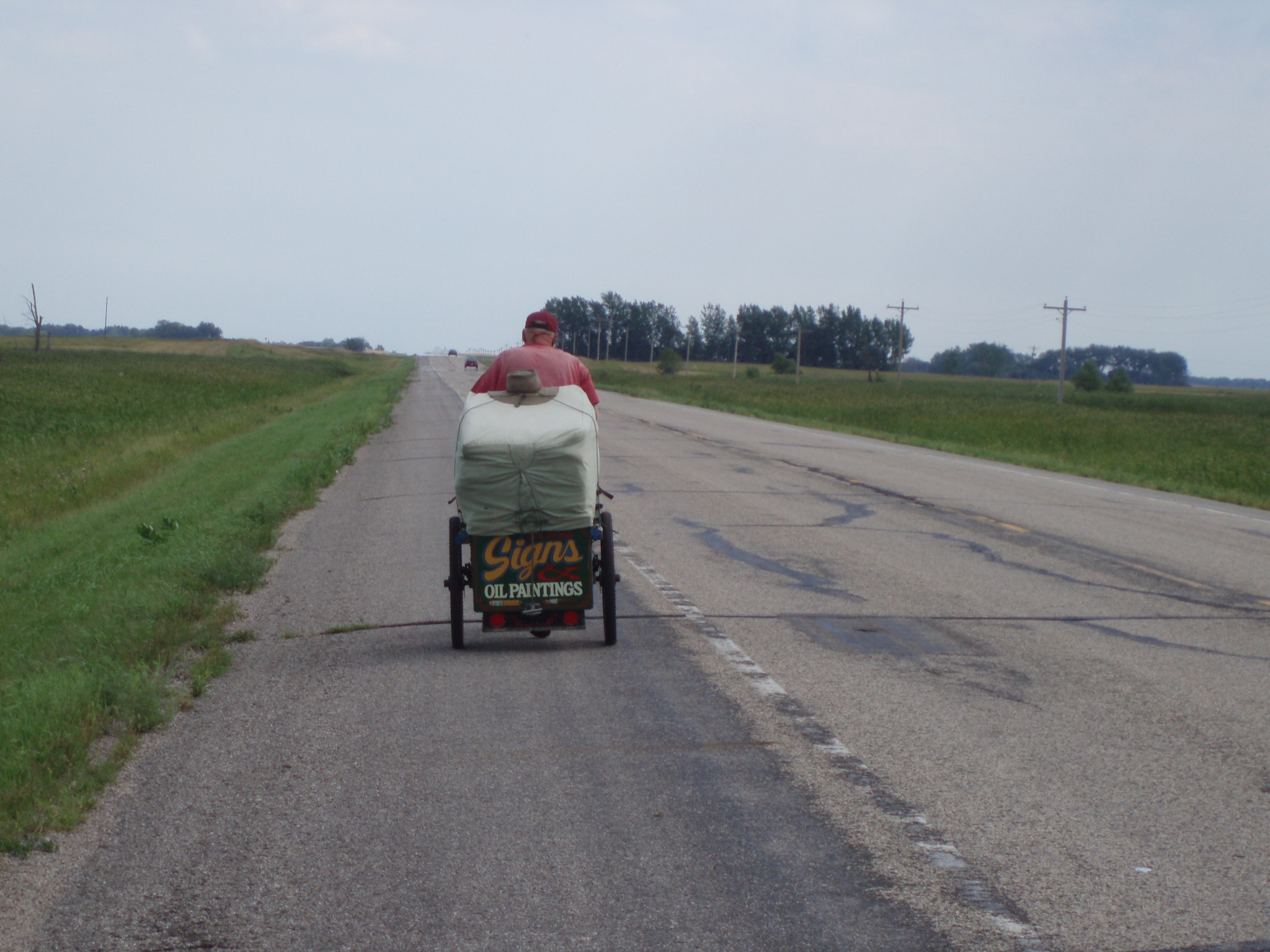 20 minutes after seeing those guys we saw Mark Charlie Boys? (I tried to find the newspaper articles about him online but had no luck) Walking down the street pulling this really cool trailer. He told us he's walked 19,000 miles in the US since 1992, and he's been walking full time for the past 4 years.  He walks all over the country, working as a painter. He paints signs and paintings and had some of his work in the Cooperstown museum. We talked with mark for a while; I could have talked with him all night. He was real inspiration and he was just as excited to see us as we were to see him. These people that walk across the United States really amaze me.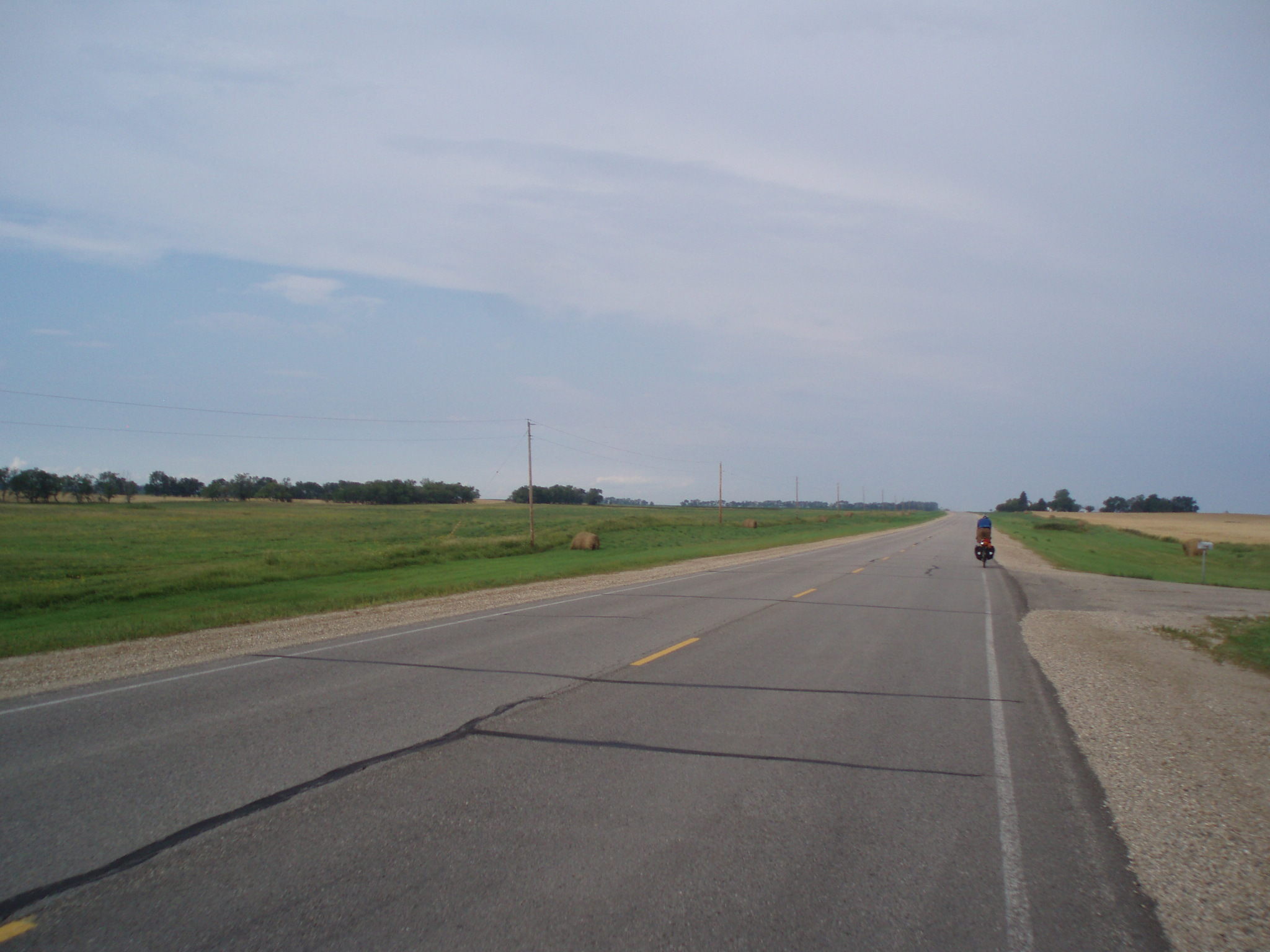 After we saw mark we turned north and our tailwind got even stronger. The sky was starting to look a little dreary and all day we kept hearing of nasty storms up in the north where we were going. We decided to ride into Binford to get some food and to see what happens with this weather.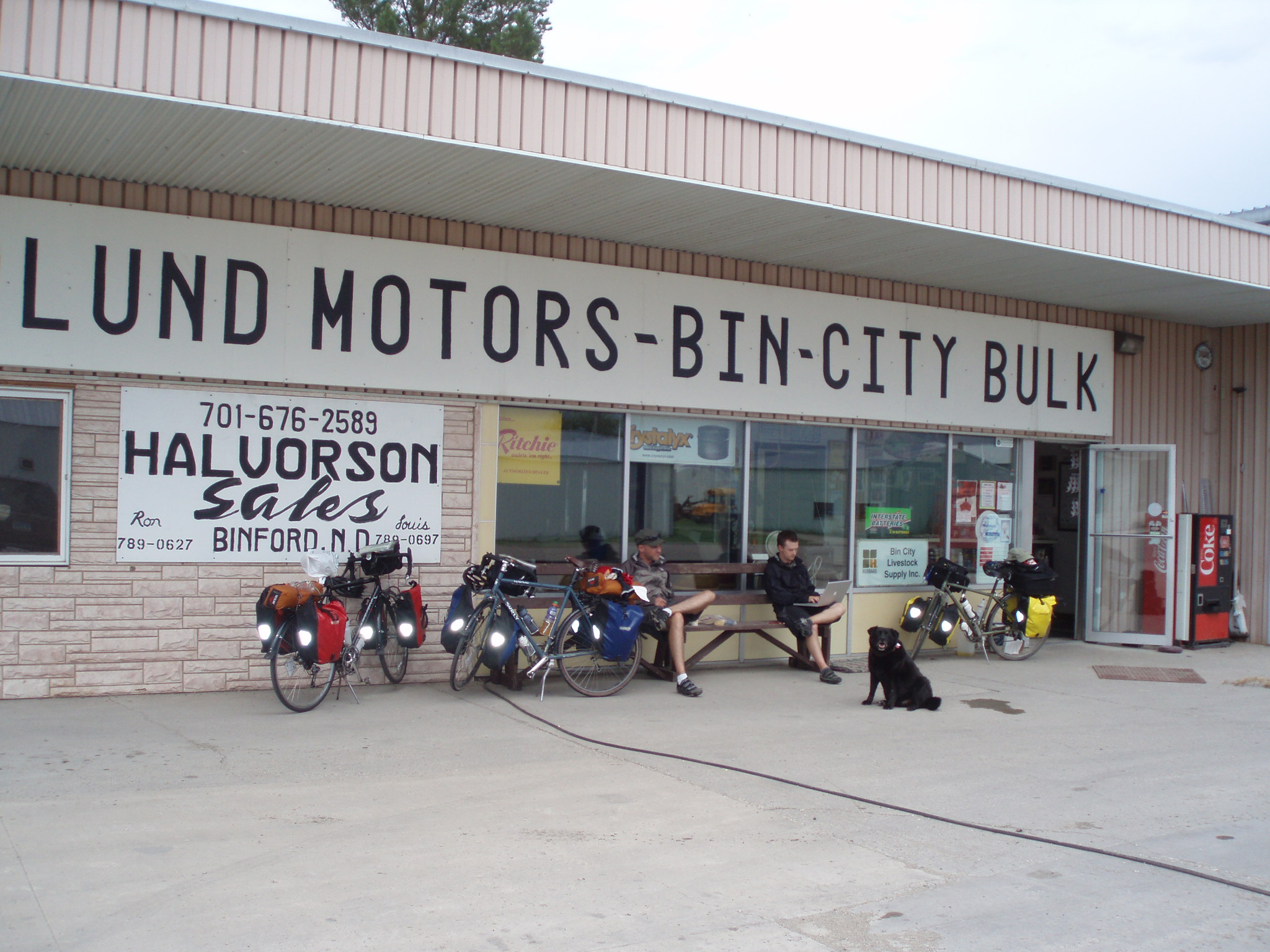 In Binford we found the $0.50 coke machine at the gas station and ended up spending the rest of the day there. Apparently the gas station is the big town hangout spot and we met tons of hilarious old men. Everyone in Binford was really funny and really nice to us. A big storm rolled in while we were at the gas station and the wind changed direction. Someone told us there's a huge tornado in the middle of Devils Lake and that's where we are supposed to be going. So we decided to just stay in Binford. Services from here on out are few and far between.
Jamie and I worked on a lot of journal stuff. At sunset we went back to the gas station to use the wireless and upload everything we had. Chuck cooked a gourmet Italian dinner but we took too long doing Wi-Fi stuff and it was really cold when we got back.
Leaving the gas station I noticed my front tire was going flat. So I quickly patched it up so I didn't have to do it in the morning.  Jamie I tried to sleep without tents but the mosquitos were pretty bad. Sonsofbitches!
Click Here to Visit The Table of Contents
Click Here to Visit Previous Page: Day 54: Fargo, ND to Page, ND, Sunflower VideoDay
Click Here to Visit The Next Page: Day 56: Binford, ND to Tolna, ND