Saturday August 11, 2007, 29 miles (46 km) – Total so far: 2,816 miles (4,532 km)
## map56 ## 28.58 miles 2:37 10.8 avgb
     Click Here to Visit The Table of Contents
     Click Here to Visit Previous Page: Day 55: Page, ND to Binford, ND
     Click Here to Visit The Next Page: Day 57: Tolna, ND to Rugby, ND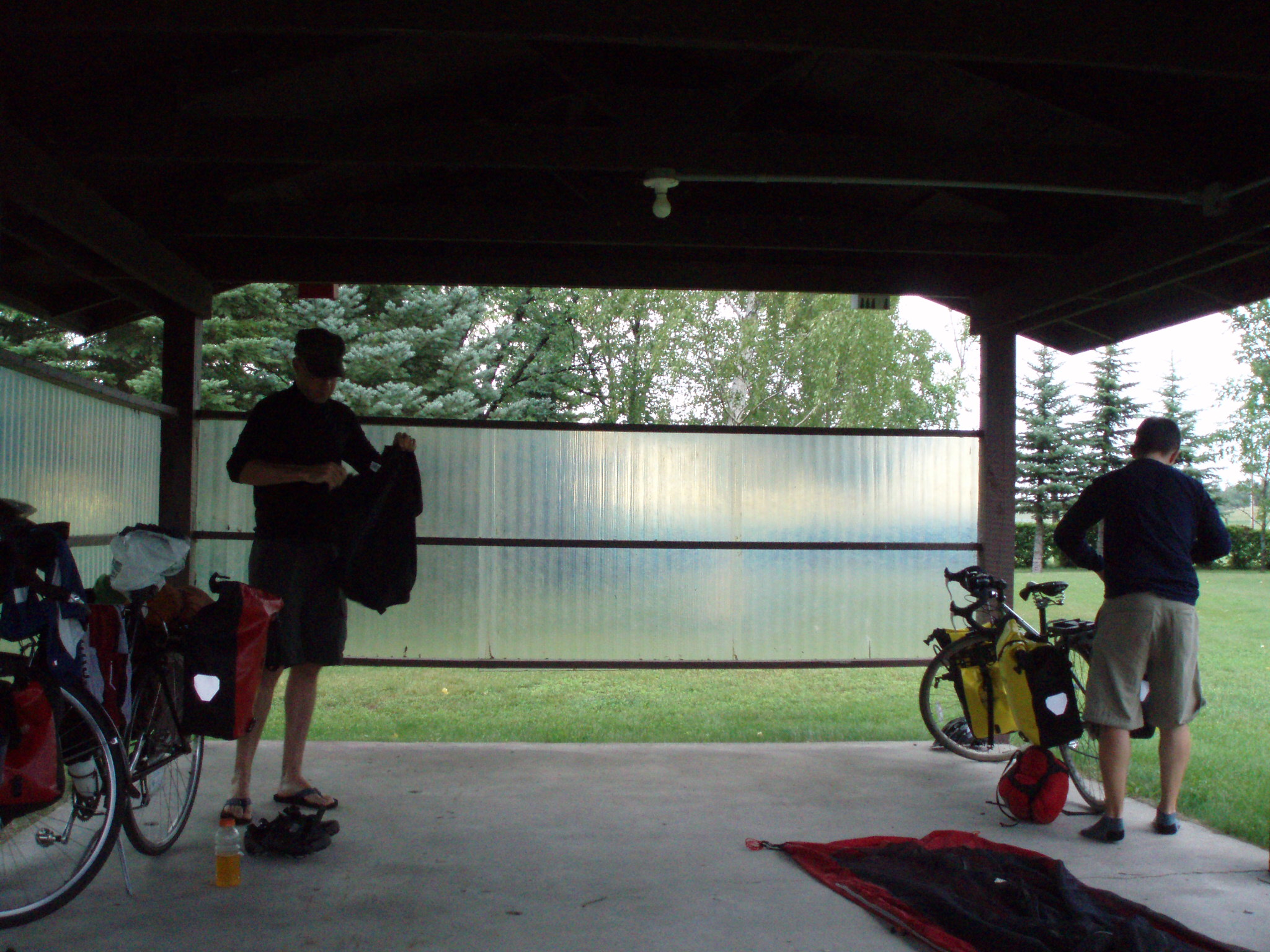 Last night was rough. Someone kept setting off fireworks at 2am that sounded like shotguns. Jamie assured me that they were fireworks, because he saw the guy setting them off. Then around 4am it got so damn windy I thought a tornado was coming through. I freaked out and jumped outta my tent and made sure none of our stuff got blown away. I kept a close eye on the flag cause after the tornado passed the wind changed directions. Then around 6am when we were planning on getting up, it started to rain. So I turned off the alarm clock before it went off. And we slept to about 7:30.
At breakfast we met some more locals. Binford was a really nice town, everyone was so friendly. Yesterday the ladies at the gas station told me only about 150 people live in this town, but with the dogs it's about 200.
After breakfast we were getting ready to ride out and Jamie was getting something out of his pannier and this old timer was trying to walk past him on the sidewalk. Jamie said 'Sorry' to him and the old timer flipped out and said 'Why are you sorry? I'm just trying to walk past, if there's something to be sorry about, THEN YOU CAN KISS MY ASS!' and the 3 of us all lost it laughing on the sidewalk. We all laughed so hard I think the old timer got scared. Chuck said his delivery reminded him of that scene from empire when they told Han Solo, he couldn't go out and look for Luke and he yelled 'THEN ILL SEE YOU IN HELL!'
The 3 of us had a great time in Binford, North Dakota. Going to Binford really refreshed my faith in these old men farmers.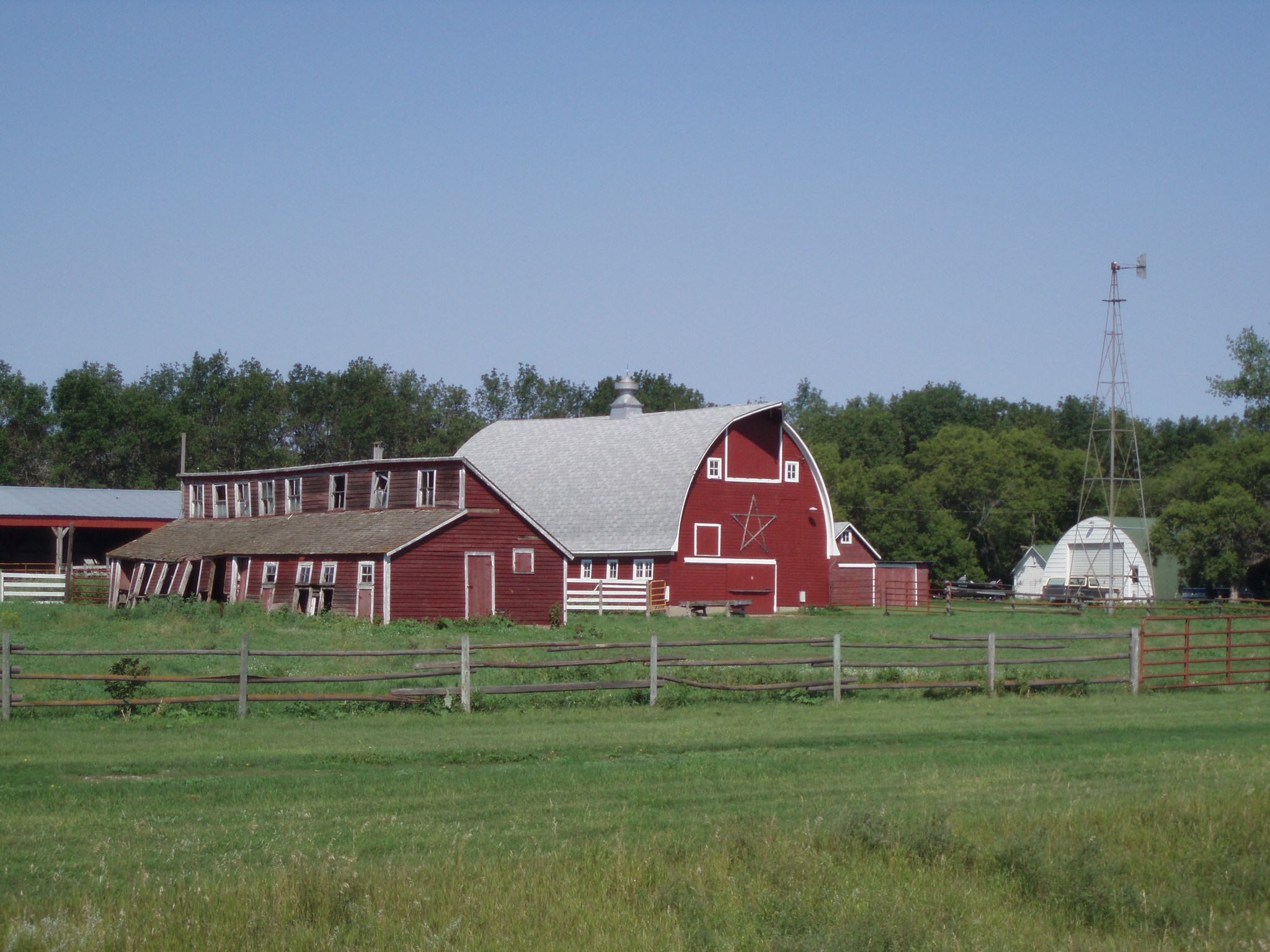 The plan for today was to go as far as we can. Devils Lake is 65 miles away and it would be great to stay there tonight and then tomorrow night stay with Michelle in Rugby who's been following the journal. The wind was coming from the Northwest and blowing about 15-20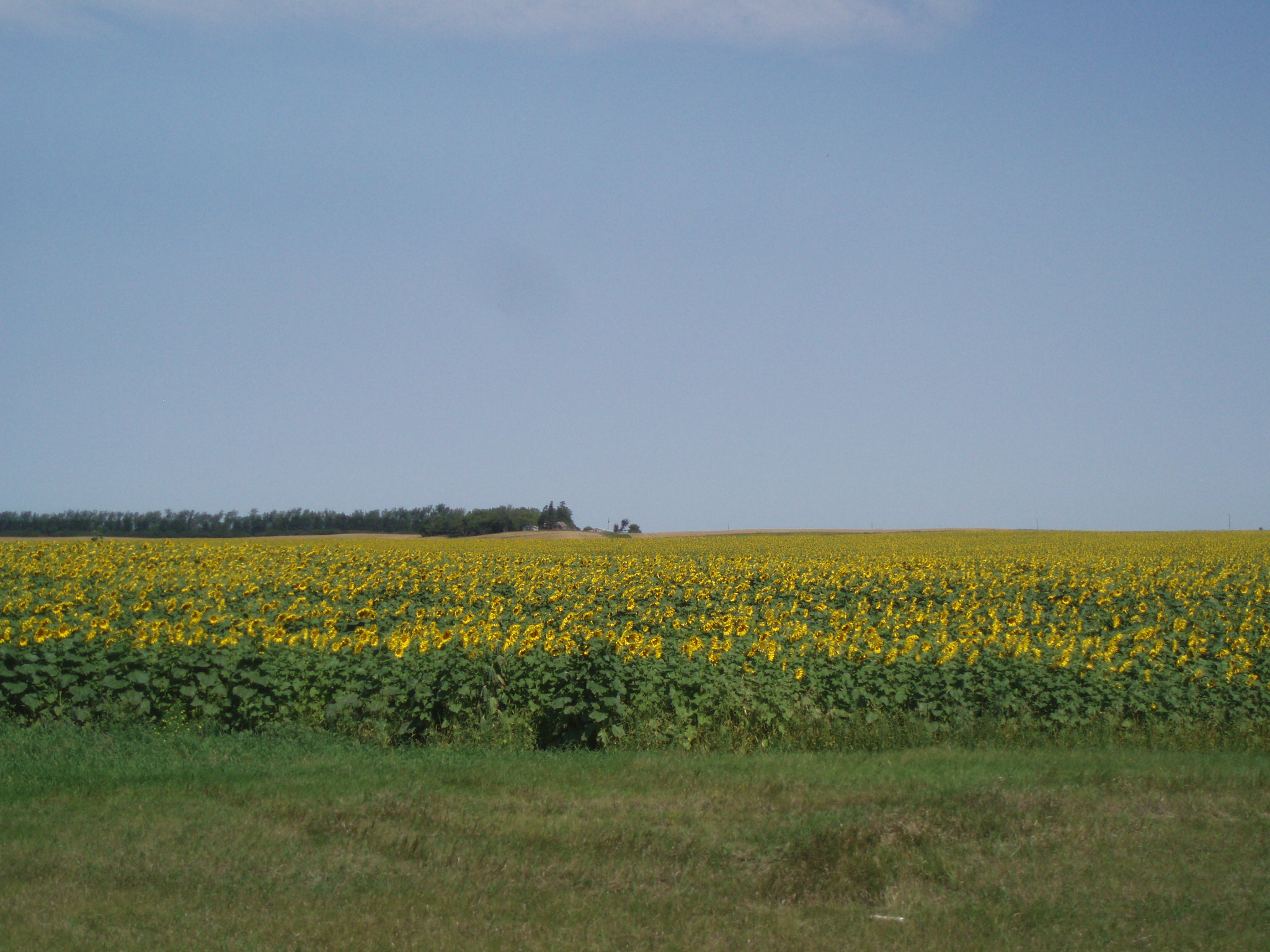 We rode 1 mile outta Binford and Mike Riscica realized he never got water and had to ride back into town to fill his water bottles. So stupid.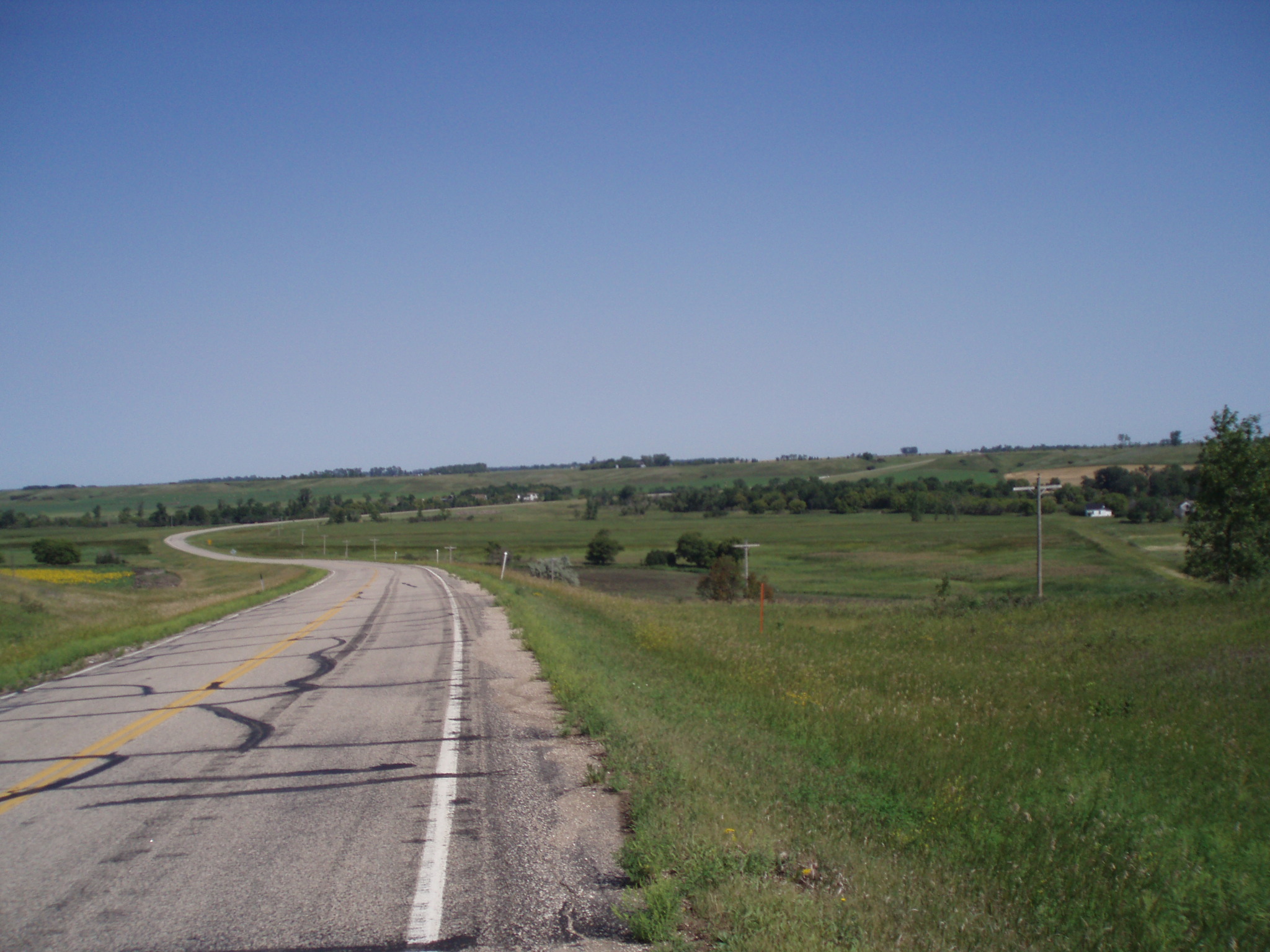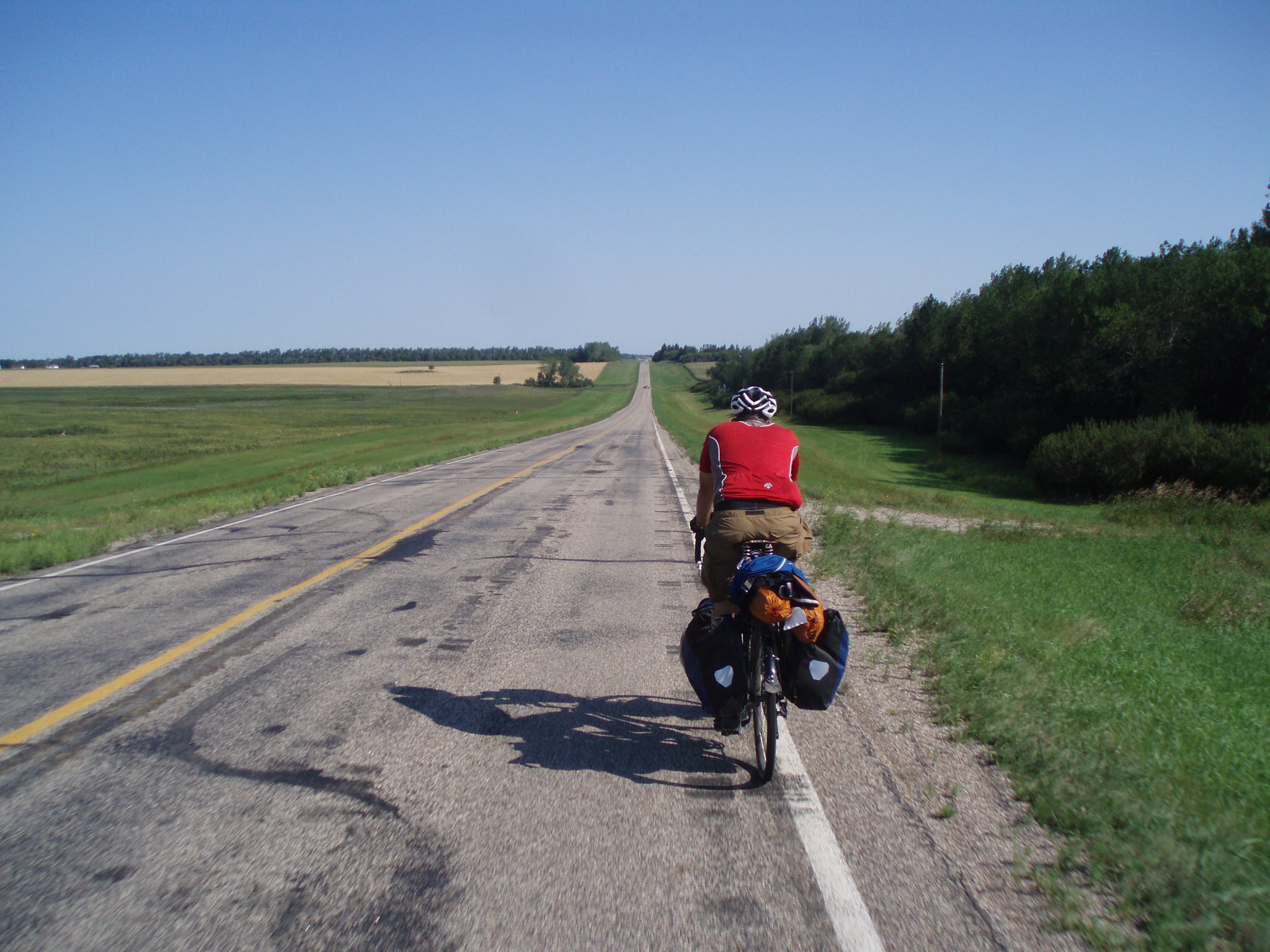 Riding out the wind was at our side and we managed to crank out some decent mileage. Chuck was freaking out because the landscape was really pretty. Nice rolling hills. All the sunflowers were all smiley. At one point there were a million bees flying all over the road and we were trying to dodge them.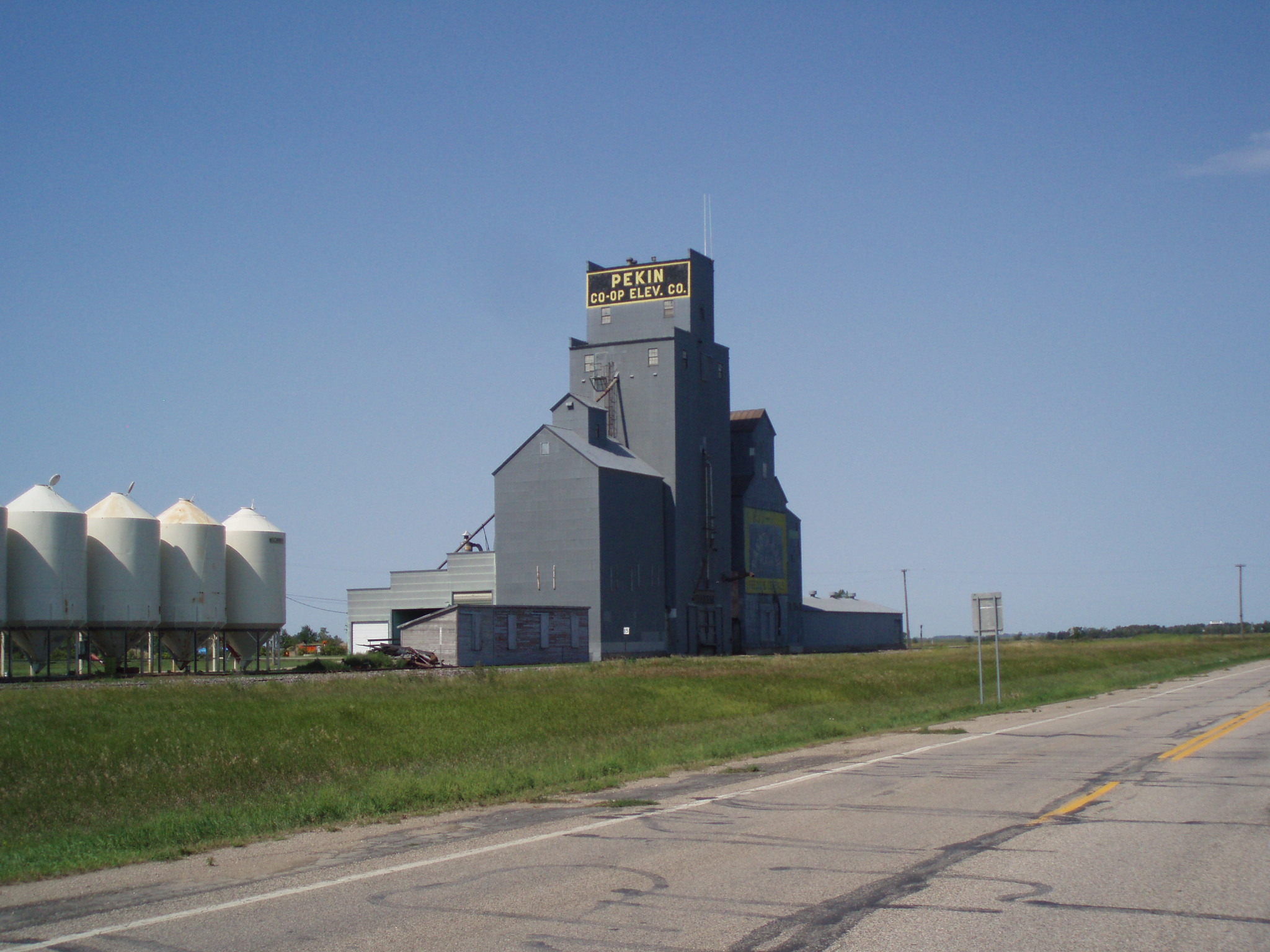 We turned west and road 2 miles to get to Pekin (pee-kin). Turning west put us riding into the some pretty serious headwind. We all agreed it was too dangerous to be riding into these kinds of headwinds so we stayed in Pekin for a while. Pekin was basically a ghost town. They closed the grocery store so all there was to eat was a lousy frozen pizza from the bar. Mike Riscica took a 1.5 hour nap on top of a picnic table in the park. Jamie and chuck took naps and hung out in the bar with some locals. Everyone was nice.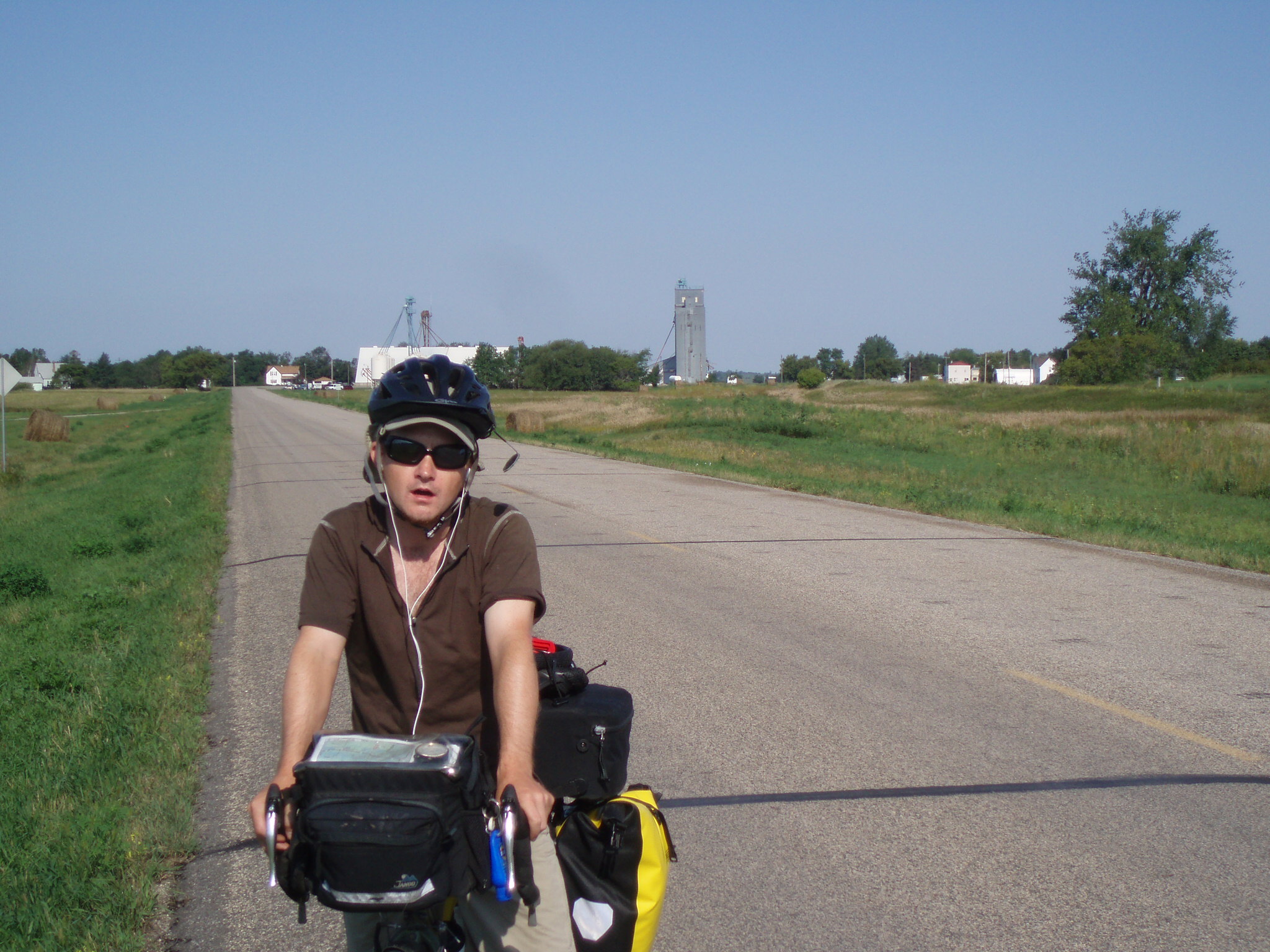 Eventually we rode out back into the wind. We went 5 miles into some pretty horrible headwinds.  There was this town Tolna, 2 miles off route and we had a long debate about what to do. Jamie flipped out on the side of the road. He can't handle headwinds like this and his Dakota Dementia was starting to set in.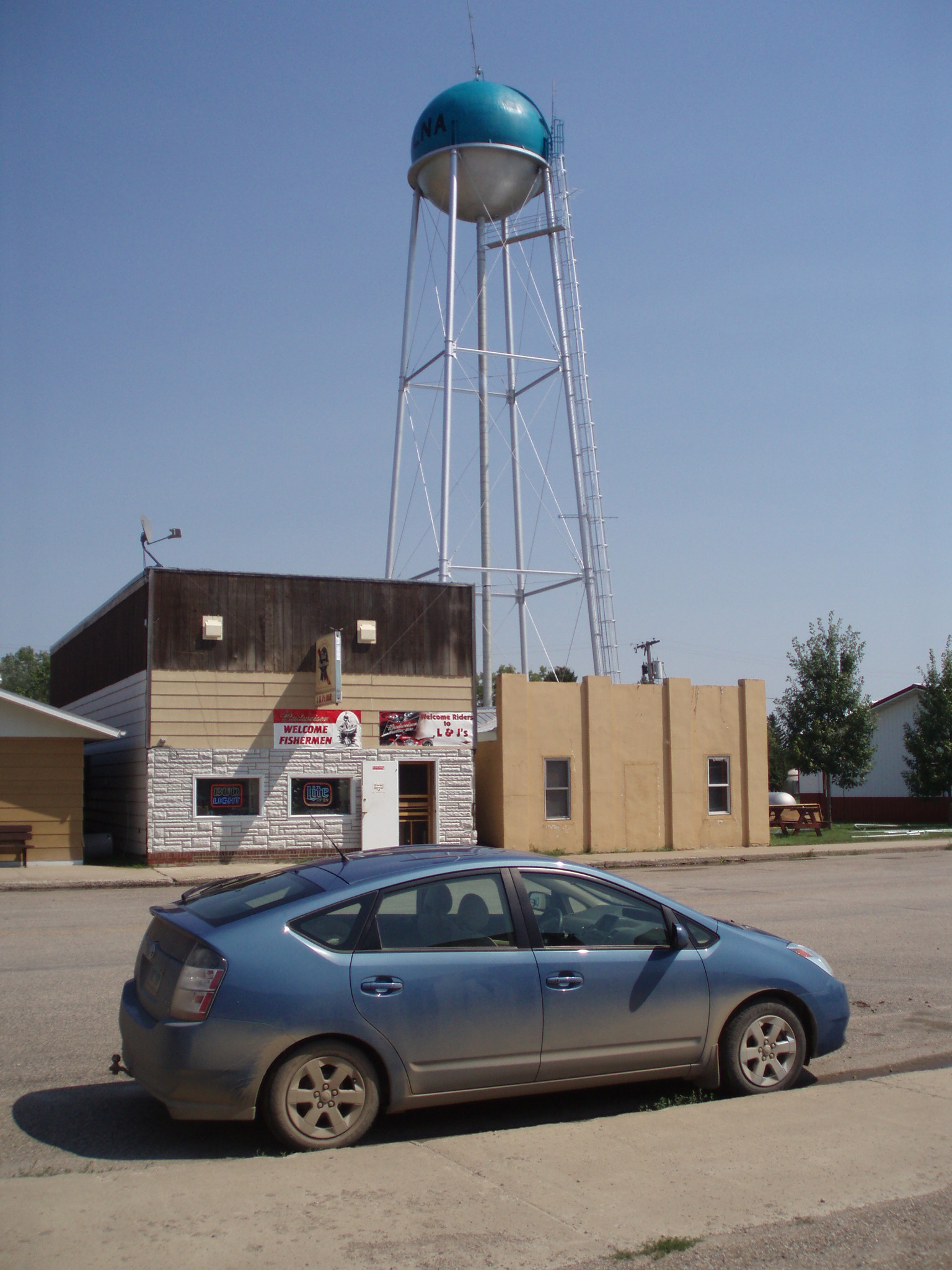 We sat in front of the grocery store for a few hours, eating and hoping the wind would die down. But it didn't. I saw a Toyota Prius and took a picture of it for our friend Laura Kirstein. She loves them and counted Priuses when she rode the Northern Tier last summer.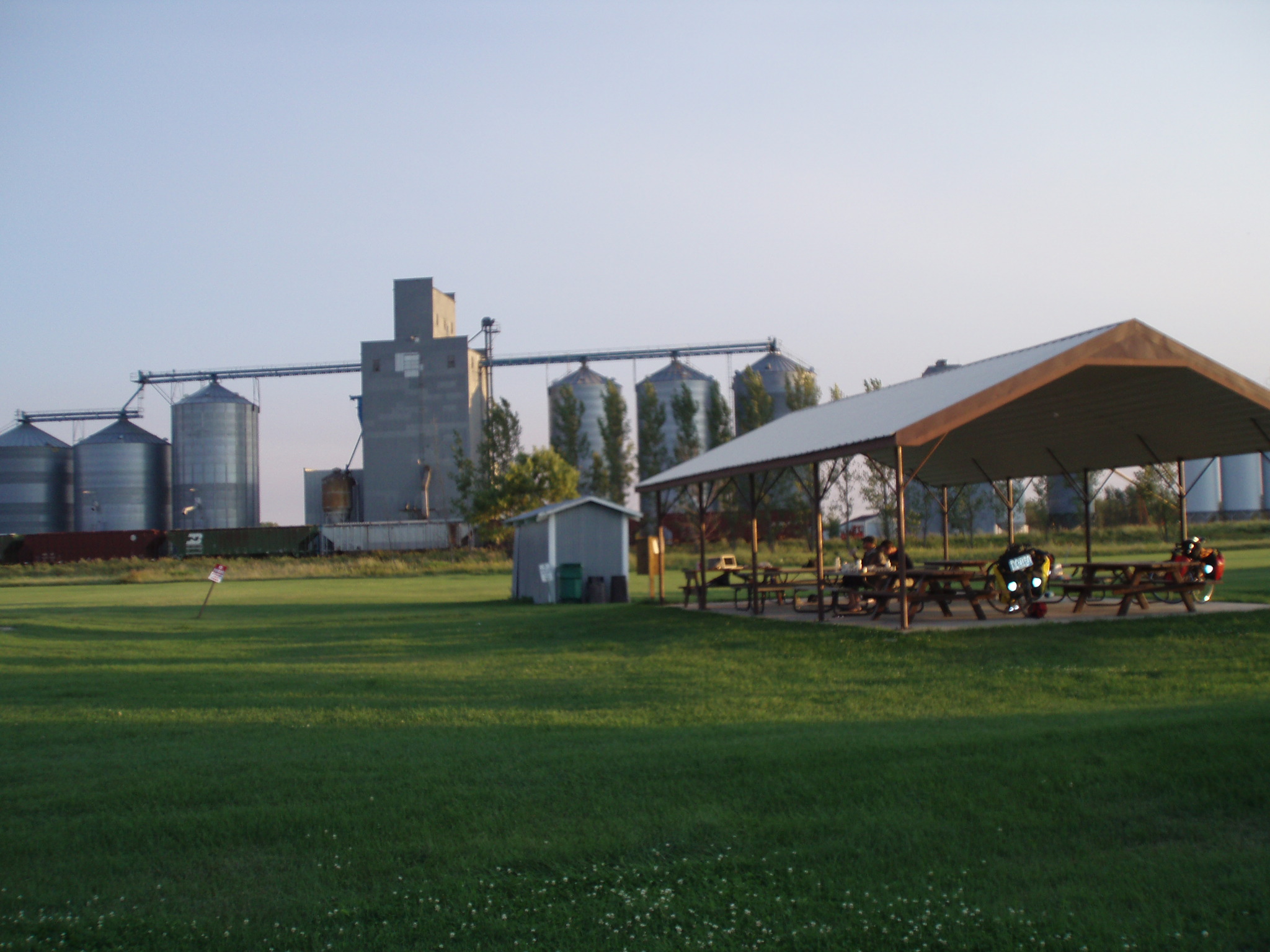 Eventually we ended up at the park and picked up a Wi-Fi signal off one of the grain elevators. We did a bunch of journal stuff still hoping the wind would die so we could ride out.  But it never did.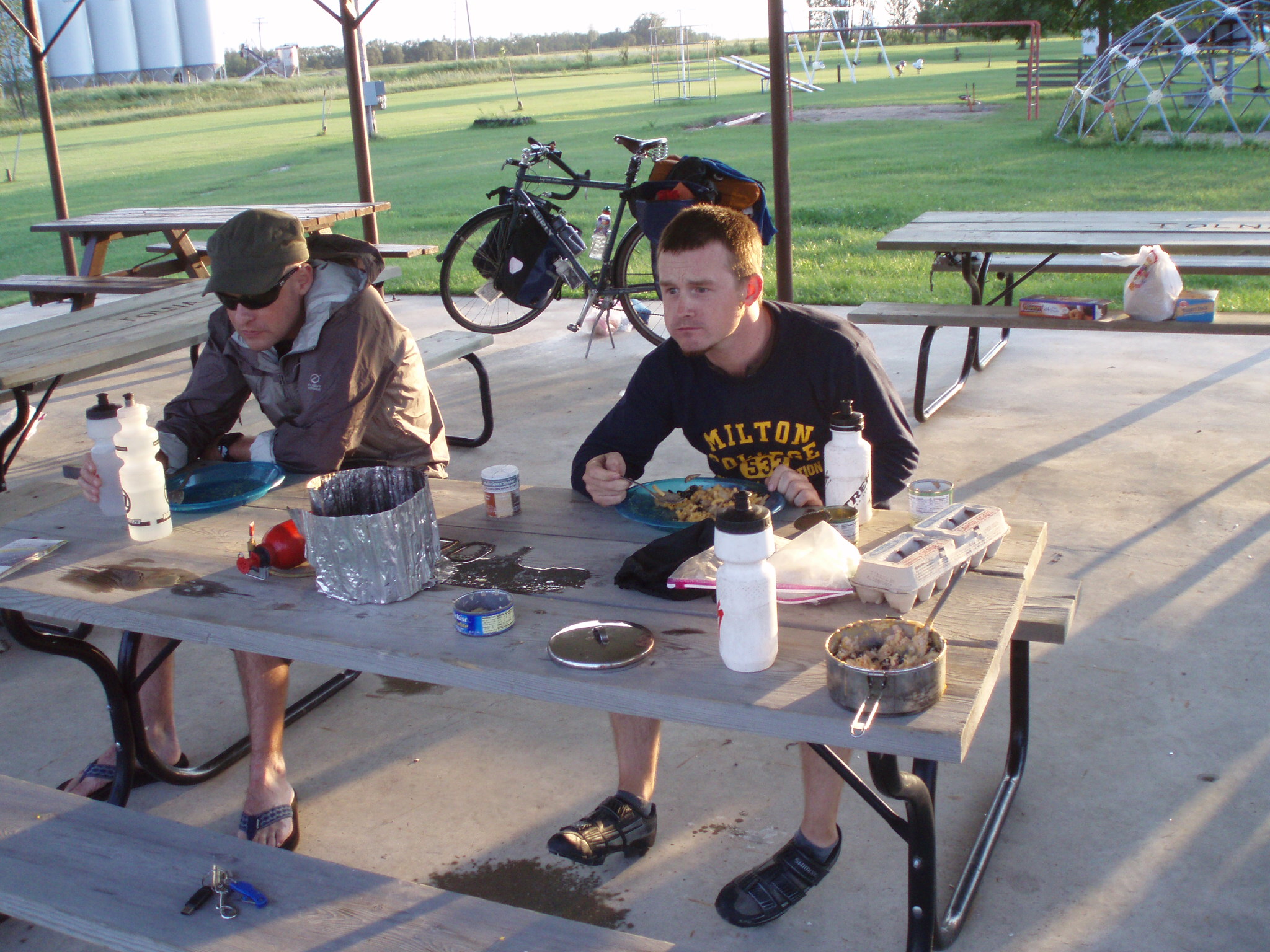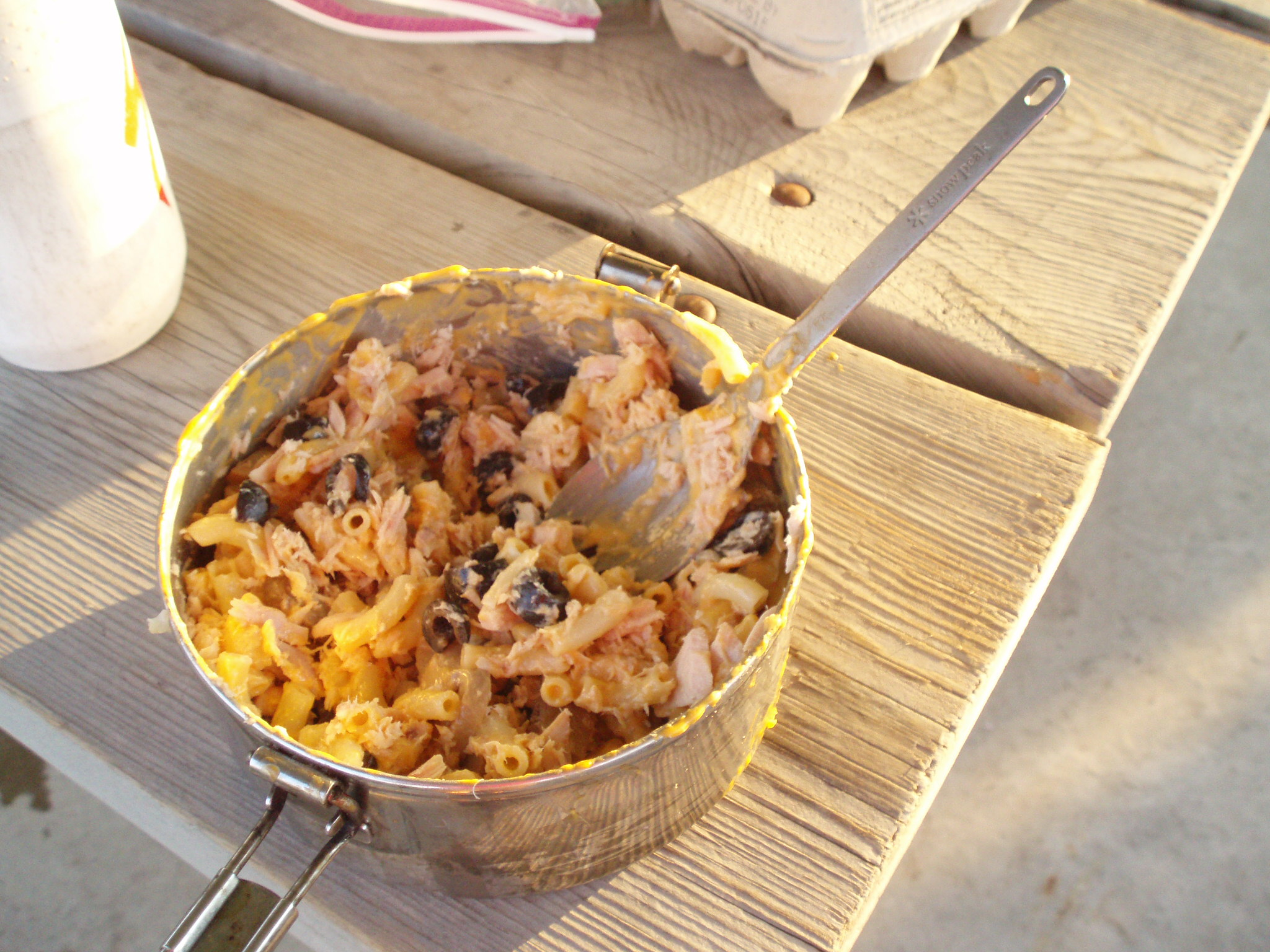 We made some hardboiled eggs for breakfast and cooked up so mac & cheese & tuna & olives & mushrooms for dinner. We're all a little bummed about the day. We really wanted to ride a lot of miles today. There's a whole lot of nothing happening in both Pekin and Tolna.
Tomorrow we're going to try to ride 100+ miles to make it to Rugby, the weather report tells us a 10-15 mph tailwind.
     Click Here to Visit The Table of Contents
     Click Here to Visit Previous Page: Day 55: Page, ND to Binford, ND
     Click Here to Visit The Next Page: Day 57: Tolna, ND to Rugby, ND