Monday August 13, 2007, 63 miles (101 km) – Total so far: 3,005 miles (4,835 km)
## map58 ## 63.06 18.7 max 12.6 avg 5 hours pedaling

     Click Here to Visit The Table of Contents
     Click Here to Visit Previous Page: Day 57: Tolna, ND to Rugby, ND
     Click Here to Visit The Next Page: Day 59: Surrey, ND to Stanley, ND
All night the 3 of us slept great. I could feel all the muscles in my body were stiff after yesterday ride and I also knew that it was raining because I would have sold my soul to the devil before I had to get outta bed. Around 9am we all rolled outta bed and got vertical. Which I guess is considered sleeping late, for us.
Michelle cooked up some delicious pancakes for breakfast. A big storm rolled in and knocked out the power, so we all just kind of took it easy and loafed around the house. I got caught up on some phone calls. I talked to my grandparents. They are taking a cruise in Alaska and are going to be in Seattle the same time we are. We're going to try to meet up. Jamie's real excited to see them because every fall for the past 4 years he shakes my grandfather's hand and that's how he knows its fall. This usually happens because Jamie would come to visit me for my birthday.
Jamie and I both fell asleep on the couches and Chuck chatted away with Michelle and Rob. Eventually we woke up and Michelle cooked up all the leftover roast beef for lunch. It was just as delicious as it was last night. Michelle is really a great cook! The sky was starting to clear up so we started to pack up and got ready to hit the road.
The plan for today was to ride towards Minot (My-knot) which was 68 miles away. Minot is our first big town since Fargo. It's about 36,000 people.  Before we left Rugby we decided not to ride into Minot because we had nowhere to stay in this big town and we could camp for free in the small town right before, which is 7 miles away.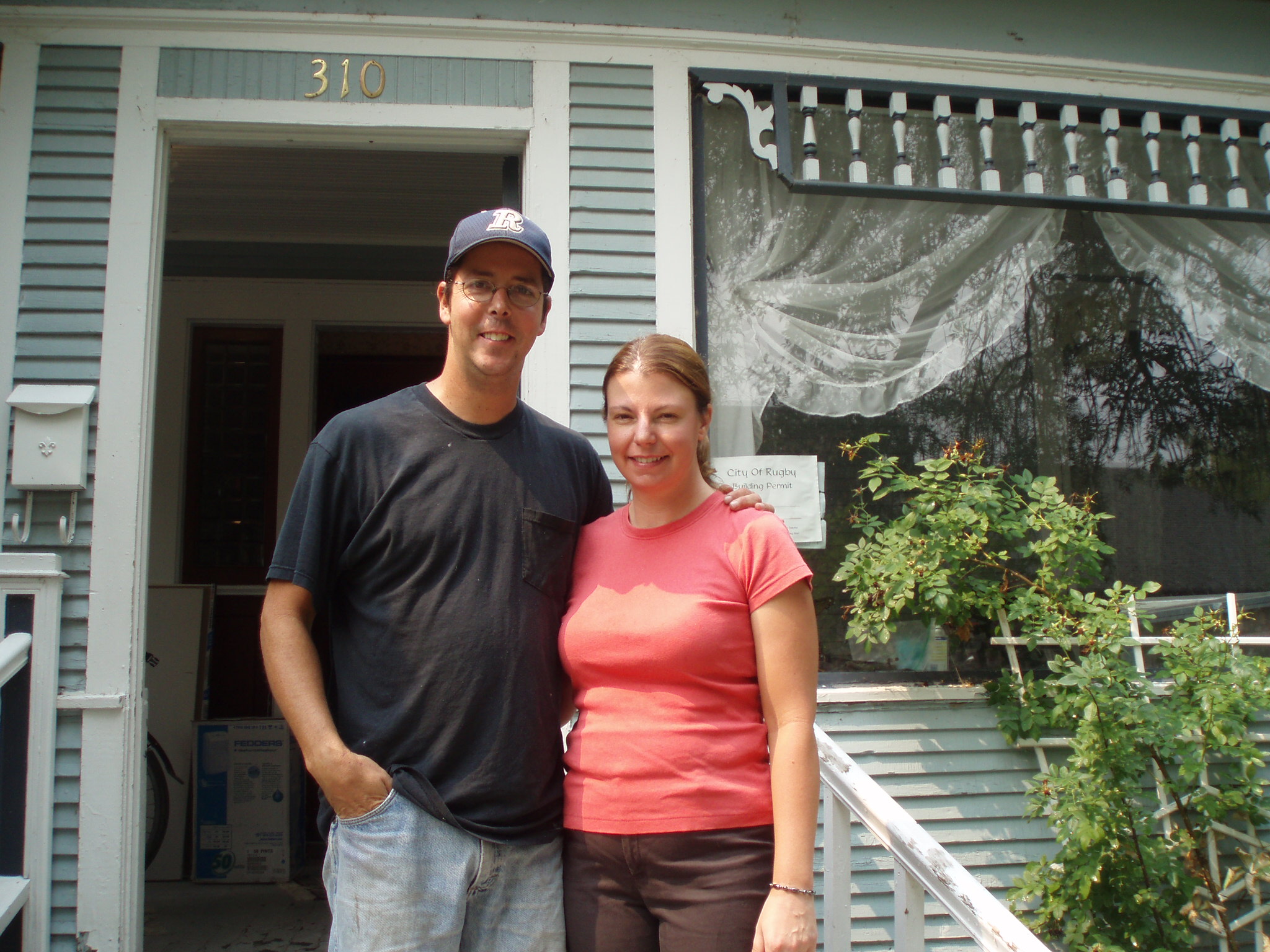 We thanked Michelle and Rob for everything. We really had a great time meeting them and staying with them. This whole meet up came at a good time, Jamie flipped out the other day because his Dakota Dementia was getting real bad. Leaving their house we all felt great.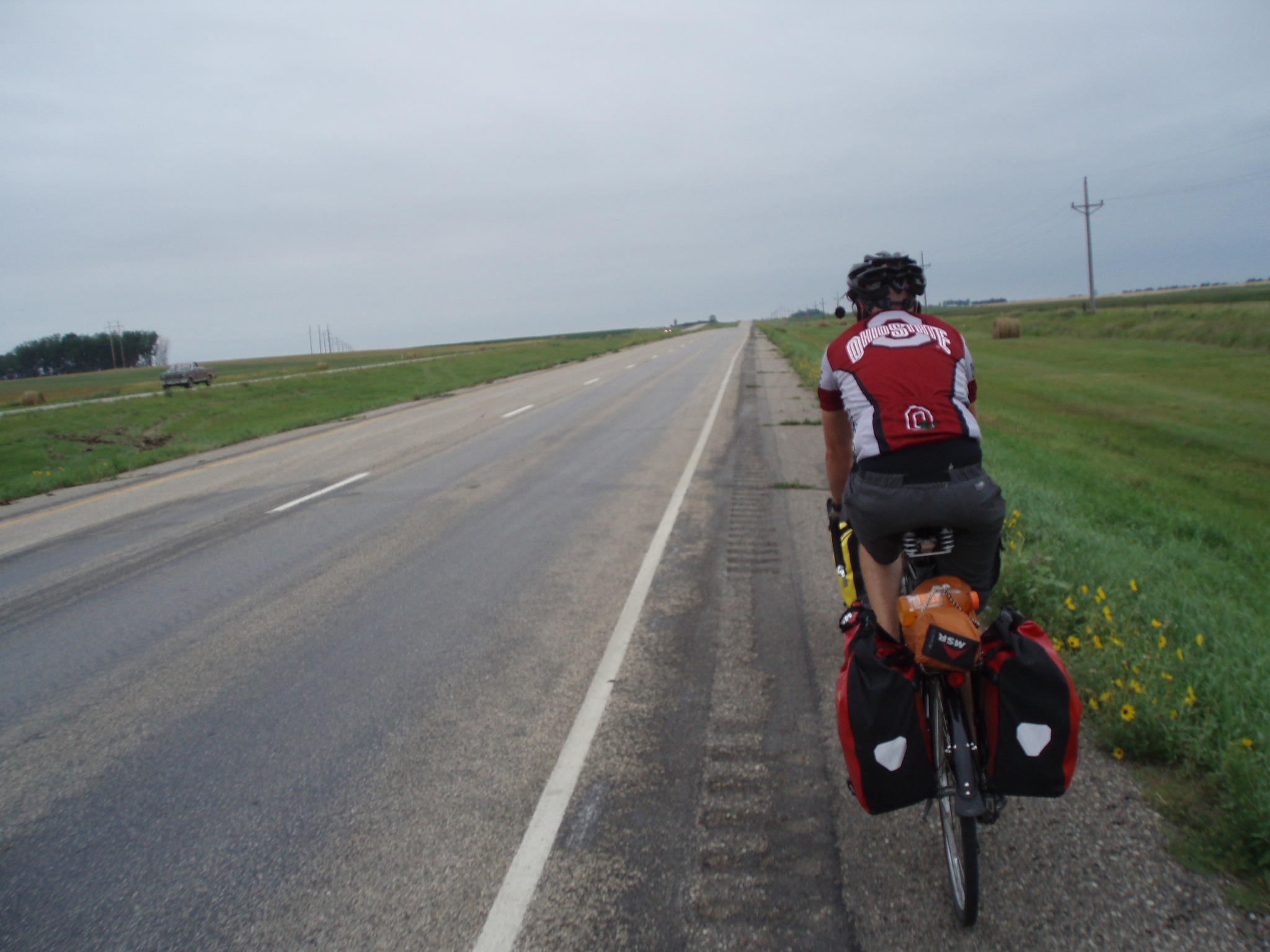 Rugby North Dakota is where we start our 700 mile stretch on Route 2. One road for 700 miles. Route 2 will take us through the Great Plains into the Rocky Mountains.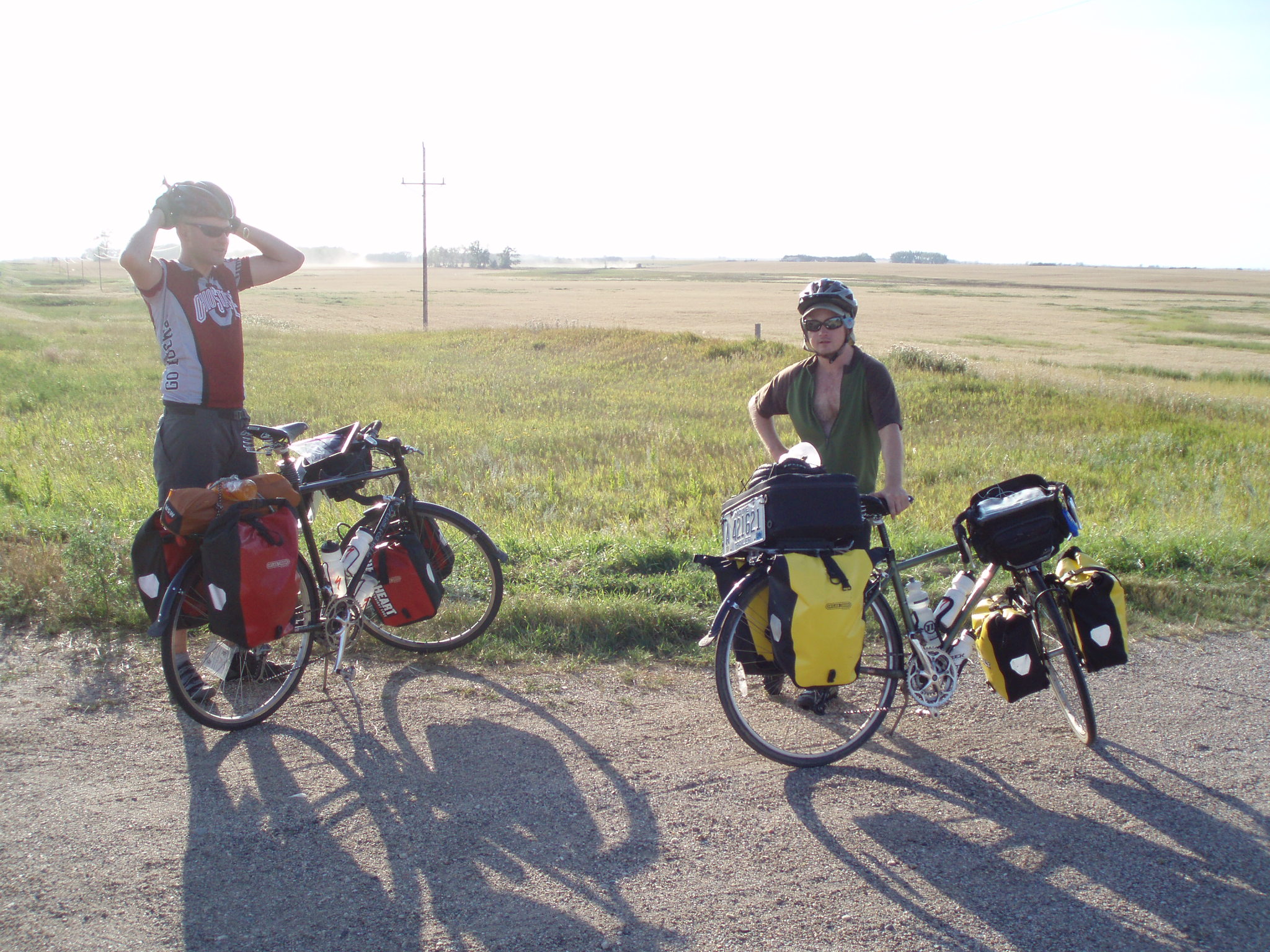 All day the wind was hitting us from every direction, luckily it wasn't that bad so we were still able to get our miles done for the day. We stopped in all the little towns along the way. We ate some food in Towner and then went to the next town Granville and took another break. Granville had 2 coke machines across the street from each other, but they were plastic bottles. One was $1 and the other was $1.25. So dumb.
This trip has finally gotten to the point where we all CRAVE Coca-Cola in the middle of the day. And on a hot day Coca-Cola tastes so damn good.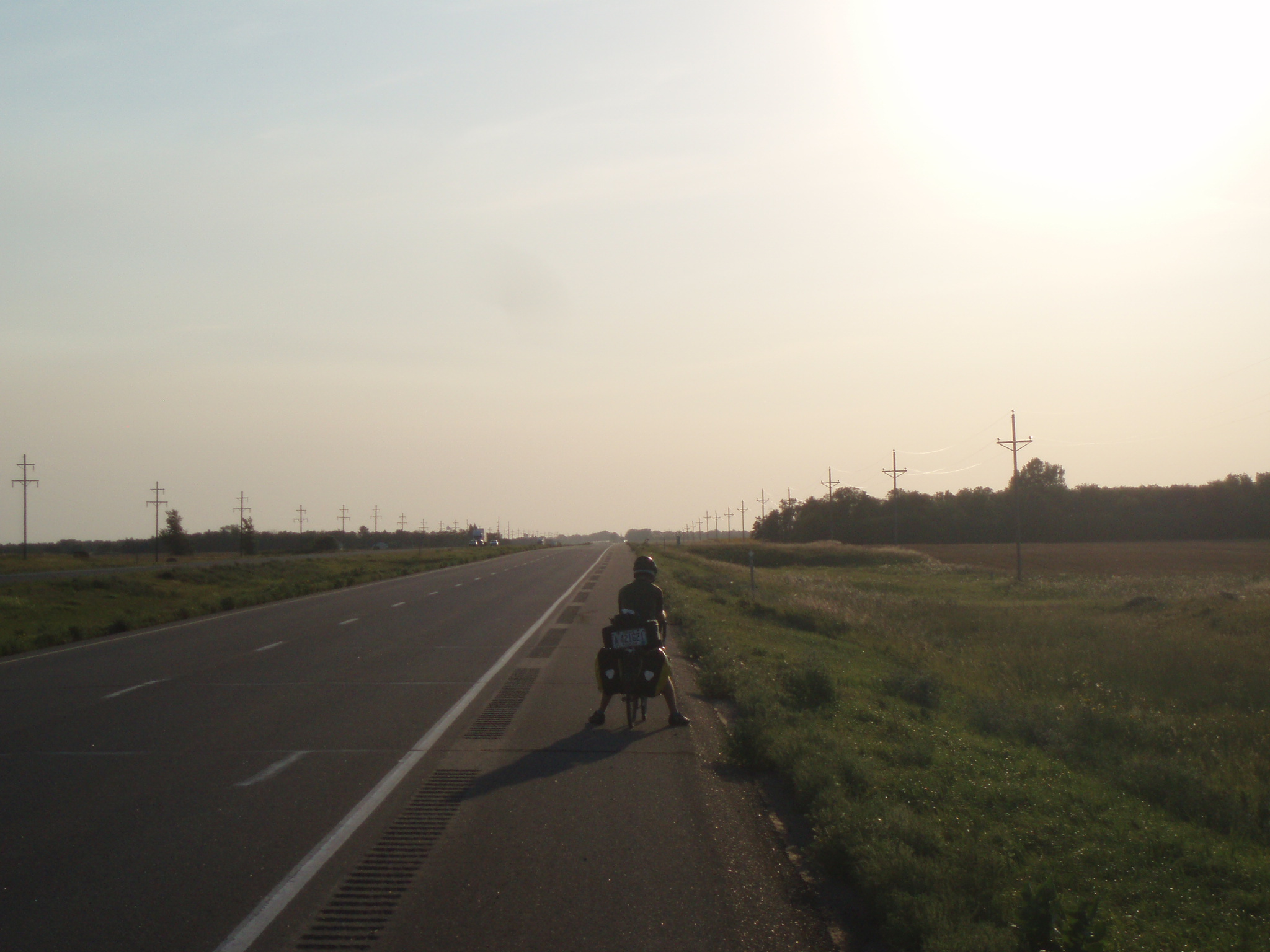 We grabbed some water in Granville and the bar was really nice. I noticed that they don't serve draft beer here and I asked why but the bartender never really gave me a straight answer. I have not seen any draft beer since we entered North Dakota. Everyone is always sitting around the bar drinking cans. Jamie claims he saw it in Fargo.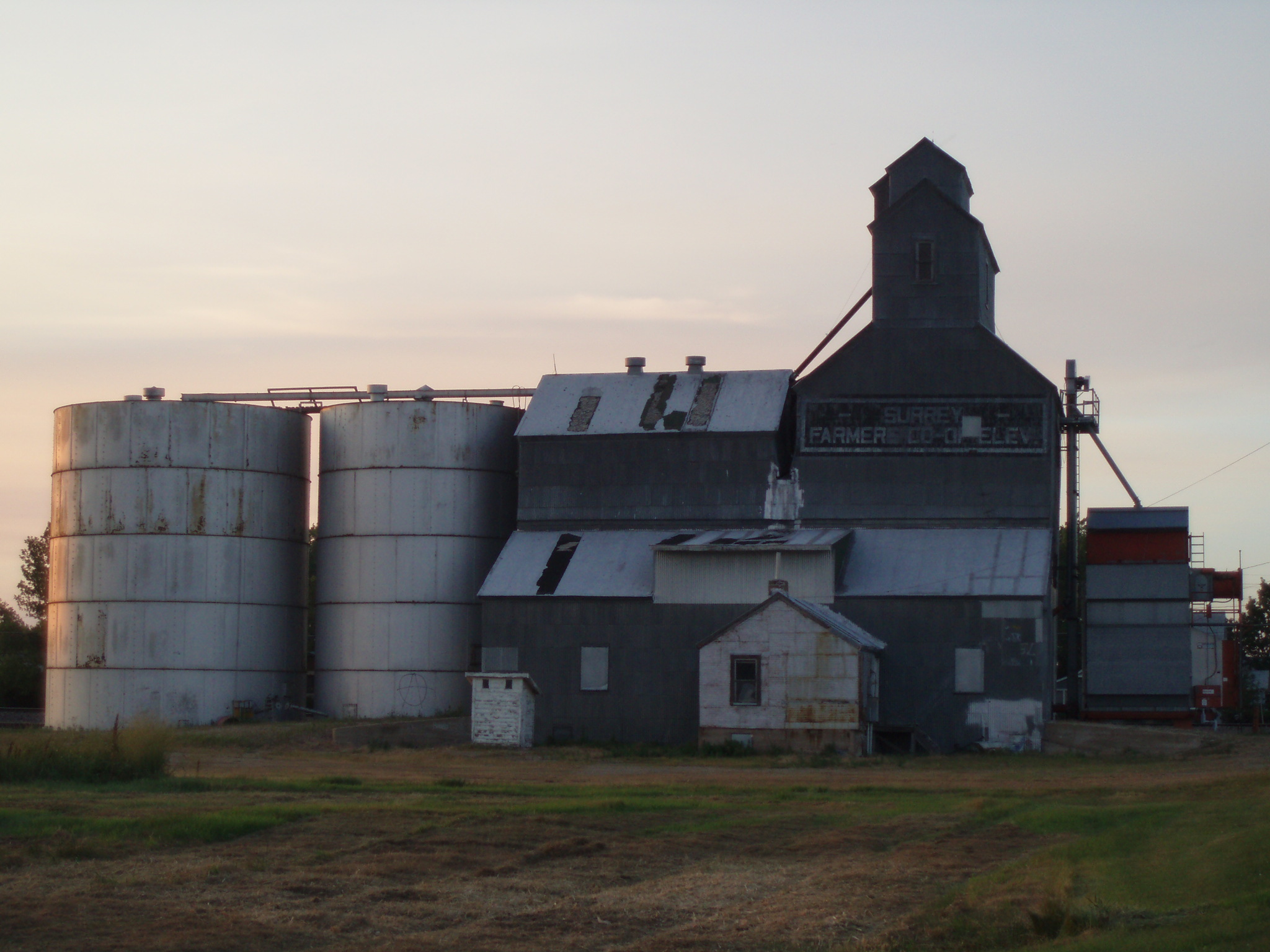 We rode another 15 more miles into surrey our destination for the night. We found the Coke machine and I sat there for a while, playing with the flies, while I talked on the phone. The train came by and Jamie got real close to the train and videotaped the whole thing going by.
Chuck and I both rode around the same neighborhood for 20 minutes looking for the park without seeing each other and then walked into the bar and asked Jamie if we had seen each other 2 minutes apart.
Surrey had nothing there except a bar and a post office. Towns of 900 people usually have a restaurant or a grocery but we were outta luck. We all got stuck eating frozen pizzas from the bar, it wasn't that bad.
All the people in the bar were really nice to us. The lady that owns the bar bought us a round of drinks and gave us some great advice about some of the towns we are going through in Montana. Some truck driver saw us looking at maps and wanted to give us directions, but we just immediately put all our maps away and told him we know where we are going.
After 2 cans of beer I was done and we just went back to the park and camped in the Pavilion.
     Click Here to Visit The Table of Contents
     Click Here to Visit Previous Page: Day 57: Tolna, ND to Rugby, ND
     Click Here to Visit The Next Page: Day 59: Surrey, ND to Stanley, ND