Wednesday August 15, 2007, 4 miles (6 km) – Total so far: 3,080 miles (4,957 km)
3.5 Around town miles
     Click Here to Visit The Table of Contents
     Click Here to Visit Previous Page: Day 59: Surrey, ND to Stanley, ND
     Click Here to Visit The Next Page: Day 61: Stanley, ND to Williston, ND|

All night I slept horrible. I felt like I had the flu. I was hot and cold all night long and just didn't feel right. Sleeping on the concrete floor of the picnic pavilion was also bothering me. Chuck came to my tent around 7am and I told him I was too sick to ride today and we were supposed to have horrible headwinds today anyway.
Around 8:30 Jamie yelled out 'FREEZIN'S THE REASON!' and we both got outta our tents. It was really cold in the morning so we had on all our clothes. Chuck came back all chipper, after drinking several cups of coffee and he helped me change my flat tire. I felt too weak. Waking up in the cold, feeling sick and having a flat tire are definitely the worst way to wake up. At least we were just going to take it easy today and not try to be hero's in this headwind.
We rode into town and grabbed some breakfast. Jamie read on the menu and informed us that all the food prepared at this café is prepared as if it was for Jesus Christ Himself. So we all had a breakfast that was fit for the Lord!
After breakfast Jamie and I went to Dakota Drug to get some medicine and a whirl-a-whip. This Dakota Drug is the only place in the world where you could get a whirl-a-whip. A whirl-a-whip is just hard ice cream with a little bit of fruit in it and they put it through this antique machine that mix's it all up and spits it back out in a cup. It's pretty cool to watch and it's a good ice cream. Jamie asked if he could make a video about the whirl-a-whip machine but they said no.
Jamie and I went back to the picnic pavilion where there was Wi-Fi and we spent the rest of the day drinking tea and working on laptops. I took some medicine and started feeling a lot better. Jamie made a video about how we 'borrow' peoples Wi-Fi to upload/update the journal.
http://www.teamnortherntier2007.blogspot.com/2007/08/making-magic-happe.html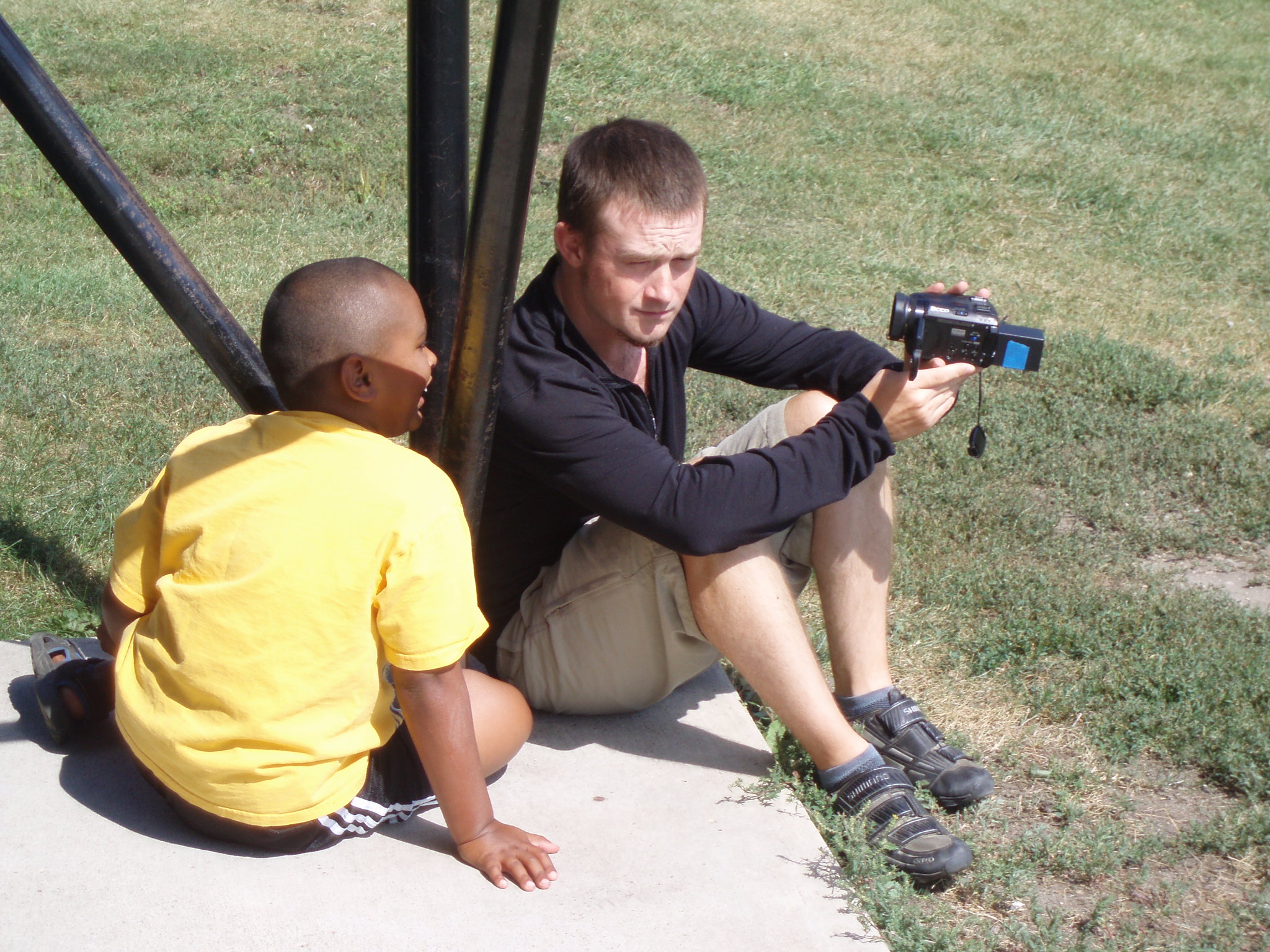 While we were at the pavilion this little kid came by with a bag of toys and wanted us to entertain him. Jamie was on the phone and he was getting on my nerves, but after Jamie got off the phone Jamie spent some time with him and they filmed this video where the kid interviews Jamie.
http://www.teamnortherntier2007.blogspot.com/2007/08/jamie-is-interviewed-by-major-north.html?c1c01238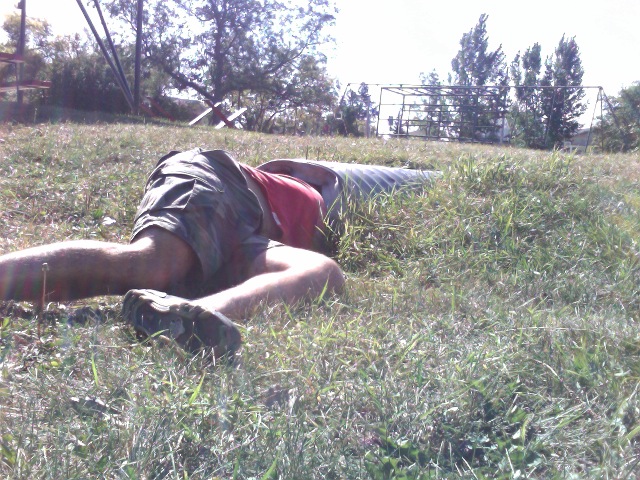 Jackie from Fargo emailed us. She said that she used to have a cousin that lives in Stanley and when they were kids they used to talk about climbing through this pipe that was in the middle of the park. We looked around and realized we were standing right next to the pipe she was talking about so within 5 minutes of her email we sent her back this picture. Saying 'Don't give Mike any ideas!

Jamie asked some kid what time the pool opens and they told him it just closed for year. No more swimming till next year. School also starts next week. And pretty soon there's going to be snow on the ground. In the middle of the day I got up to go use the bathroom by the pool and some kid told me 'I think they locked you guys out of the bathroom' so I told him 'Well then I'm going to pee in the pool.'  And they all laughed hysterically. Stanley's a pretty cool town. Everyone's really friendly and we met a lot of your local youth.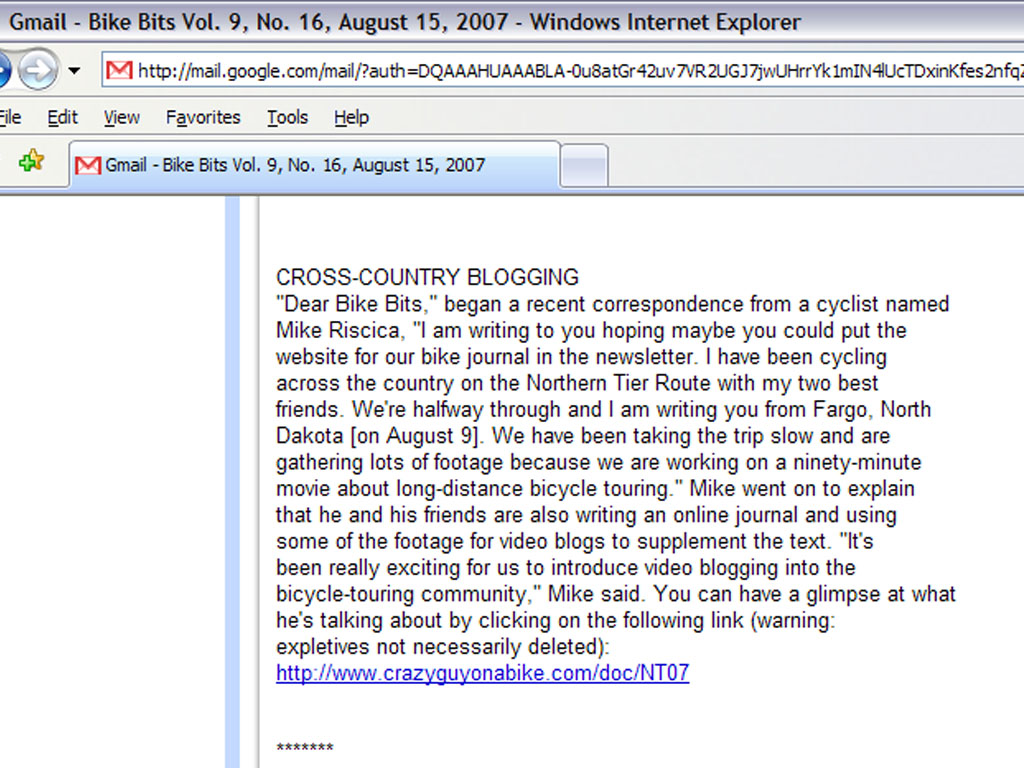 The Adventure Cycling newsletter 'Bike-Bits' came out and they put a little blurb about us, using the email I sent them from Fargo. We all debated whether or not they would put us in. 
Bike-Bits get emailed to all the Adventure Cycling members. Of course expletives aren't deleted, why would I? Chuck and I are from New York and Jamie is Irish, of course we're going to swear a lot! Just too bad Crazyguy is temporarily down. What did John Sullivan call us the other day? Media Whores?

It started to get late so   Chuck came back to where we were. He spent the day hanging out in another park, where there weren't kids running around and screaming. He got up to speed with his Harry Potter book.
We all grabbed dinner at the restaurant. I got a chicken cutlet with some rice, chuck got a steak and Jamie got the cod special. He couldn't tell the difference between the toast and the cod. When the waitress took away his plate he went 'OH MY COD, I'VE HADDOCK!' and it went right over her head. This is about the 3rd or 4th time, our lame pun jokes have bombed with the locals.
Mike Riscica is feeling a lot better. Tomorrow morning we're riding outta this one horse town.
     Click Here to Visit The Table of Contents
     Click Here to Visit Previous Page: Day 59: Surrey, ND to Stanley, ND
     Click Here to Visit The Next Page: Day 61: Stanley, ND to Williston, ND