Friday August 17, 2007, 101 miles (163 km) – Total so far: 3,258 miles (5,244 km)
## map62 ## 101.28 miles 40 mph max speed (Hit it 3 times!!!!!) 5:52 pedal time 17.2 mph
     Click Here to Visit The Table of Contents
     Click Here to Visit Previous Page: Day 61: Stanley, ND to Williston, ND
     Click Here to Visit The Next Page: Day 63: Wolf Point, MT to Saco, MT, Trailer & Saco, Montana Video z

When we woke the wind was blowing pretty hard. Those other cyclists were packed up and waving goodbye while we still got out of our tents. The weather report gave us 25-35 winds from the east. Today is going to be a great day for anyone on a bicycle riding west.
We ate breakfast at the grocery store. Wasn't the best breakfast and it was little pricy. Chuck was really upset about the sausage patty. I kept smelling my toast because it smelled like someone urinated on it. But Jamie assured me that it was just the cheap spray on butter they use.  Some guy with a New England Patriots hat walked in so we talked to him for a few minutes about the east coast.
After a lot of wasting time at the grocery store we finally got on the road. It was a little confusing getting on the NT in Williston but we finally found our way. The tailwind was insane. In all my years of cycling I have never had a tailwind this strong.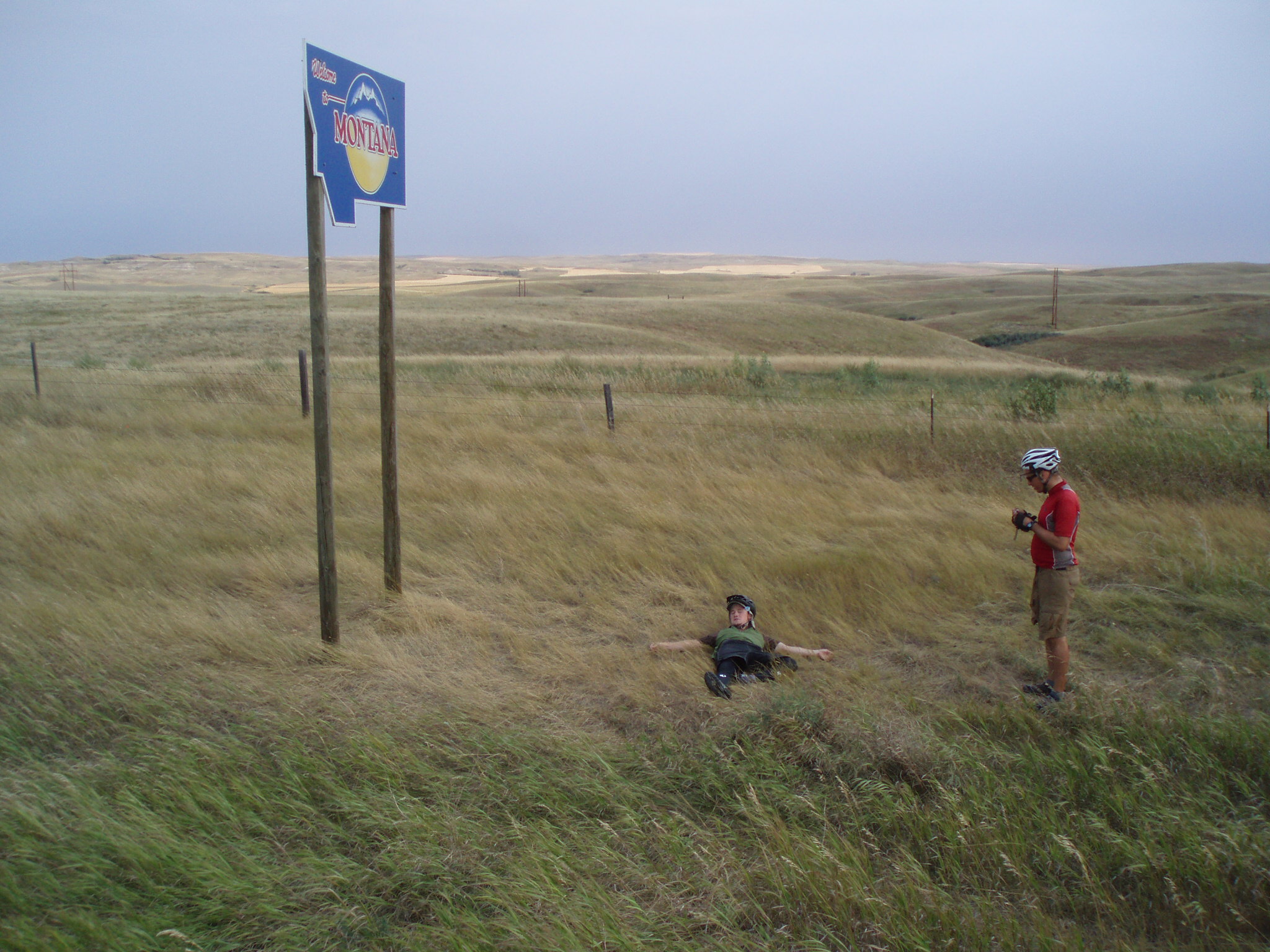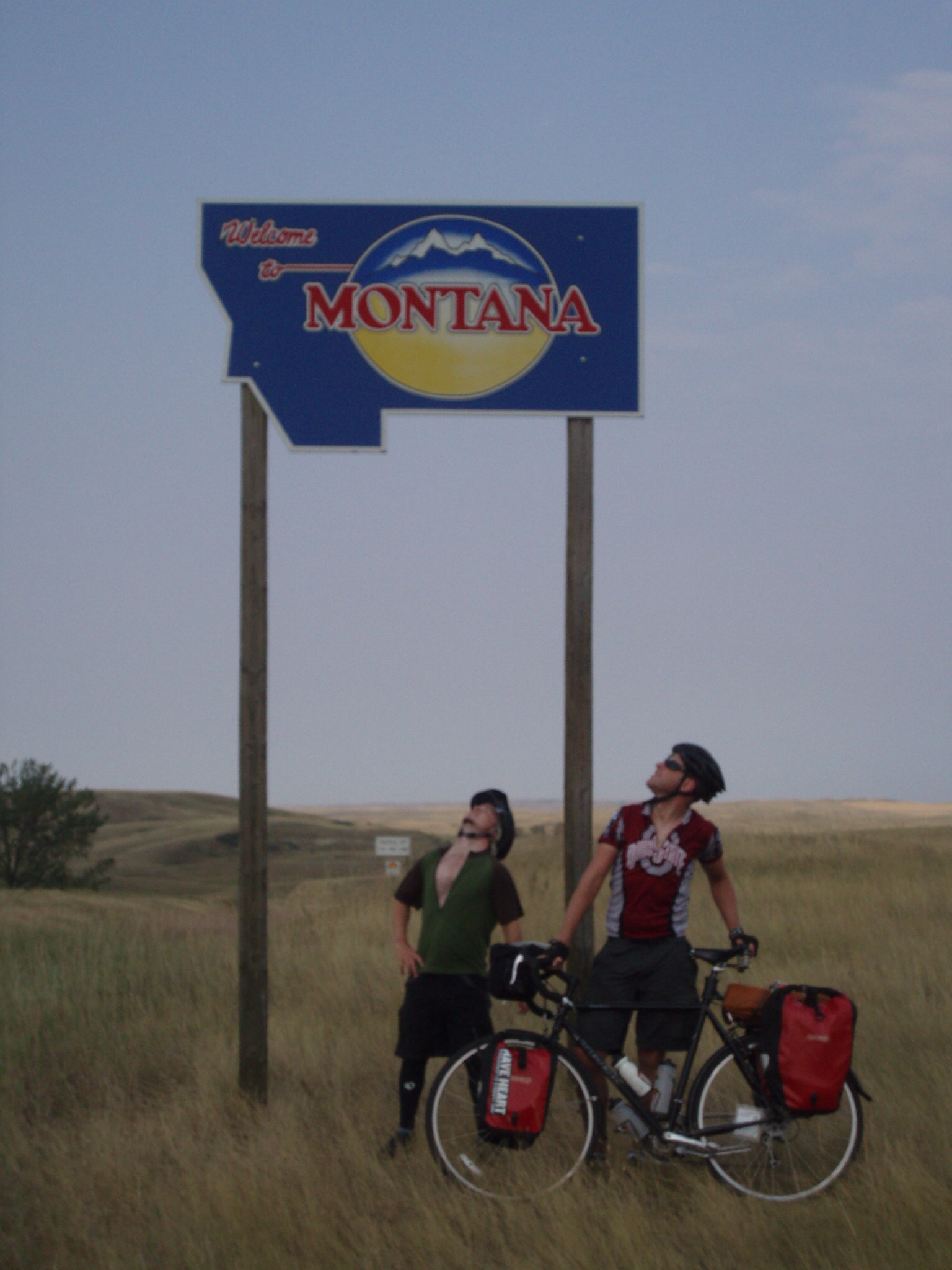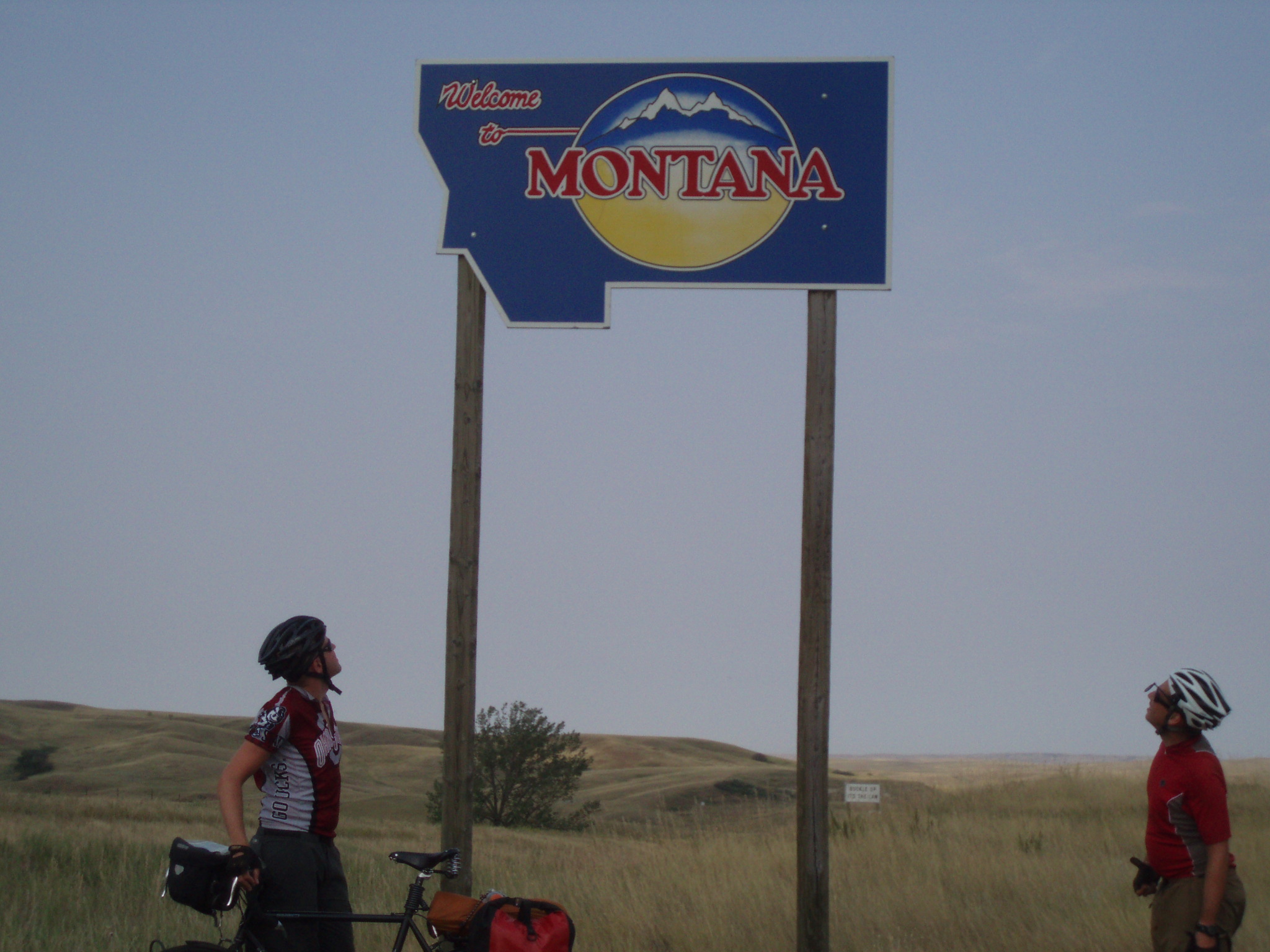 15 miles into the day we crossed into Montana.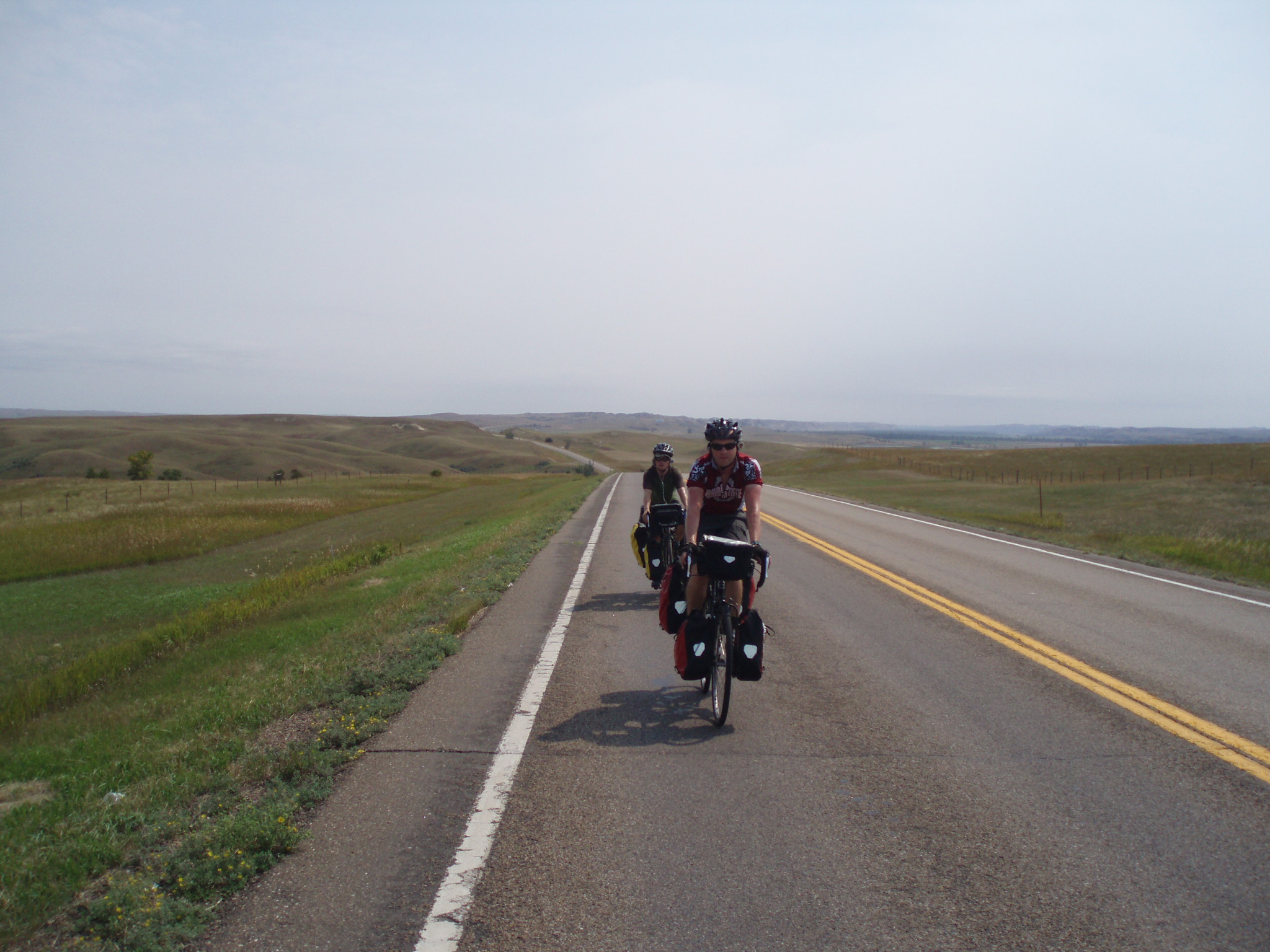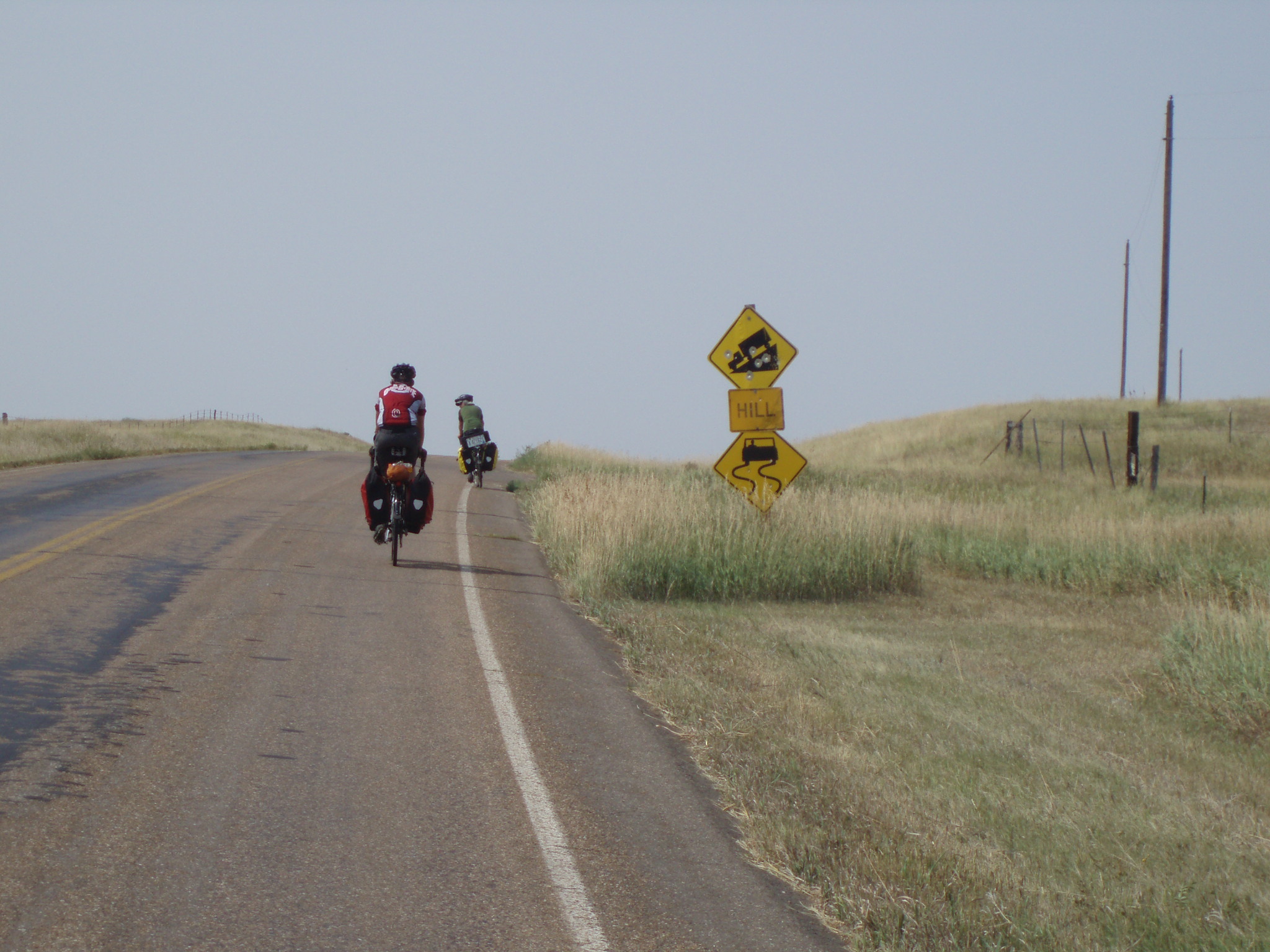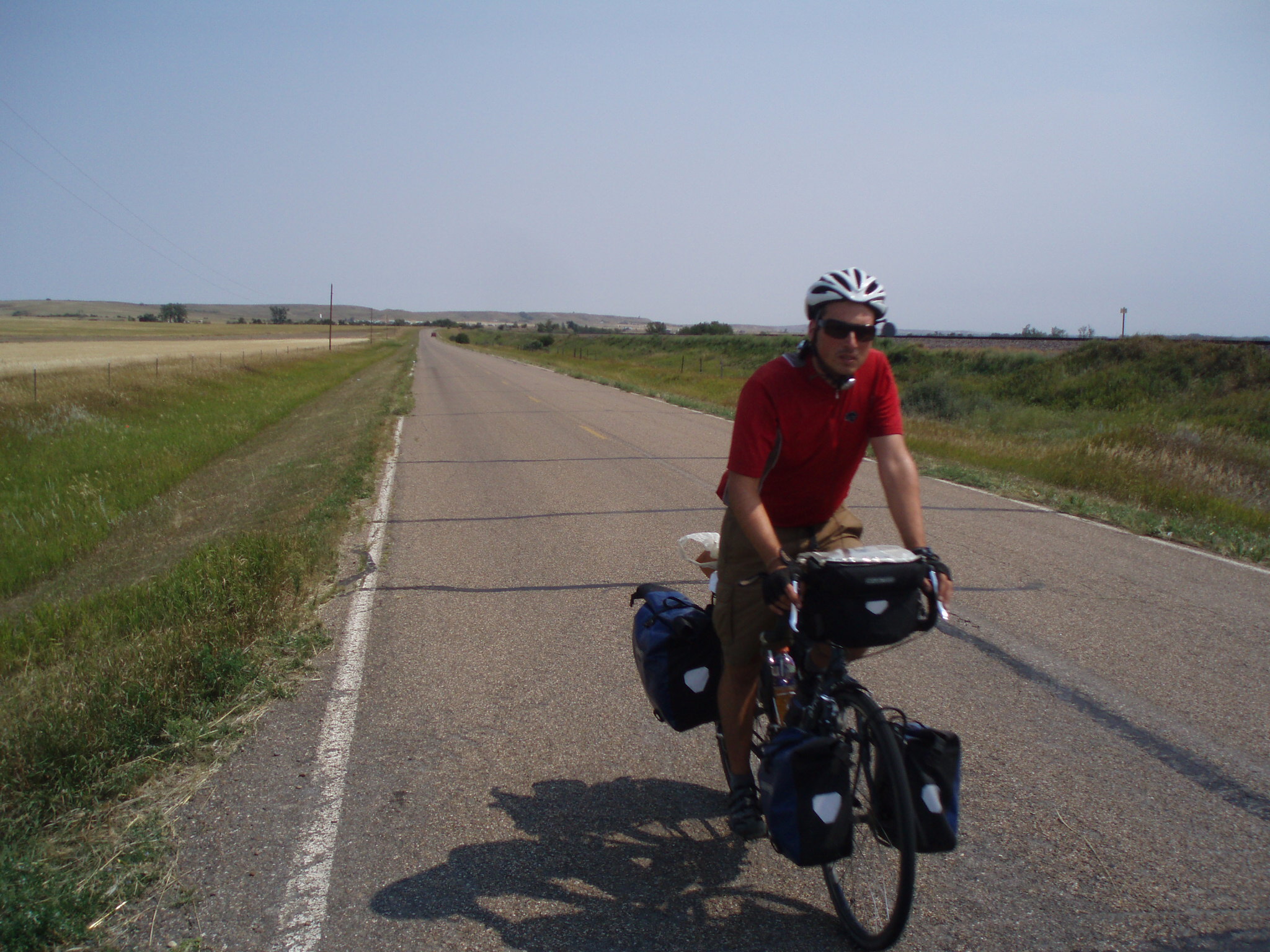 The terrain was lots of rolling hills. The hills added to the insanity of the day. I hit 40 mph 3 times! I practiced not freaking out when I was going that fast, I usually grab onto the handlebars really hard because I get so scared. Haven't gotten my bike up to 40mph since we were in Maine. However it isn't my fastest, when I was on the Ozarks I hit 45 mph, but I was pulling a bob trailer.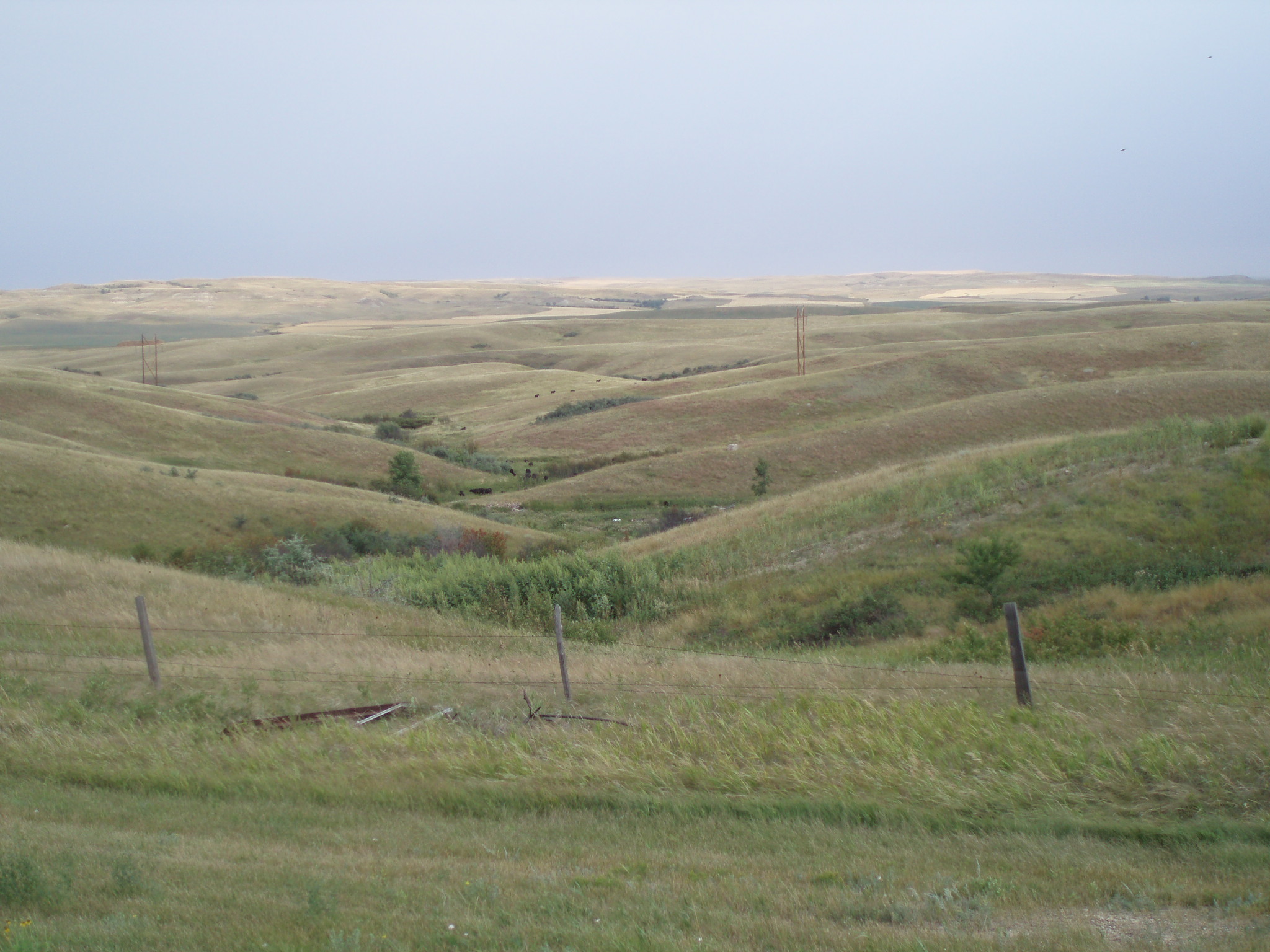 Ate lunch in Culbertson the food was really good. Leaving Culbertson the Northern Tier enters the Fort Peck Indian Reservation and gets off route 2, and goes south for a mile but the Kirsteins told us to follow the Northern Tier because it's good riding. And we're really glad we did.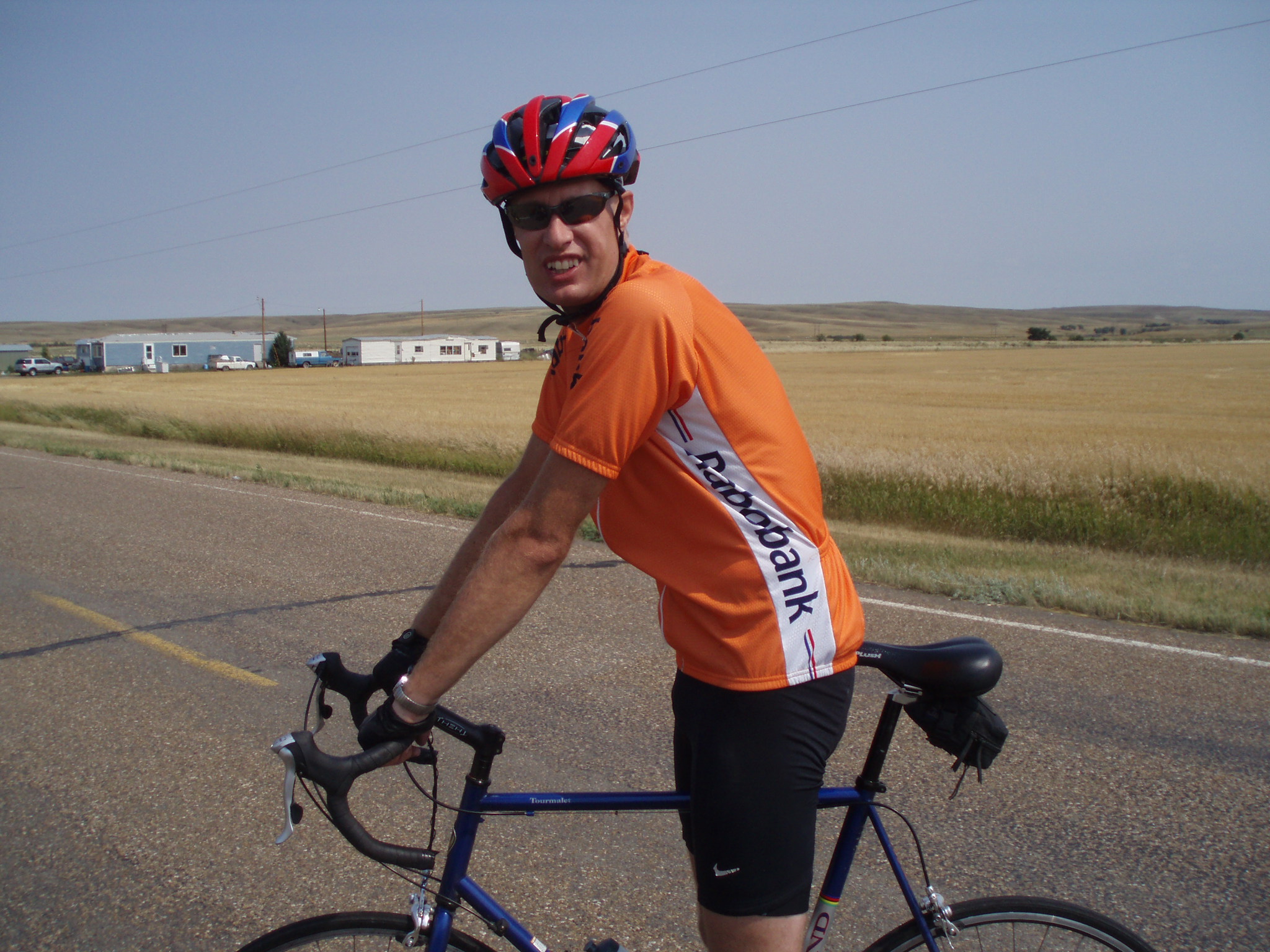 As soon as we made the turn we met Jason Karp on the road. When we stopped to talk to him, he knew who we are. He's been following our journal and the last time he checked we were in Fargo. So he thought he might see us out here. Jason is taking a 7 day sag supported ride across the state of Montana. His headwinds were really strong and I felt pretty bad for him, I couldn't ride in weather like that. But he only had 10 more miles to ride to the North Dakota Border and he was drafting his sag vehicle. Jason also told us that we were part of his inspiration to take his bike tour. Which was really nice to hear. Jason's journal is: http://www.crazyguyonabike.com/doc/2863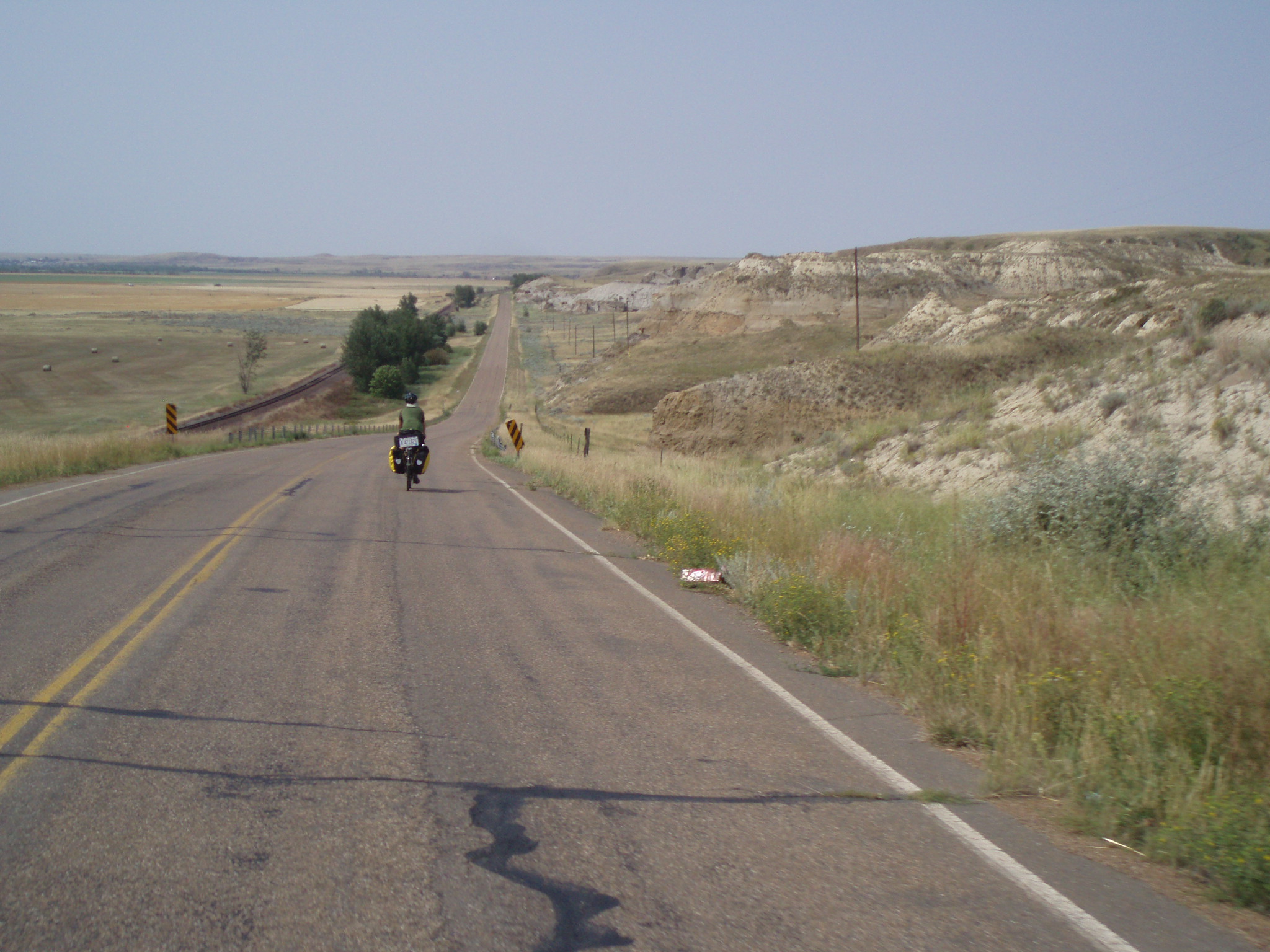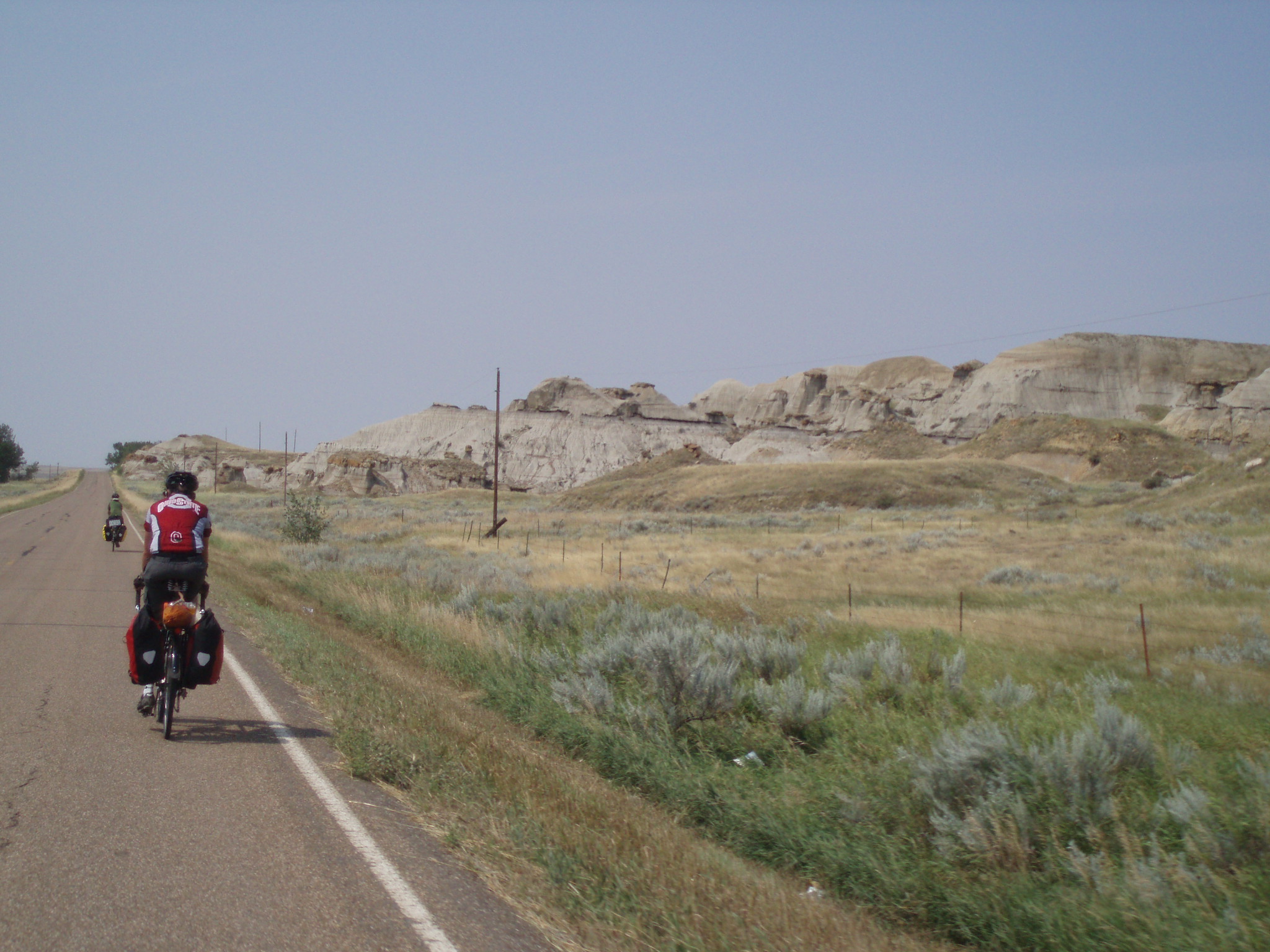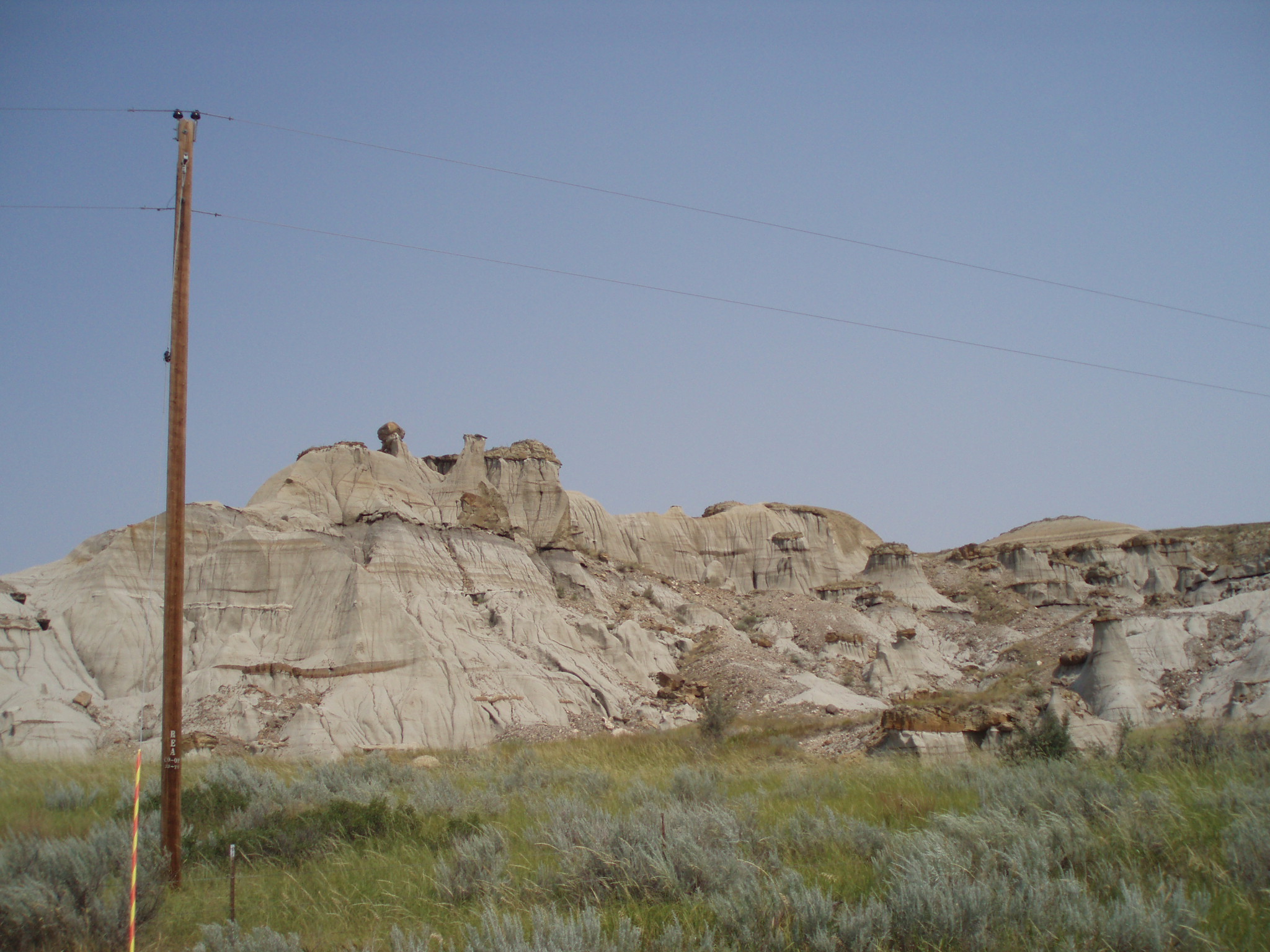 After we saw Jason we saw some really beautiful rock formations on the side of the road. We snapped photographs as we flew by at 25 mph and Jamie shot some video. Right before we got back on route 2 we saw all these Indians standing around 2 teepees having a BBQ or saying a prayer. I couldn't really figure out what was going on.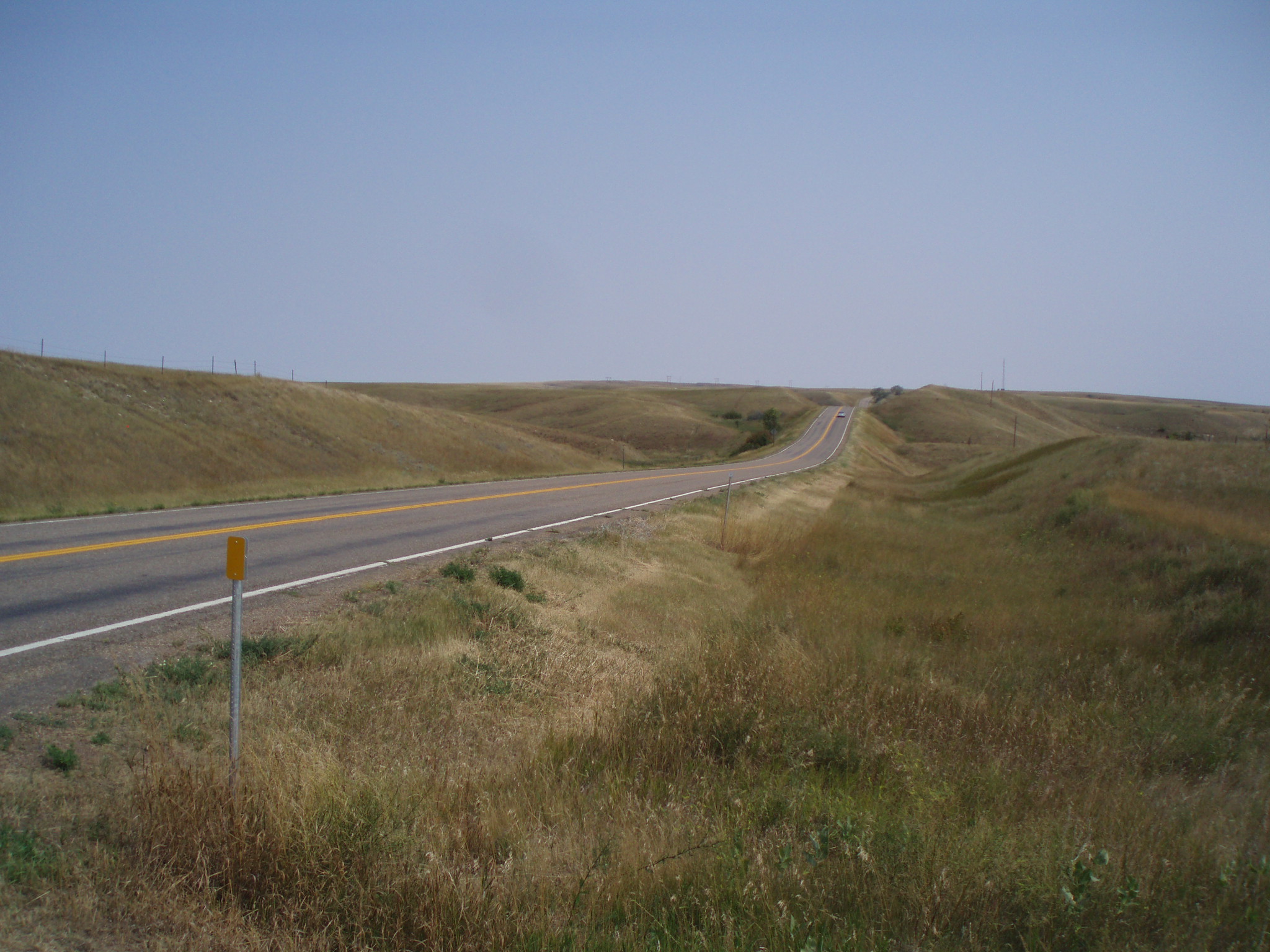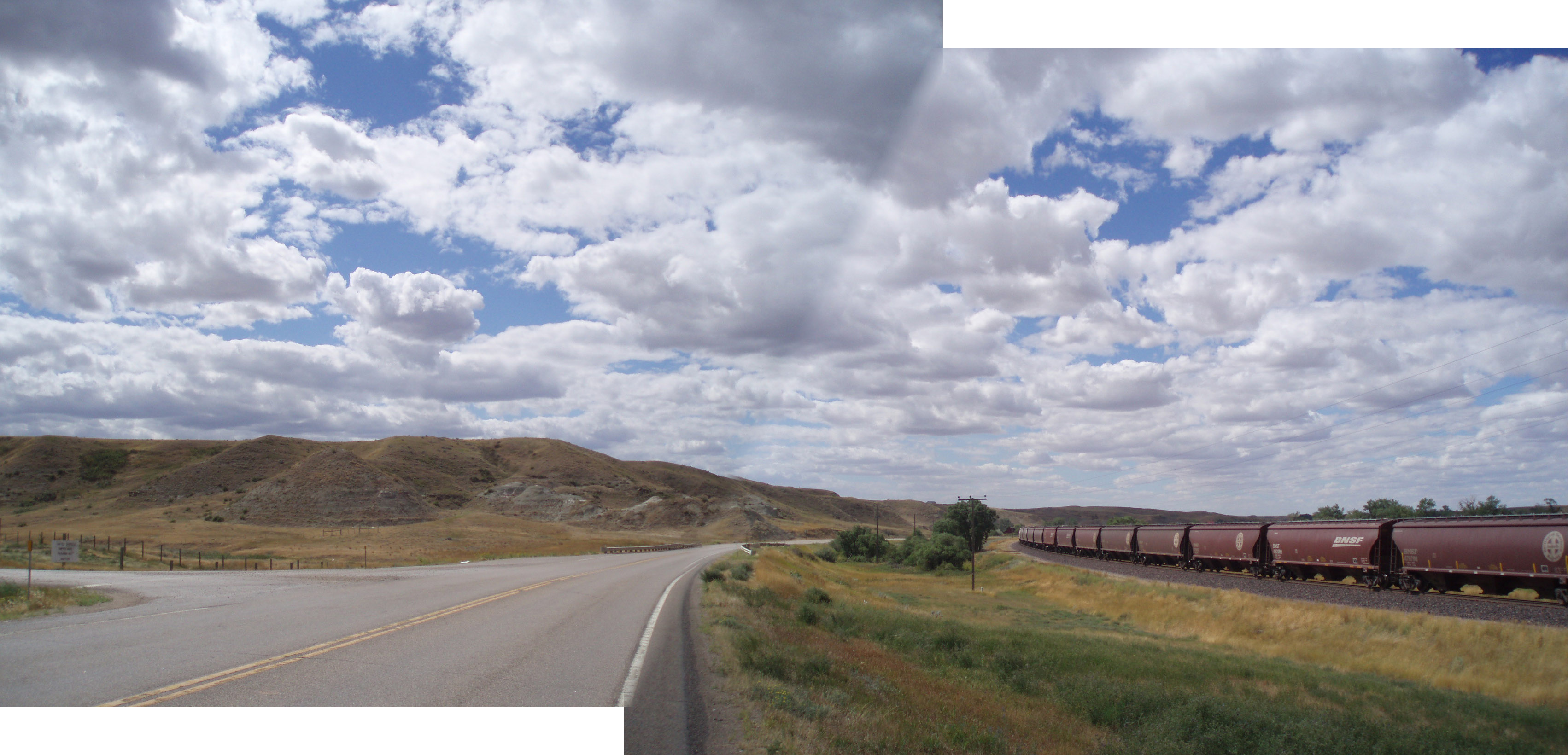 We stopped in Brockton and Chuck refilled water bottles while Jamie and I waited with the bikes. We met some nice Native American Indians who wished us good luck on our trip.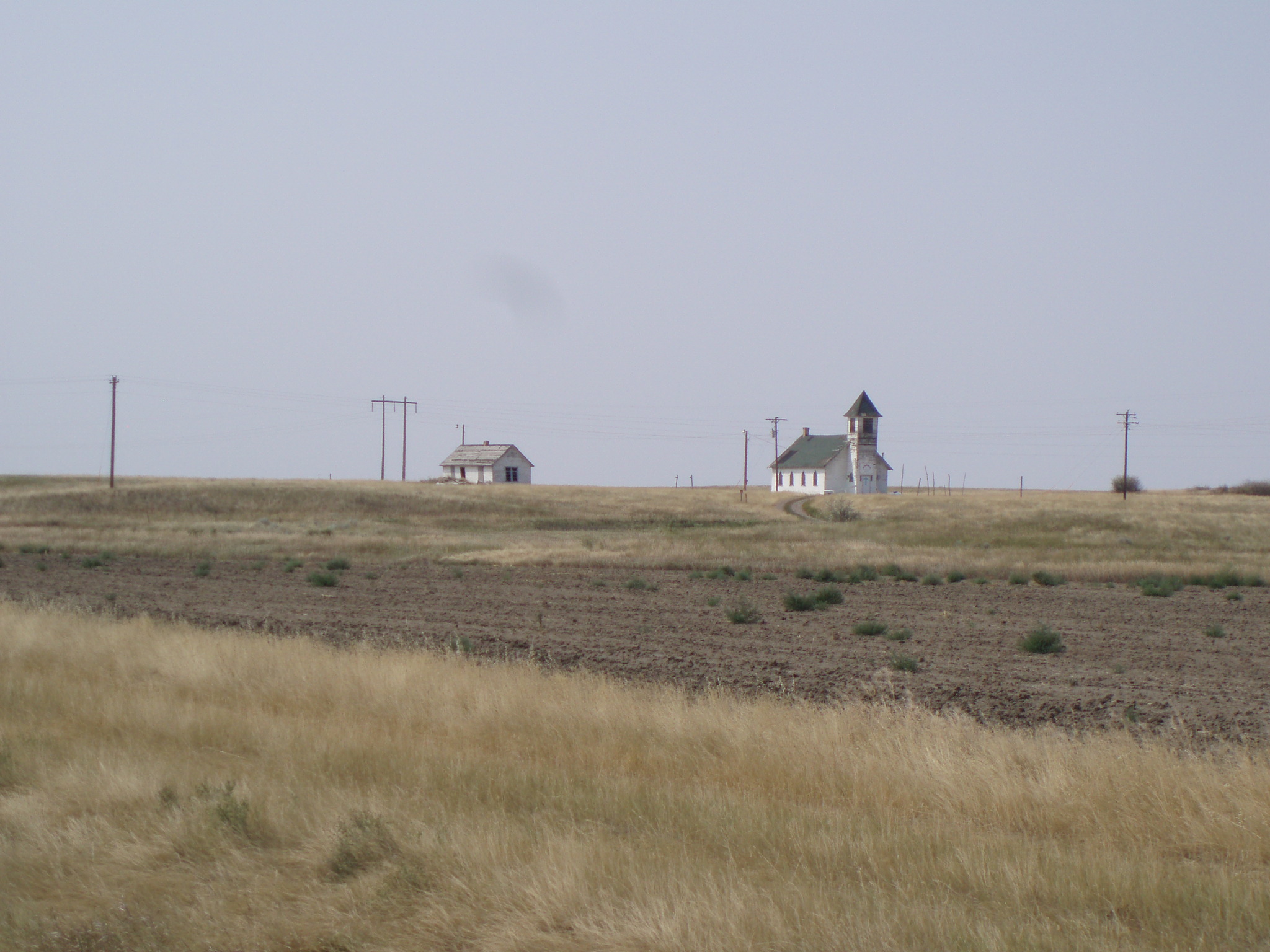 Since the first day of this cross country trip everyone has told us about this town: Poplar, Montana.  Everyone says it's the nastiest drug infested town on the entire northern tier. Everyone told us to just ride right through and not stop. And even our good friend Wikipedia also has nothing nice to say about poplar. It says:
<I> Poplar has higher rates of crime for a community of its size. In one year, the ambulance service made 998 calls, at least three per day. The 911 dispatch has called police officers to incidents at least 700 times in one month.
There are several police forces that operate in Poplar, including the City of Poplar Police Department, the Fort Peck Tribal Police, the Roosevelt County's Sheriff's Department, the Montana Highway Patrol, and the Federal Bureau of Investigation. Many of these agencies are cross deputized (meaning they can arrest tribal and non-tribal members).
Nicknamed, by many other reservations, Stab City. This is because of the crime rate, and the many stabbings.
</I>
And on top of all that, the population of Stab City is 911, which coincidentally is the most dialed phone number in Poplar.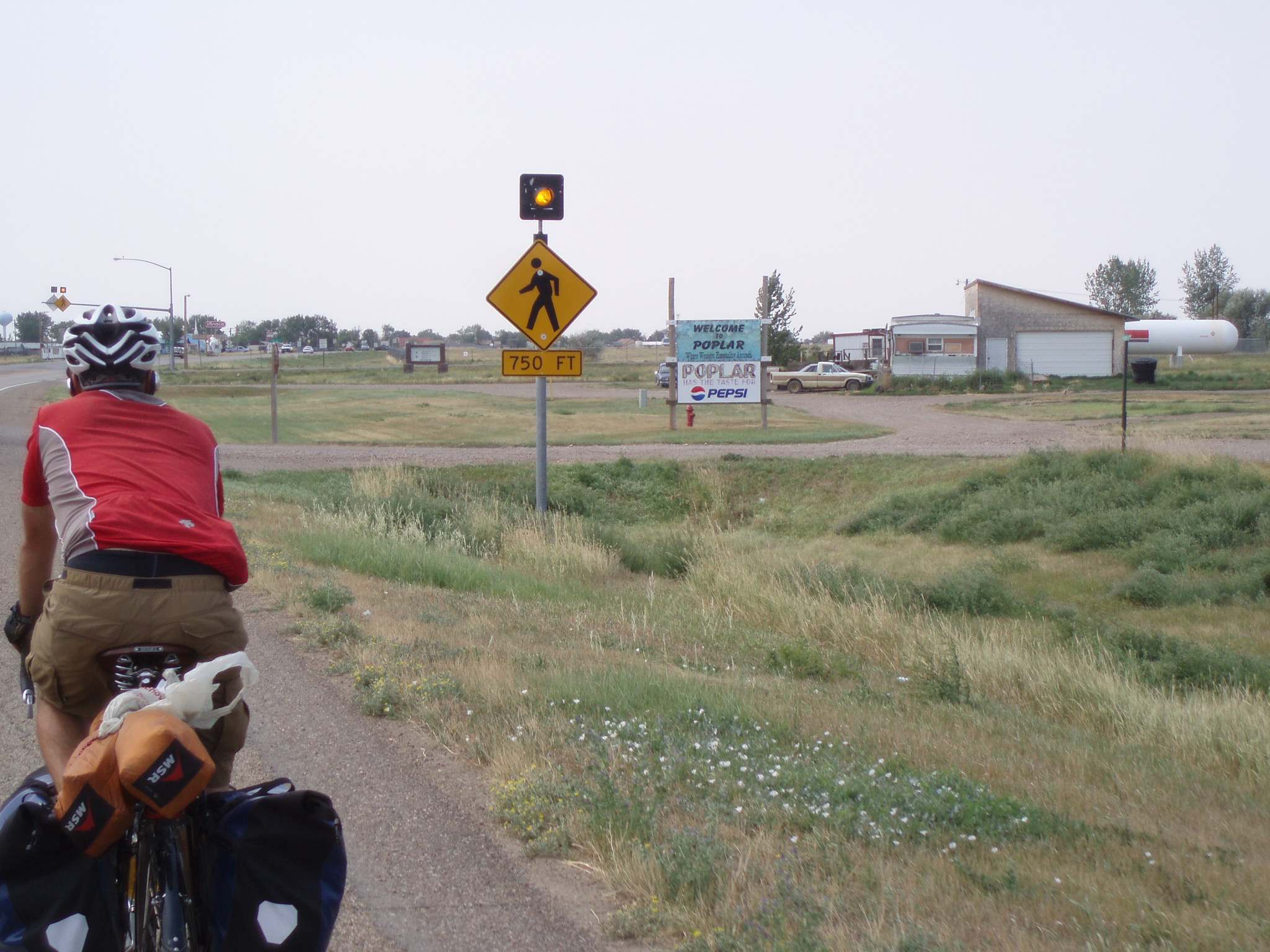 We rode through Poplar so fast I don't think we got below 25mph. We were in and out in 5 minutes. Don't think anyone even saw us ride through.
It didn't really look as bad as we expected we've all ridden through places that seem a lot worse. For the sake of all the moms I won't go into details. Nevertheless we didn't stop riding until we got to Wolf Point. 30 miles without taking a break.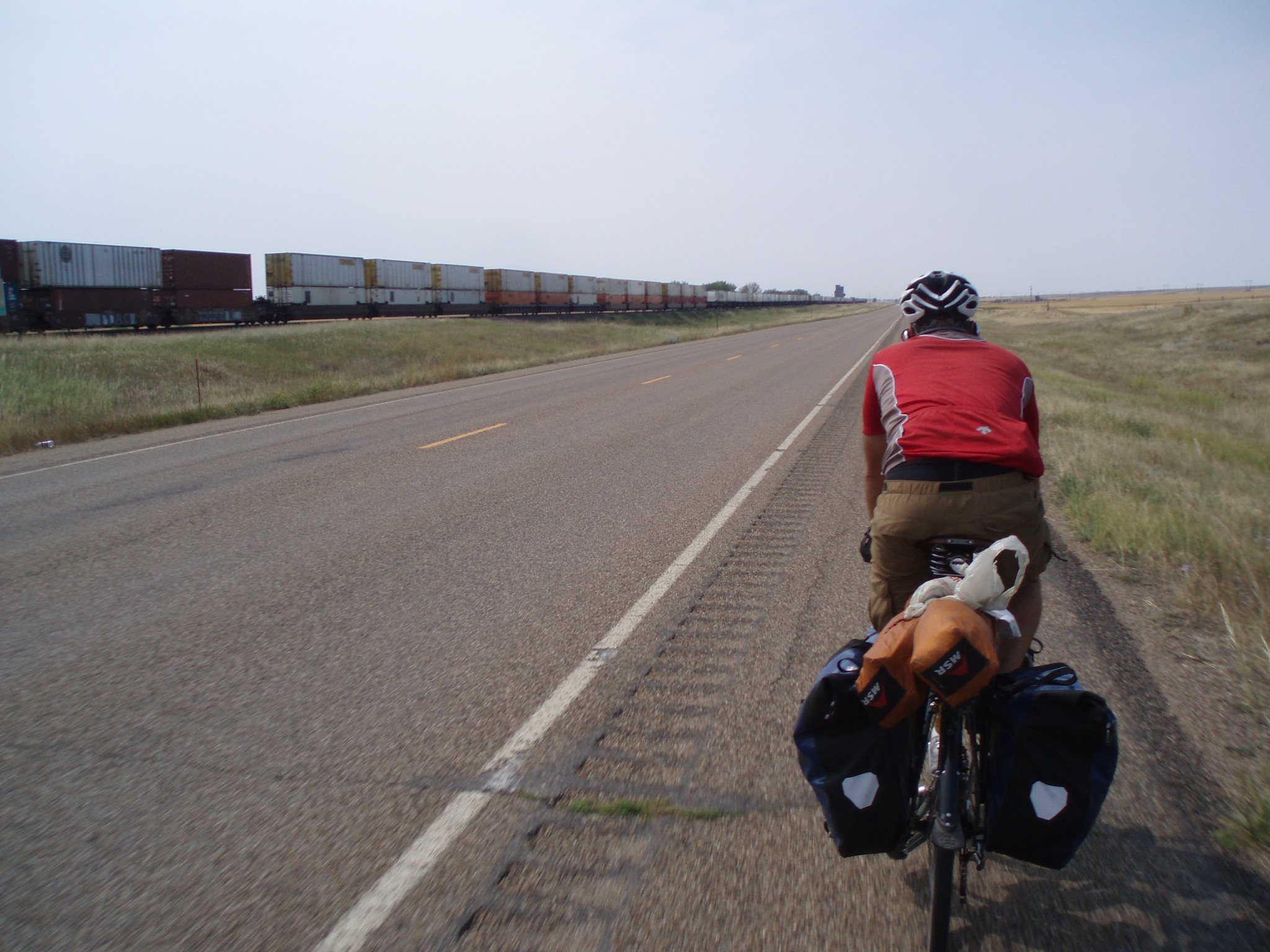 Riding into Wolf Point we noticed that it's a Pepsi town. (Oh and so is Stab City by the way.) We stopped at the first place to eat. Jamie ordered the Meal deal which was a hamburger called the Big-T, with a Pepsi and some fries. When Jamie got his food he claims that his Burger was nothing but a big mac and the kid working there just ran across the street to McDonald's and bought him a big mac and then served it to him playing it off as if they cooked it themselves. Jamie said 'My Big-T was really just a Big-M and in 2 hours I'm going to have a Big-D!'
At the diner Jamie asked two 13 year old kids if they knew of Stab City and they both went 'Oh, Poplar?' and everyone laughed.
Jamie didn't wanna ride any farther. So we decided to stay in Wolf Point. We rode up the hill and went to the camping spot by the pool. The bugs were really bad. We all went for a swim and took a long shower at the pool. Jamie told the kid working at the pool where we are riding too and he was the first person to ever say to him 'You guys are almost there!' and hearing that made Jamie's day. Everyone just tells us how far away we are and how we're never going to make it.
I was up late working on the journal stuff. Crazyguy is back up and tomorrow I'll do a big update. Weather tomorrow looks like another day of tailwind.
     Click Here to Visit The Table of Contents
     Click Here to Visit Previous Page: Day 61: Stanley, ND to Williston, ND
     Click Here to Visit The Next Page: Day 63: Wolf Point, MT to Saco, MT, Trailer & Saco, Montana Video