Thursday August 30, 2007
ZERO MILES

     Click Here to Visit The Table of Contents
     Click Here to Visit Previous Page: Day 74: Clark Fork, ID to Sandpoint, ID
     Click Here to Visit The Next Page: Day 76: Sandpoint, ID to Ione, WA
All night the train went by about every half hour.  For some reason I didn't put in my ear plugs and just let the train drive me crazy all night.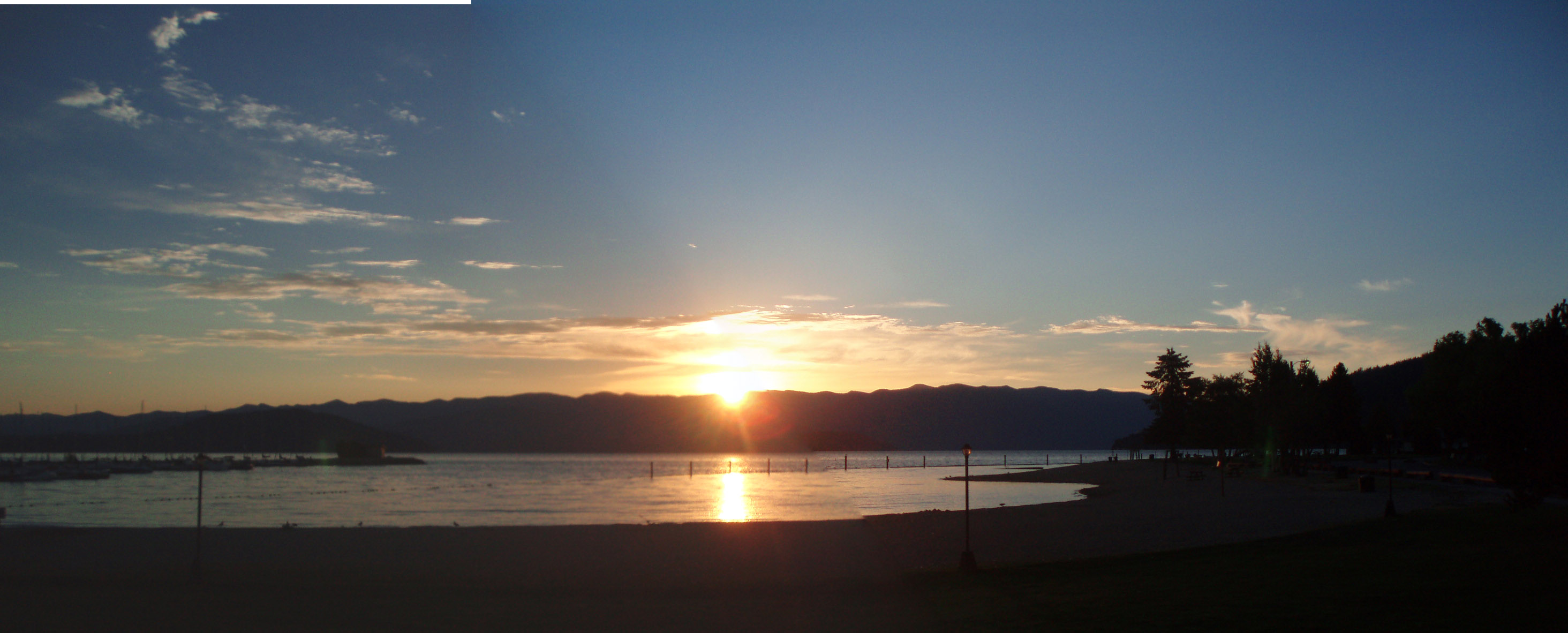 Chuck took some beautiful pictures of the sun rising behind the mountains.
We all packed up pretty quickly, we were waiting for the breakfast place to open at 7:30. When we crossed into Idaho, we also crossed into Pacific Time, so we gained an extra hour. Which is another big perk about cycling west.
We had breakfast at the same table chuck and I sat at yesterday for a few hours. It's the only table that has an electrical outlet close by. Breakfast was really good. We sat there for 2 hours using the computers and just relaxing with the beautiful view of the lake and the mountains. I said 'I wouldn't mind just sitting in this spot for the rest of the day!' Jamie and Chuck said 'OK, Let's do it!' so we did. We sat in the same spot from 7:30am until about 3:30pm. And ate breakfast and lunch.
The people out the restaurant were way cool, our waitress was really nice and then she introduced us to Justine, the cook who was really excited to hear about our bike trip. Justine told us that someday she wants to open a hostel in Sandpoint and how she loves to meet all the travelers when people come through Sandpoint.
After our record breakfast/lunch, Mike Riscica jumped in the Best Western hot tub, went for a swim, showered and washed clothes.  Jamie was trying to upload videos and wasn't having any luck so he went to the library and chuck went to go read harry potter at the beach. Later I took a stroll through town. I met all these awesome local kids on the street. Everyone was really friendly. Sandpoint is such a great town.
I talked to Erika on the phone for a while. She told me what happens in this new harry potter book so now I don't have to read it. Chucks mad because I know the ending and he's only halfway through and is scared that I'm going to tell him the end.
I had dinner at the famous Eichhardts pub that everyone talks about. It seems that everyone in Idaho is pretty outraged about the Idaho Senator Craig scandal that came out yesterday. The guy I was talking to at the bar had nothing nice to say about Senator Craig. Apparently Senator Craig has had a long history of being a sleazy politician and this guy was glad Senator Craig's days were over.  I just think its hysterical that Senator Craig got on National Television and said 'I'M NOT GAY!', That has to be one of the funniest sentences anyone could possibly say.
On the way back to the campsite I picked up a 6 pack and just sat in front of my computer for the rest of the night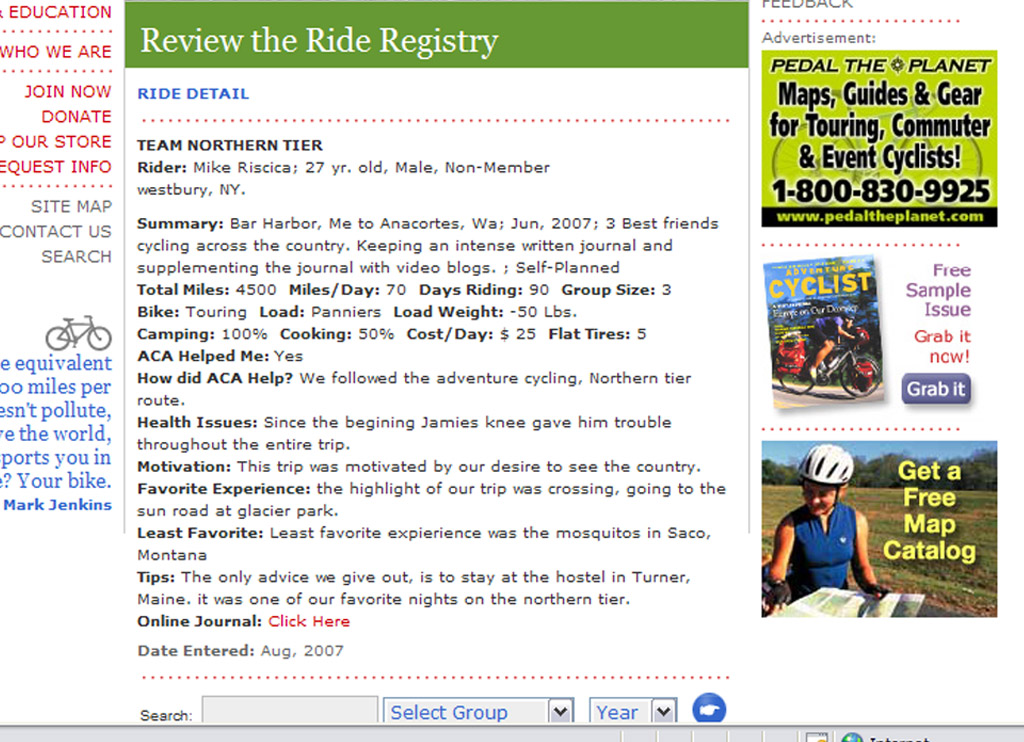 I registered our ride on the Adventure Cycling website, not like anyone actually looks at these things.
I also discovered what Neil Gunton is doing with Topic Wise. http://www.topicwise.com/doc/topicwiseoverview after our trip is over Chuck and I are going to make a journal for our wild 2.5 week adventure through Venezia, Spain and Portugal. I always wished I could use Crazyguy, for my non-bike travel journals. AND NOW I CAN!!!
Jamie came back he uploaded a whole bunch of videos onto our website; he also made this video about trains.  http://www.teamnortherntier2007.blogspot.com/2007/08/train-that-follows.html
We also recorded a video addressing the 'Team Northern Tier Followers' on Facebook. For the rest of the night James and I drank the rest of the beer and fooled around on the internet.
http://www.teamnortherntier2007.blogspot.com/2007/08/making-art-in-sandpoint-id.html I figured out its 421 miles from here to Anacortes.
Tomorrow we're riding out of Sandpoint, For Real! However I am tempted to stay here just a little longer. Its 80 miles to the next town.
     Click Here to Visit The Table of Contents
     Click Here to Visit Previous Page: Day 74: Clark Fork, ID to Sandpoint, ID
     Click Here to Visit The Next Page: Day 76: Sandpoint, ID to Ione, WA