Saturday September 1, 2007, 59 miles (94 km) – Total so far: 4,156 miles (6,688 km)
## map77 ## 58.67 miles 12.2 avg 34.5 max 4:47 pedal time

     Click Here to Visit The Table of Contents
     Click Here to Visit Previous Page: Day 76: Sandpoint, ID to Ione, WA
     Click Here to Visit The Next Page: Day 78: Kettle Falls, WA to Republic, WA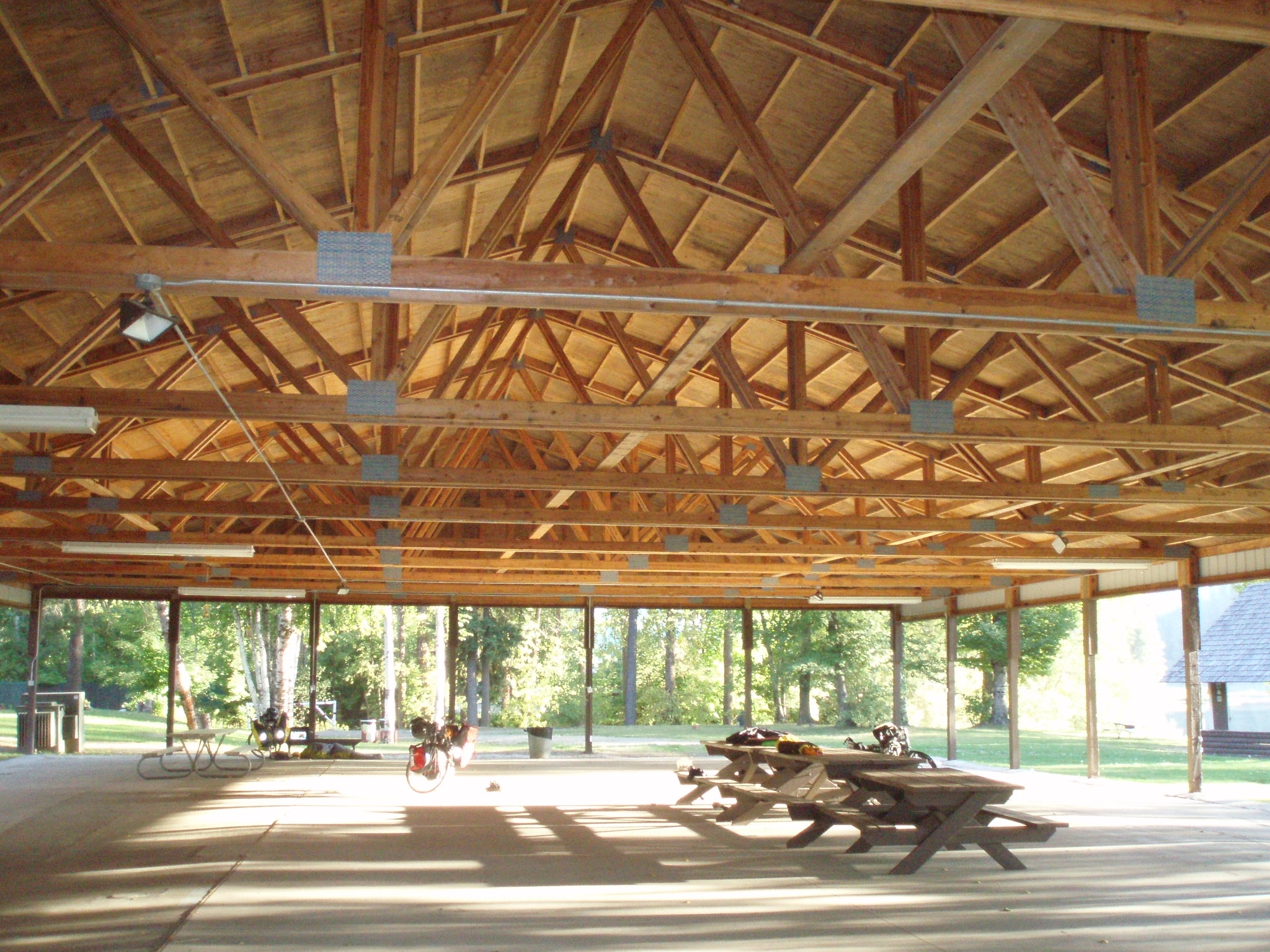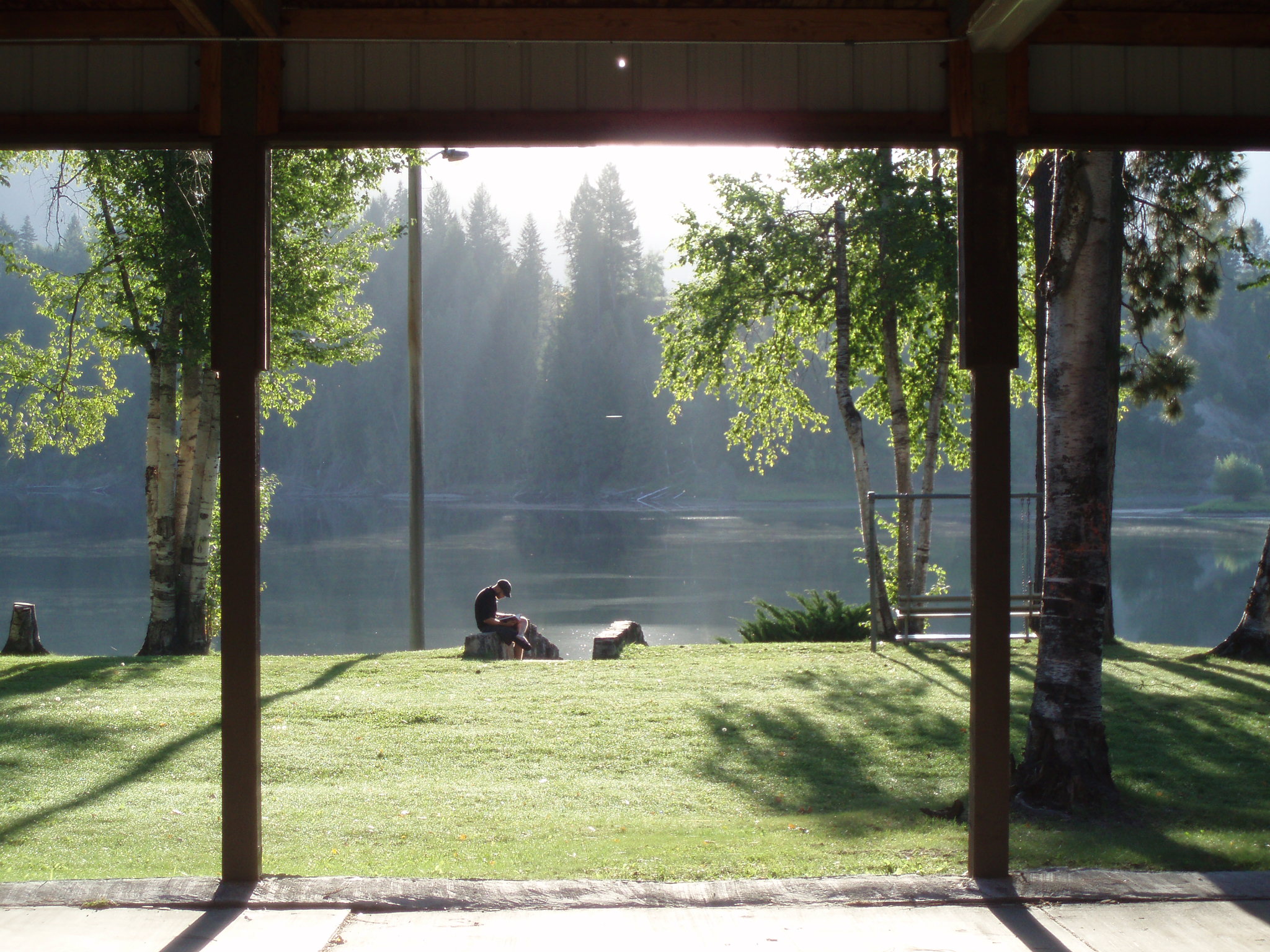 Last night Jamie and I slept without tents underneath the gigantic picnic pavilion.  I slept on top of a picnic table, Joy Santee style.
We all slept great, no interruptions for once. Jamie said last night while we were at the bar these two punk 13 year old kids were touching his computer stuff and he had to yell at them to leave his stuff alone.
On the way to breakfast there was this giant dog laying in the middle of the street. Jamie said 'This town is going to the dogs.' He says that whenever we see a lot of dogs. It started in Binford when some old man said that to us.
Breakfast was really good. Our waitress from was from Long Island and talked like the Snapple lady. It was kind of nice to hear her voice.
Before we rode out I needed sunflower seeds so we went over to the gas station. Chuck said his rear tire had a slow leak, so I told him to just pump it up and if it goes flat again we'll change it. Jamie also decided to check his tire pressure. While they were pumping up their tires about 8 people at the gas station were standing around making fun of us. One old man kept saying 'it sucks to be these guys!' and another kid said 'I just don't see any pleasure in riding a bike with that shit all over it!'. Someone else said 'Those guys should put a motor on those bikes!'
So while everyone was watching us talking shit. As Jamie and chuck were putting their pumps away. I was standing over my bike and I blew out these 2 disgusting snot rockets outta my nose and all over the ground. Everyone said 'Ew, Gross!'   Then we got on our bikes and rode out of Ione.
3 miles out of Ione we get on route 20. Route 20 is our last road of the Northern Tier. Route 20 will take us all the way to Anacortes, Washington. As soon as we made the turn onto route 20, Chuck said his wheel went flat again.
So we all know the drill and worked as a team to get it fixed. The presta valve wasn't holding air so we put on a new tube.  I had a really really hard time getting chucks tire back on. I probably should have just took it off and started over. I don't know what the problem was by now changing flats is Mike Riscica's superhuman power.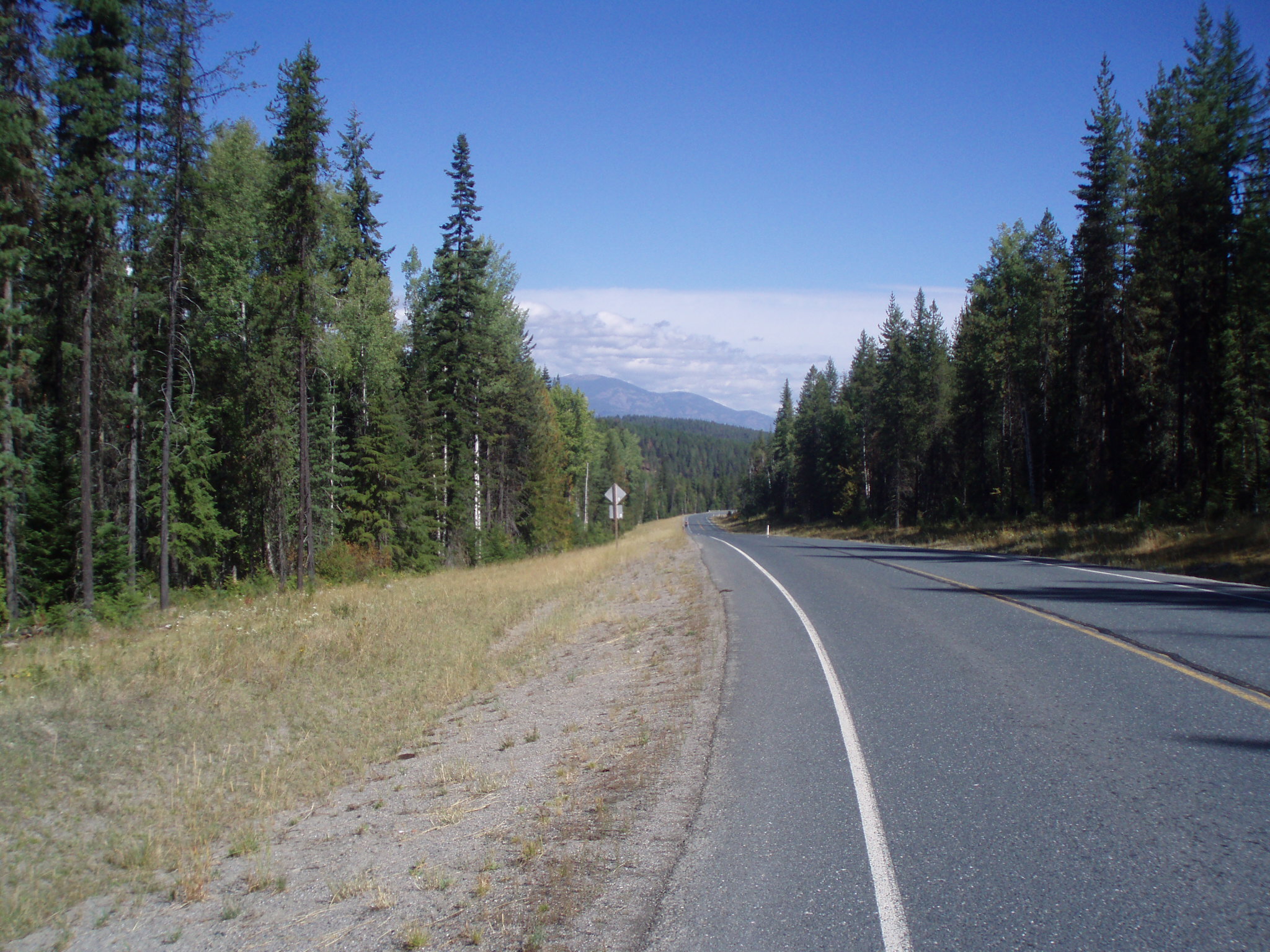 While I was changing his tire and talking with some nice tourist people, I saw there was a water fountain so I drank a bottle of water. When I went to refill it I found out the water fountain was out of order.
We went inside the museum and the lady told us their water is no good and not to drink it because you'll get Giardia. Some nice man offered to drive one of us back to Ione for water, but the nice lady at the museum ended up not charging us for the bottles of water they sell at the museum.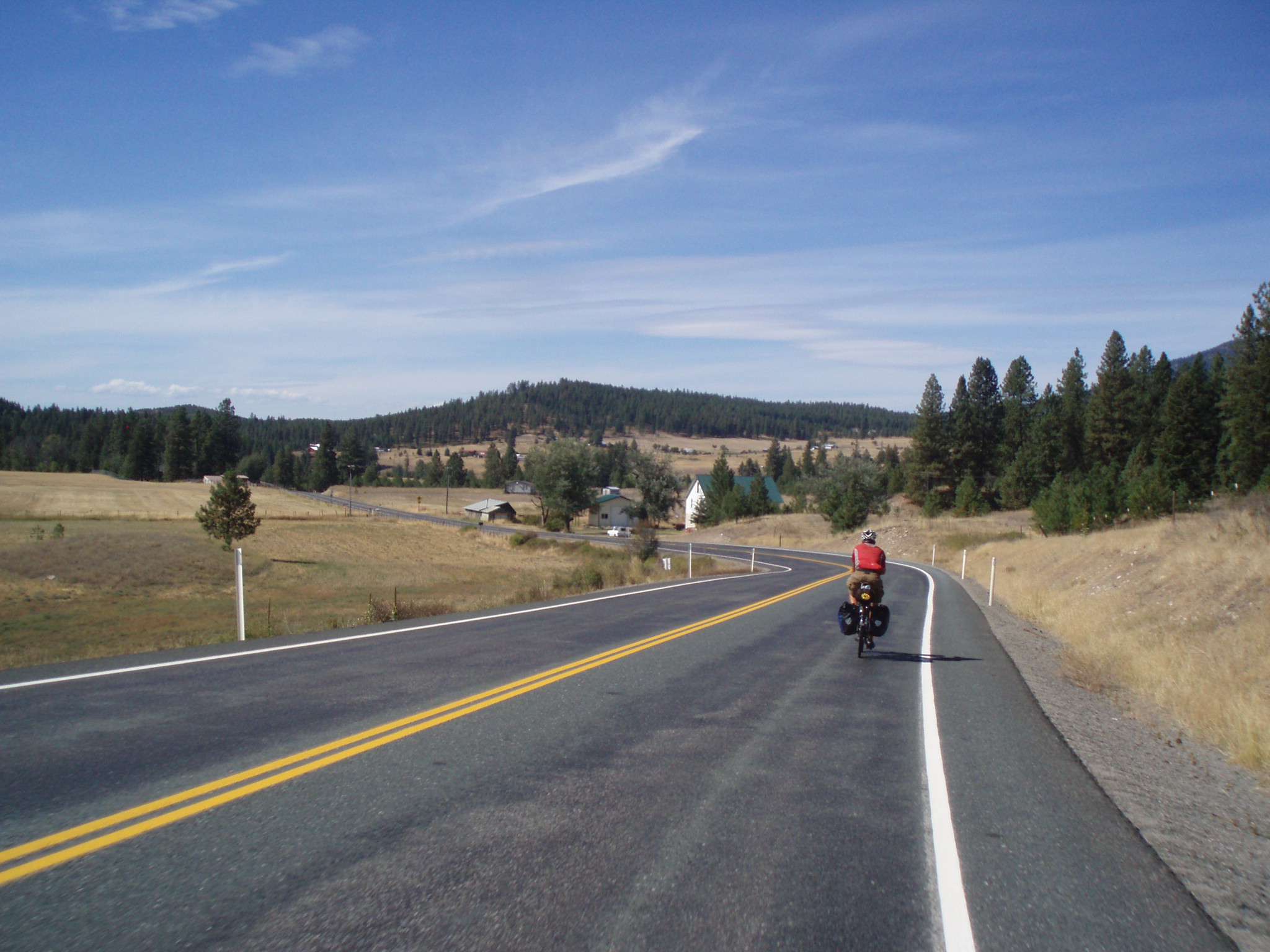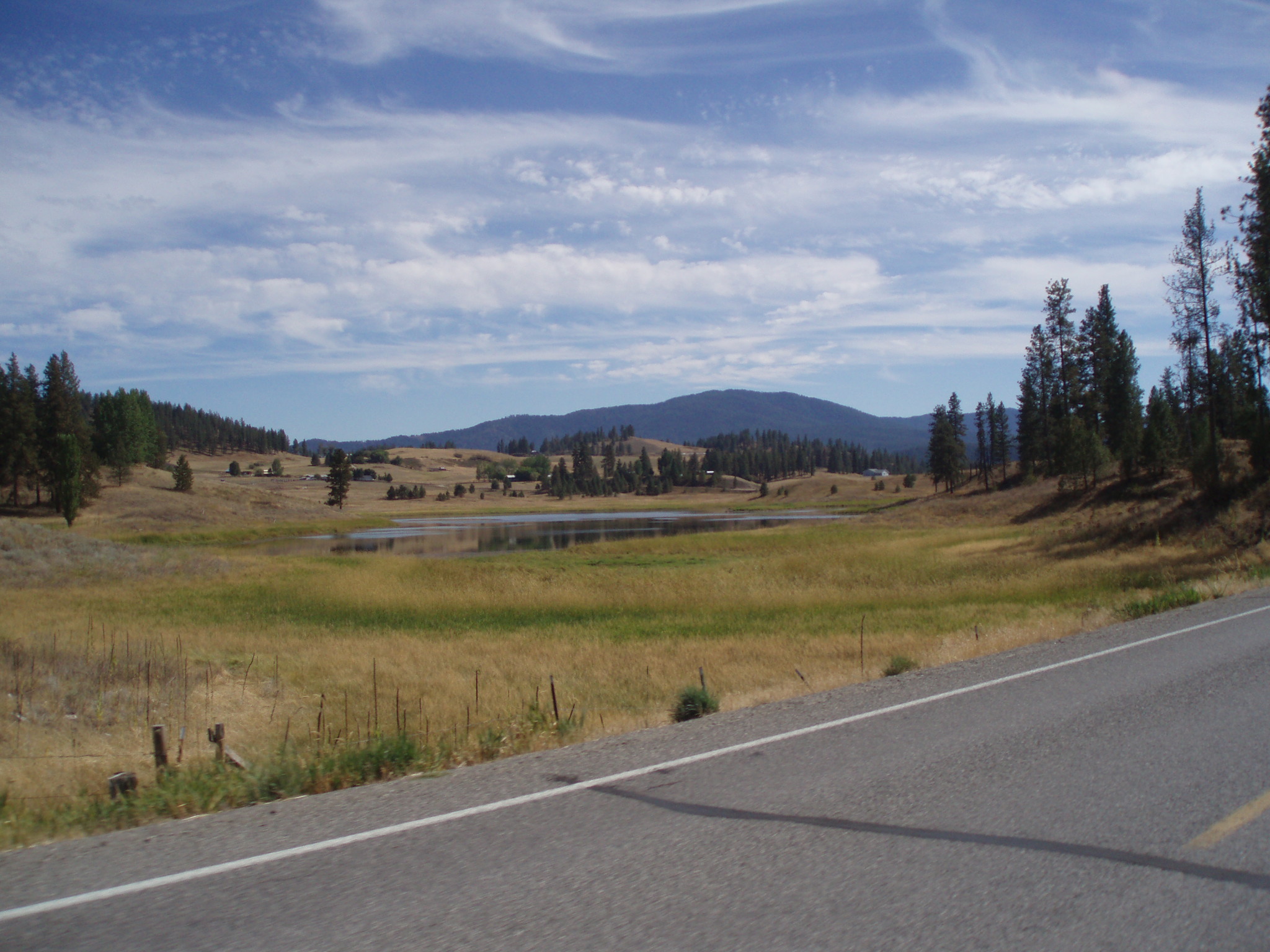 It was a 1 hour climb up the mountain. No big deal. On the elevation profile this is the Easiest out of the 5 climbs in 5 days. It was only about 1500′ climb and then it was about 2000′ downhill for the rest of the day.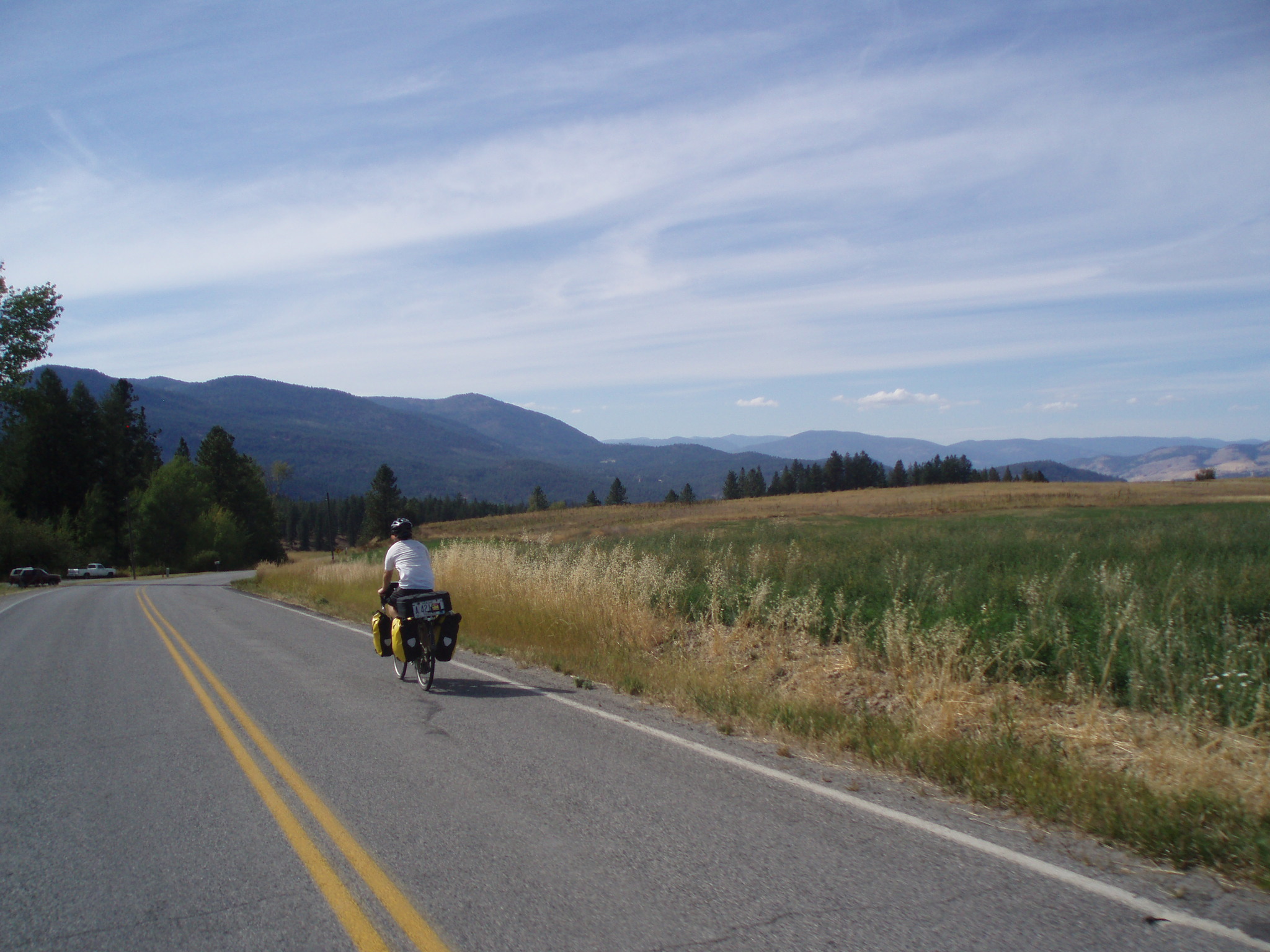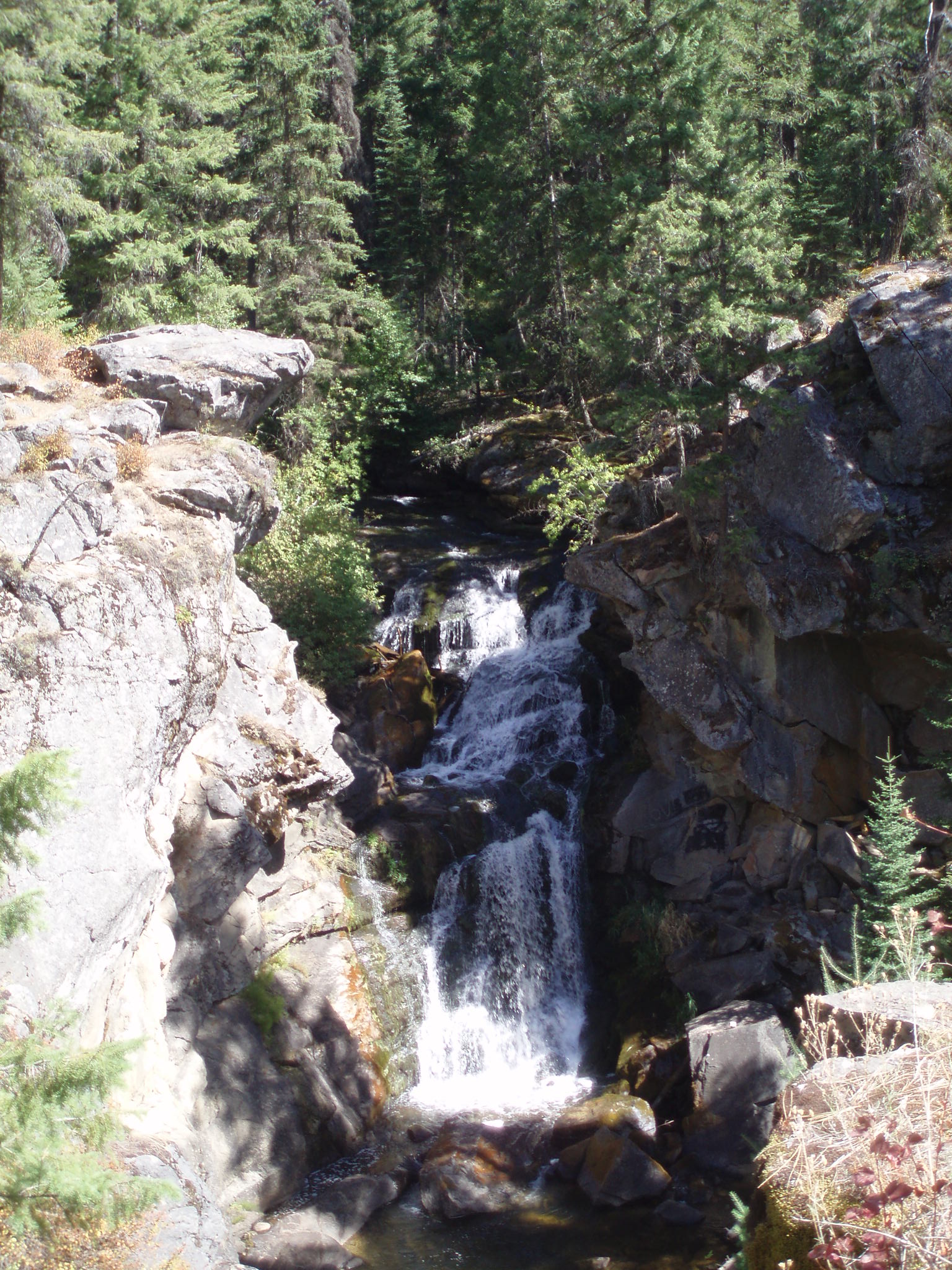 On our way down the mountain we stopped at this this place they call a resort on the lake, which was a real dump. As soon as we pulled in we were all offended by the smell of sewage that was coming outta the ground. Every 5 minutes some kid on an ATV or a dirt bike would fly past us. I watched these people set up one of those giant Walmart tents on this cramped piece of grass outside one of the cabins. The tiny lake had all these people on jet skis riding in circles. It sounded like there were motors of all types going all in every direction.
On top of all this chaos, the guy running the place looked like Senator Craig. We got some food and just got the hell outta the there. The food was terrible anyway. On our way out I saw these teenagers riding around on this 4 wheeler with a huge shotgun on the front.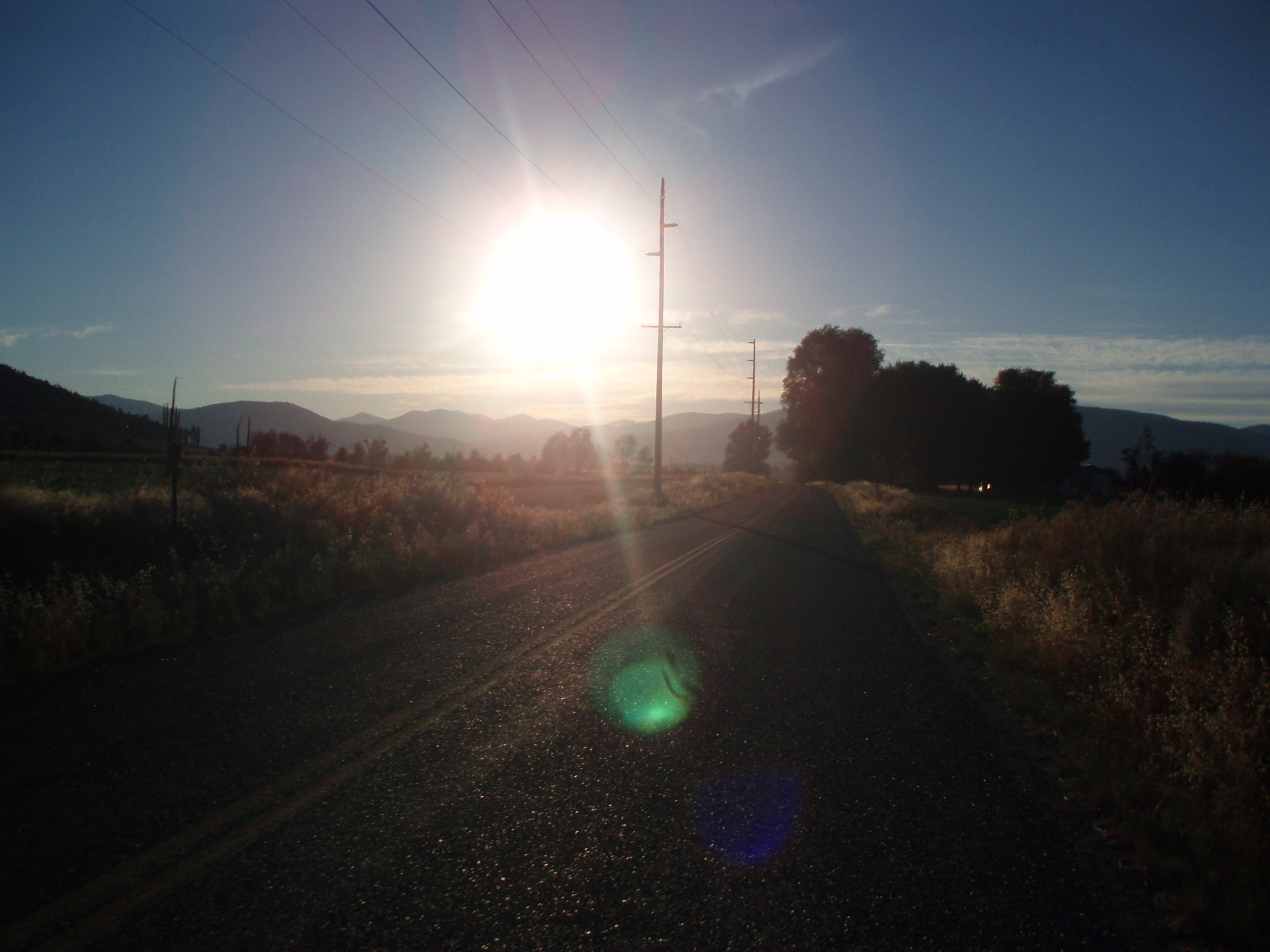 We rode into the next town Colville. It was dead. Labor Day weekend no ones around. Luckily the library was open so I we used the Wi-Fi for about an hour and half. Chuck went to the bike shop to get a new pair of gloves and couldn't find anything good. After the library we found an ice cream shop and we all ate huge ice creams. Mike Riscica's addicted to the Huckleberry ice cream.
The camping situation in Colville wasn't that great and there were a bunch of firefighters camping there, so we pushed on another 10 miles to the next town Kettle Falls.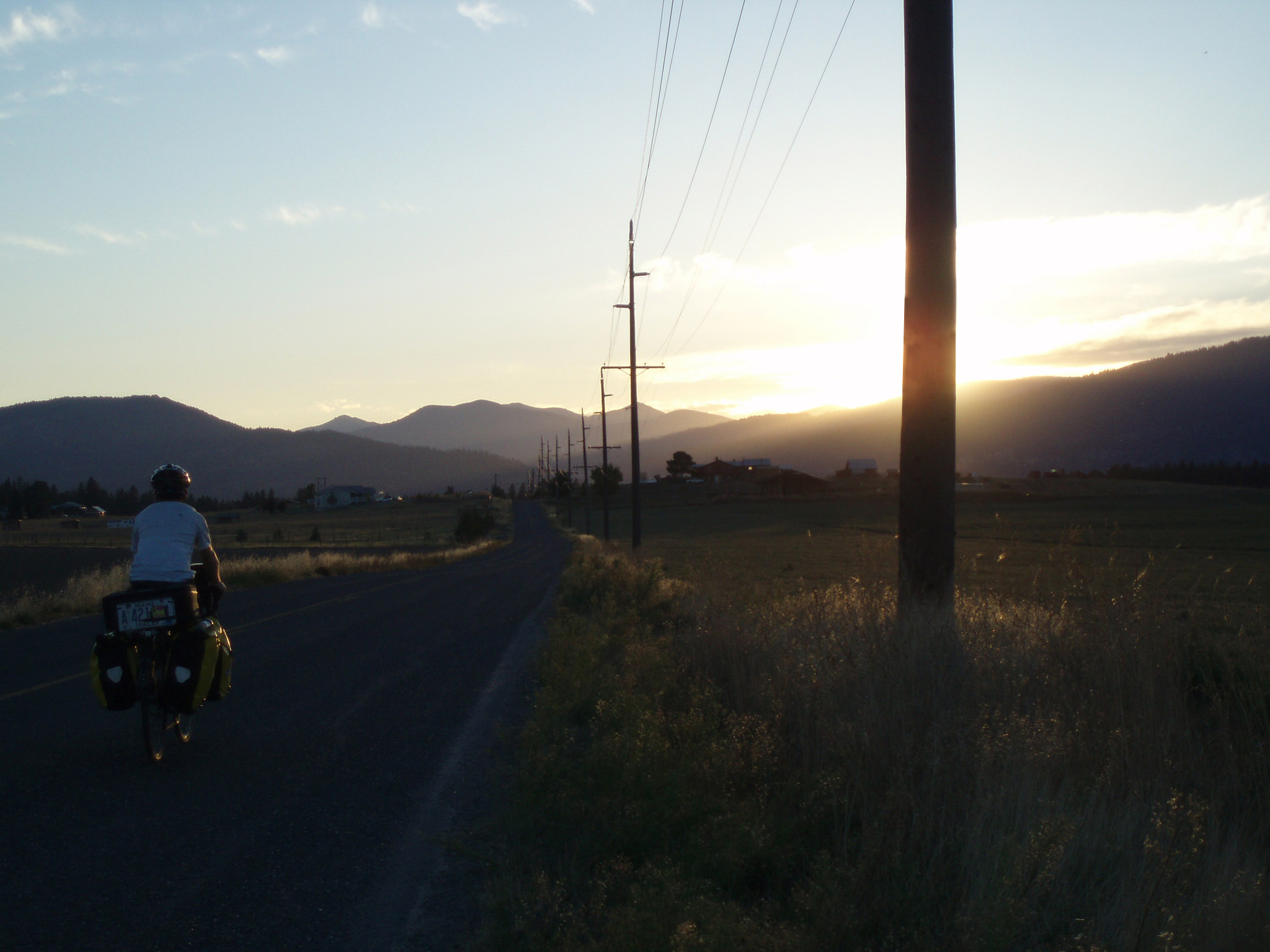 It was a really pretty ride from Colville to Kettle Falls during sunset. We saw a ton of deer they were jumping around like crazy. 2 miles from town I was right behind chuck, I heard his tube go flat. Chuck got all upset; he blames the guy in Sandpoint for giving him 2 flats in one day. We didn't have any mechanical problems until some jerk in Ohio came up and specifically wanted to talk about our bike problems and 30 minutes later chucks rear wheel exploded.
He says the next person that only wants to know about bike problems he's going to bite their heads off.
Chuck needed a new rim strip, his was shot. LUCKILY, I had one! Who the hell carries a rim strip? Yep, Team Northern Tier does, we also carry 3 pounds of other miscellaneous bike parts we have never needed.  I was able to get his tire back on no problem this time.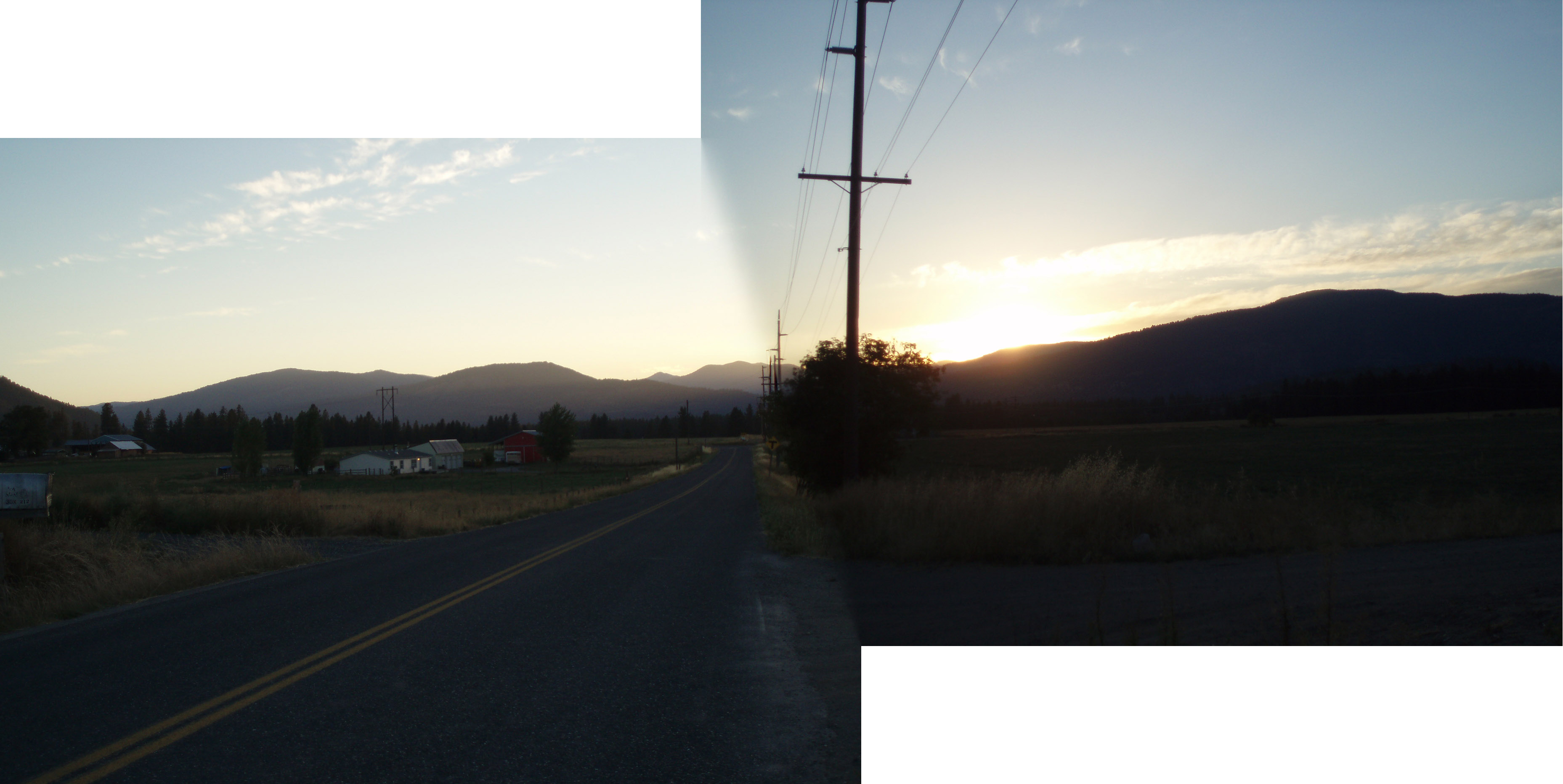 When we got into the Kettle Falls we rode past some pizza place and some guy stopped us on the street and said we could crash at his place.  We were all tired and hungry, we thanked him but said we're going to check out the park first and maybe we'll come by later.
At the park there were a ton of tents already setup. There was a big party going on. We walked over to where everyone was and they wanted nothing to do with us. They said we have to camp far away from them on the other side of the park.  We hung out where they told us to camp and then just decided to go back into town.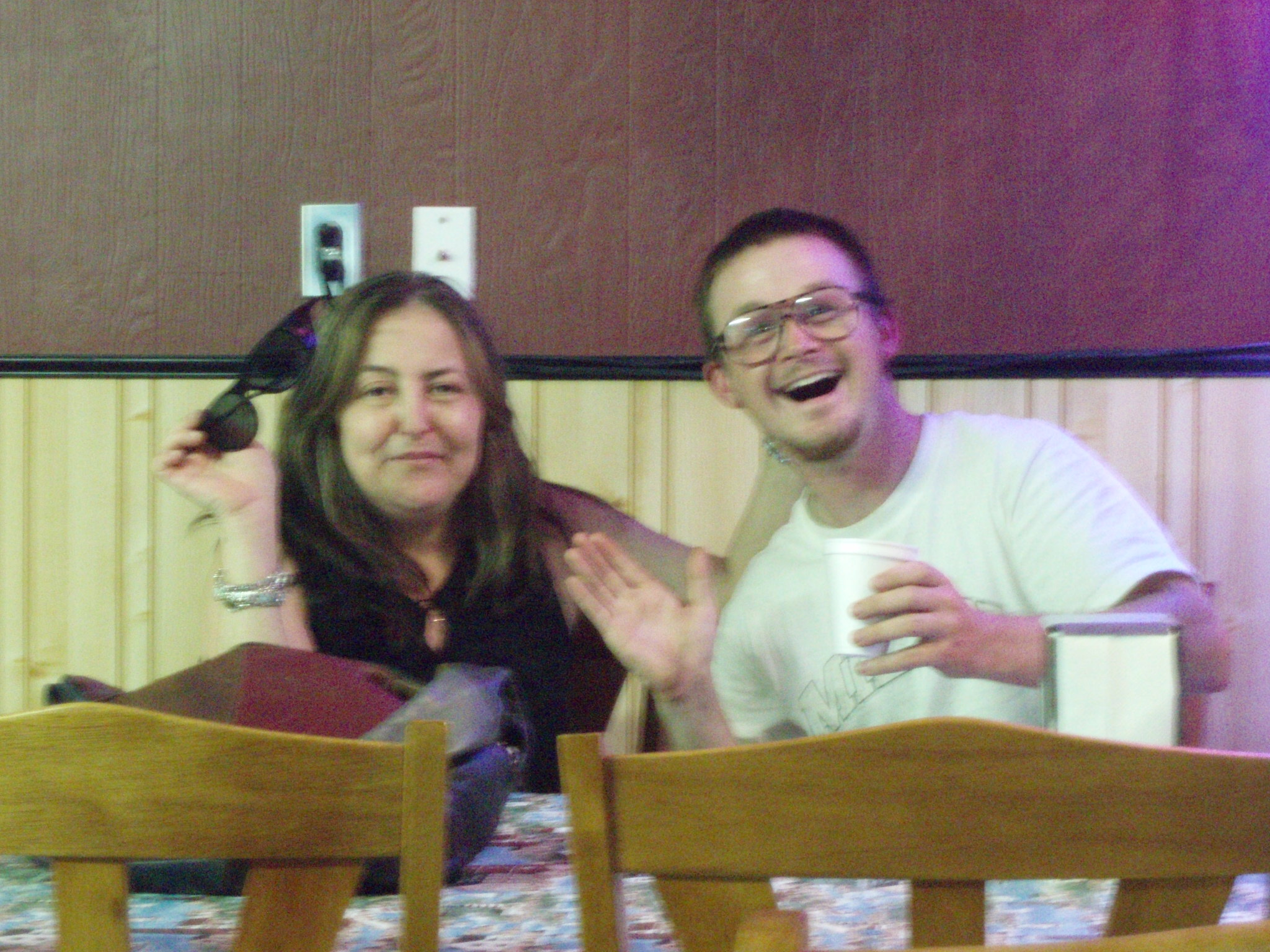 After a lot of debate we decided to just split a pizza for dinner. Which was actually a great idea. At the pizza place we met Claudia this awesome Jewish Lady from Brooklyn. She laughed with us all night long as we read the jokes in Readers Digest. Claudia was really funny. She told us how she's not Jewish anymore and how she 'Graduated' and became a Christian.  She was really impressed when we told her about our bike trip she said we should be on television talking about our bike trip. We tried to hire her as a public relations person for Team Northern Tier but she wouldn't have it.
Chuck went back to the park and went to sleep. Jamie and I were going to go have a beer, but we heard this wild party going on in town. It took us a while to figure out where this party was. When we finally found it, Jamie walked over to see what was going on. It turned out to be the guy's house who invited us over from earlier. We hung out for a bit, drank some beers, had some laughs then went back to the park and went to sleep.
Tomorrow we're climbing over Sherman Pass. It's a 4000′ climb to the top of the mountain. Then 3000′ downhill into a little town called Republic.
     Click Here to Visit The Table of Contents
     Click Here to Visit Previous Page: Day 76: Sandpoint, ID to Ione, WA
     Click Here to Visit The Next Page: Day 78: Kettle Falls, WA to Republic, WA