Saturday September 8, 2007, 45 miles (73 km) – Total so far: 4,610 miles (7,419 km)
45.19 miles
     Click Here to Visit The Table of Contents
     Click Here to Visit Previous Page: Day 83: Anacortes, WA to Mukilteo, WA
     Click Here to Visit The Next Page: Day 85: Seattle, WA to Seattle, WA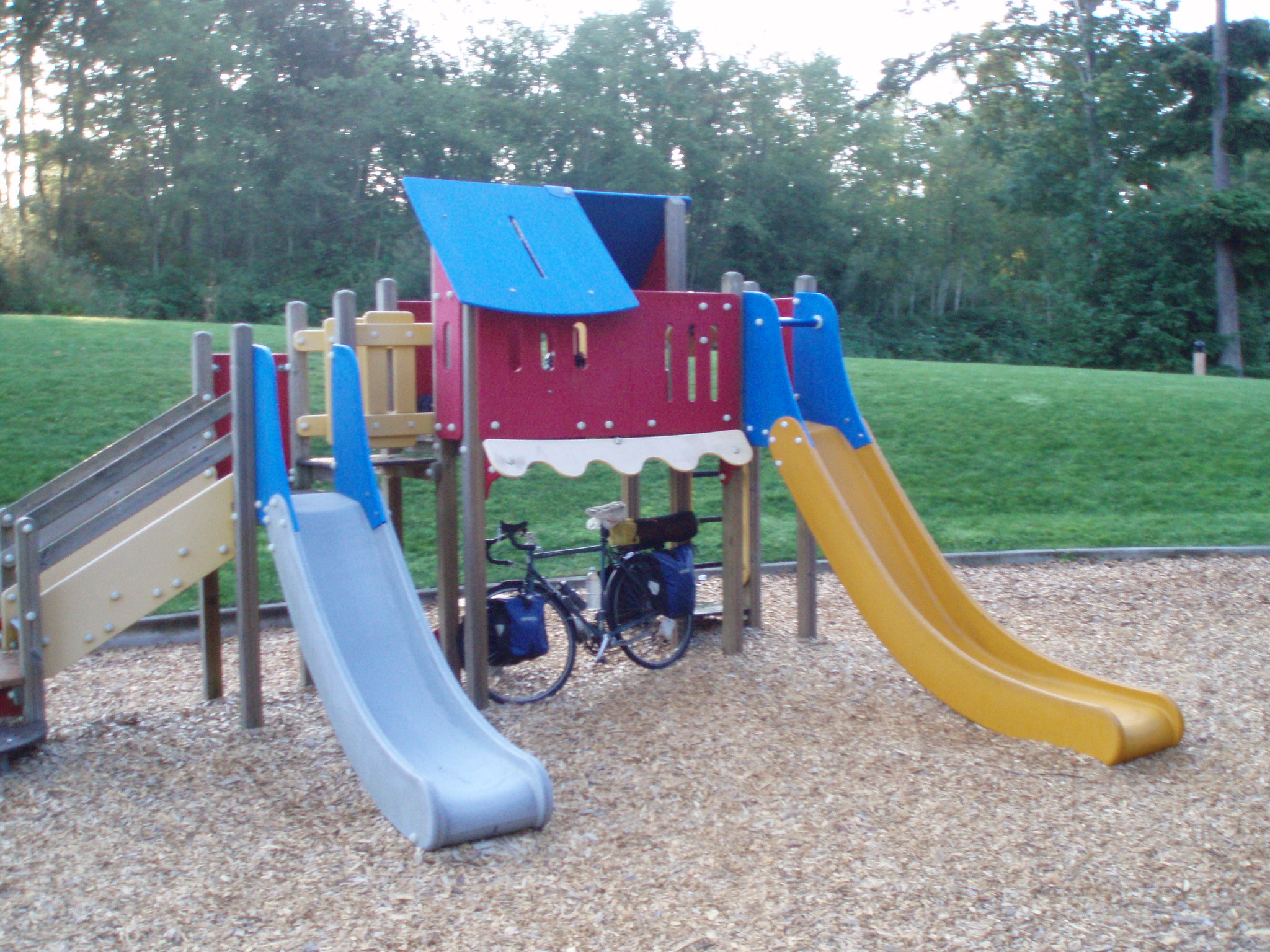 In the middle of the night this cat kept meowing at me while I was trying to sleep, so I picked up a handful of woodchips and threw them at him and then he disappeared. Sprinklers turned on in the middle of the night. I didn't get wet but my bike did. I didn't care. Around 6:30 am I heard a cyclist ride by I peeked my head out of the playhouse and some dude on a light speed said good morning.
Jamie and I were both starving. The goal was to find something to eat ASAP; riding through town we saw a big sign for a pancake breakfast and rode all over looking for it. Some old man gave us bad directions and sent us the wrong way. Luckily we ran into this really nice lady who was out for a walk. She said she had the same bike as me and is the local gym teacher. She told us about how she teaches cycling to her high school students. She took us back to her house and gave us some bike maps to get us into Seattle. She was really an angel, before we met her we were basically screwed with knowing how to get into Seattle.
We found the Pancake breakfast and sat down with a nice family.  The pancakes were really good and Jamie and I spent a lot of time there talking to all the nice people in Mukilteo. They all told us a big parade was about to march through so we were anxious to get outta there before the parade started.
It was a real struggle to find the interurban bike path that took us into Seattle, and when we did find it, it was poorly marked to keep us on the bike route. It's frustrating that they have this nice trail, but due to poor markings it's difficult to ride more than a mile without having to troubleshoot which way the trail goes.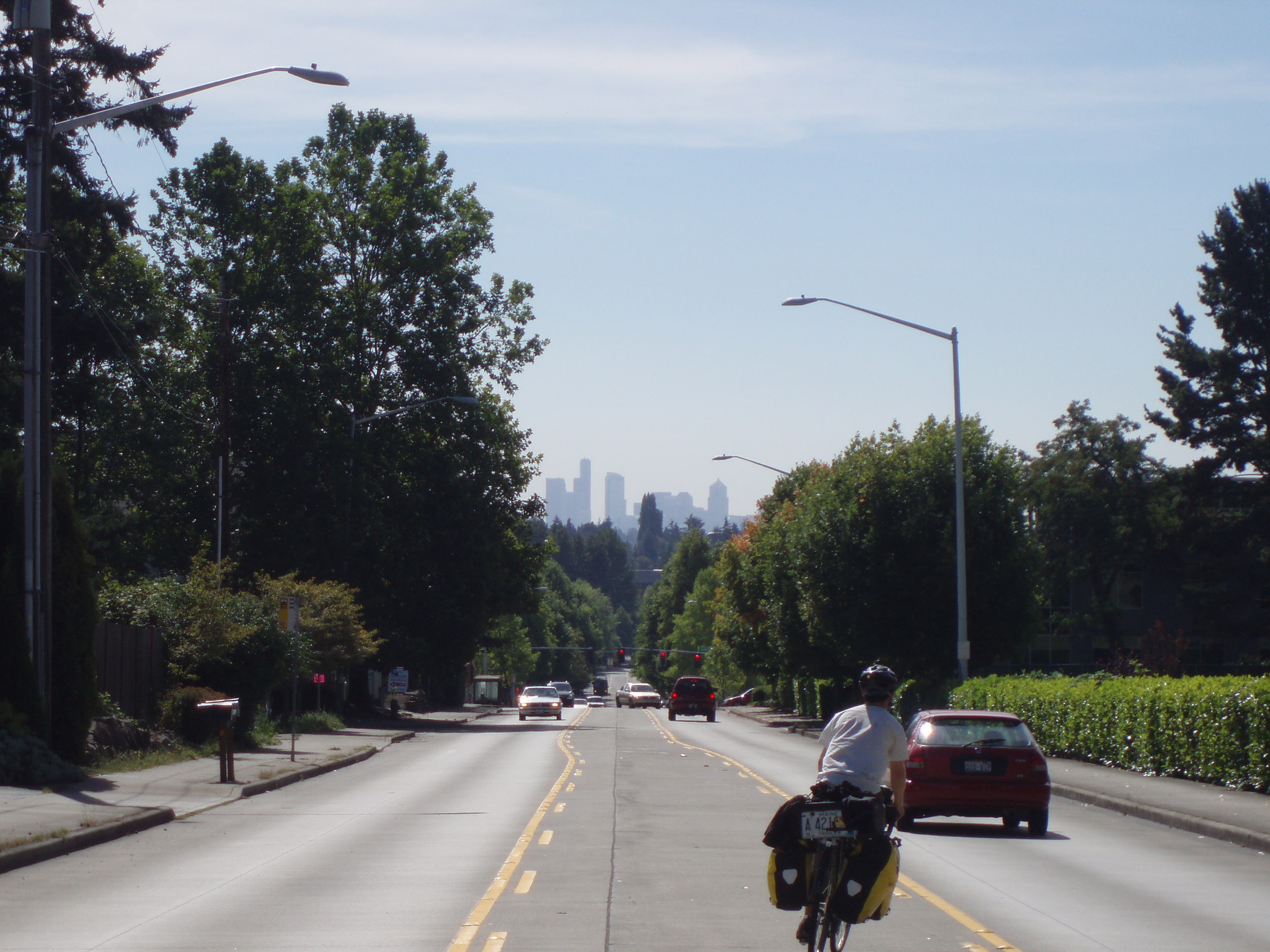 We got really close to Seattle and we both started getting really excited.  It was a nice downhill all the way to Green Lake. When we got there we both stopped and took a break and watched all the pretty girls jog around Green Lake.  I called chuck and bob potter to tell them we'll meet them at the library in a little while.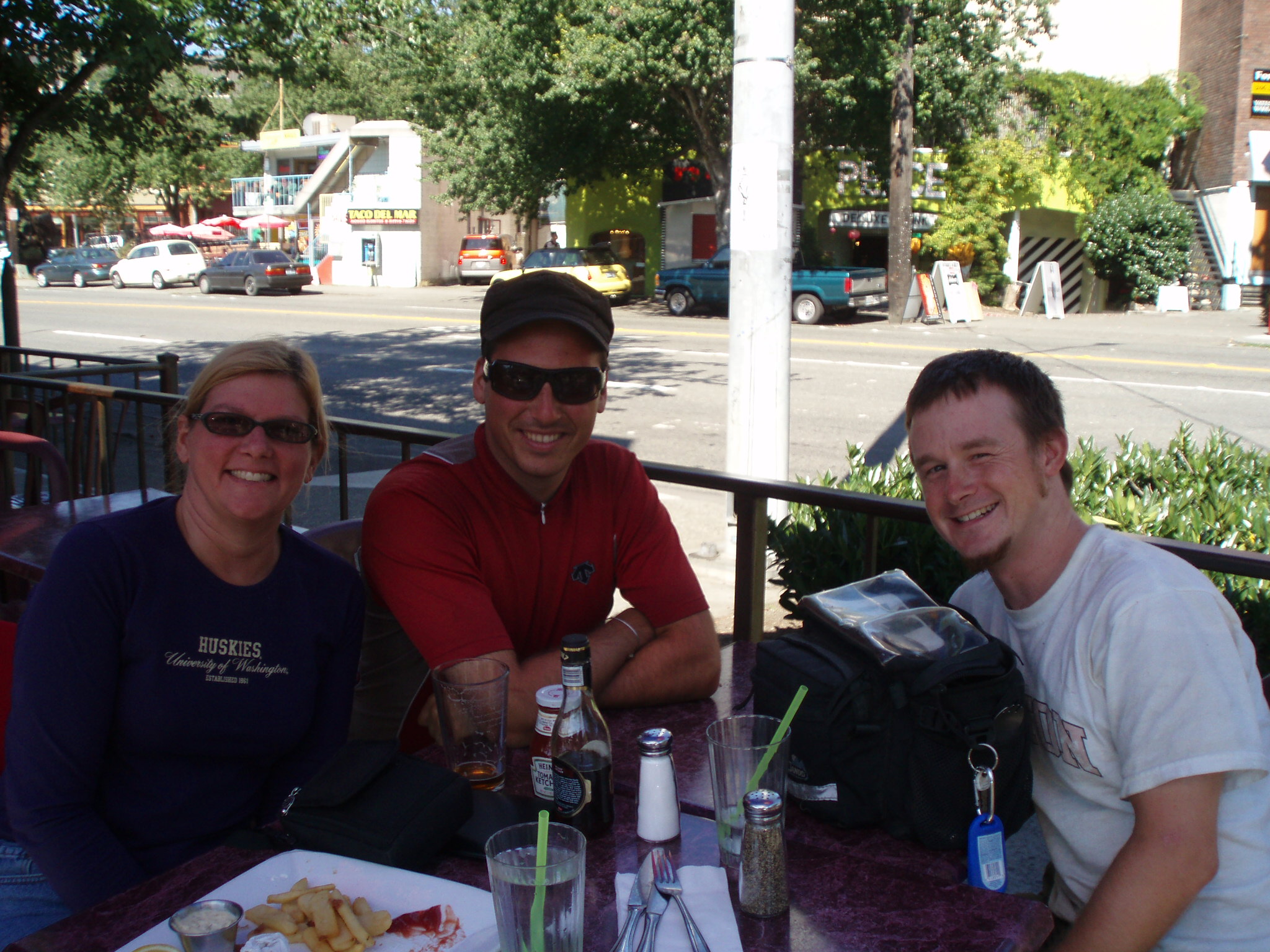 I got really confused which way to go and somehow made a wrong turn on one of the bike paths.  I stopped this nice lady, Linda on the path to ask for directions. She got really excited when we told her we just finished our cross country trip. Linda rode cross country 20 years ago and said she would show us how to get to the library. While we were riding with her she offered to buy us a drink, because she wanted to hear all about our trip. So we sat down somewhere and she told us to just order lunch, so we did.  Linda works for the university and gave us tons of useful information about cycling in Seattle and Portland.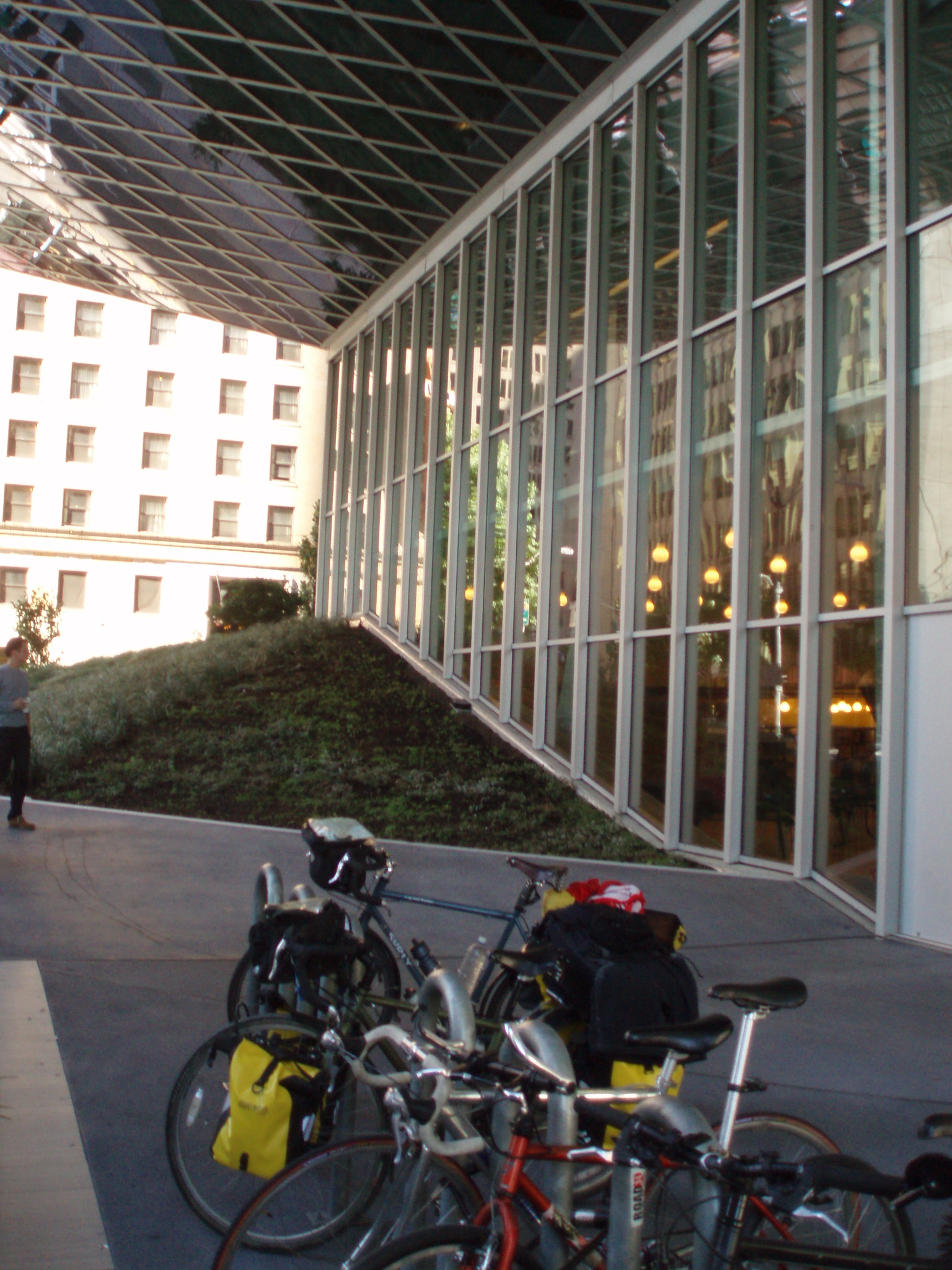 After lunch and having a great time with Linda, Jamie and I rode over the bridge and found Rem Koolhaas', Seattle Public library.  http://en.wikipedia.org/wiki/Seattle_Public_Library Rem Koolhaas is a little too over the top sometimes for my liking. Chuck and Bob were really excited to see us when finally got there. They were excited to hear about our distraction with meeting Linda on our way to the library.  Jamie wanted to work on the video for a few hours. He's working on that 10 minute video for the screening on Monday night.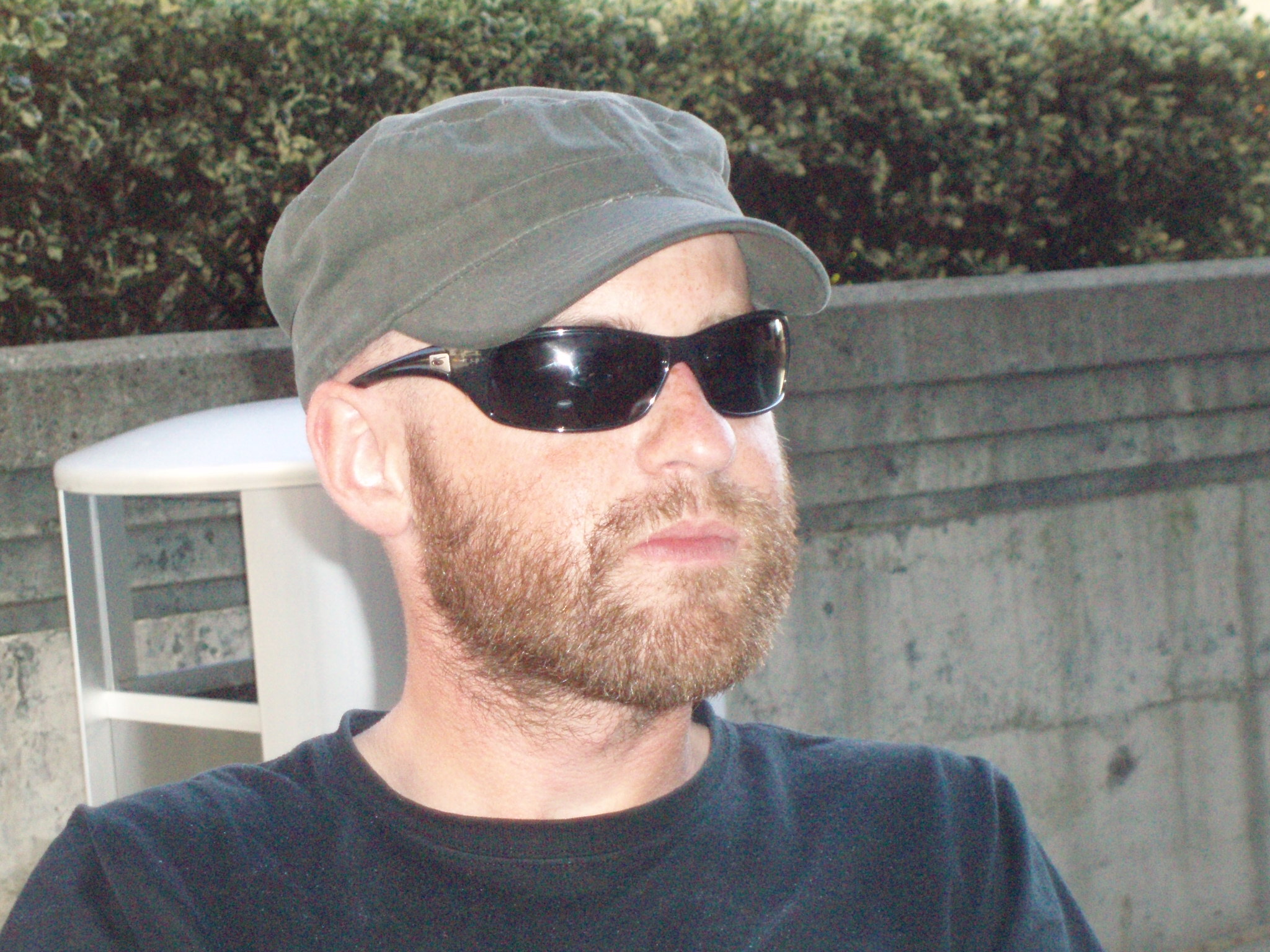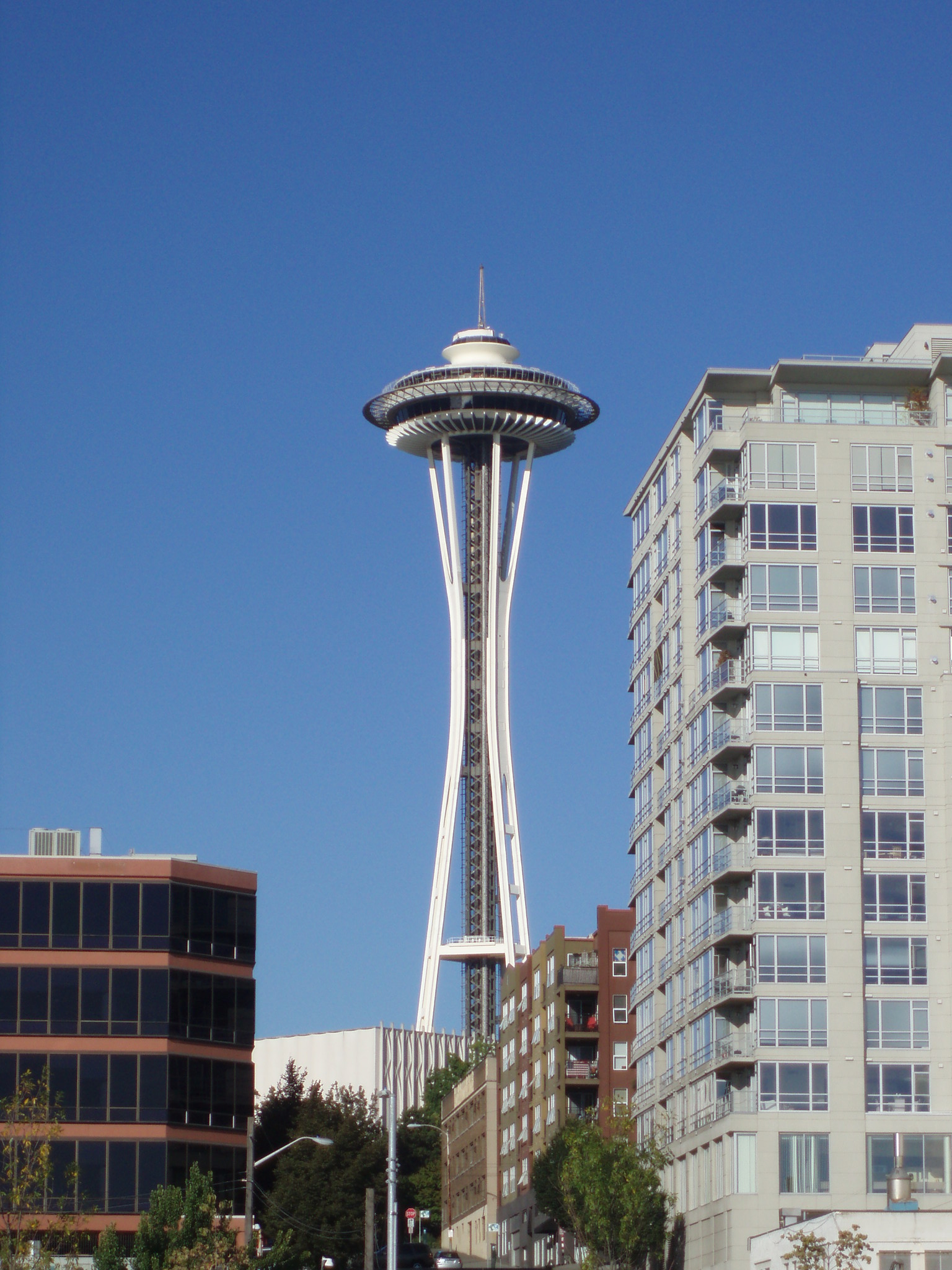 Chuck Bob and I walked around Downtown Seattle while Jamie hung out at the library with his laptop. We went to the markets and saw the first Starbucks. It was a madhouse and there were ridiculous people everywhere and I just wanted to get outta there ASAP with my loaded bike. We found a less cool coffee shop and just sat the for a while talking then we decided to go find Olympic Sculpture park http://en.wikipedia.org/wiki/Olympic_Sculpture_Park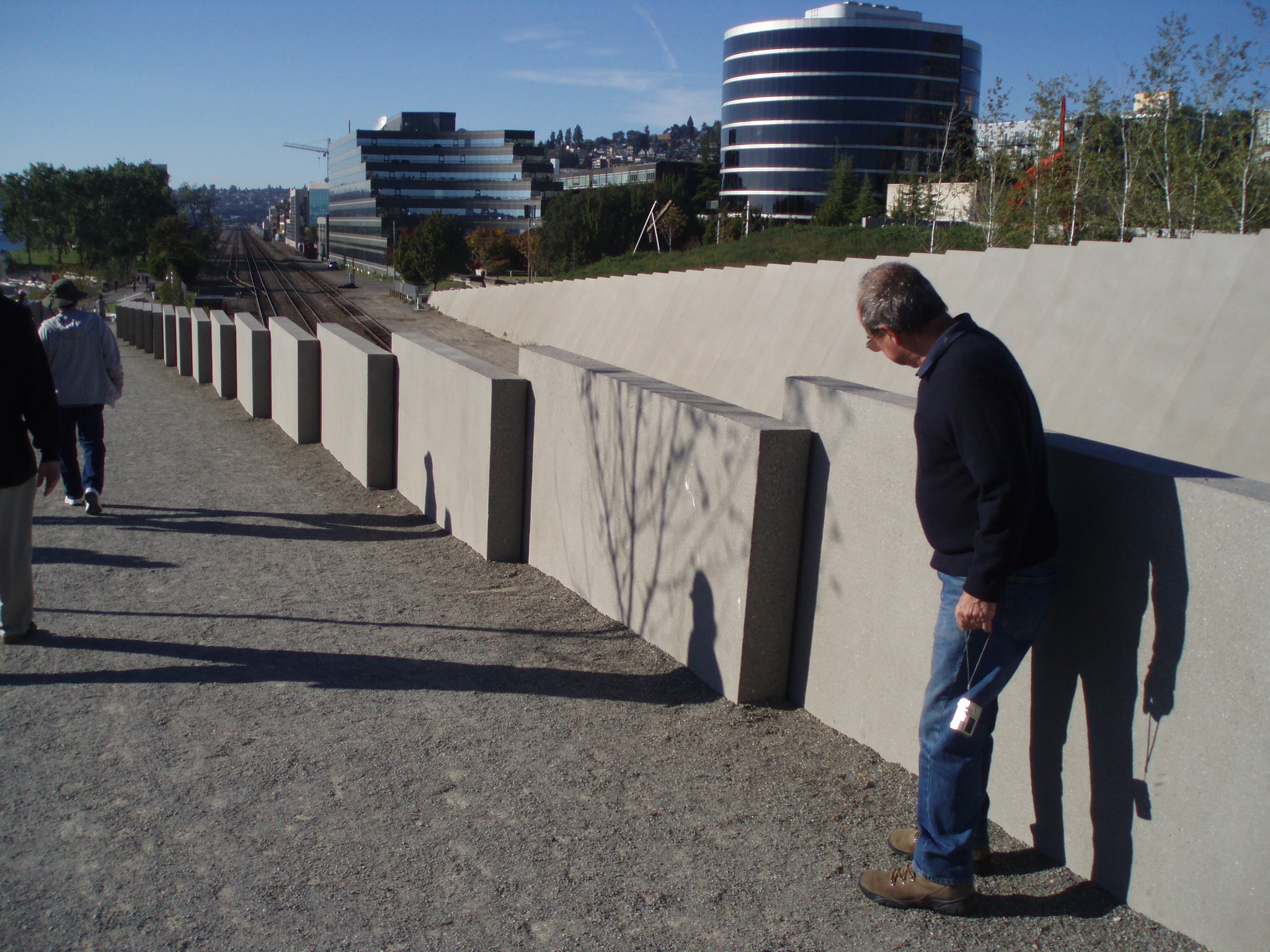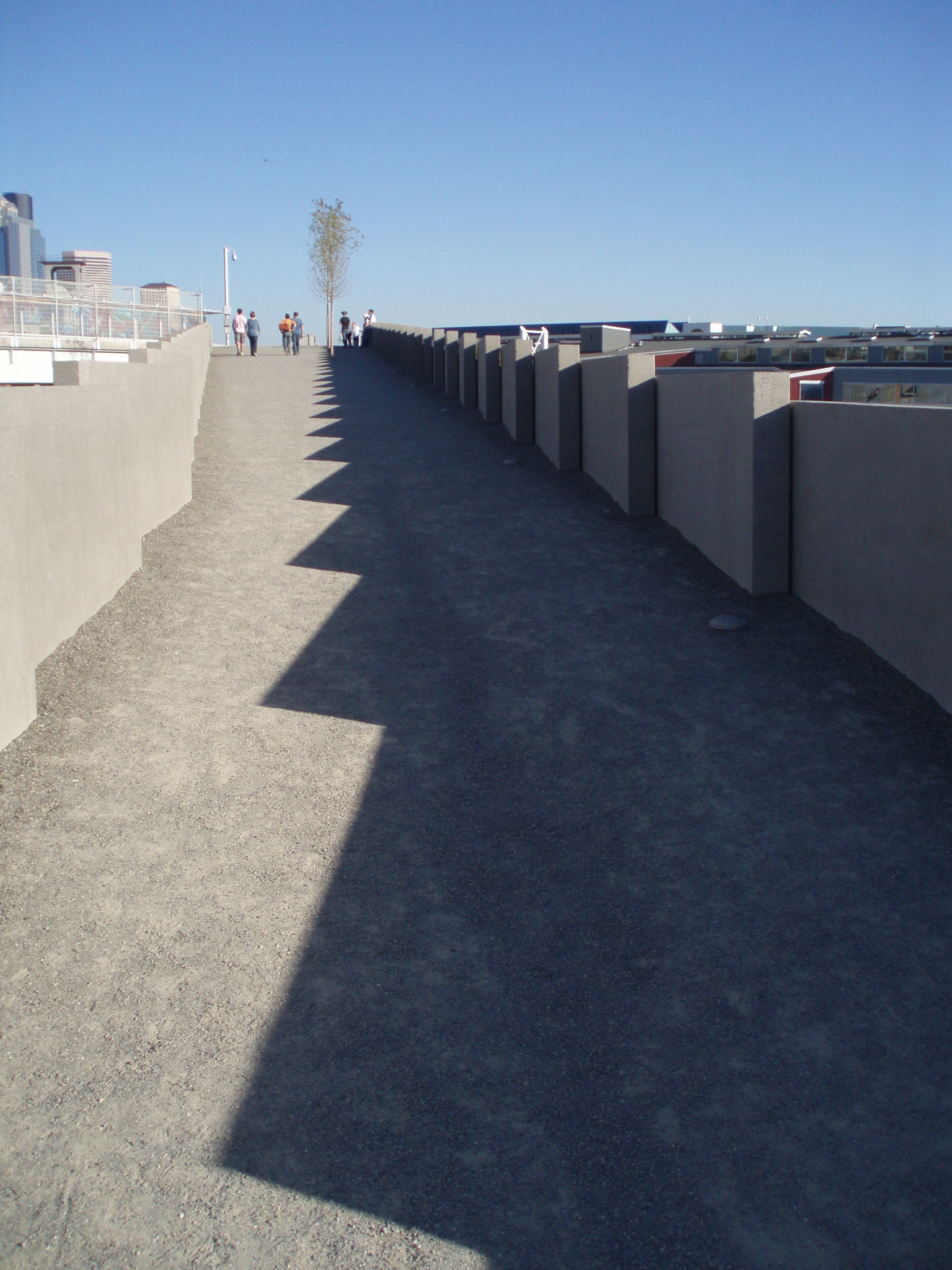 A few years ago the architects, Weiss/Manfredi the architects who did Olympic Park came to our architecture school to talk about the work that they've done. Olympic Park was one of the projects presented. It was a really awesome project. I really like how the park jumps over the railroad tracks. At the sculpture park, Bob Potter kept looking at the typewriter eraser and saying he saw the same exact sculpture at the museum in DC a few weeks ago. Bob flipped through his digital camera and he was right. So weird.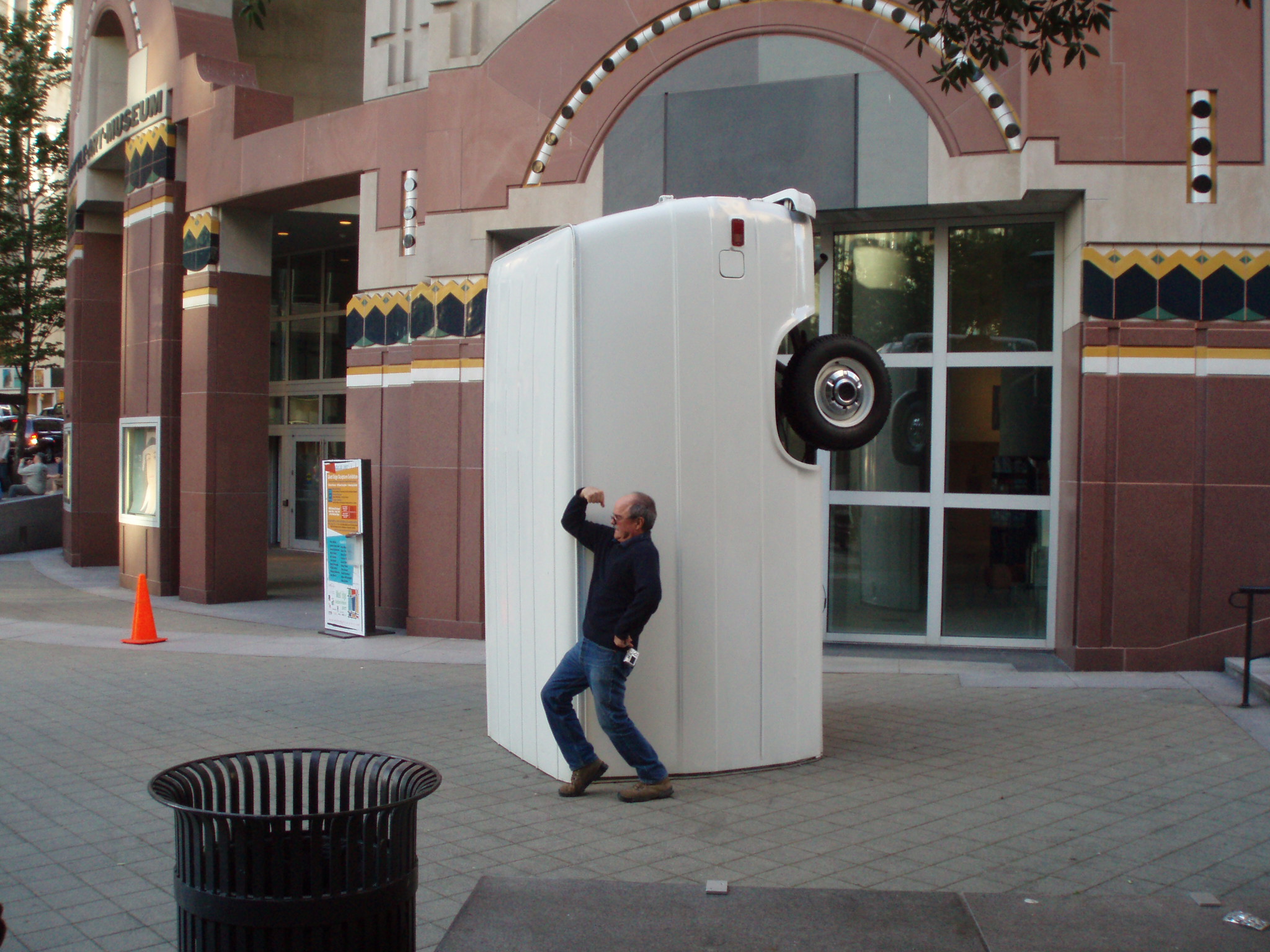 The library was closing soon so we went back there to go meet Jamie.  We were all starving. On our way to find a decent place to eat, we saw a sculpture on the side of the road that just looked exactly just like a sculpture that I saw in Chicago. What's up with these cities all having the same art?!!!?
We had another Mexican dinner. This was our last meal together, after this meal Team Northern Tier will then part ways. Bob and Chuck are flying out tonight and tomorrow morning.  At dinner we laughed a lot and talked about everything that has happened in the past 3 months. We had a lot of fun at dinner and Bob Potter said it was his pleasure to pick up the bill.  It's been so nice having Bob Potter with us the past couple of days. He makes us all laugh so hard.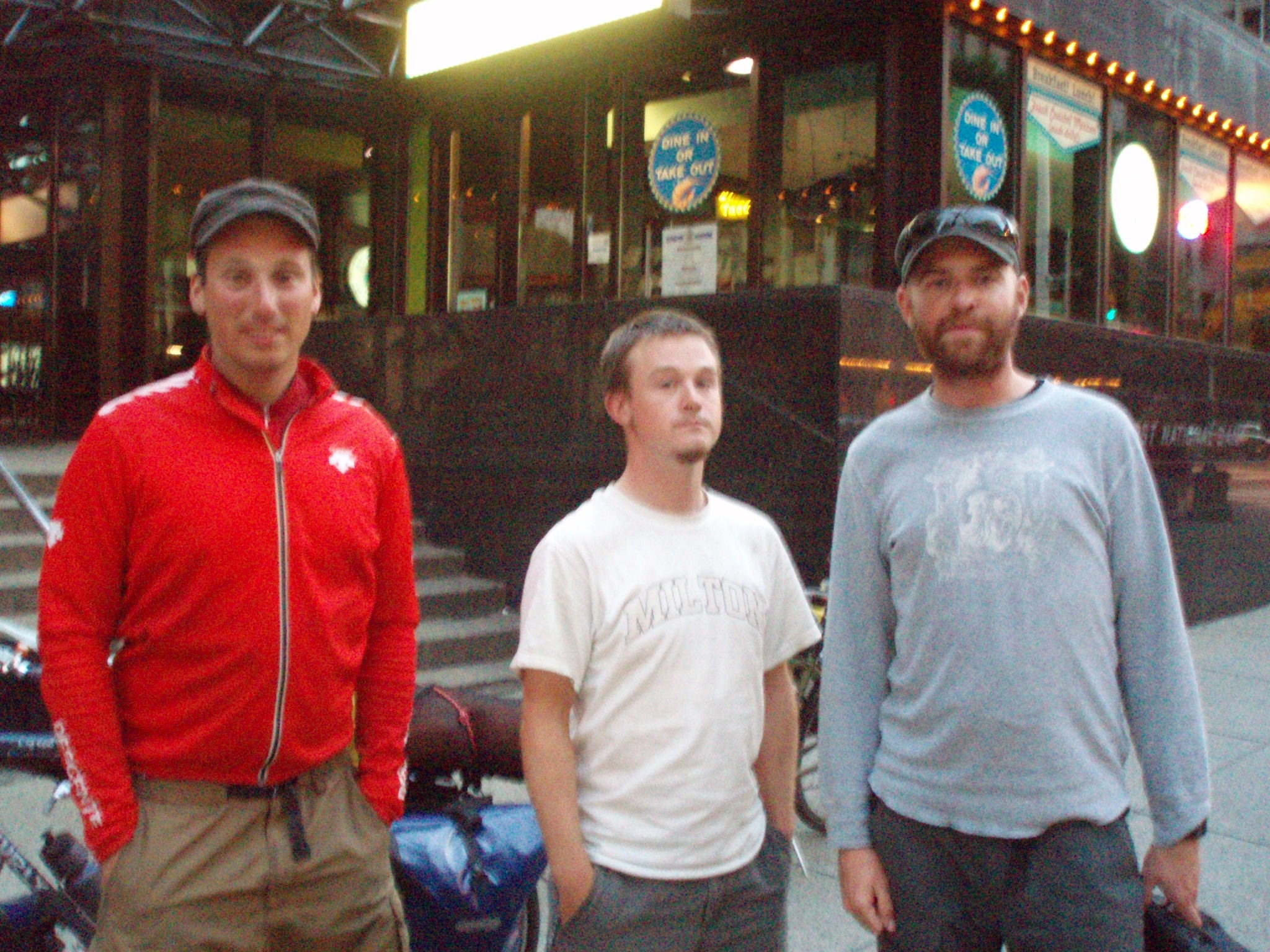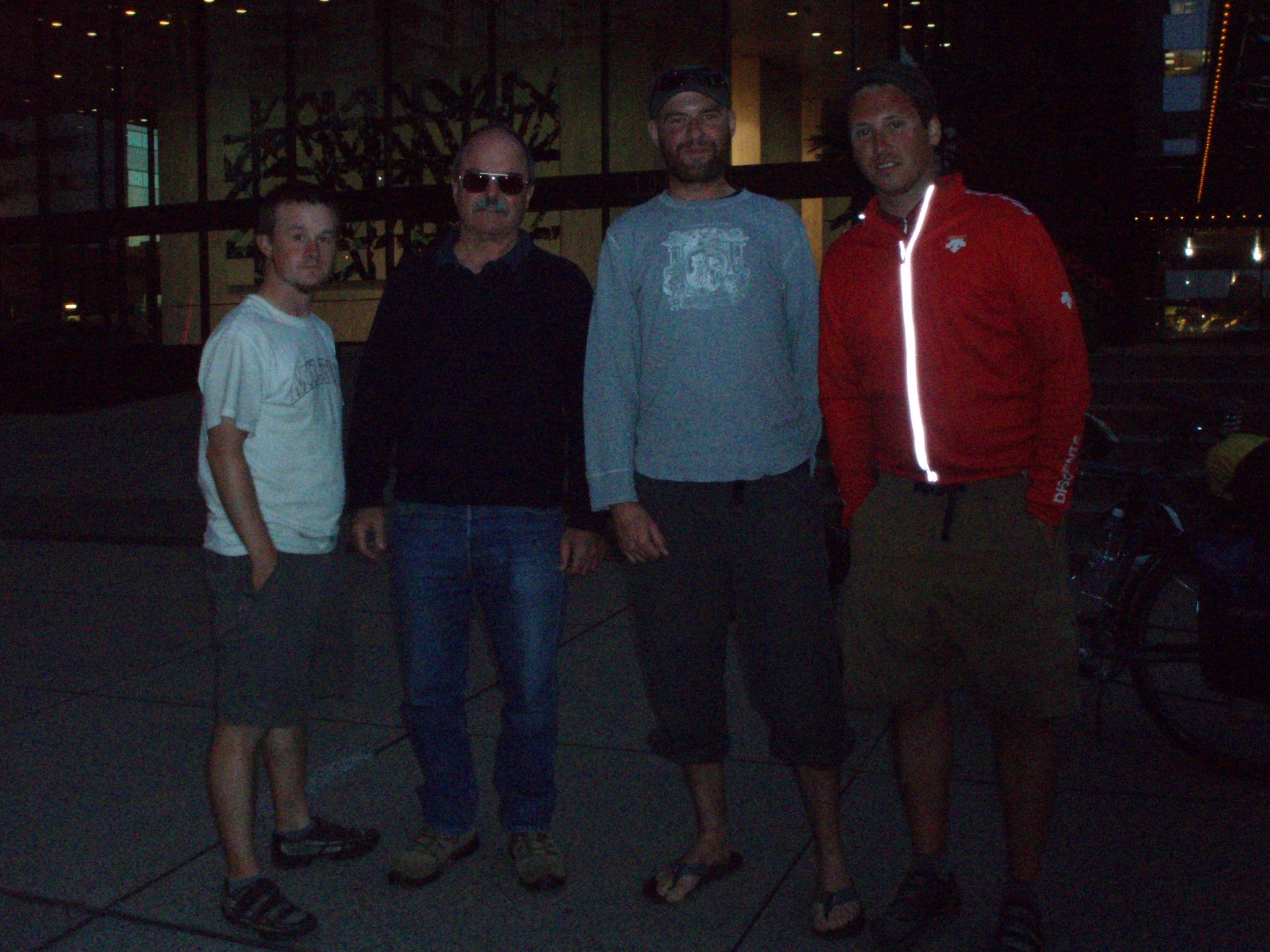 We walked our bikes back up these ridiculous hills back to Bob's car. Jamie and I said farewell to Bob and Chuck.  When we were looking for someone to take a picture these drunk yuppies walked by. I said 'Don't ask them, they're all drunk!' but they heard me and said 'Want me to take your picture?' so we let them.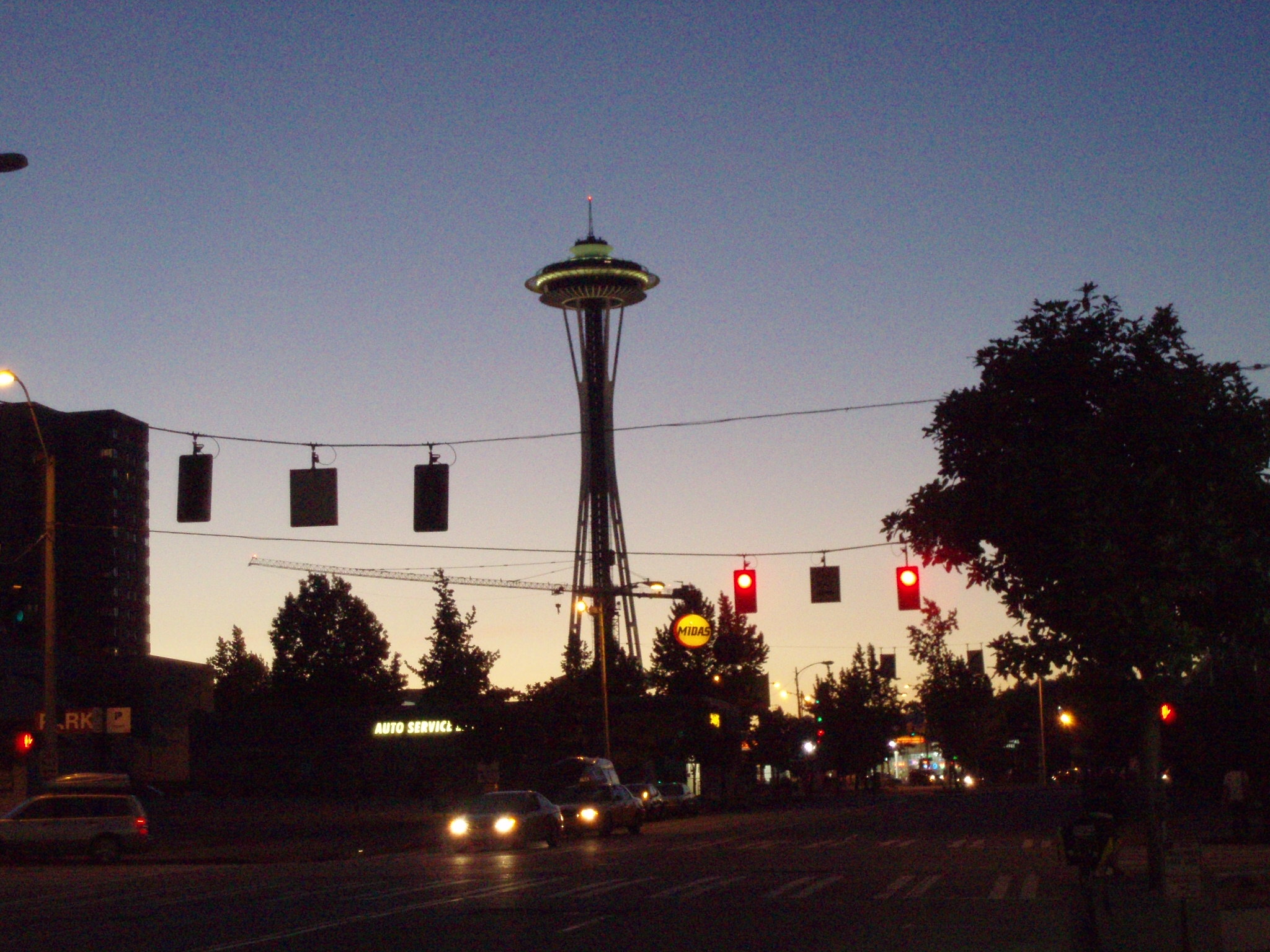 Jamie and I waved farewell to bob and chuck. We called Kris and Glen; the nice couple who were is staying with from Couchsurfing.com. They lived at the top of this pretty gentle hill. They were really excited to see us.  They had a cute little house and gave us beers as soon as we got there.
We sat in the kitchen and talked with Glenn and Kriss all night long. They told us all about their travels in Europe and Russia. They've been to a lot of places and used Couchsurfing.com to stay with a lot of people all over the world and had nothing but great things to say. It felt really refreshing hearing these stories because I feel like it opens up many possibilities for future trips around the world.
While we were talking this really crazy looking cat walked in the kitchen. He was really big and had spots like a leopard all over him. Glenn and Kris explained how this is the neighbor's cat but he's been living at their house pretty much full time. They also said that he isn't your typical house cat. He's actually a Bengal and it is ok to have a 4th generation Bengal as a housecat, except they think this guy is a 3rd generation, so he's a little crazy. Nevertheless he's a beautiful animal.
Jamie and I went to sleep in the most comfortable beds. We're really happy to be staying with Kris and Glenn.
## P9081649.JPG ##
## P9081650.JPG ##
## P9081652.JPG ##
## P9081653.JPG ##
## P9081657.JPG ##
     Click Here to Visit The Table of Contents
     Click Here to Visit Previous Page: Day 83: Anacortes, WA to Mukilteo, WA
     Click Here to Visit The Next Page: Day 85: Seattle, WA to Seattle, WA