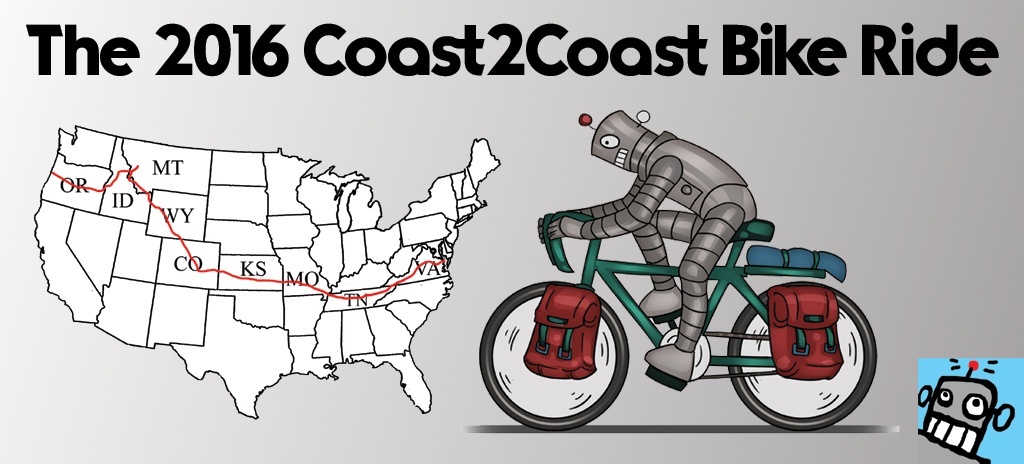 Click Here to Visit The Table of Contents
Click Here to Visit Previous Page:Spending the Day On The Virginia Cap Trail – Day 1
Click Here to Visit The Next Page: Bicycle Bill, Bus Drivers and Dominating the Internet – Day 3
Richmond VA to Mineral VA
 Day 2 – May 25, 2016
57 Miles for the day
150.6 Total miles for trip
4:52 Ride Time
Spending The Night In Richmond Virginia
Last night I slept really good. I woke up to a yellow lab licking my face, and I loved it. I rolled out of bed and did some yoga on the back porch as the sun was starting to get in its groove.
Since we rode 80 yesterday, Sam and Laura and I agreed we should make it an easy day. I needed a few hours to sit in front of my computer to crank out some quick blog posts and get caught up on emails. Ephraim made us breakfast and we ended up leaving around noon.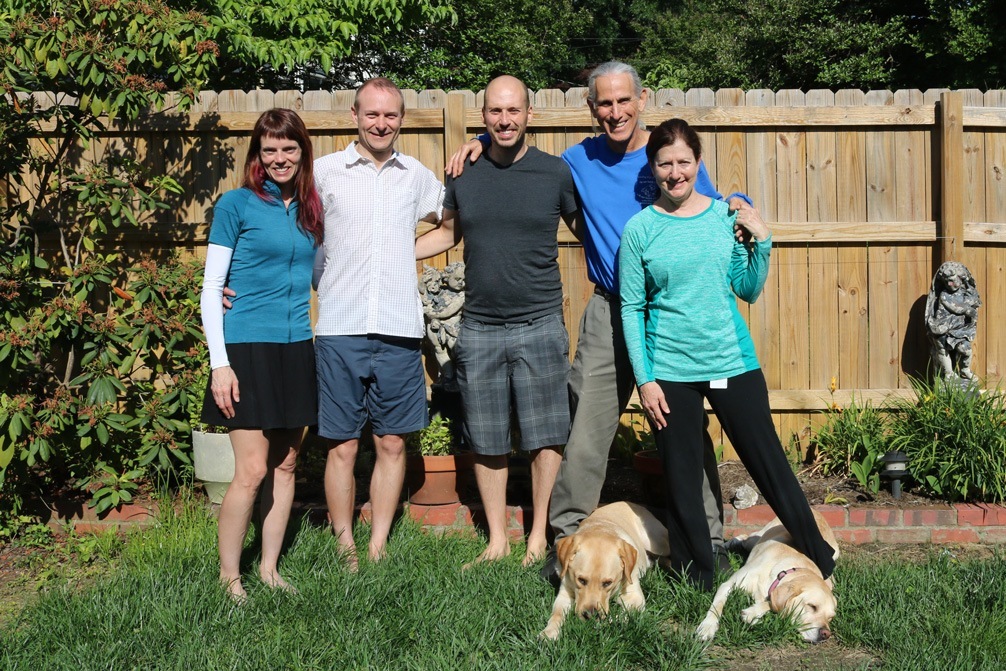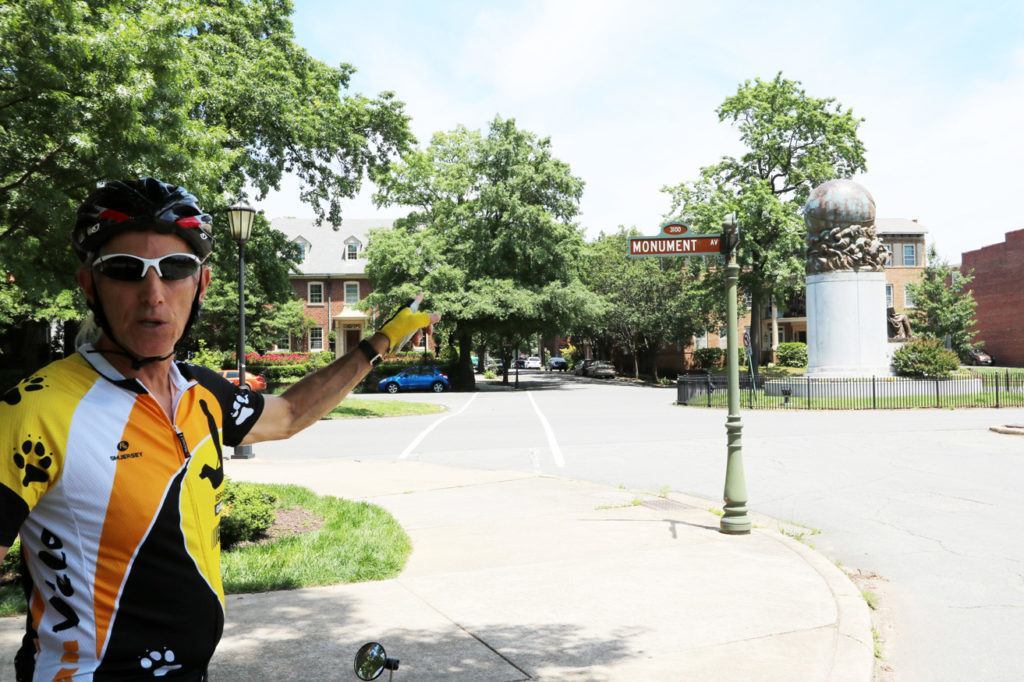 Riding through Richmond was easy. We just followed Ephraim, he knew where he we were going. I felt strong and was happy to be back on the bike after a really long day yesterday, the sun was out and it was starting to get hot. I'll always take a hot day over a cold day.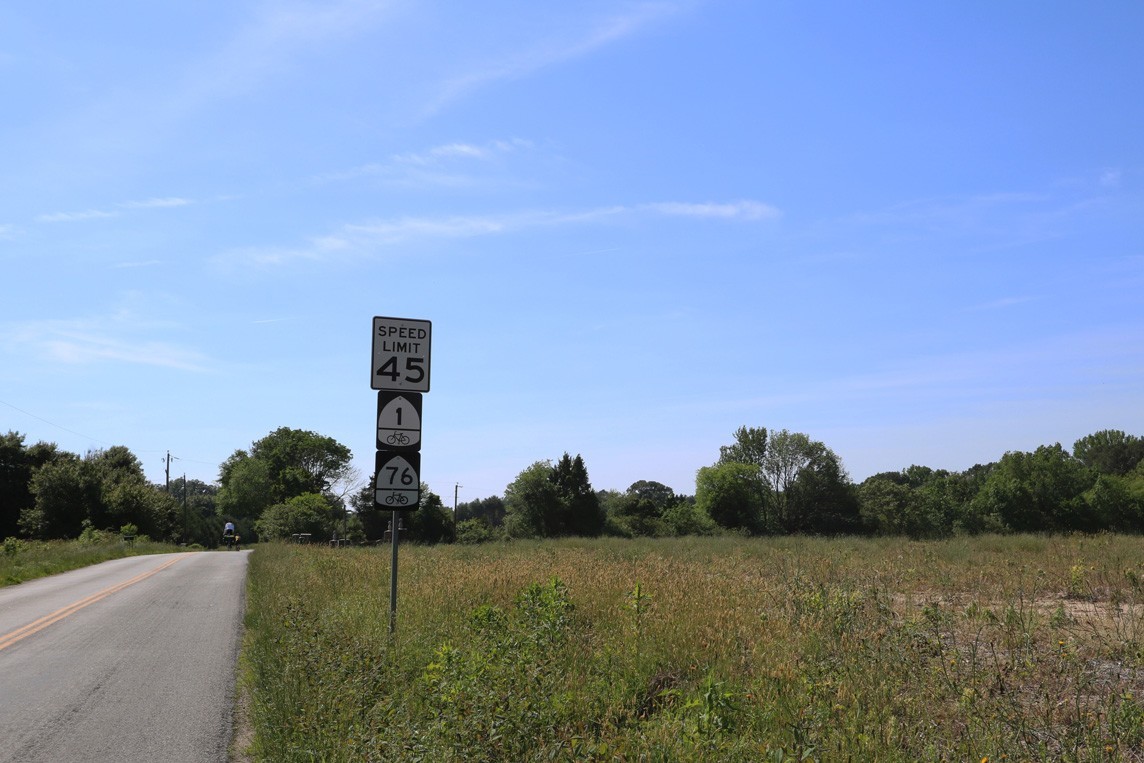 We picked up Route 1 The East Coast Greenway Trail, which brought us back onto the Transam in Ashland. We stopped for lunch at a BBQ close to the trail.
Ephraim rode us 20 miles out of time before he said farewell and head back to Richmond. It was sad to say good bye. We had such a great time getting to know him, the dogs and his amazing wife.  We're all super excited for his cross country trip which is coming up in about 2 months.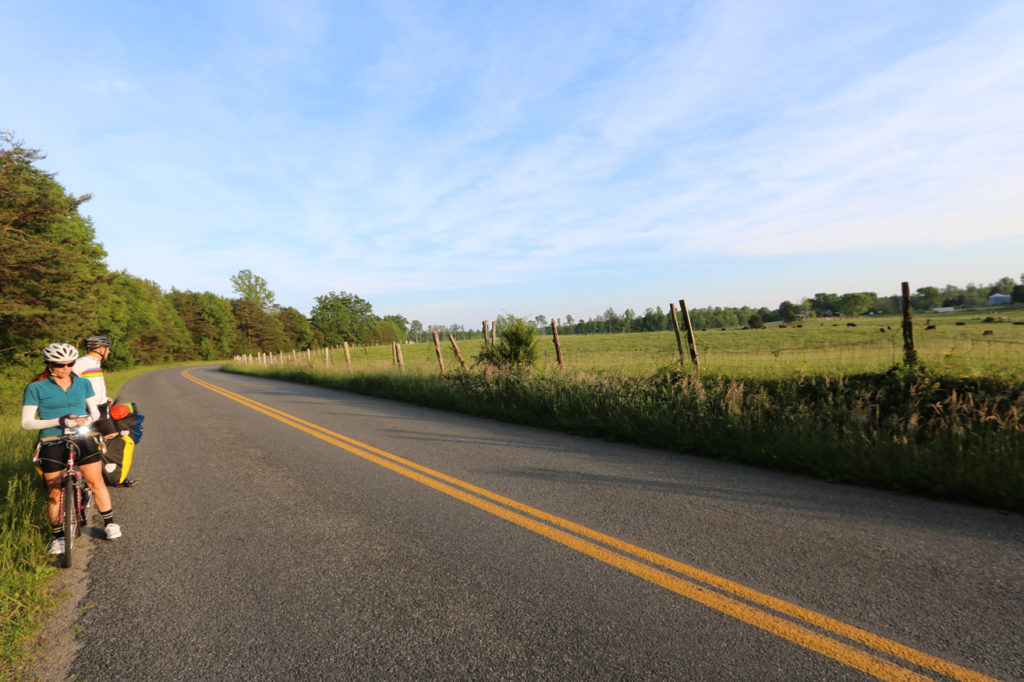 Almost immediately after he left us the hills started getting crazy. These Appalachian mountains are always a big challenge. Shit is about the get real. The hills are often insanely steep and not that big so you have no warning they are even coming. Westbounders often ride all the way across America and then get their asses kicked in Virginia.
Sam brought up a fantastic point today about the maps. There is one 3,000′ climb on this map and the rest of it is short steep hills. On the elevation profile the big climb changes the scale and dwarfs all the littler climbs, so it's really hard to see where the climbs are.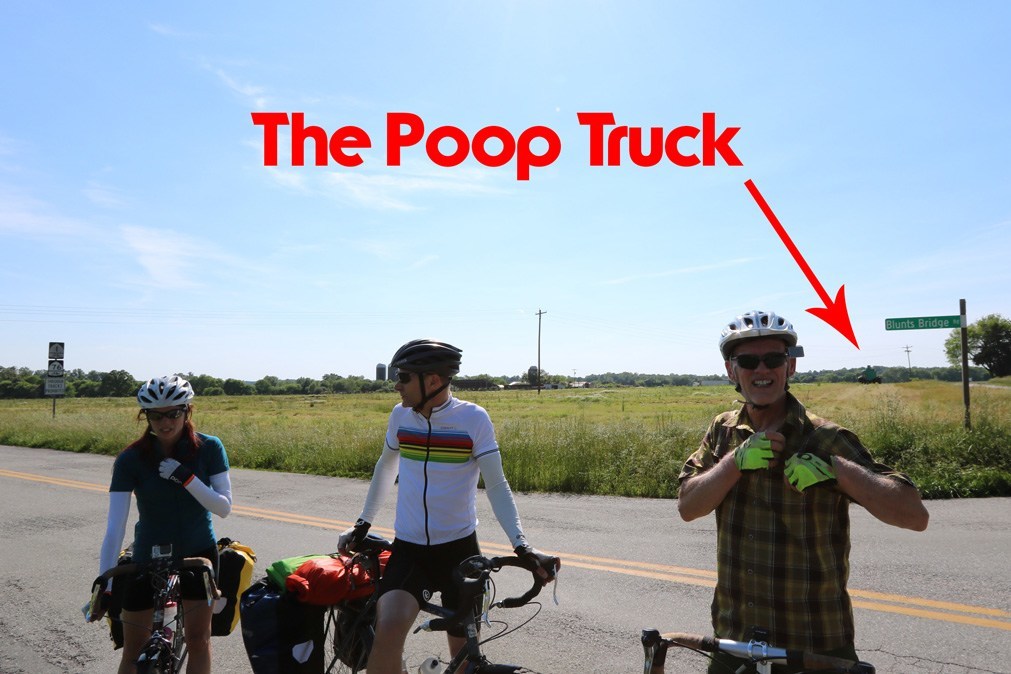 We took a break on the side of the road and it smelled awful, like cows. We met a local cyclists and chatted with him a little bit. He was cool. While we were talking, about 200′ away there was a truck driving around a field, spreading brown liquid.
I got grossed out and said "OMG Is that truck spreading poop all over the place?!?!"
He was like "Yep, that's how they do it around here."
I said "Gross! That's a shitty job! "
he was like "Well, someone's gotta do it."
It was getting super late and we still had about 30 miles left for the day, so I told the cyclist that I cant answer any more questions cause we have to get back on the road.
Sugar Saved The Day
After alot of climbing, in some intense heat and still another 10 miles to ride we stumbled into a convience store all completely drained. The 3 of us loaded up on sugar and junk food and we left that convience store feeling great. It definitly propelled us those last 10 miles.
We also took a shortcut which shaved about an extra 5 miles off our day. Adventure Cycling maps sometimes send you on these weird detours for no reason at all. The shortcut road we took was a perfectly fine road to be cycling on.
We rolled into mineral at 8:pm just as the sun was going down. We quickly checked into the firehouse and then went out for Mexican.
Tonight is our first night of camping. I reluctantly setup my tent. I was feeling lazy and debated just sleeping outside without the tent. But I set it up and pulled in the extension cord and charged a million things and wrote this blog post.
I think the reason packing my bagshad been such a nightmare was because I had to take the bags off the bike both nights. I'm sooo confused with all my gear.
Everyday I am going to start leaving something behind or getting rid of stuff. Today it was my selfie stick for my iPohone. I have 2 selfie sticks and I broke my last good one. My other selfie stick is for the GoPro. We'll see how long that one lasts.
The Blog is all Backed Up.
It's going to take awhile before I get these blog posts published. I feel like I'm running super behind on getting stuff published. I've been super busy starting the trip and haven't really had much downtime. The world can wait until I get my shit together.
Goodnight Everybody!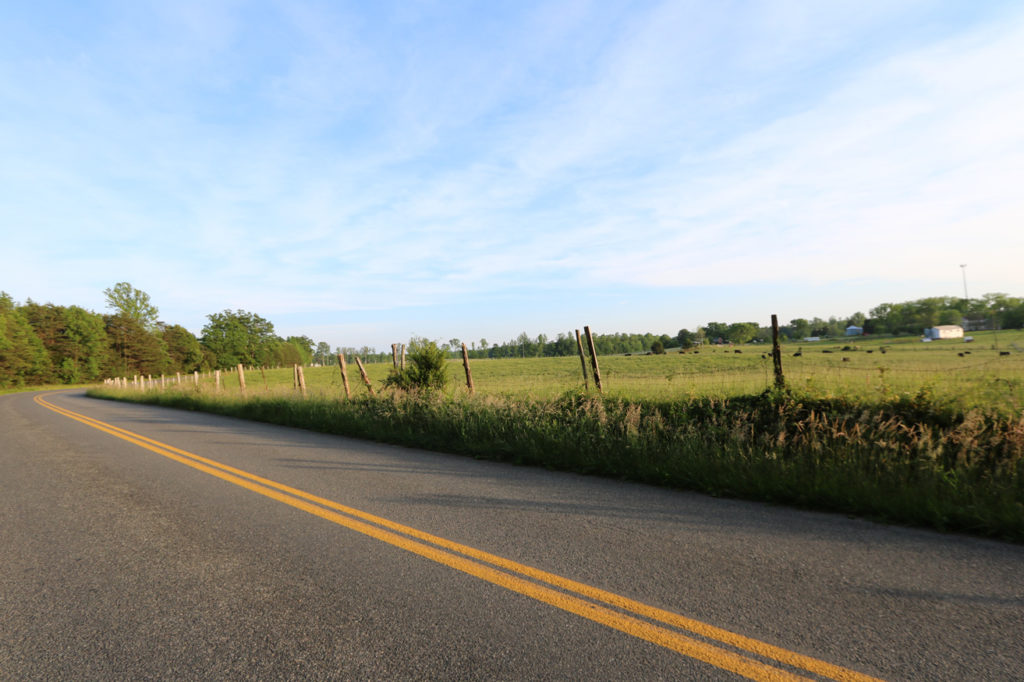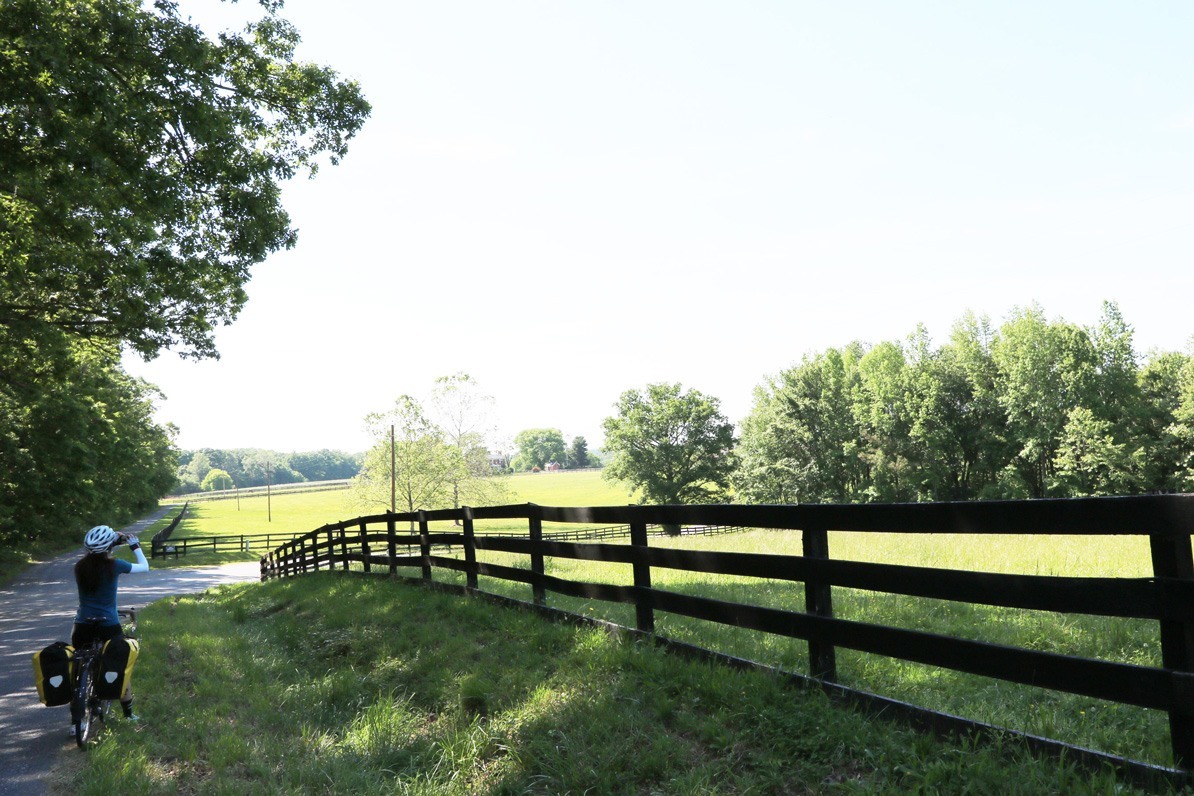 Click Here to Visit The Table of Contents
Click Here to Visit Previous Page:Spending the Day On The Virginia Cap Trail – Day 1
Click Here to Visit The Next Page: Bicycle Bill, Bus Drivers and Dominating the Internet – Day 3