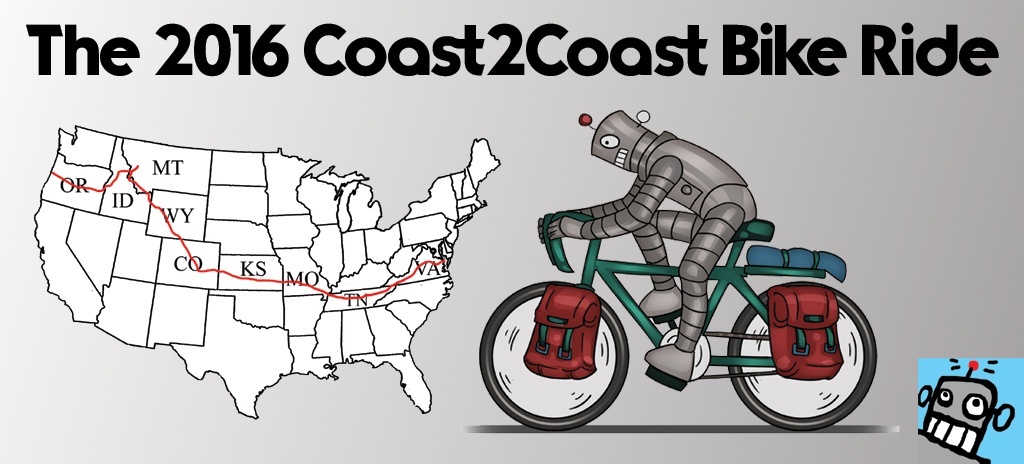 Click Here to Visit The Table of Contents
Click Here to Visit Previous Page: Riding from Richmond VA to Mineral VA – Day 2
Click Here to Visit The Next Page: Climbing up to the Bike House – Day 4 
Mineral VA To Charlottesville, VA
 Day 3- May 26, 2016
57.9 Miles for the day
208.5 Total miles for trip
5:23 Ride Time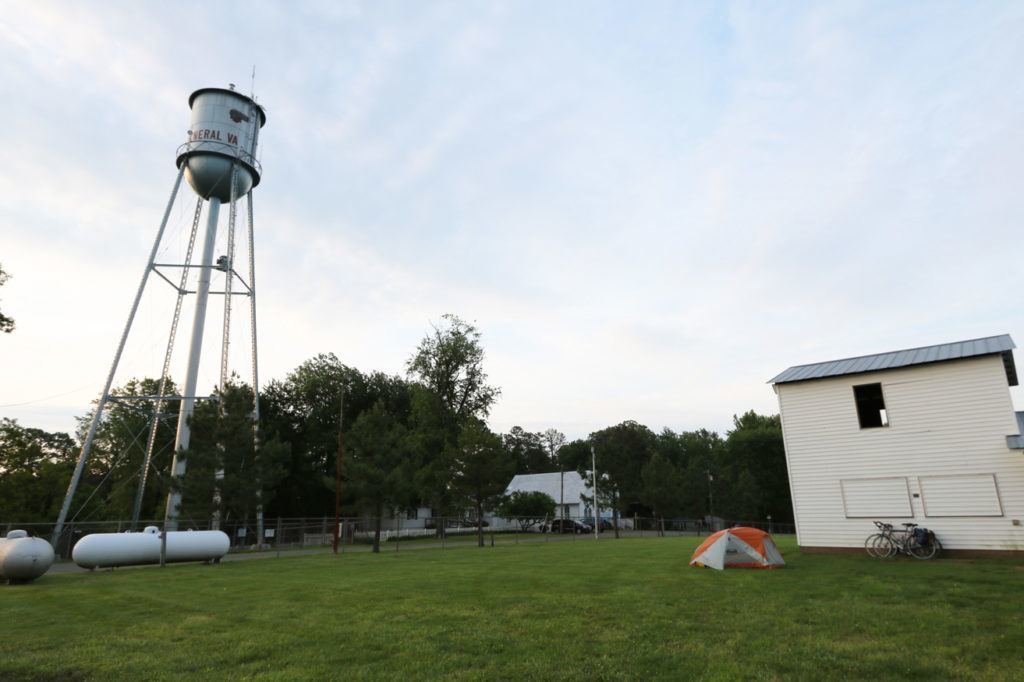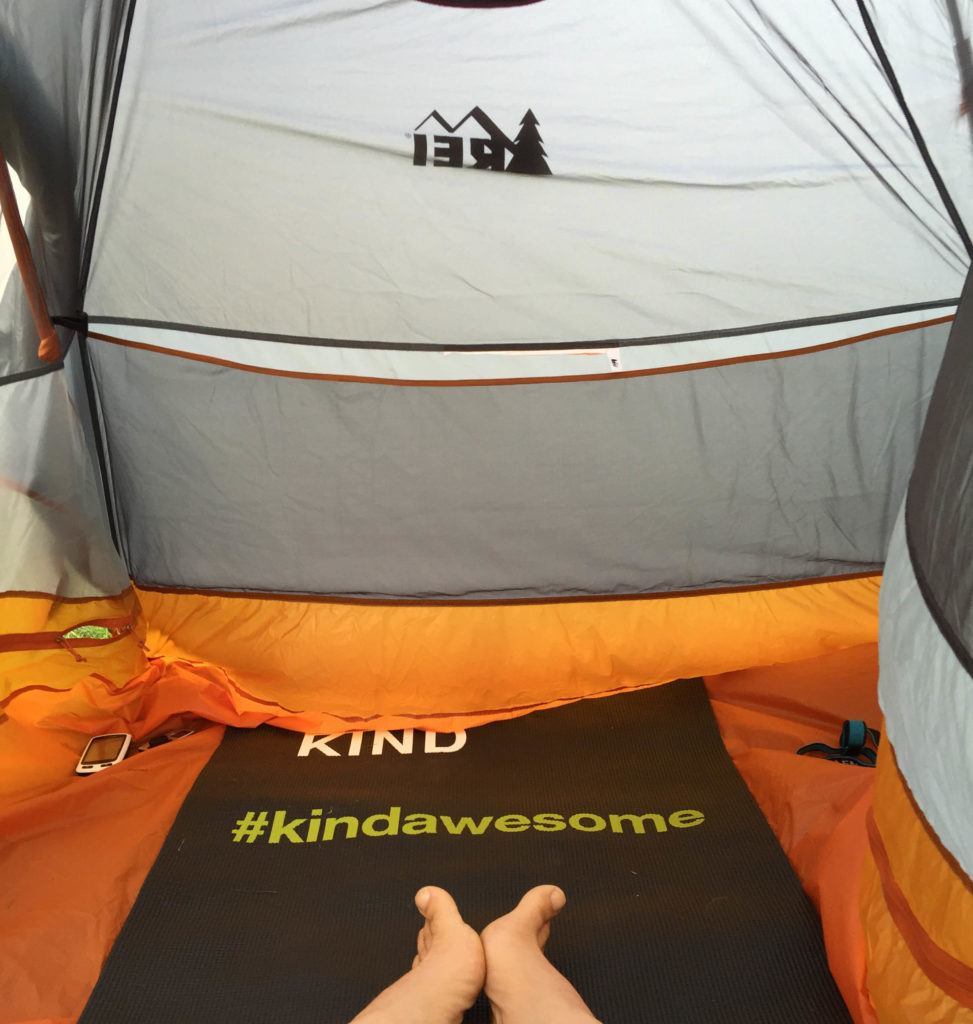 I woke up this morning, kicked out all the stuff inside the tent and then did yoga in the tent for about 20 minutes.  I have been riding super hard the past few days and I don't think I could have ever pulled it off if I hadn't been stretching as much as I have .
Mineral is a super noisy town at night. The fire station was busy all night long. I put in ear plugs after about 5 minutes of a freight train coming through town.

Bicycle Bill
While I was packing up Bicycle Bill a local cyclist stopped by to say hello. He said he was the only person in this town who actually owned a bicycle. Bill gave me a  1976 bicentennial quarter for riding the 76 bicycle trail. Bicycle Bill was a cool dude  he cycled across America in 1972, which is pretty amazing. I feel like it's sooo easy with all the information I have at my fingertips. I couldn't imagine doing it in 1972. Bicycle Bill is a real bike touring hero!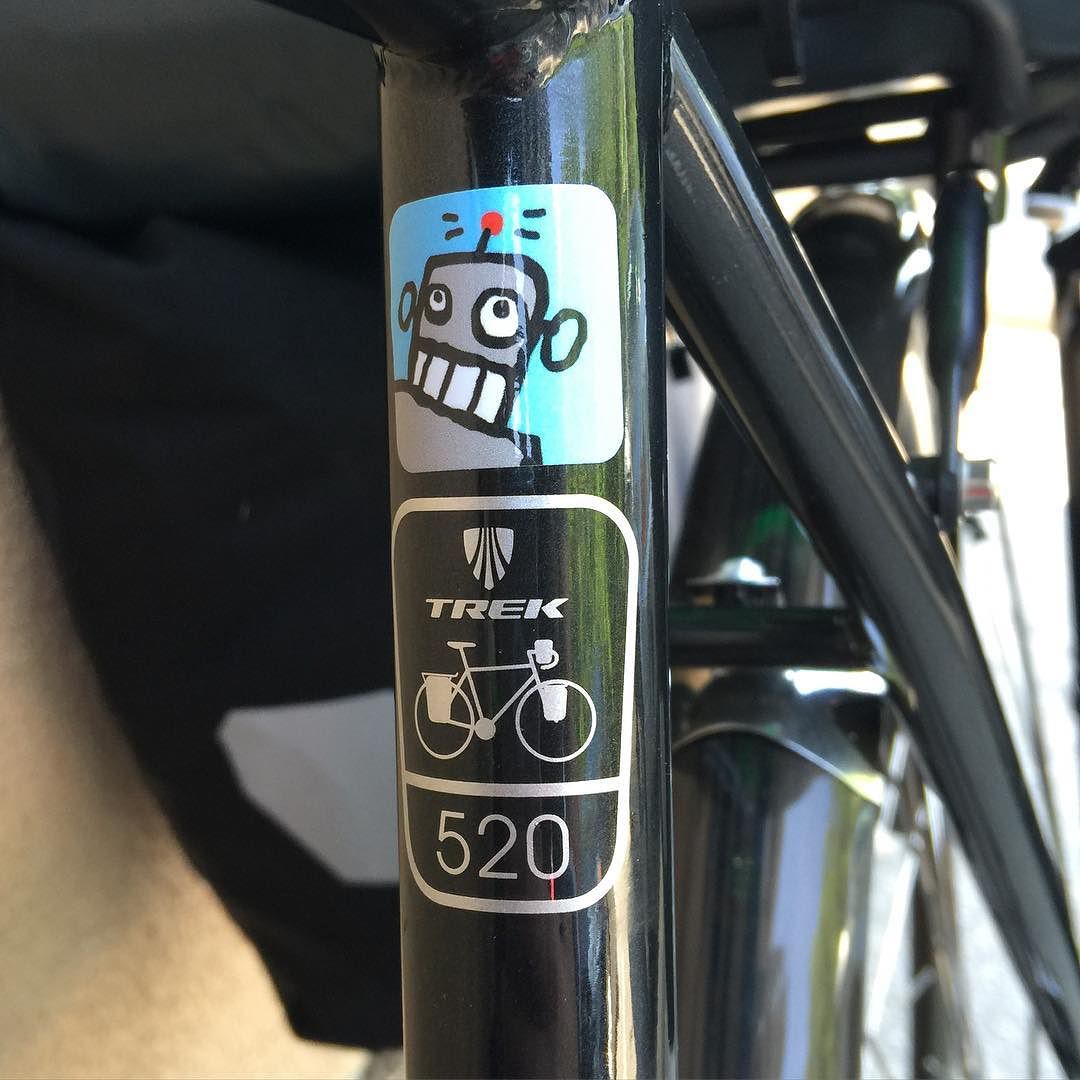 While I was packing today I told Laura and Sam if I was a thru-hiker my name would be "The Last Bag" because every time I go to get something from my bike whatever I'm looking for is  always in the last bag that I look in.
Sam, Laura and I had breakfast at the mineral restaurant. It was the last day of school, which was a half day so the place was packed with bus drivers who were just hanging out smoking cigarettes killing a few hours until they have to get the kids again. We listened to the bus drivers complain about all the paperwork they have to do. I felt their pain. I have the same complaint about being an Architect.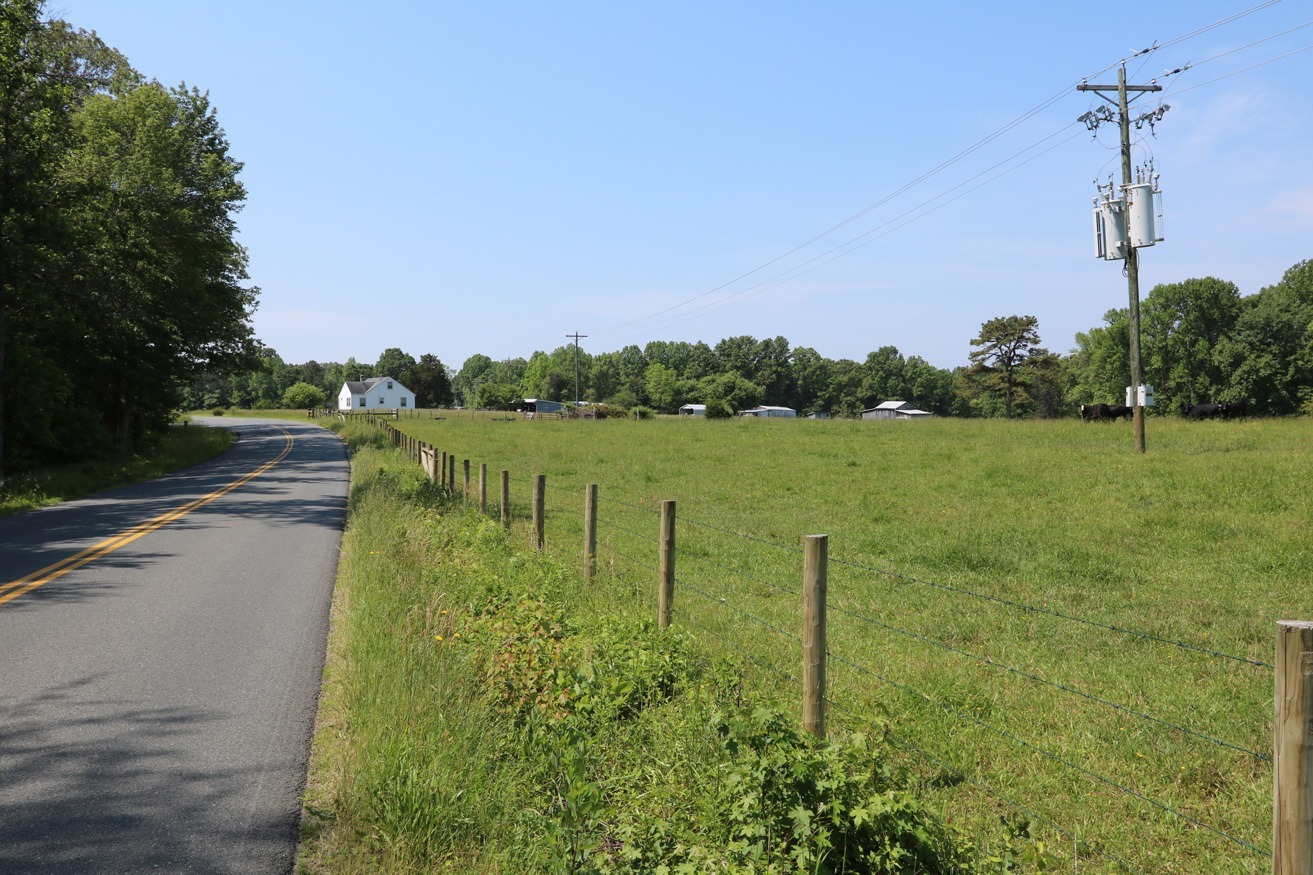 The cycling today was incredible. Lots of rolling hills all day long, beautiful Virginia views, and some roller coaster downhills.
Virginia is such a tough state to ride. There were a handful of 9 and 10% grades. Right here is where I'll use my granny gears. I won't need them in after I get past the Appalachians. Maybe I'll strip them off the bike to save weight. Just kidding.
Here is the video from today's ride.
Every time I make a new video I learn something new about video editing. I wonder how long I can keep up and make these videos for.
When we rode into Palmyra there wasn't a store where we thought there would be and had to ride an extra 5 miles without any water until we found the grocery store. When we found the grocery store we chilled there for awhile chatting with a local cyclist.
As we pushing closer to Charlottesville in the heat, Laura decided that the only thing she wanted was a wave pool. A swimming pool with waves. I decided I wanted an air conditioned trampoline park and Sam was just happy with a brew pub.
I drank a lot of fluid all day long and barely peed.
Getting into Charlottesville was a little bit dicey. The roads were very busy and had a ton of traffic on them. Traffic usually doesn't bother me much but it's a lot harder riding with a group especially around here. It's easier for the cars if we ride closer together, but that's not always possible when there are 9 and 10% grades
Naturally after immediately arriving in Charlottesville we found the South Street Brewery and hung out there for awhile. I had a pork loin grilled cheese and it was excellent.

The Architizer Article
While we were at the brewery, I learned a Young Architect article I gave to Architizer was published in the morning and was getting a ton of traffic and comments. At that point it had about 30,000 views for the day.
Architizer is currently one of the top 3 websites about architecture. A few weeks ago the editor of Architizer reached out to me and explained he loves Young Architect. They asked if I could contribute some content to their website. Since I'm so busy right now with the bike trip and the ARE Boot Camp they are just posting archived Young Architect content. This was my second article on Architizer, here is a link to the first.
Hotels and Memorial Day
Lots of drama with the Memorial Day weekend and finding a place to stay. Laura scored a cheap hotel room for the night and we crashed out there pretty early.
Tomorrow the plan is for me to ride to Afton, stay at the cookie house and then take 2 days off to chill in Waynesboro for the holiday weekend.
Items left behind:
I cutout the the giant 8.5 x 11 warning label from the inside of my tent that told me not to cook inside the tent. Thanks guys. Note taken. Goodbye warning label!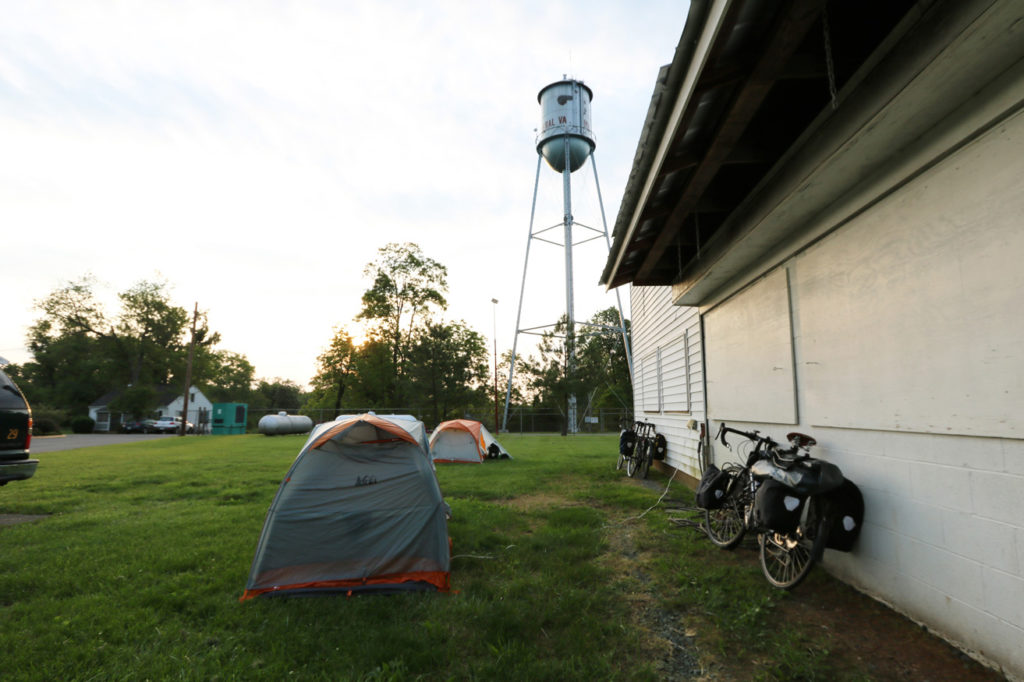 Im working my ass off getting this blog caught up to present time.
Click Here to Visit The Table of Contents
Click Here to Visit Previous Page: Riding from Richmond VA to Mineral VA – Day 2
Click Here to Visit The Next Page: Climbing up to the Bike House – Day 4