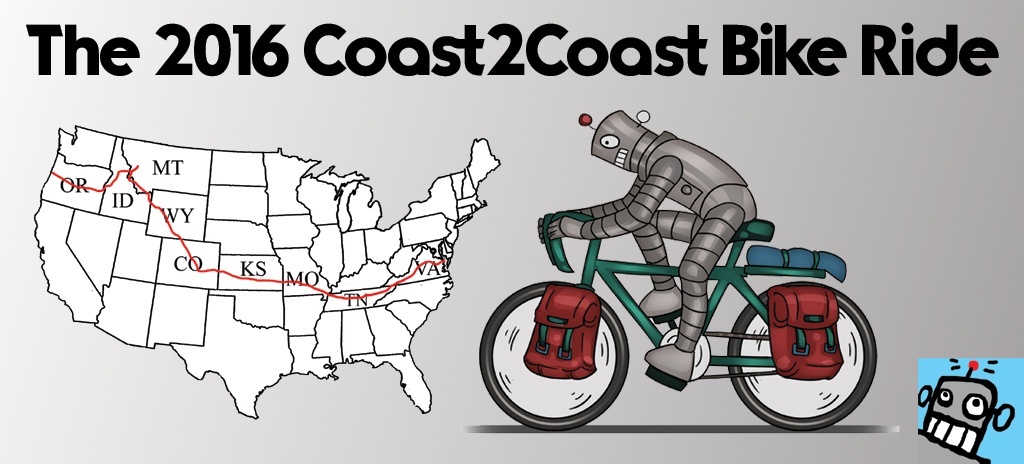 Click Here to Visit The Table of Contents
Click Here to Visit Previous Page: Train ride across America, Philly and The AIA Convention
Click Here to Visit The Next Page: Spending the Day On The Virginia Cap Trail – Day 1
Alexandria, VA To Yorktown VA
Day 0 – May 23, 2016
14.2 Miles for the day,
14.2 Total miles for trip
1:00 Ride Time
Lets Get This Party Started.
It rained and rained all night. I jumped out of bed the minute the sun rose and ran out the door to the Starbucks in the lobby for an early breakfast. Ever since I went to Nicaragua I now wake up with the sun every morning.
While I was at the hotel, I published a blogpost on Young Architect about the Architect's Academy.  My Architect Friend Doug Patt created an excellent 4 hour course for people who are interested in considering a career in architecture or learning more about architecture. He asked me to check it out, so I took the course a few weeks ago and had so much fun that I wrote this review.
Sam, Laura and I rushed out the door and decided to get breakfast on the road. It was a few hour drive from Alexandria to the bike shop in Yorktown.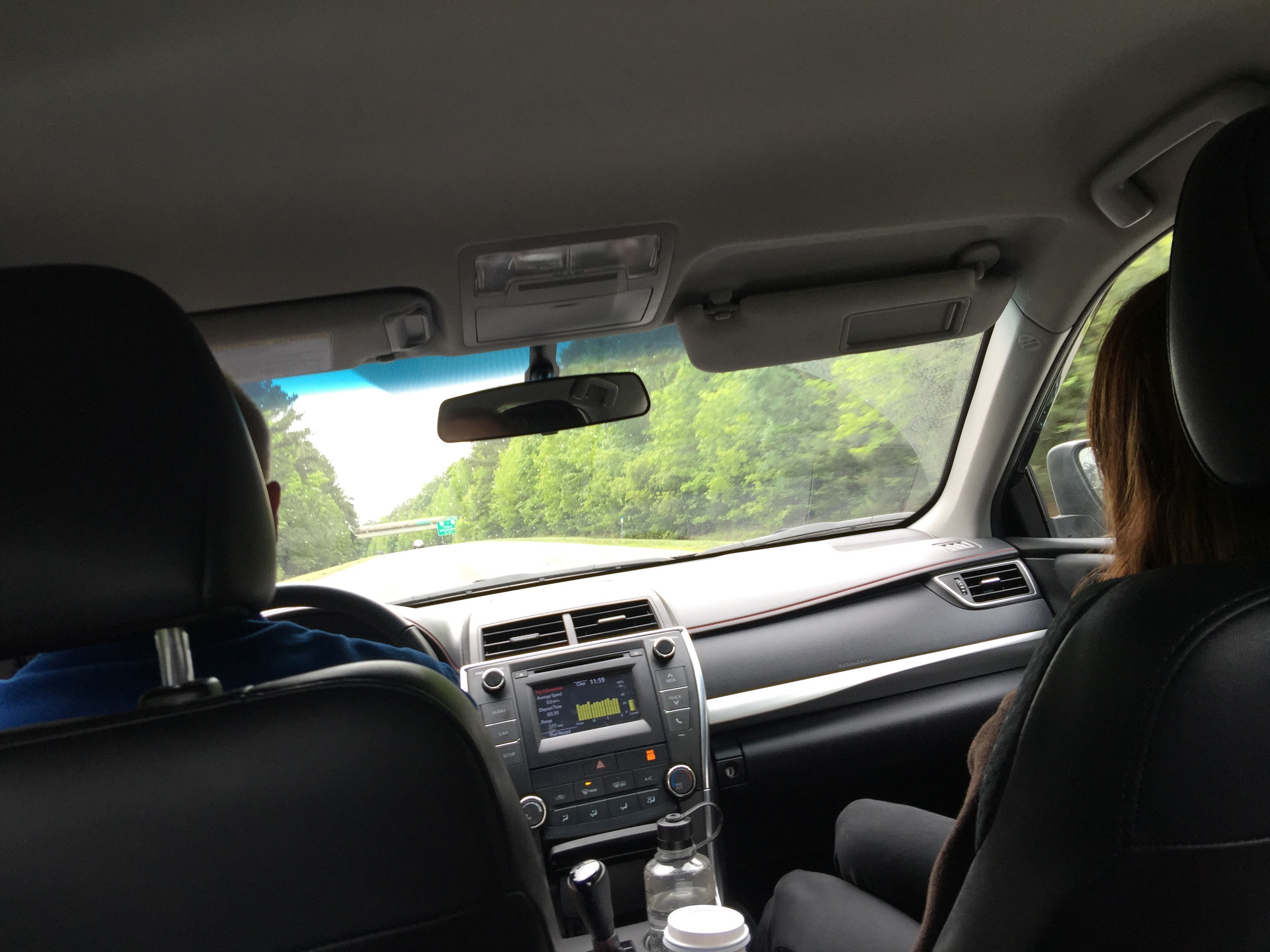 The bike shop did an awesome job putting my bike back together. My new problem was that I have a ton of crap that needed to be dealt with. All the civilian clothes I was wearing needed to be mailed back home and I needed to pack my bike.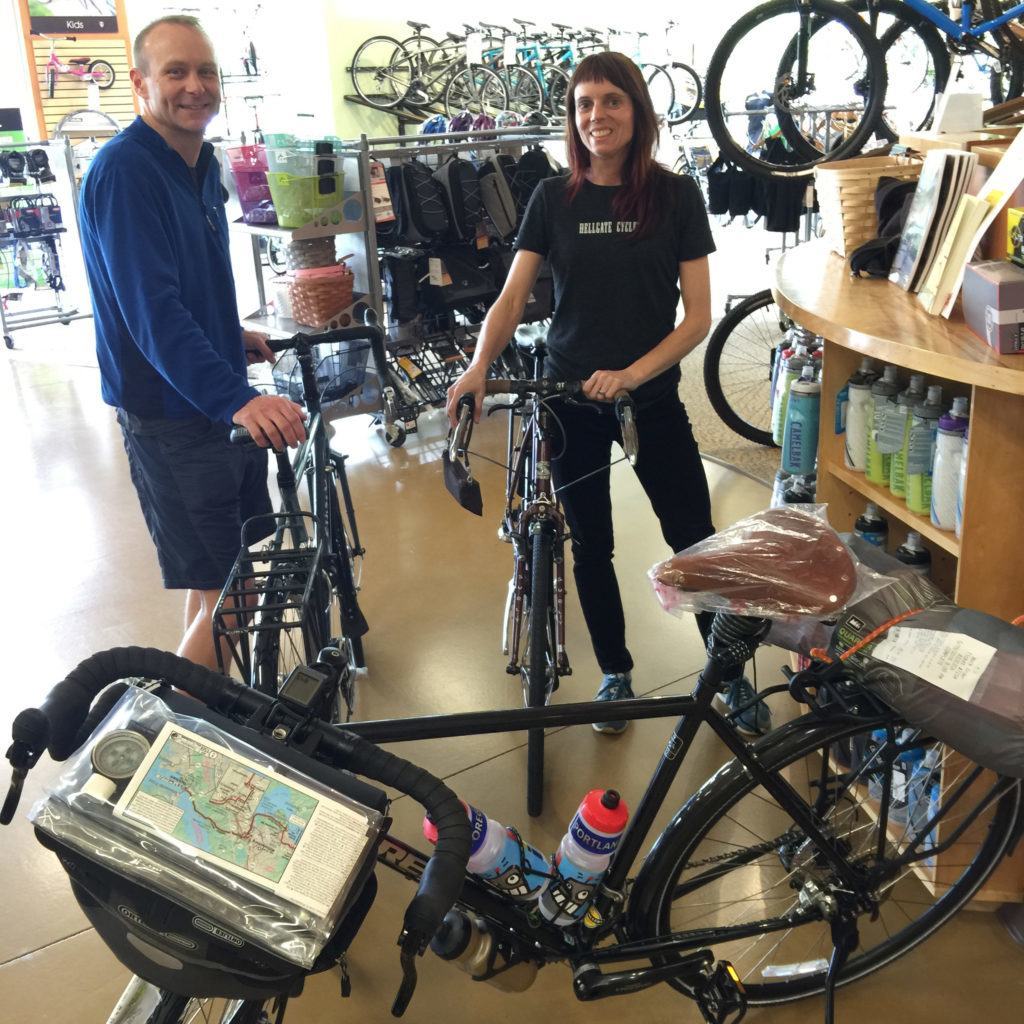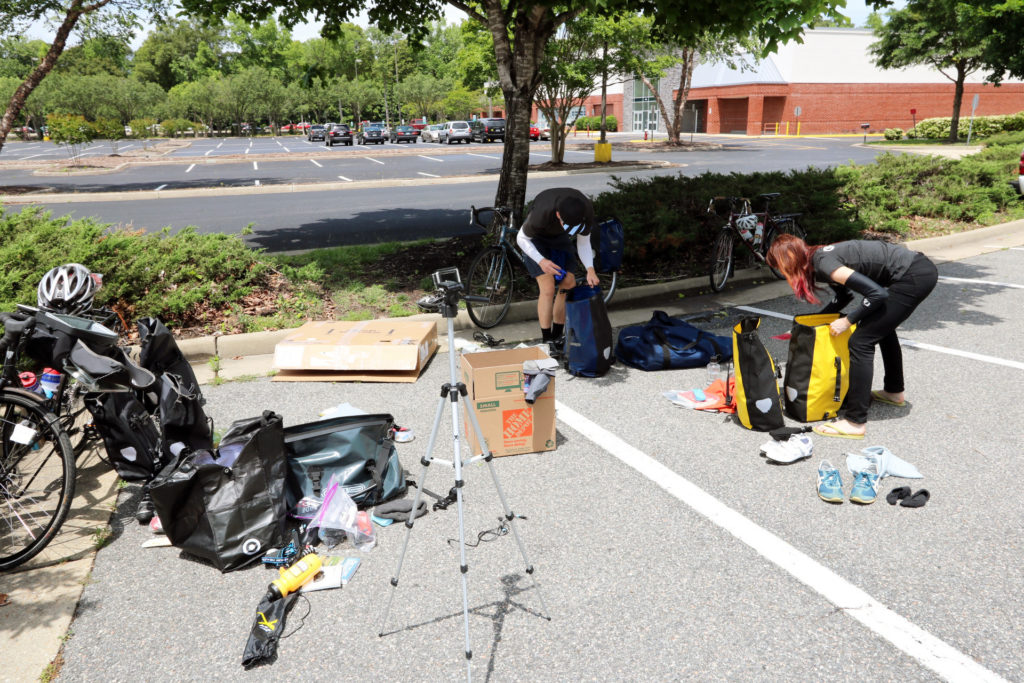 I brought my bike and all my gear out to the parking lot and basically dumped everything out of my bags into a parking spot and tried to pack my bike.
I kept getting mad at myself for having too much gear. But I also kept questioning if I really have too much because I haven't ever been completely loaded up. Sure I tested it out before I left but there is a big difference between the rehearsal and being in Virginia ready to start the trip.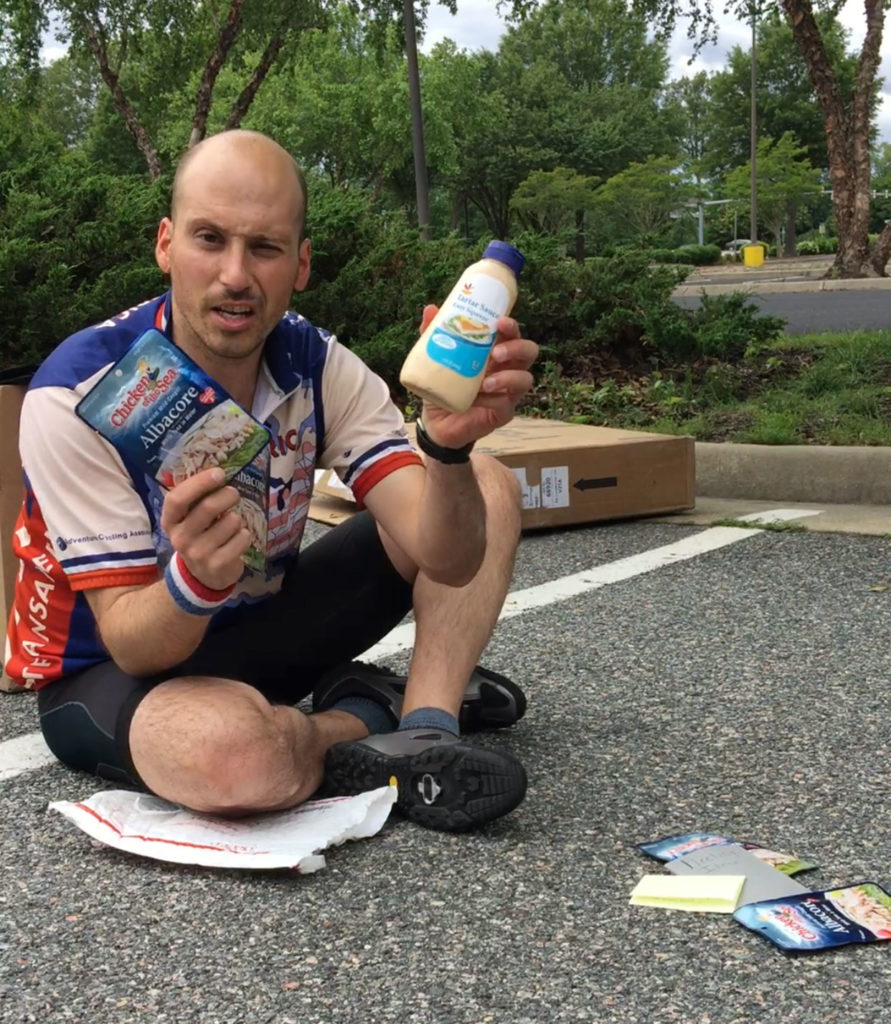 Jamie Obrien sent me a going away package to the bike shop. Inside was a package of tuna fish and tarter sauce. In 2007 when we were riding across Wisconsin, him and I played food poisoning Russian roulette with some tarter sauce that has been in 100 degree weather and hadn't ever seen a refridgerator since opening. When Him and I cycled from Chicago to Fargo, we camped every night, got super dirty and partied really hard.
So here I am on Day 0 and he sends me some tuna fish and tarter sauce. What a guy!
It took me about 1.5 hours to figure it all out, get packed and have a box to send home. I was hungry and exhausted when I was finally ready to go. I found a UPS store and mailed a big box of clothes back to Oregon.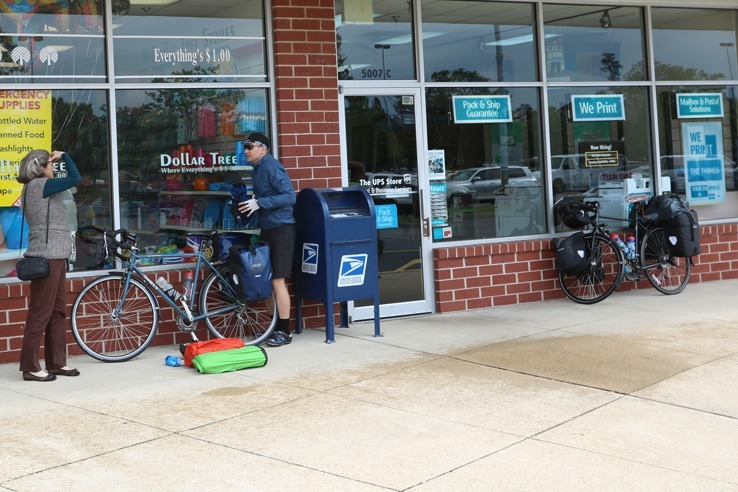 While I was dealing with all my crap a nice lady came up to Sam and asked about the trip. She then told him if we needed a place to stay we should stay at the Bike Hostel at the Yorktown Episcopal Church. He thanked her and explained, our plan was to hit the monument and ride 30 miles to the first campground.
Riding to Monument
There was 2 ways to get to the monument. Direct which was 10 miles and was on a busy road or bike friendlier which was 13 miles. We ended up riding the bike friendly cause the 3 of us were all a bit shaky with our loaded touring bikes.
I tried to use my bike GPS to get us to the monument, but it didn't work. I'm worried about this GPS. I asked it to do a very basic thing for me and it couldn't handle it. I hope I didn't waste $300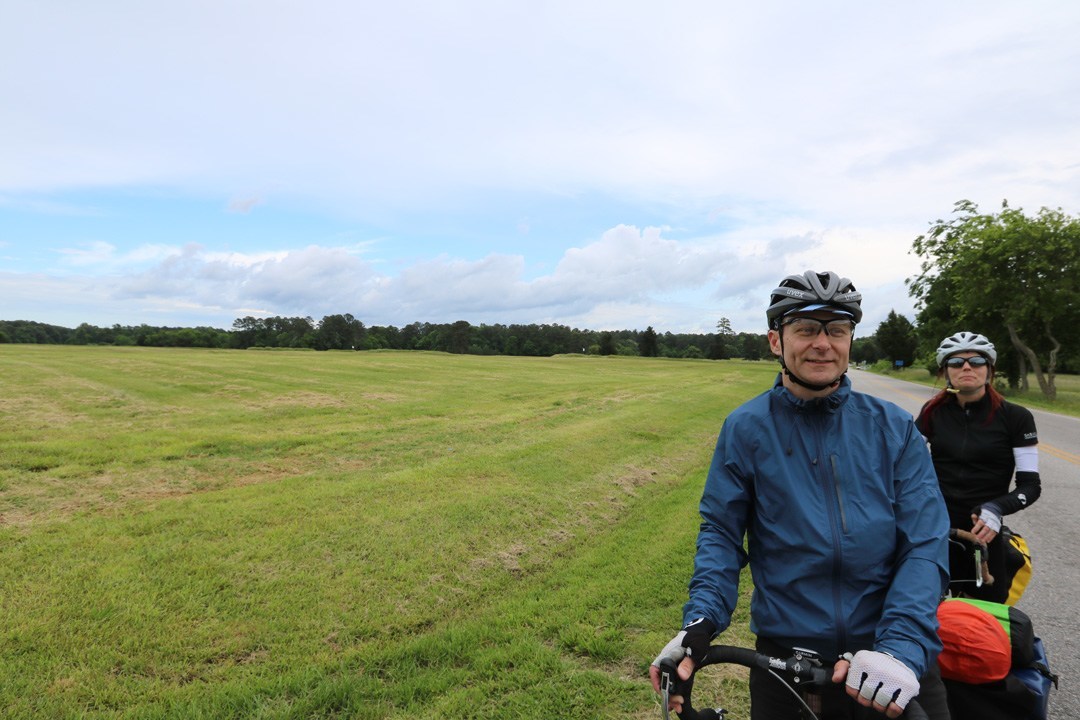 Long story short, the bike ride to the monument was miserable. Lots of busy roads with terrible shoulder. Im not used to riding this loaded bike and I was really stressed out when we arrived.
The Yorktown Victory Monument
The Victory Monument is the official beginning of the Transamerica trail. When we got there we took a million pictures.
It was cold and super cloudy. I said to Sam and Laura maybe we should stay at that Bike Hostel, that lady was talking. It was starting to get late. So I called the number on my maps and they said they would love to have us.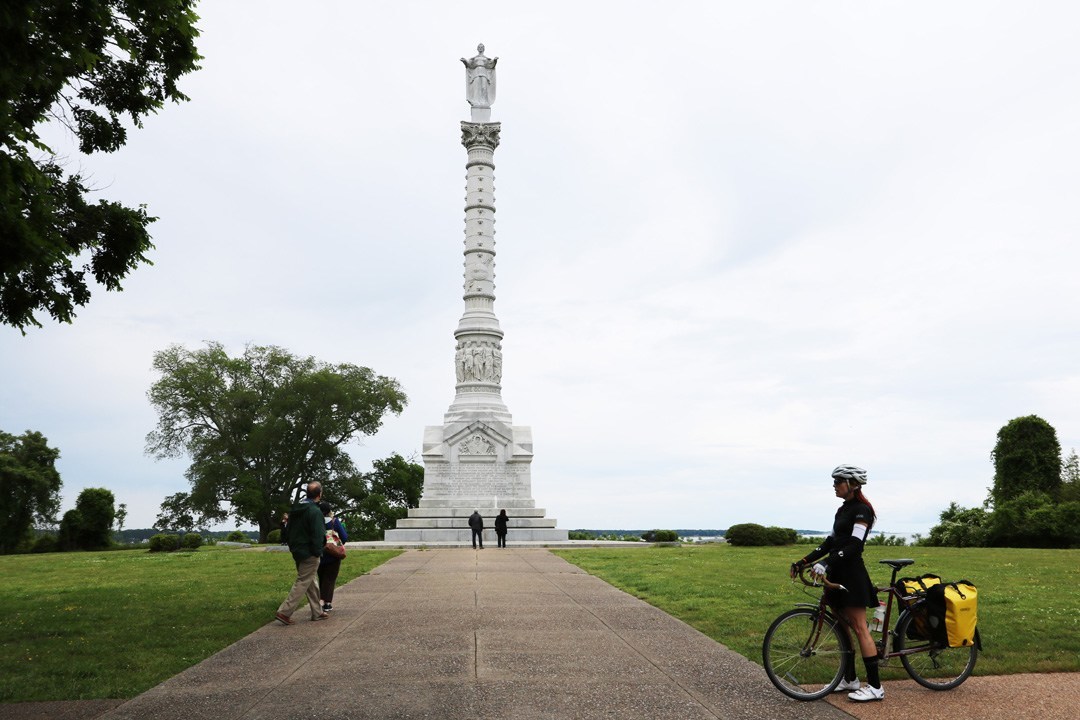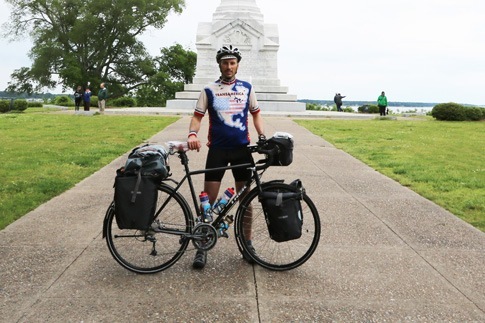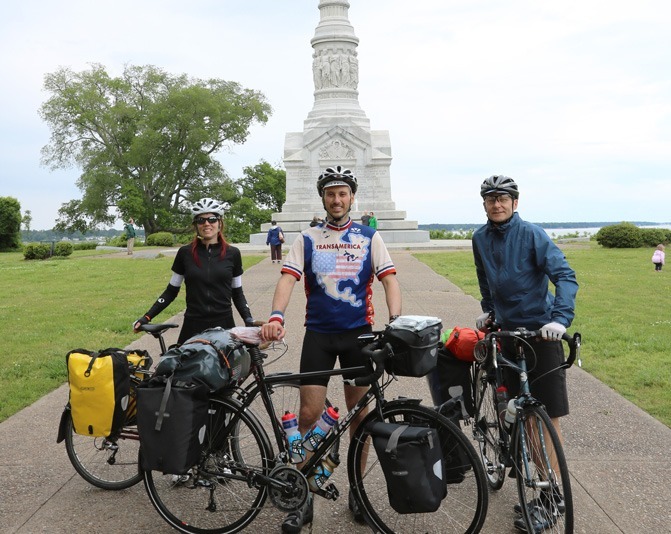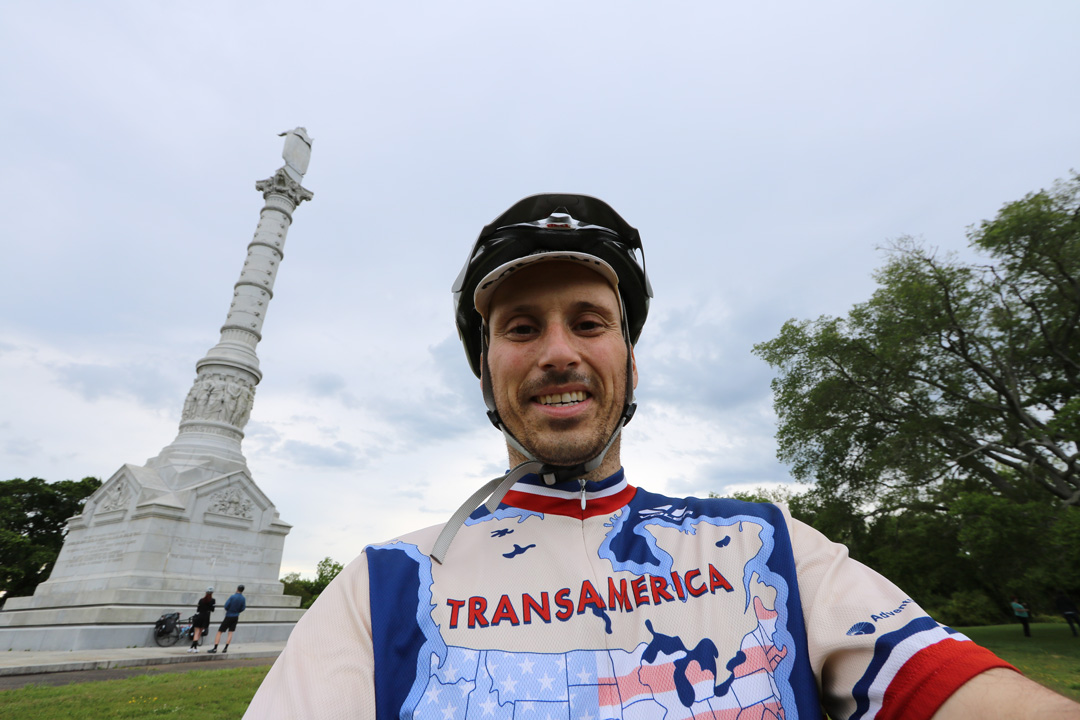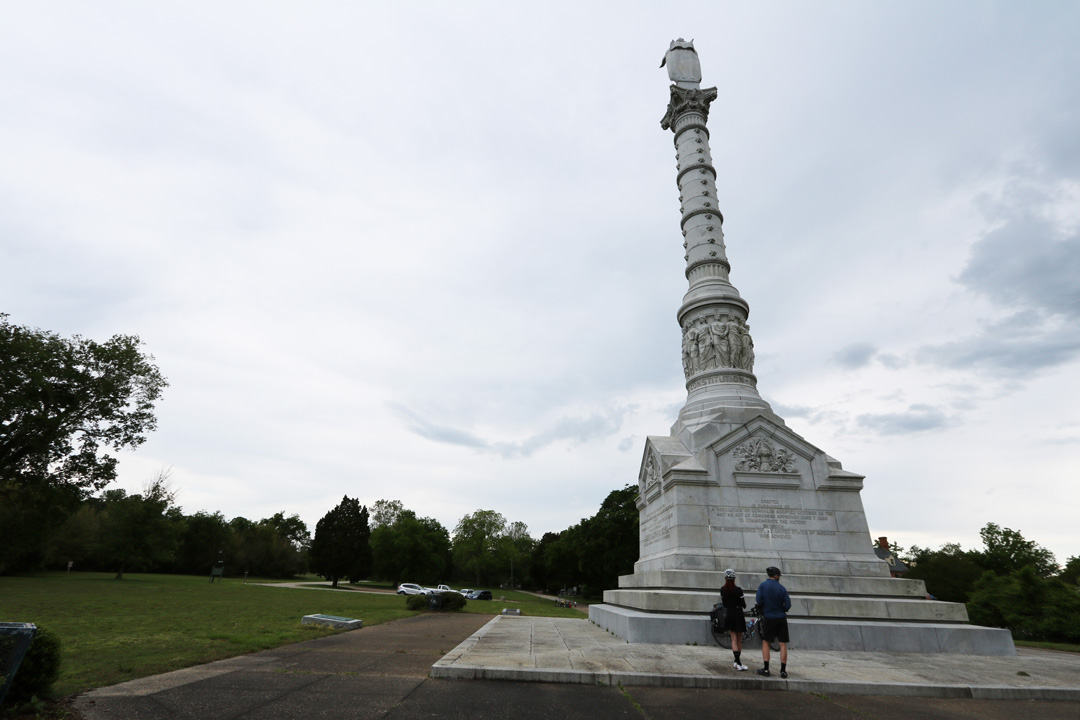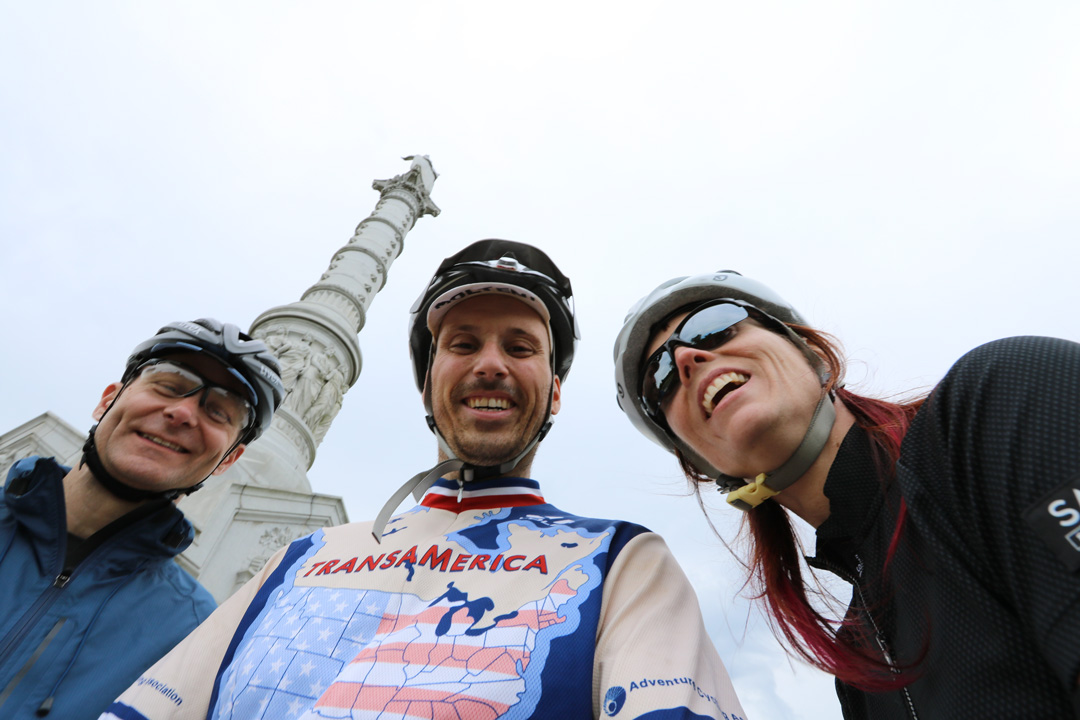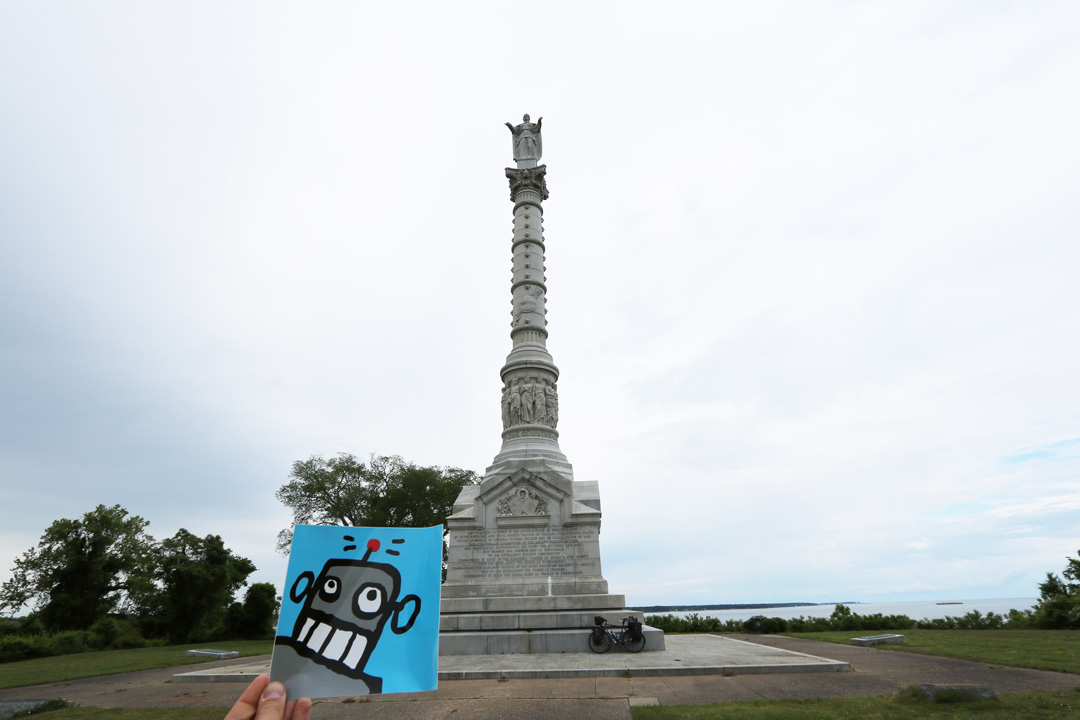 Bike Hostel
Someone from the church met us outside the house. The Yorktown episcopal church owns this beautiful house with a view of the Chesapeake Bay that they use for church programs and also a place for touring cyclists to stay.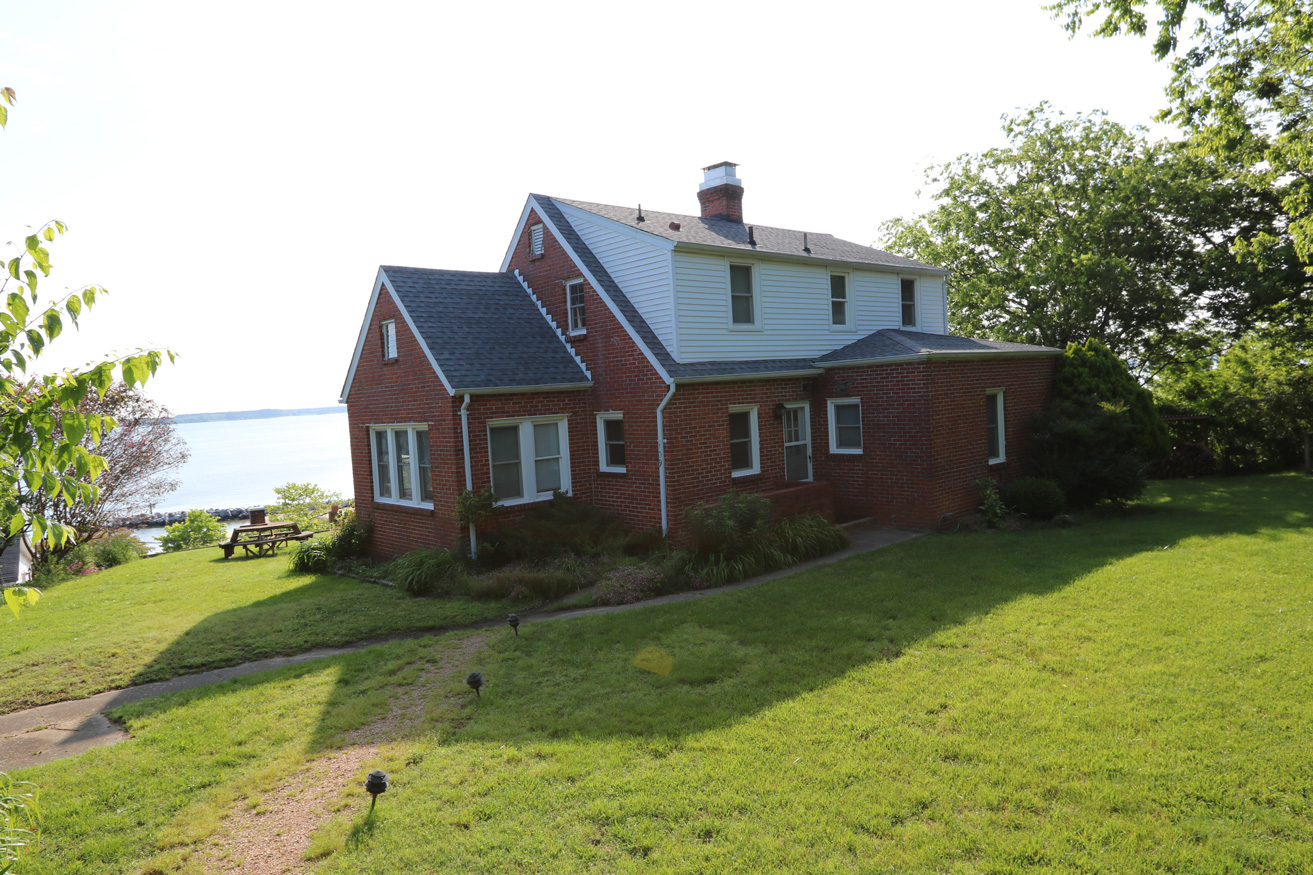 It was pretty awesome staying there. Here we are in downtown Yorktown, a huge tourist trap with nowhere to stay and a couple of bicycle tourists have VIP sleeping arrangements right in the center of all the activity.
After the church guy left, Laura opened the freezer and found a chocolate cake with one slice missing. She talked about that chocolate cake for the rest of the night and debated taking a slice from it, but I don't think she ever did.
We had dinner at the pub and I'm glad we're staying in Yorktown, tonight. Let's make today day 0, and tomorrow Day 1 of this bike tour.
Click Here to Visit The Table of Contents
Click Here to Visit Previous Page: Train ride across America, Philly and The AIA Convention
Click Here to Visit The Next Page: Spending the Day On The Virginia Cap Trail – Day 1