Click Here to Visit The Table of Contents
Click Here to Visit Previous Page: Pre-Ride update – 30 day Countdown
Click Here to Visit The Next Page: Starting a Bicycle Trip Across America – Day 0

The Train ride across America
On Friday the 13th, I boarded a 3 day train ride across America. I have never done something like this before. It was amazing and I loved it every minute of it.
Why did I take a train across America? 
Good question….
When the time came to figure out how to get to the east coast I had a really really hard time making myself buy a plane ticket. I basically had 2 weeks between coming home from Nicaragua and leaving to travel all summer. Leaving for this trip was going to be busy and crazy and I knew arriving at the AIA Convention was going to be stimulation overload.
The idea of sitting on a train for 3 days and not having to do anything, sounded really relaxing and a perfect way to prepare for the AIA convention and rolling right into a cross country bicycle ride. And I was right! It was!
The train went right through Glacier National Park, and along much of the Team Northern Tier route. It followed Route 2 for a very long time. We rode 700 miles on Route 2 and even on the train it felt like it took forever to get off Route 2. I kept saying "OMG I can't believe we're still on route 2!?!!!"
I had a sleeper car for the first 2 days, it was  the honeymoon suite sleeper car that was big enough for me to throw down my yoga mat and stretch. Since I was VIP they also fed me 3 meals a day and the food was pretty good for being on a train! I made a lot of friends during the train ride, I told them all about everything and I even ran my ARE Boot Camp from the train as we were leaving Chicago.

Chilling with my Cousin Sean
About 6 months ago I reconnected with my 2nd cousin Sean Kane on Facebook. We became fast friends.  Him and his family live right outside philly. He picked me up at the train station gave me the tour of his office, and brought me back to his house to meet his beautiful family and new puppy.
I stayed with Sean for 2 nights and had a blast catching up with him from the past 20 years. We ate great food, drank good beer and my chest hurt from laughing sooo much. I'm really excited to be reconnected with him and see everyone again! Such good people, it's an honor to be related to him!

The AIA Convention
I had the best time at the convention, I dunno if everyone else had as much fun as me and my friends.
My number one priority for the AIA convention was……. to network with all my Young Architect friends. Yep…. and I definitely accomplished that. Getting continuing ed credits is a big part of the AIA convention, but I couldnt care less. I can work on that crap when at home, lonely and bored.
For 3 days everywhere I went there was an open bar, food and incredible people to hang out with. Lukas, my best friend from architecture school showed up and it was great to reconnect with him for a few days. We stayed at an Airbnb with a bunch of awesome people from Florida, whom I never met before. Lukas and I became really good friends with them and by the end of the conference it felt like we were one big family.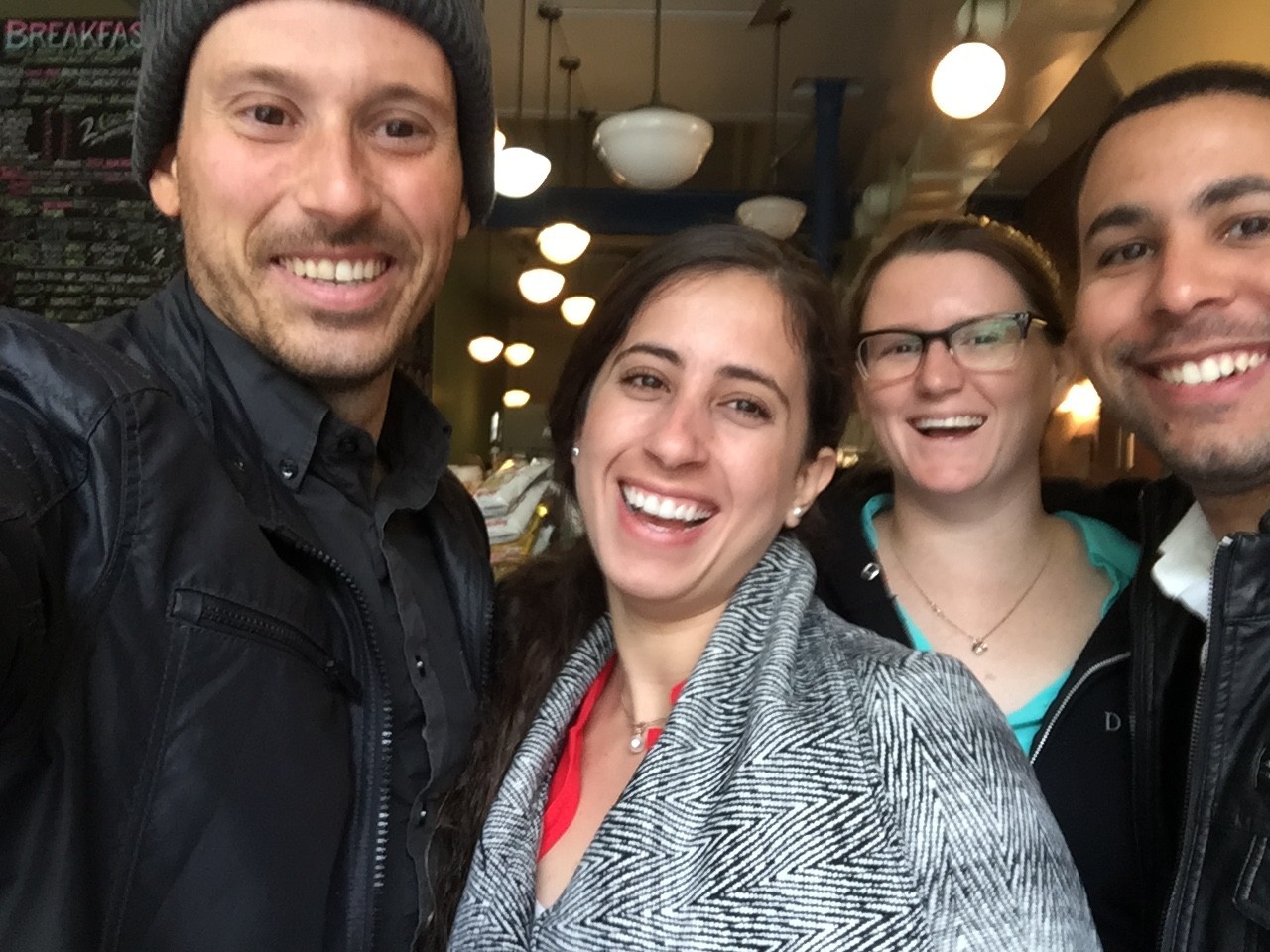 I met sooo many inspiring people at this convention who are doing great shit. Being here really validated a lot of the content I have been writing for young architect and my feelings about the profession. So far I've drafted up 4 blog posts for Young Architect about stuff I got inspired about from this conference.
At the end of the conference, I told Lukas that I'm really honored to be able to come here and meet all these people. The American Institute of Architects gave young architect a free press pass.  3 years ago, I didn't know anyone and was very disconnected from the architecture world. Now it feels like I know everyone and I'm apart of this amazing community.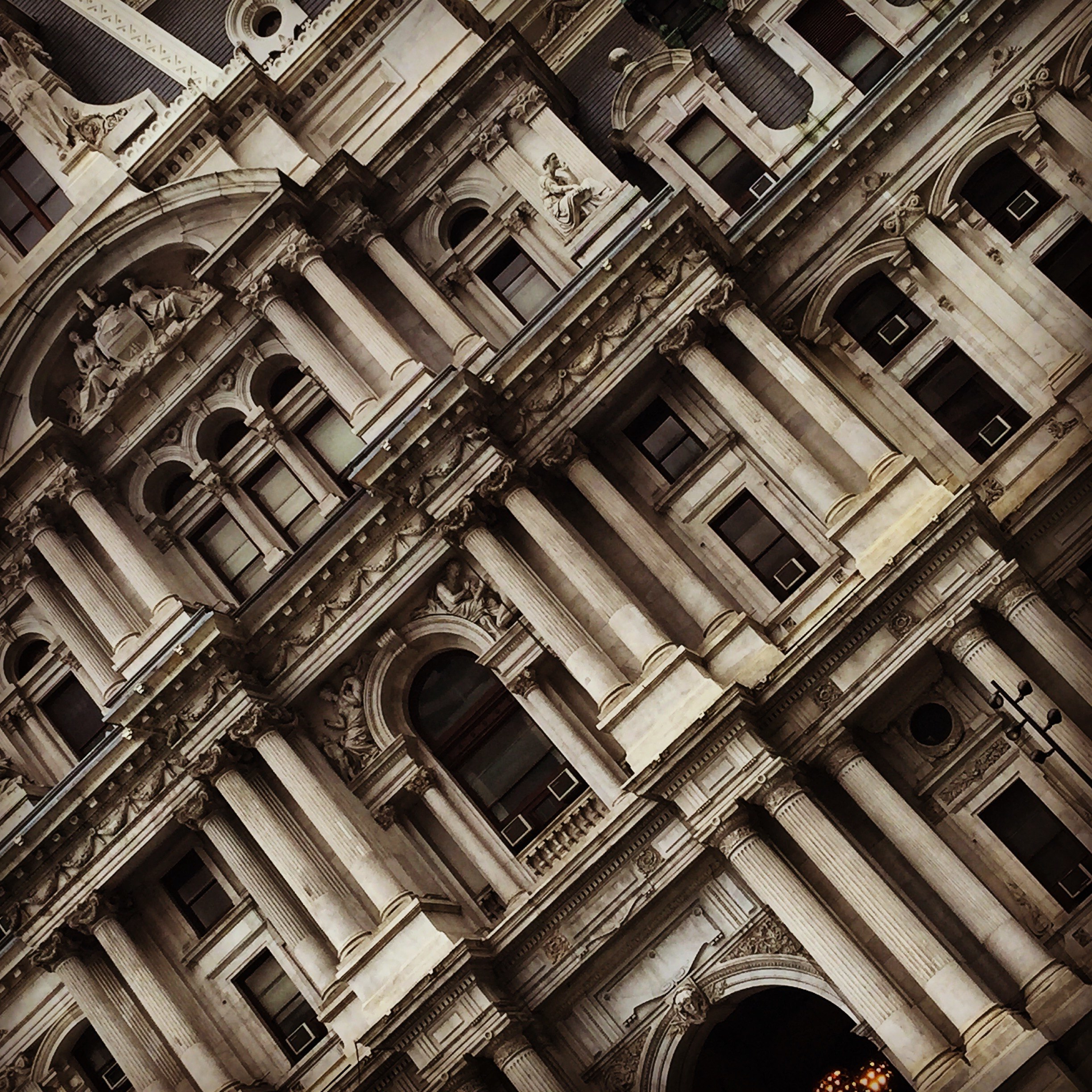 I'll definitely be there next year. I'm turning into a conference whore. This was my second conference this year and I have 3 more conferences to attend before the end of the year. I'll be presenting at 2 of them.
The Kirsteins
On Sunday morning my friends Sam and Laura Kirstein drove into Philly and picked me up on the side of the road. I was really excited to see them and sad to say farewell to my new Florida architecture family.
They flew into DC the day before and we're just hanging out driving around, visiting breweries and waiting for Mike Riscica wrap up the AIA convention so we can ride bikes.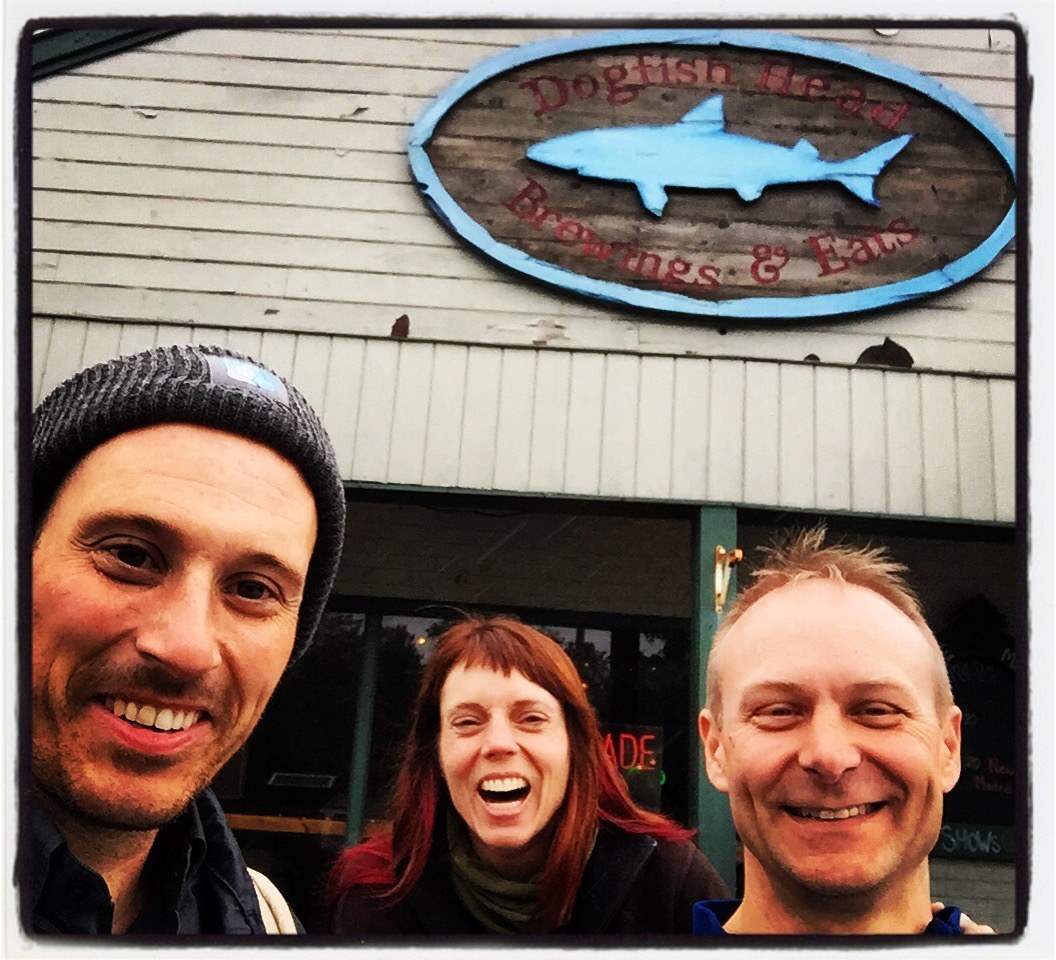 First stop was Dogfish Head Brewery in Delaware to celebrate Sam's birthday and then we we drove to Alexandria to a hotel to crash for the night. It was raining and cold.
Sam and Laura Kirstein are 2 of my favorite people in the world. I met them in 2007 when I rode the Northern Tier. They rode it in 2006 and had been following my journal that summer. When we were starting to get close to the twin cities they emailed us and invited Jamie and I to stay at their house in Minneapolis. 
At that time during the summer of 2007. The bridge in Minneapolis had just collapsed and if Jamie and I were 1 day ahead of schedule we would have been riding under it when it happened. I had also just bought a first generation iPhone 2 weeks after its release and we used that to navigate into Minneapolis.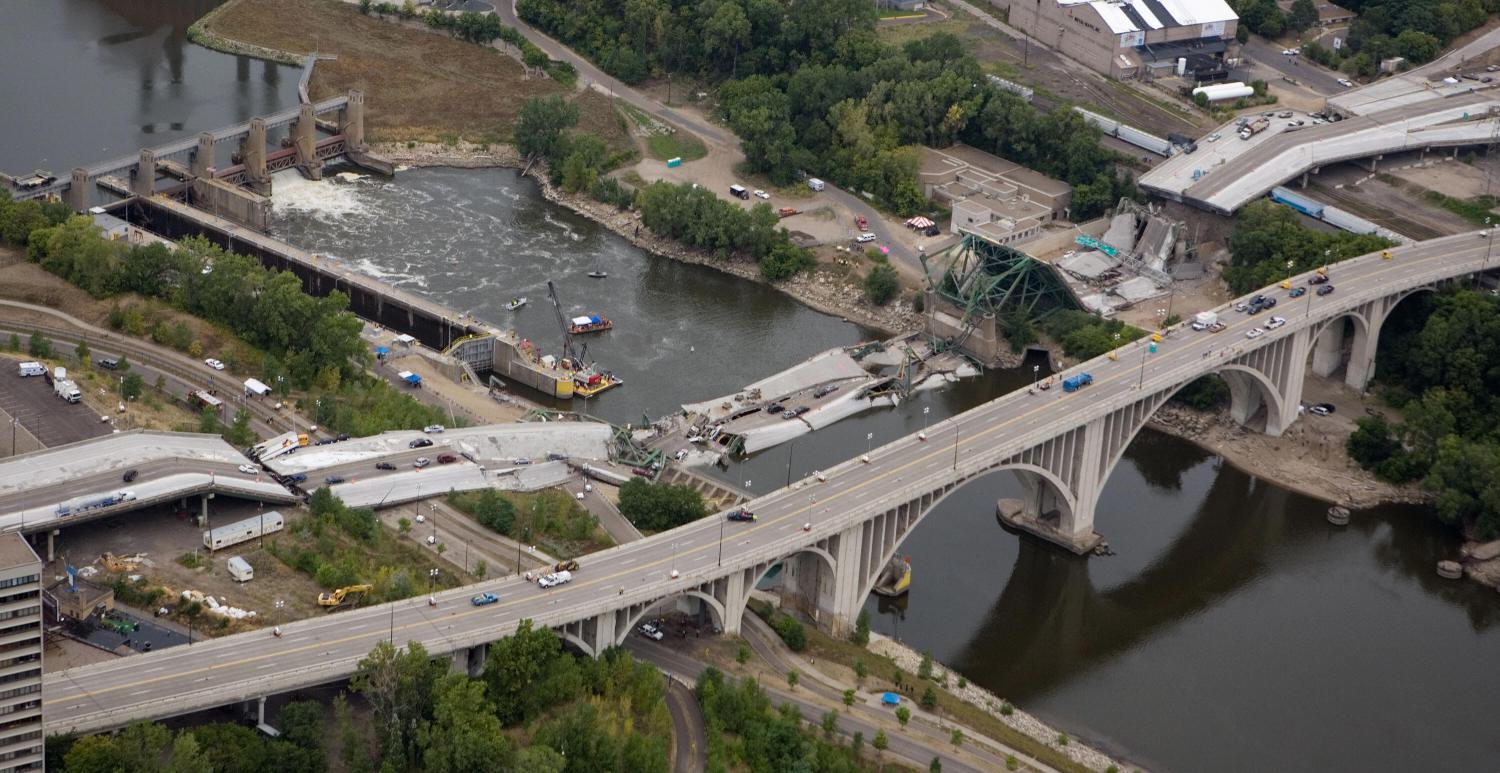 When we got there Sam and Laura took us out and showed us the town. We drank a lot of great beer and had a ton of fun seeing the sights and architecture of Minneapolis. Hanging out with the Kirsteins was definitely a big highlight from that trip.
I saw them again about 2 years ago. Sam and Laura came to Portland for a few days and then took a bike tour from the Oregon coast back to Missoula. I rented a car we all hung out on the coast with Molly and I saw them off on their bike tour.
A few months ago Laura hit me up and explained her and Sam are piecing together the transam. Each summer they've been riding a week or 2 of the trail , chipping away at riding the whole thing. She asked if they could ride with me for part of it, EVEN THOUGH I very publicly announced I'm taking this bike tour solo and said "…thanks, but I'm not looking for a companion" to about 15 different people, most of whom I didn't know.
I immediately told Laura YES! and explained that her and Sam were on my list of 4 people whom I would love to have ride with me on this trip.
So we started planning how to make this happen. They are going to ride the first 200 miles with me across Virginia from Yorktown to Charlottesville.  IM SUPER EXCITED TO HANG OUT AND RIDE BIKES WITH THEM!!
Click Here to Visit The Table of Contents
Click Here to Visit Previous Page: Pre-Ride update – 30 day Countdown
Click Here to Visit The Next Page: Starting a Bicycle Trip Across America – Day 0