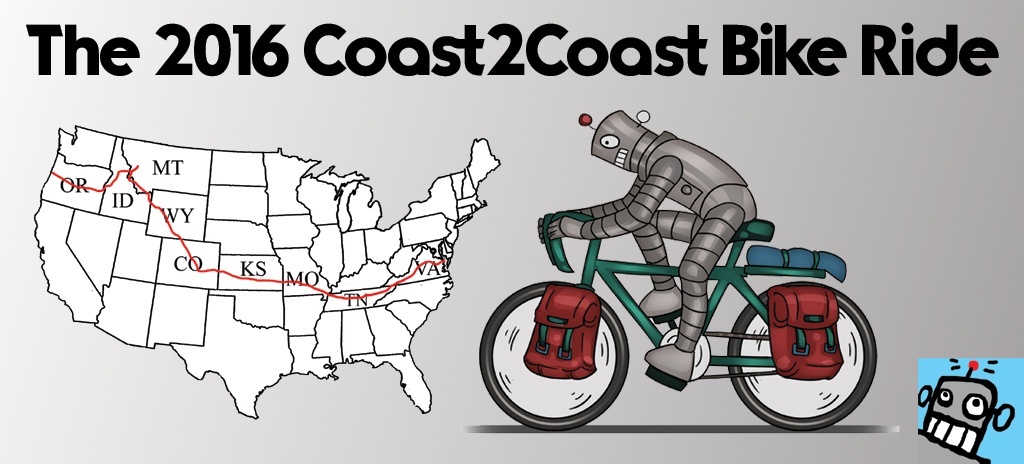 Click Here to Visit The Table of Contents
Click Here to Visit Previous Page:  Punching Cattle From a Jack Rabbit – Day 39
Click Here to Visit The Next Page: Halfway to Oregon – Day 41
Day 40   Dighton, KS  To  Eads, CO
July 2, 2016
131.5 Miles for the day
2,092.1 Total miles for trip
8:41 Ride Time
It rained all night but it wasn't a big deal. I think I sleep better when I can hear it raining. This whole trip I feel like I toss and turn all night and just when it's time to wake up, I fall into a deep sleep. I can't get no satisfaction.
A lady woke up Austin and I sleeping on the picnic tables and said that they are having a farmers market in this picnic pavilion at 8am. I looked at my watch and it was 7:45. ugh. wtf.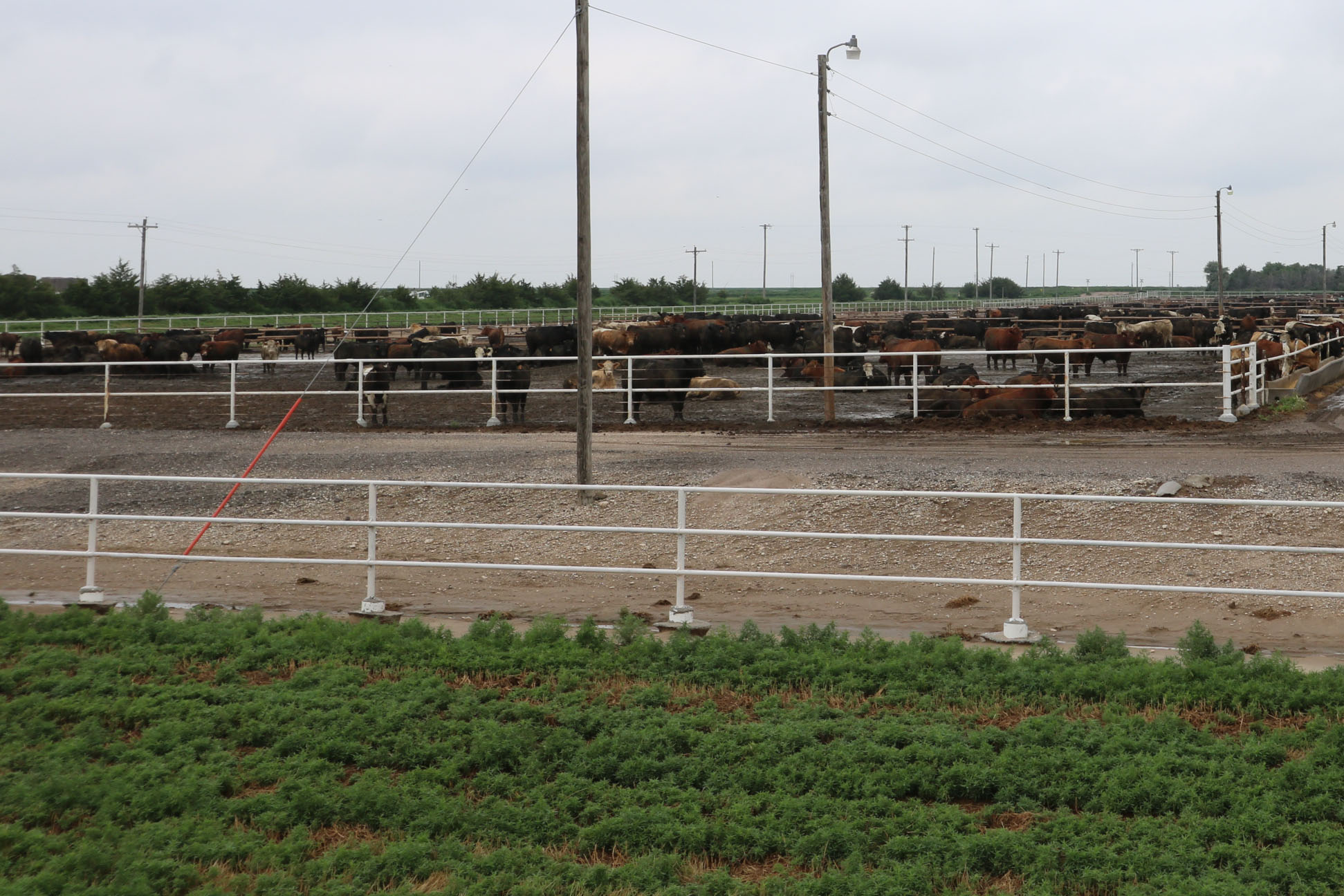 I was a little bit cranky about the farmers market situation. One of the ladys had breakfast burritos and Cinnamon buns, which made things a little bit better. I just wasnt feeling chatty. Austin was really nice to them though.
It was raining pretty hard so we sat in front of the convenient store for a little bit. I did my stomach crunches and pushups. My legs are getting jacked and the rest of my body is getting fat. I need to start incorporating sun salutations into my morning practice to get my core back. I'm turning back into a fat cyclist.
We rode out of Dighton in the rain at 9:30 am. Rain kinda sucked but at least we had a nice tailwind. In the first 5 miles my right knee cap was starting to bother me. I took some ibuprofen and it was gone for the rest of the day.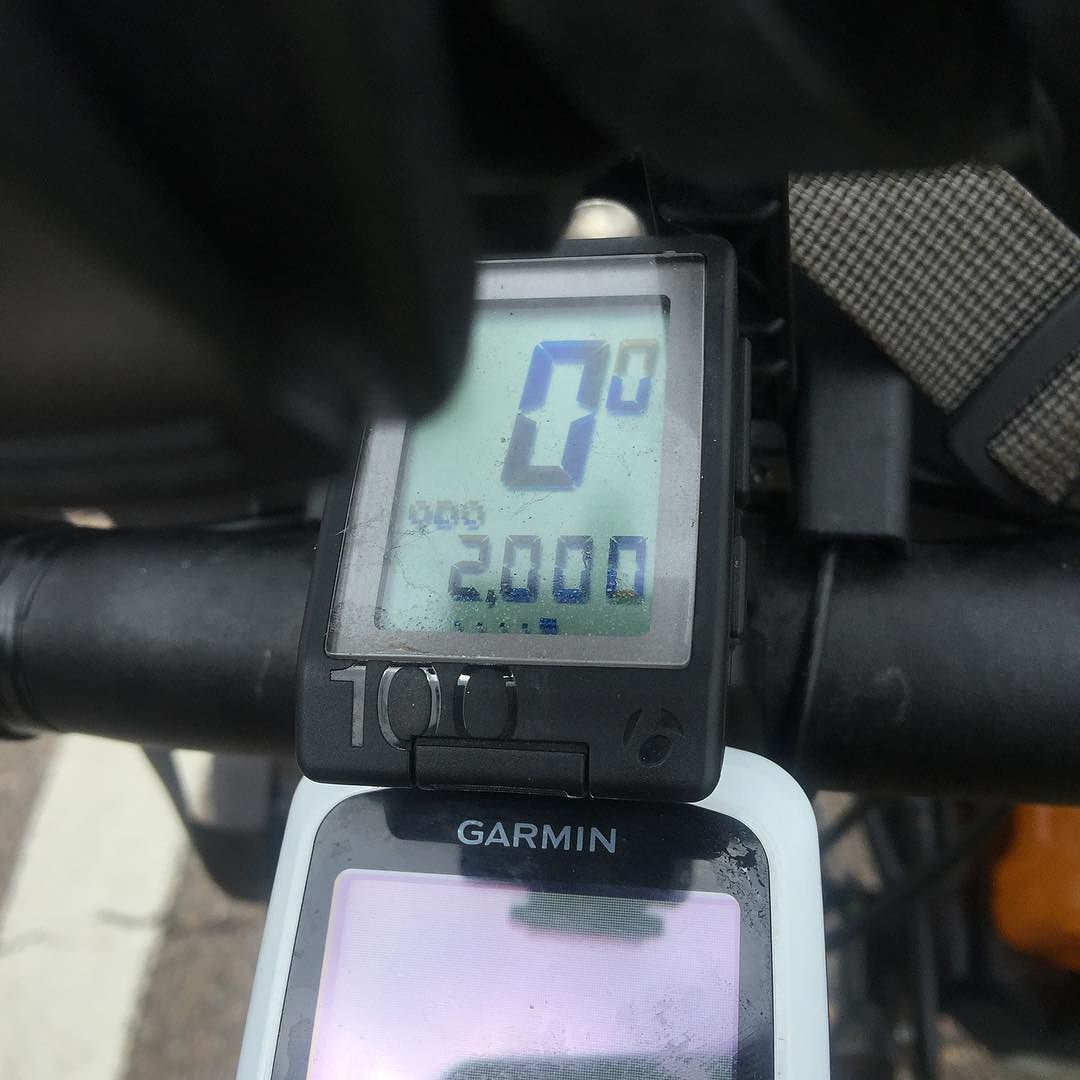 Austin and I made jokes about making it 130 mile day to Eads. The first half of the day the towns were nicely spaced 20 miles apart.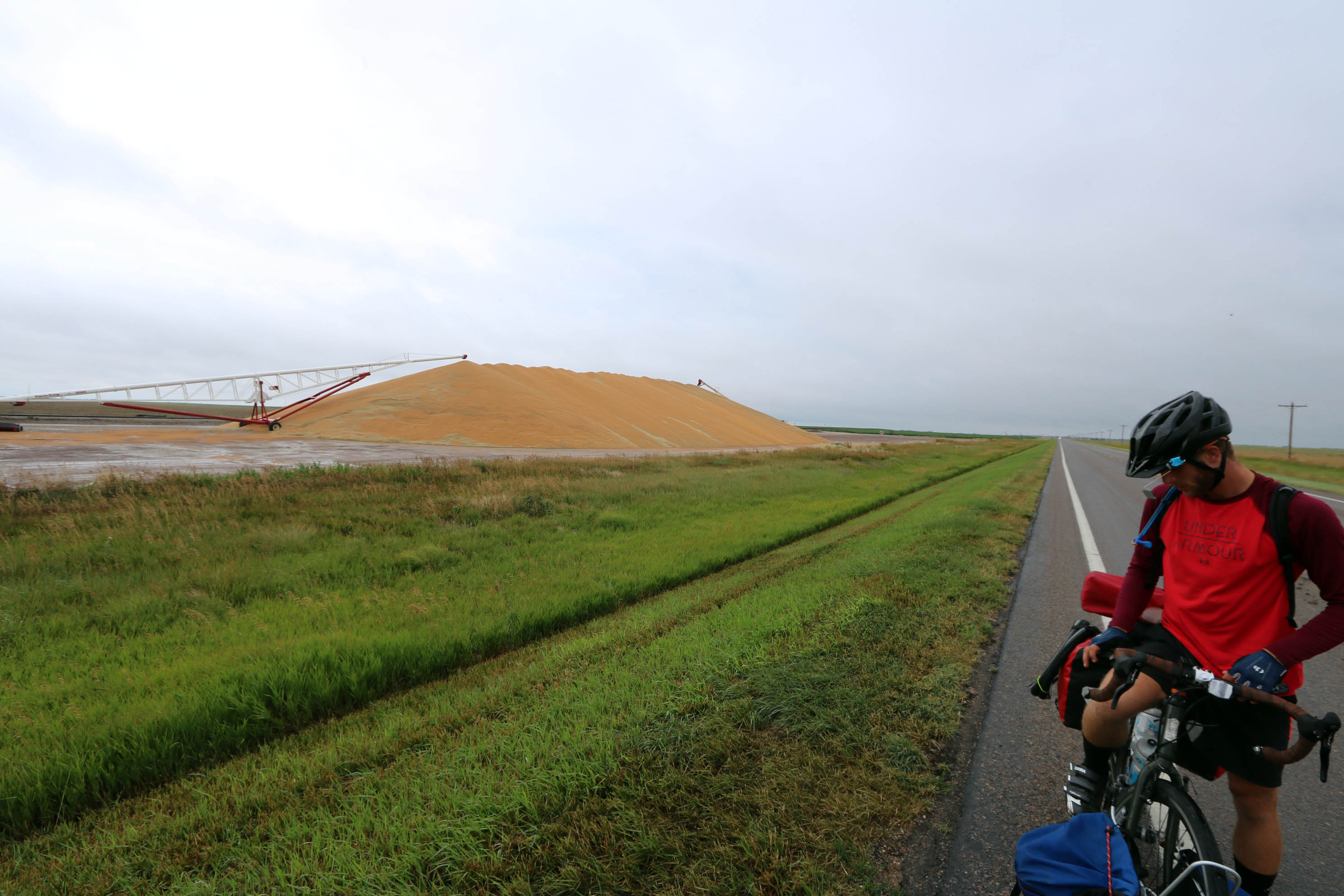 We stopped for lunch a little town called Leoti and had some burgers and ice cream.
The wind got a little bit stronger and we were making great time and riding super-fast. I love riding tailwinds. Very rarely does the wind and your direction ever beautifully line up, but when it does. Holy shit! Riding tailwinds is still a ton of hard work. It's not at all like riding downhill. The return on your investment with riding tailwinds is always much greater and rewarding at the end of the day.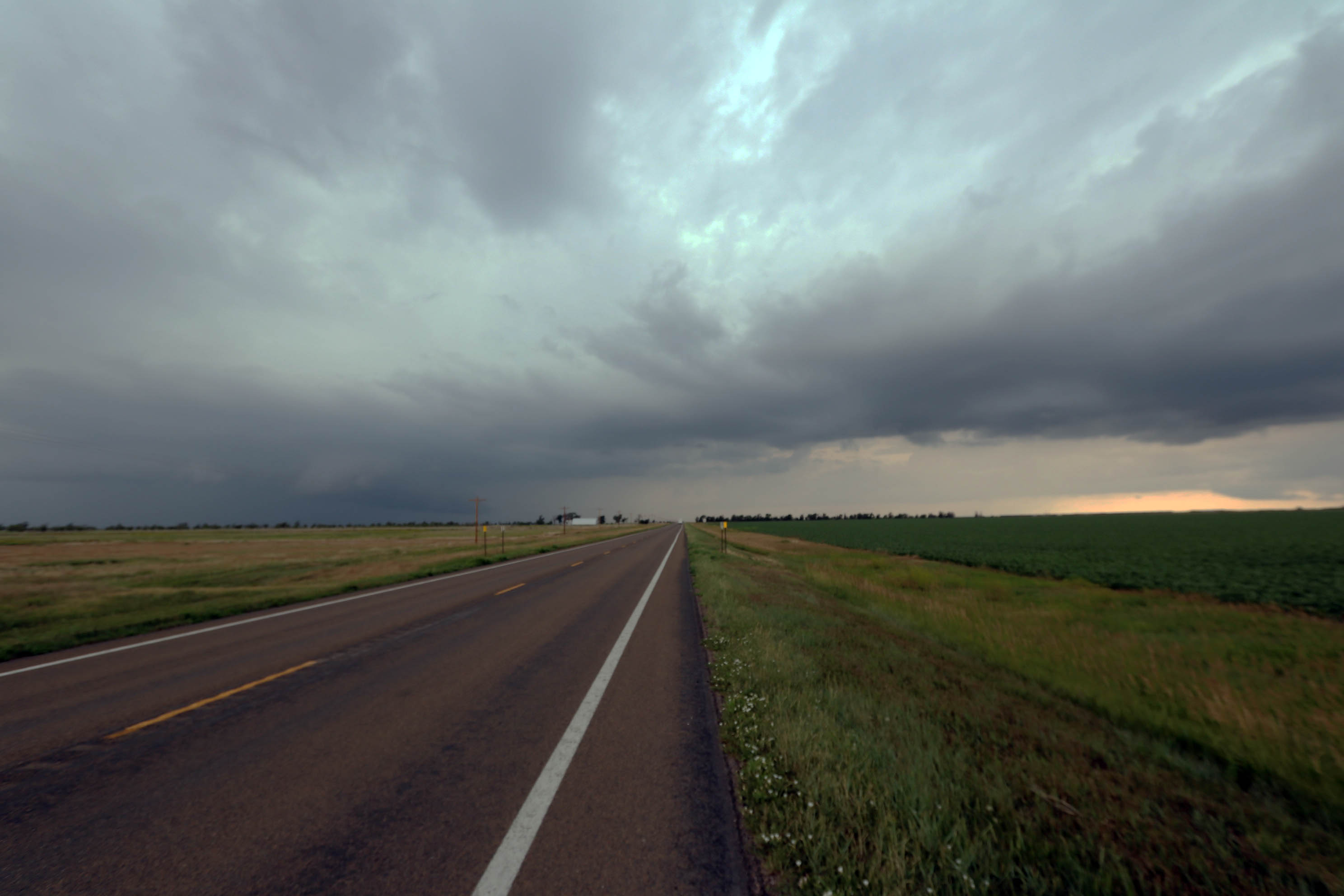 I started to make myself insane by paying too much attention to my bike computer and wondering "are we there yet?". At this point I am keeping the bike computer and GPS off and only looking at them once an hour.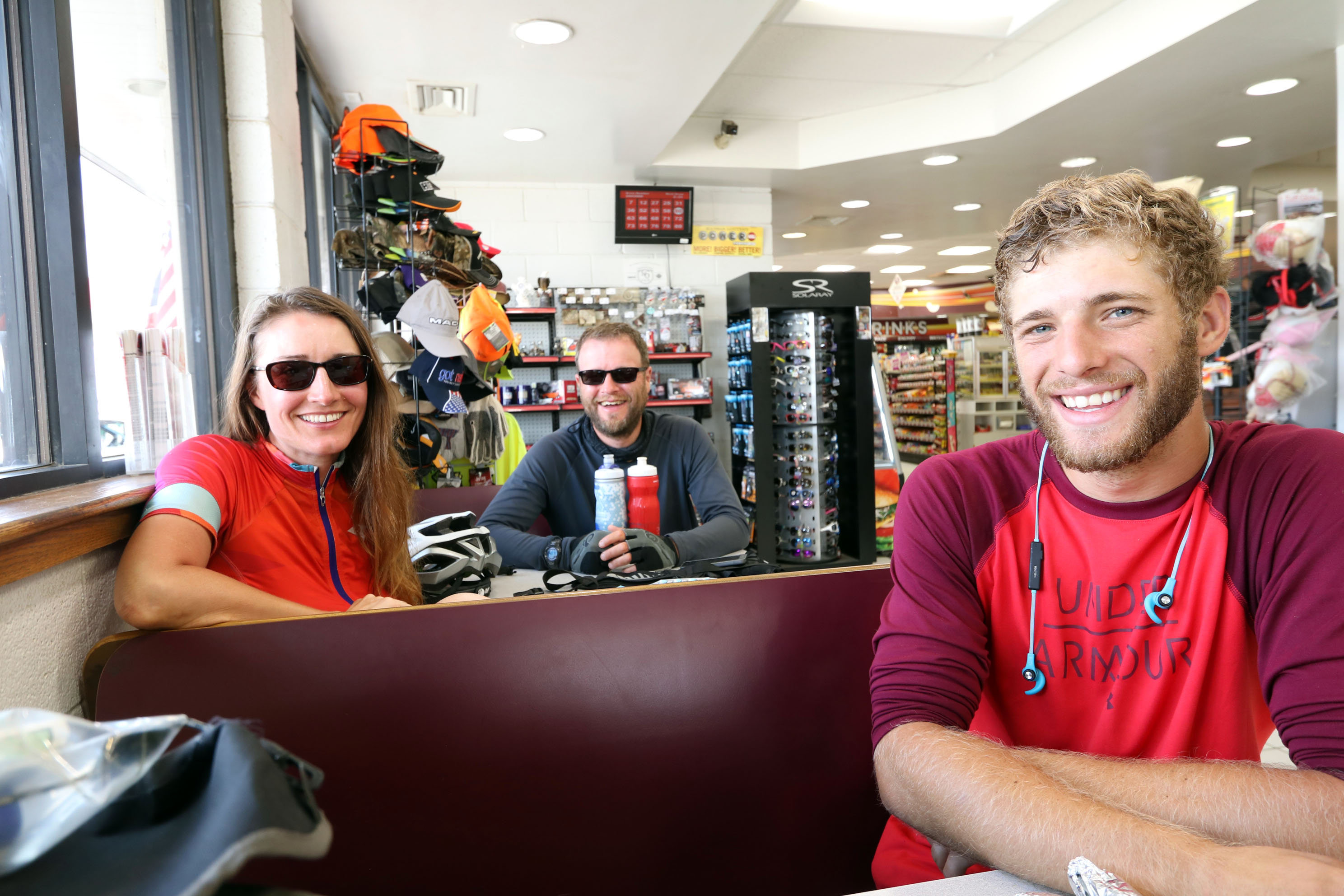 Tribune was our last town before the 58 mile stretch of nothing. At the truck stop we saw 2 east bounders from England. We had a ton of fun chatting with them. They were super cool. I ate 2 more cheeseburgers while we were at the truck stop both of which were totally gross.
We checked the weather at the truck stop and everything was fine. However 10 minutes after we rode out, the sky quickly changed.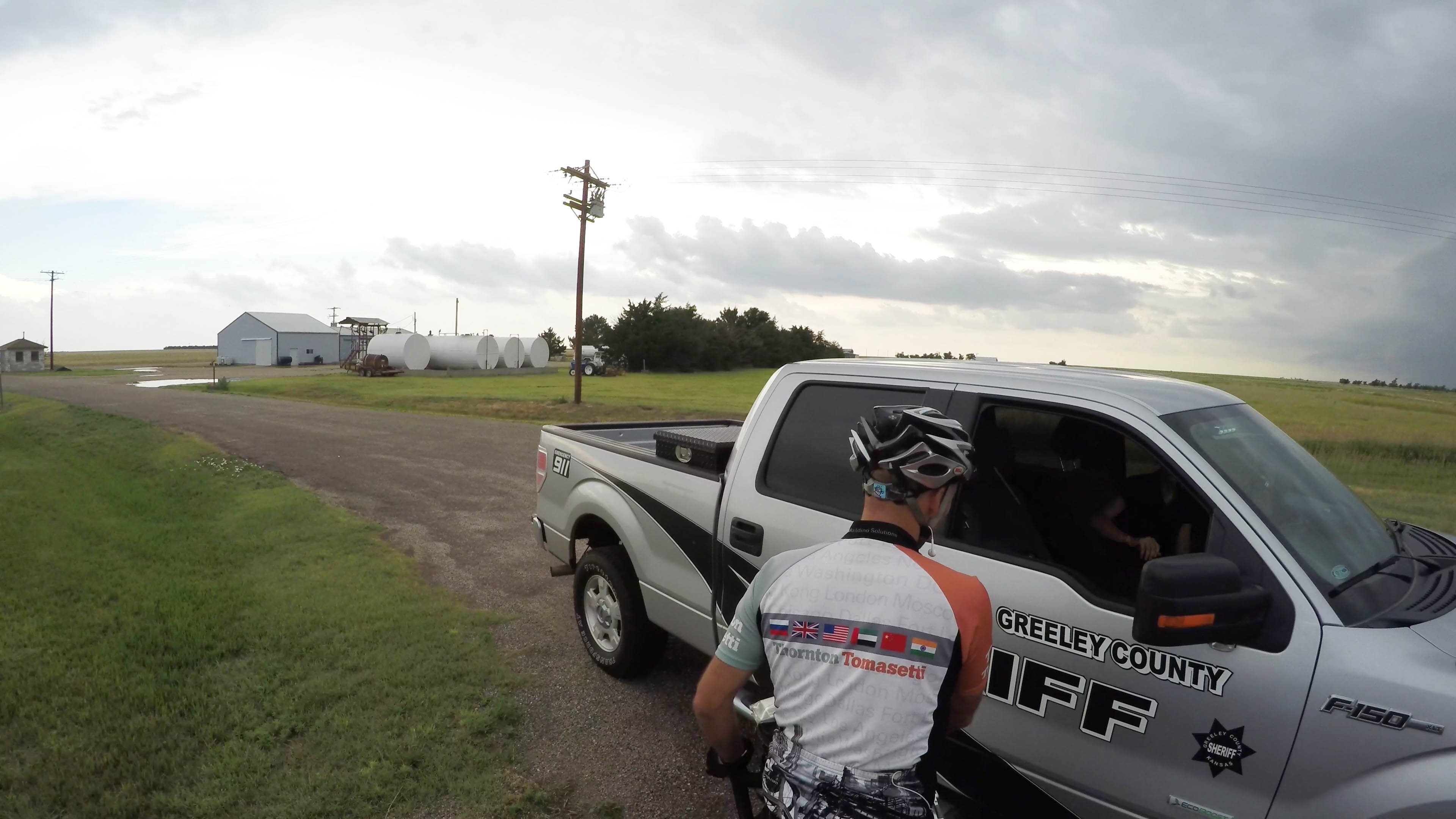 A very attractive female Sheriff in a truck pulled us over and said there is a big storm coming and we should go back into town and wait it out. She said the winds aren't bad, we'll just get wet. I'm ok with that, so we kept going.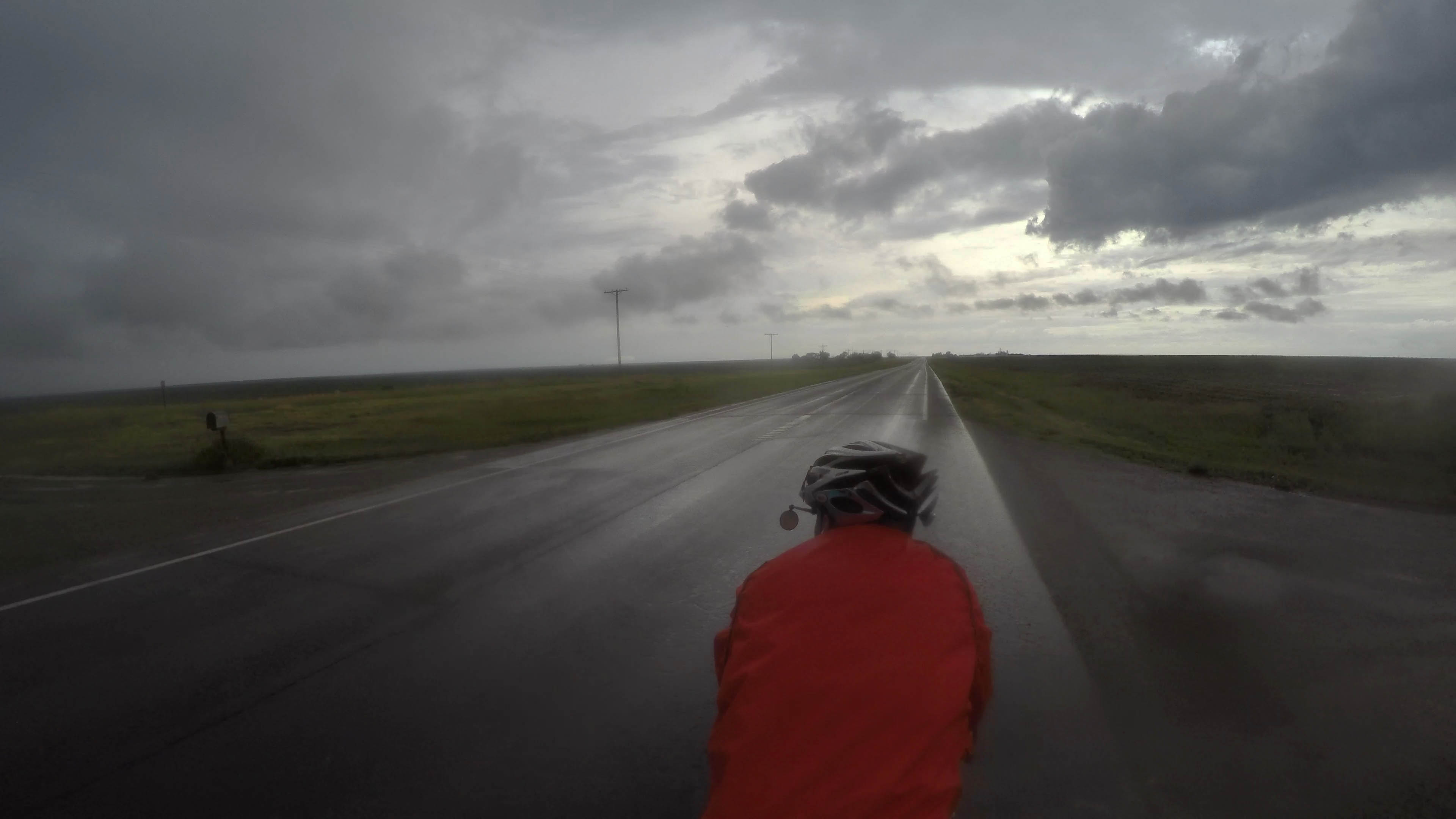 Rode through the storm. Got soaked. Not a big deal.  Still had that sweet sweet tailwind.
Just as we were getting beyond the storm a black car headed the opposite direction leaned on the horn and rolled down the window and it was Bob Potter!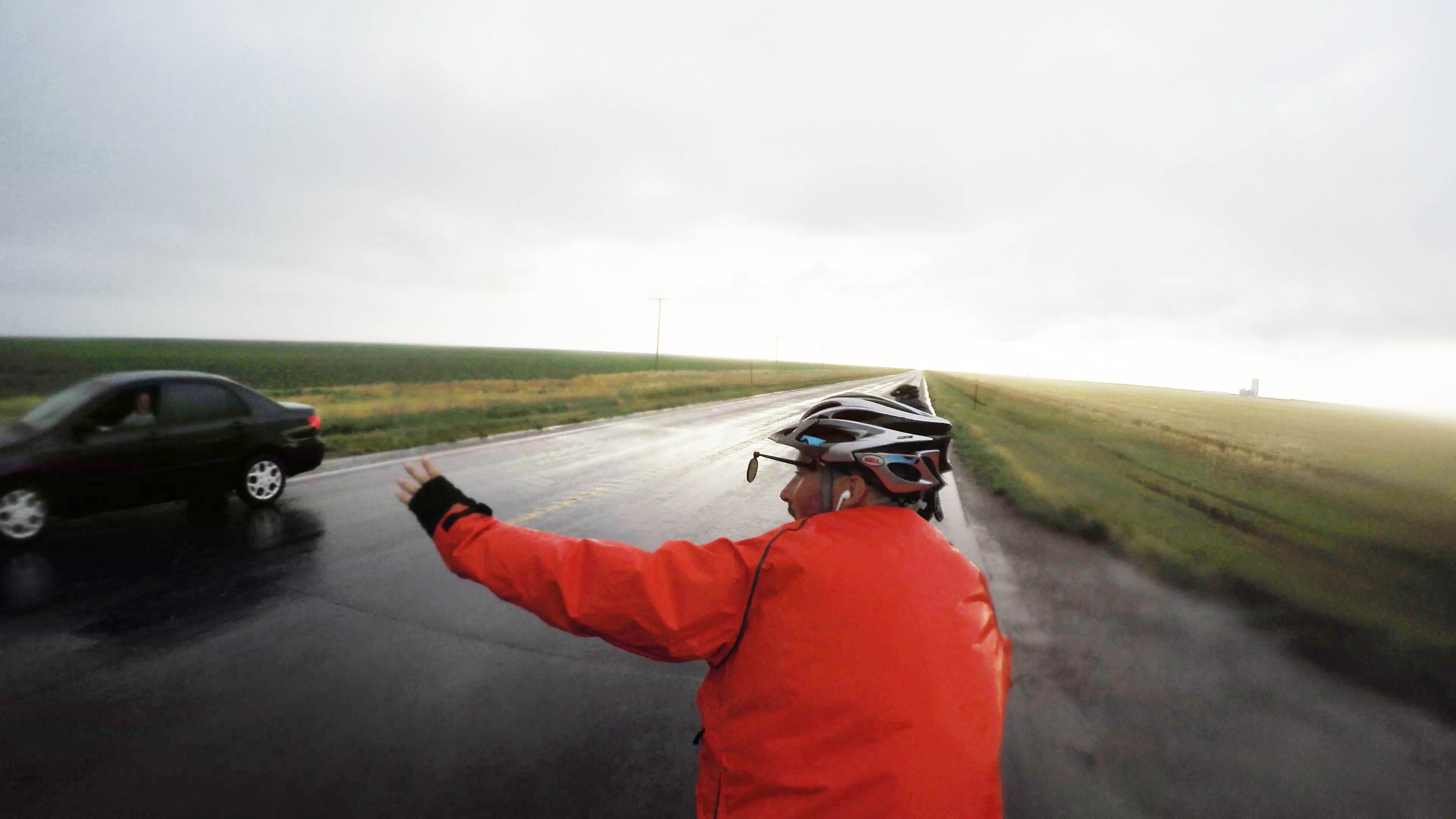 I screamed "BOB POTTER!!!!"
I had been trying to get in touch with Bob for the past few days. I wanted to see if he would drive up from Albuquerque and hang out with me when I got to Pueblo, but he wasn't returning any of my calls. I was starting to get worried about him. Little did I know he had a grand plan to surprise me on the road.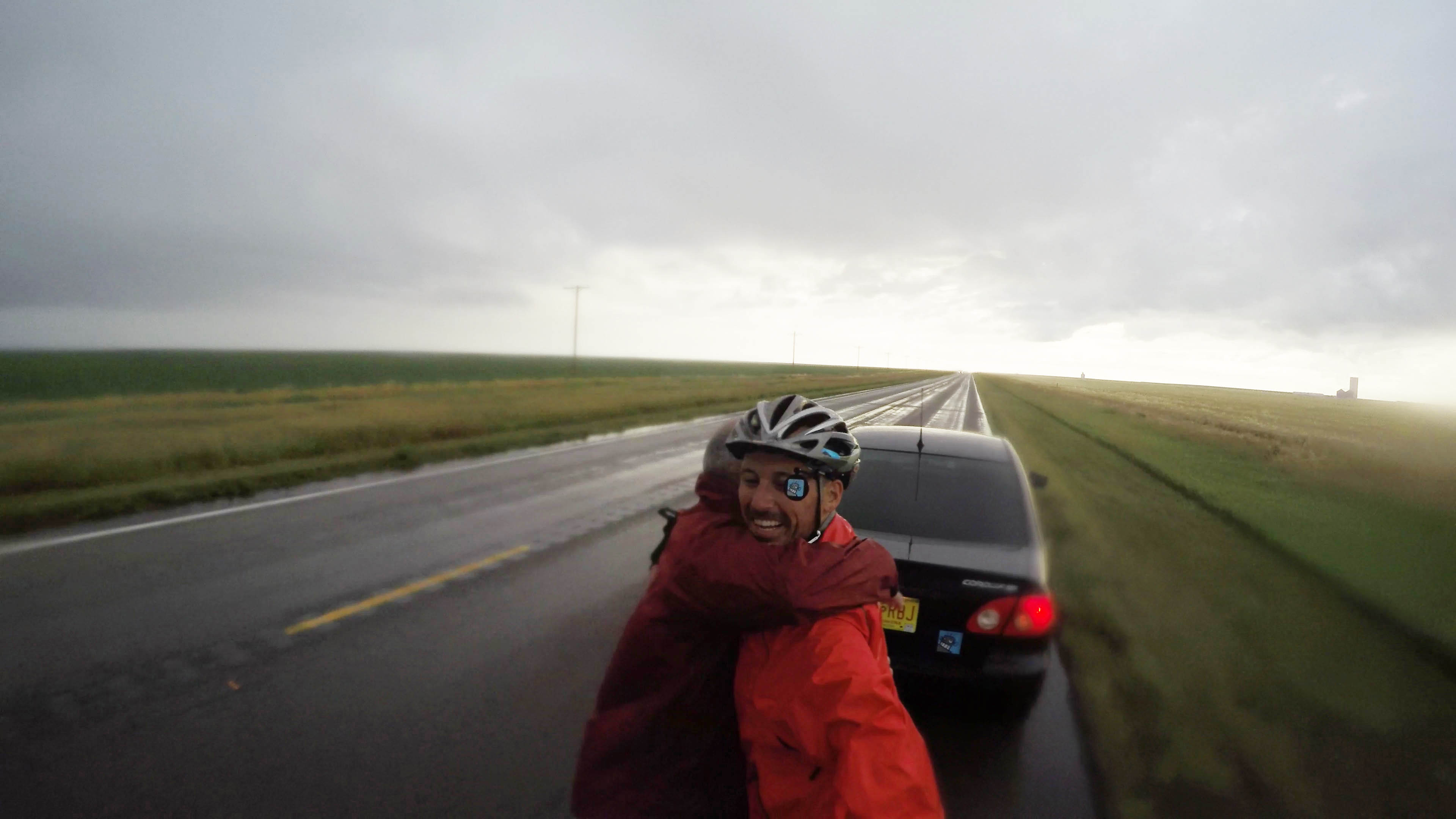 Who the hell is Bob Potter?
Bob is one my best friends. In 2006 he read my 2005 Transam journal and started emailing me about the bike tour he was reading about. We became internet friends. At the time Bob was in Iraq working on a military base.
In 2007 Bob attempted a cross country ride and rode 600 miles through Virginia. He got hurt and decided to call it quits on the bike tour, nevertheless he had a fantastic tour through Virginia.
Later that summer Bob ended up flying to Seattle, renting a car and hanging out with us on Team Northern Tier for the last week of our cross country trip. Bob's been a great friend to me for the past 10 years. I see him about once or twice a year. 2 years ago Chuck and I flew out to Albuquerque to hang out with Bob and check out the Balloon Fiesta. 
Before I left for this trip I threw a huge going away party at my office in Portland and invited everyone. Bob Potter showed up and totally surprised me. He loves to surprise me and he does it often.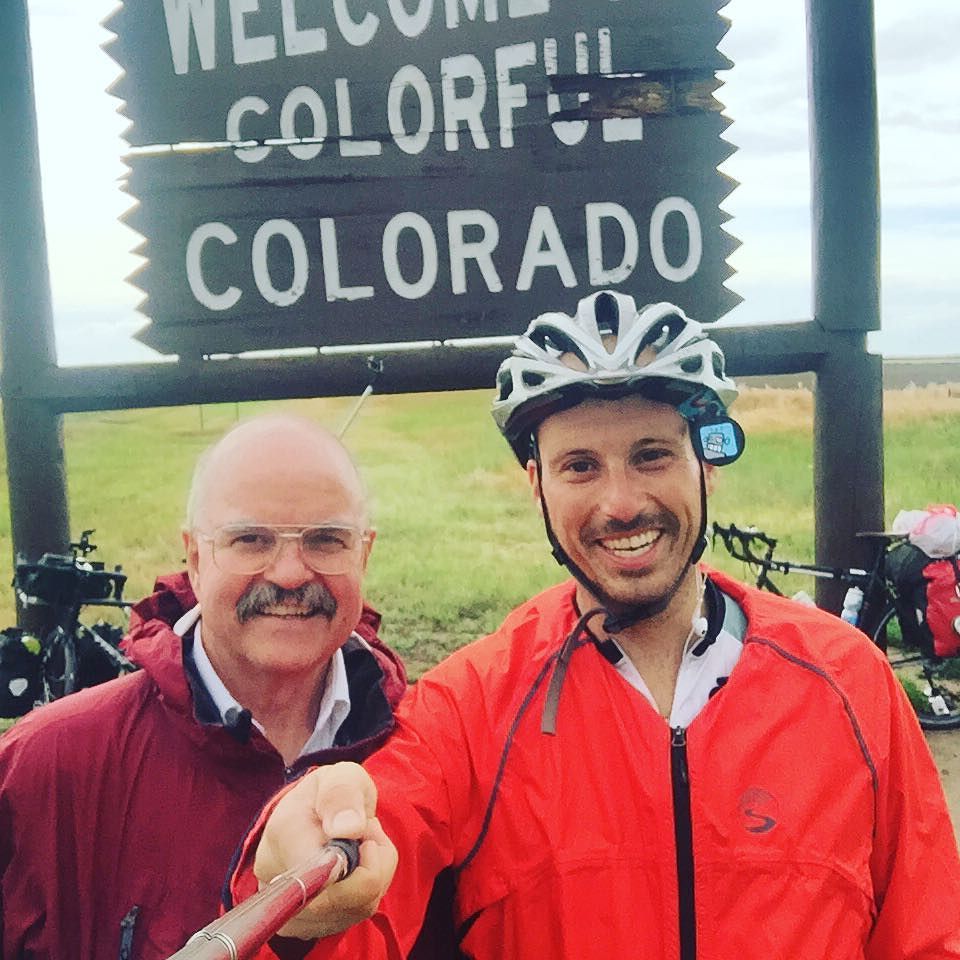 So here we are, in the middle of nowhere and Bob Potter has just arrived unexpectedly! So awesome!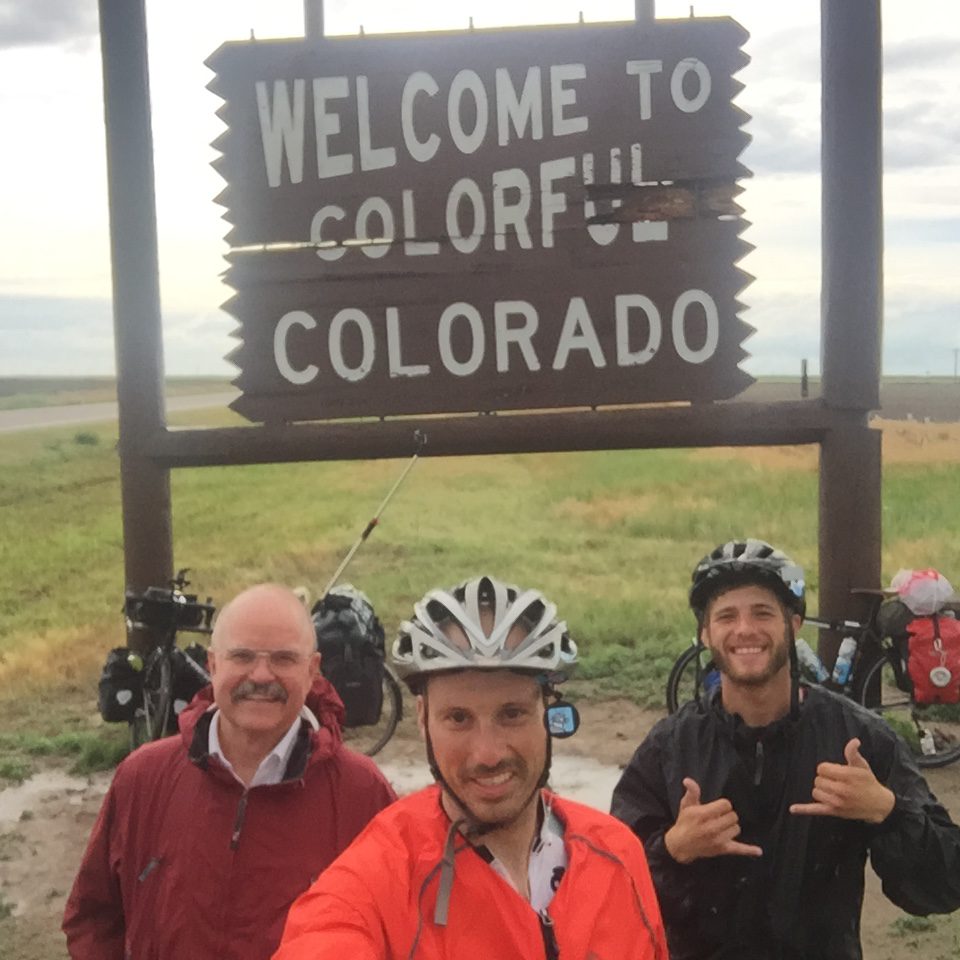 We chatted with Bob for a few minutes on the side of the road and then had us meet him 5 miles down the road at the Colorful Colorado sign for a reunion.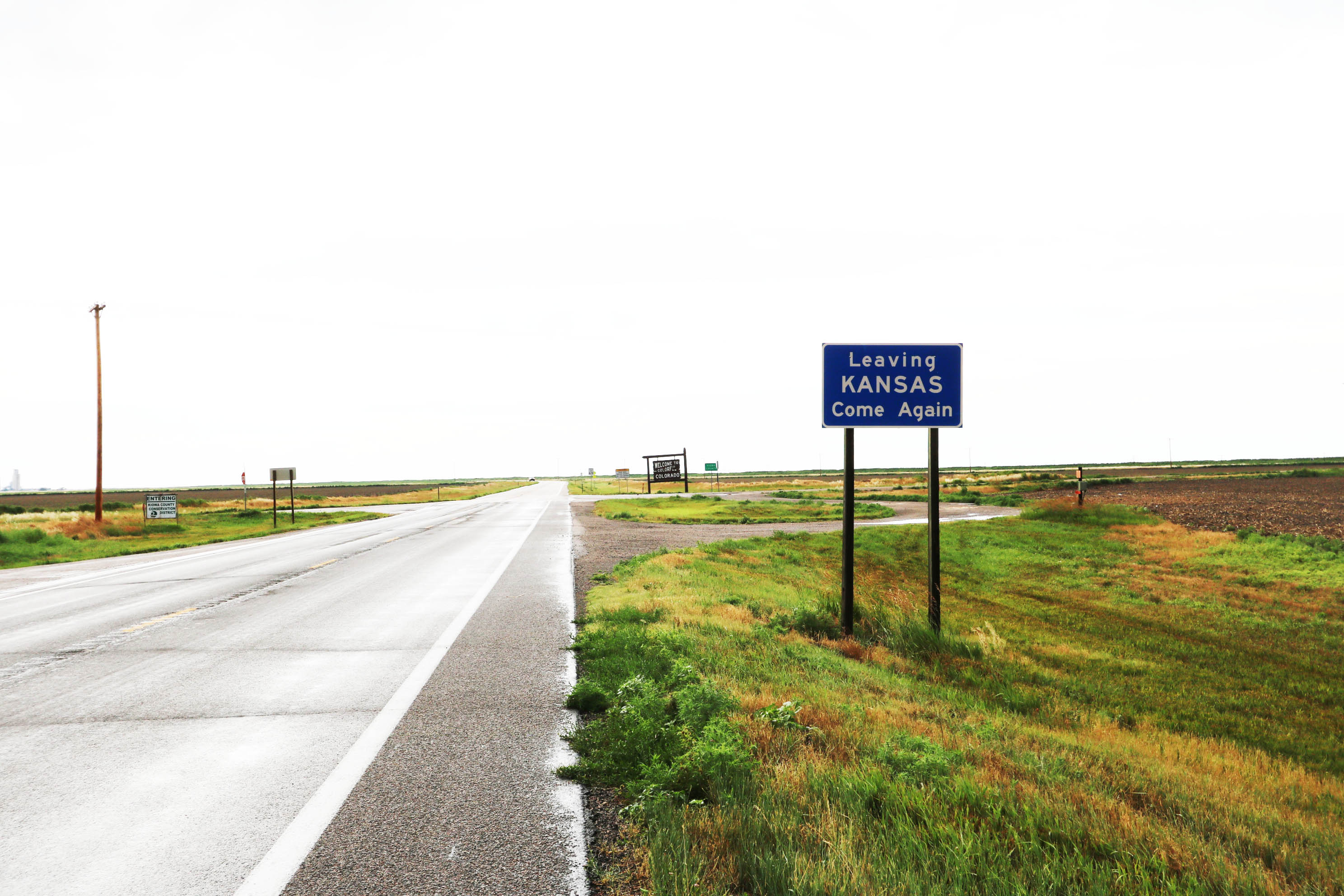 Bob has been doing great since last spoke! He made us some gourmet cookies and he told us about all the good changes that have been going on in his life. We took a million pictures in front of the Colorado sign.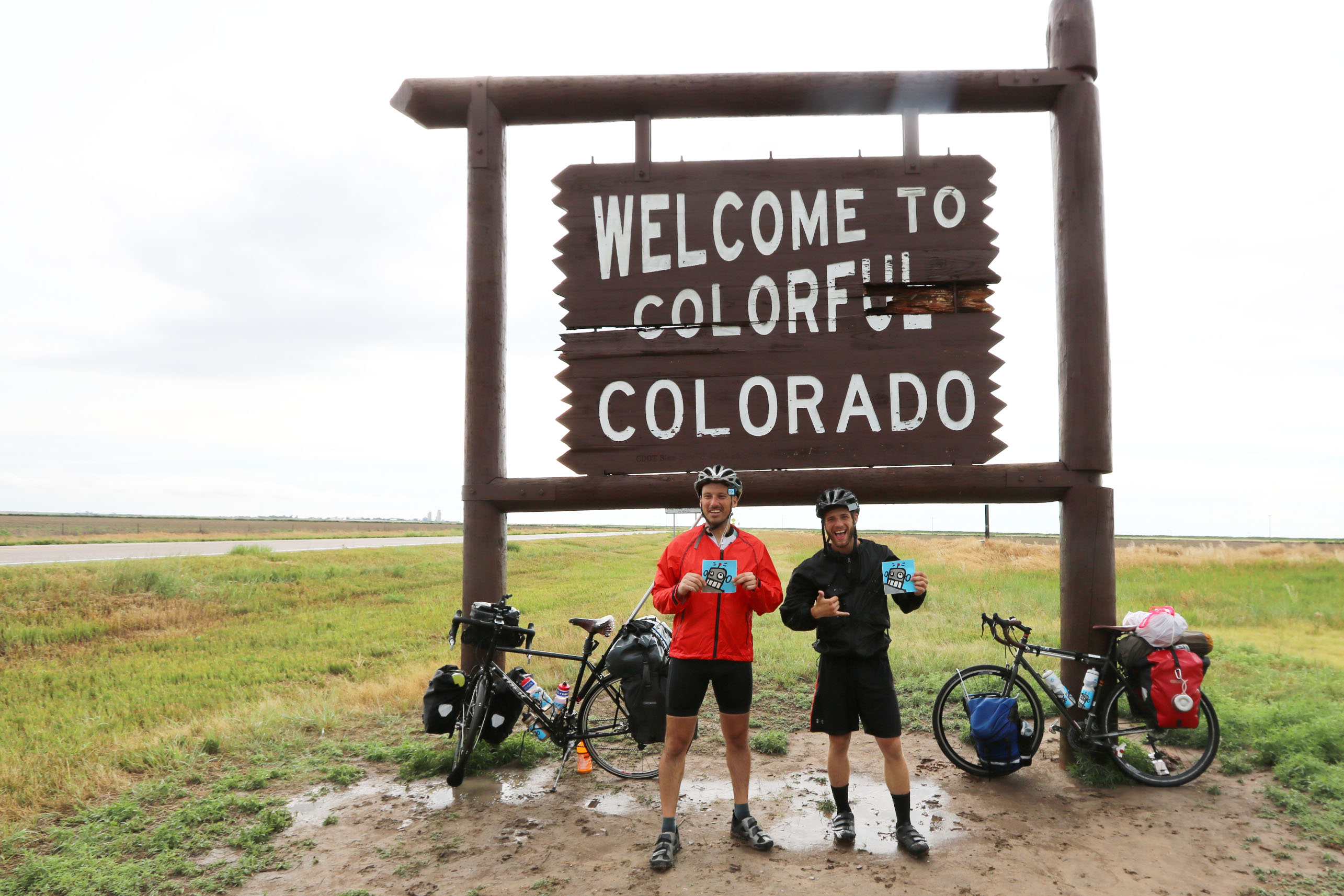 I gave Bob all the extra water I have been carrying. I explained to Bob that we already have ridden 80 miles and were going to push through and do another 50 miles with this sweet tailwind.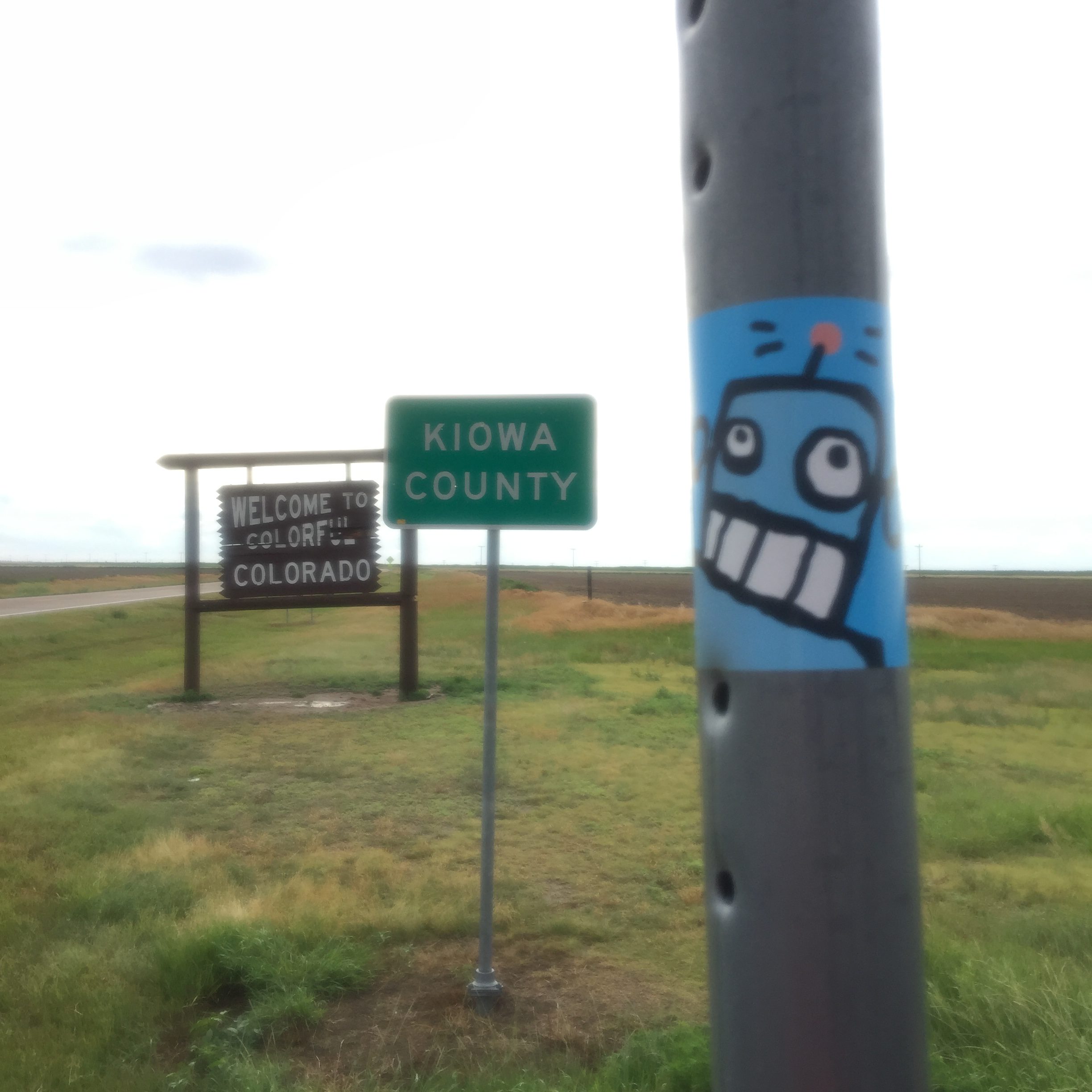 When we got to the Colorado sign there was already a Dude Robot sticker there on the street pole. Bob drove out here a few months ago and tagged up the roads with robot stickers, he knew I would be riding through here on the Transam.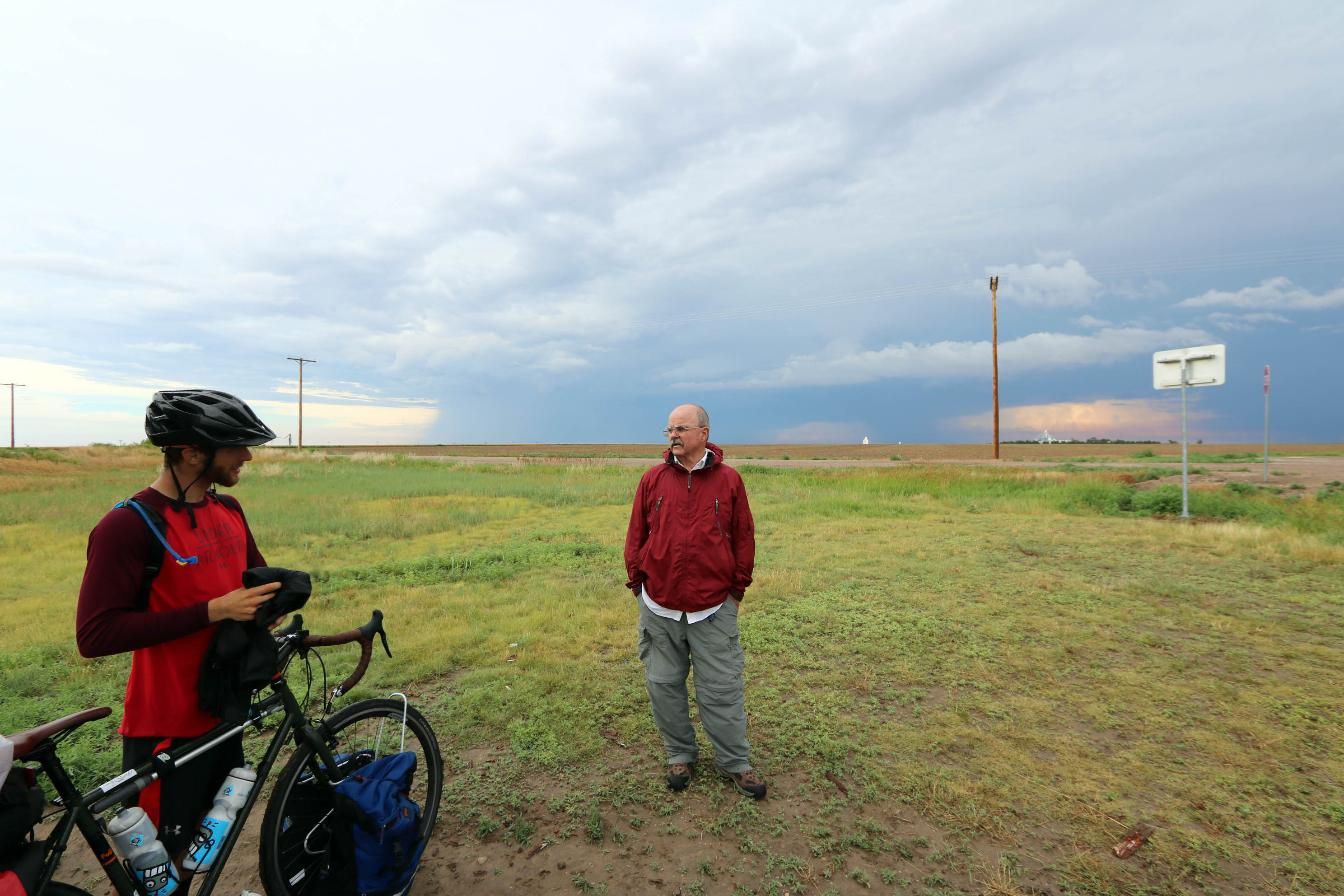 Bob hung out for the rest of the day driving in the shoulder with his hazards on 1000 feet behind us blasting classical music.
Austin and I were both riding really strong with this tailwind. We pushed through those last 50 miles like champs. We were easily flying down the road for long stretches during the day at 20 mph. The last time 10 miles were tough though. There were bugs all over the place and they were biting us. You basically couldnt stop riding or they swarmed you. I kept my head down and just pushed through.
It was dark when we rolled into Eads. Right away we met Kyle an  east bounder. He's a cool dude.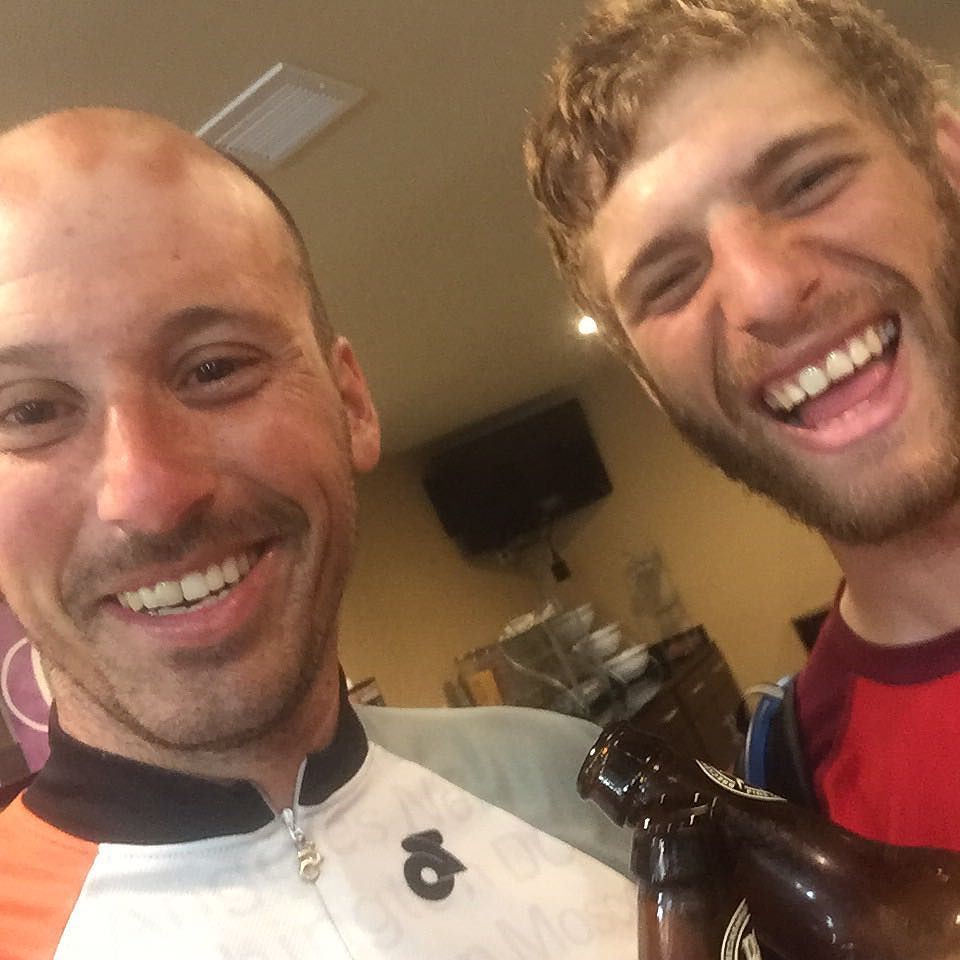 There wasn't anything open in town for food or beer, except for the hotel. They had bottles of beer and some food we had a lot of fun hanging out there. Austin and I were really proud of ourselves for cycling 130 miles today. I don't think I have ever ridden that far in one day.
Kyle told us about how he toured the pacific coast last summer with his dog. He wants to ride the transam bike race next year. I realized I think there are a lot of people riding this year scoping out the route, who will race next year.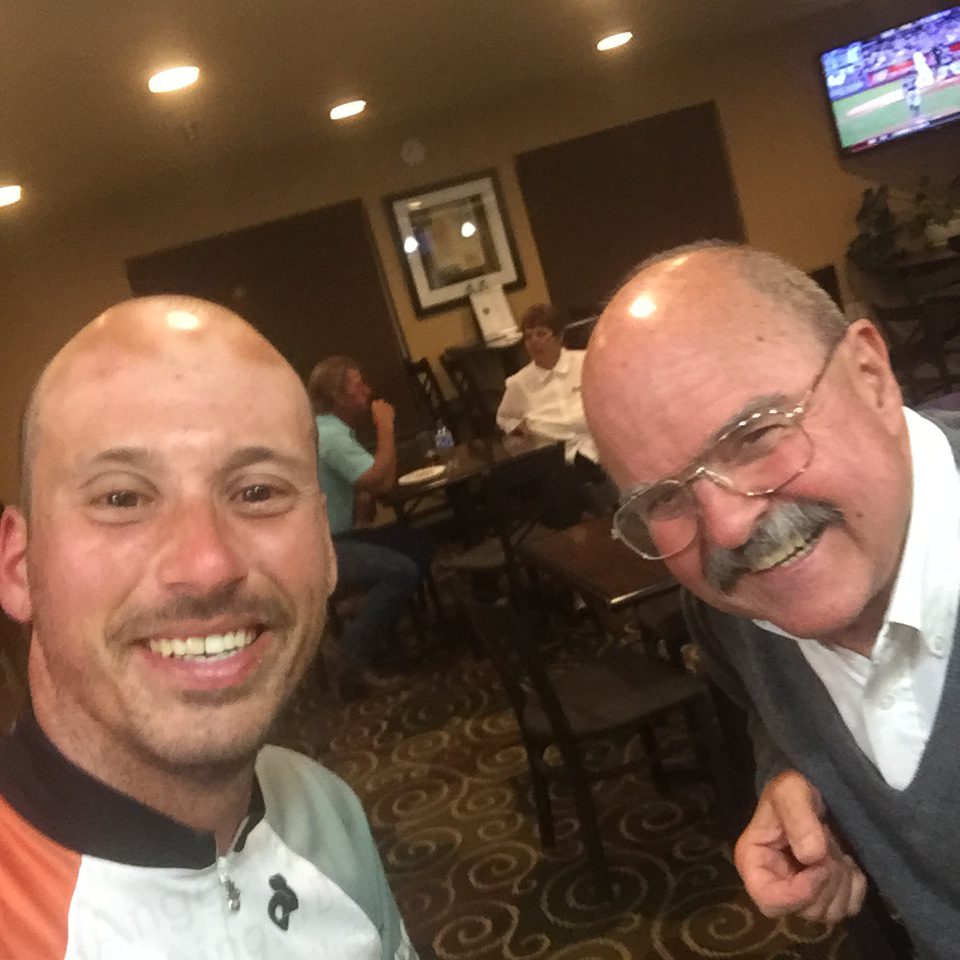 We followed Kyle across town to the horse track where the sheriff told him he could camp for the night. No picnic table sleeping tonight. That's alright. We setup our tents in the headlights from Bob's car.
Bob brought all his camping equipment and he impressed us all with his badass tent. The poles setup on the interior of the tent it's wild.
The stars were beautiful tonight. What a crazy day it was. I still can't believe we rode 130 miles. What an awesome day!
Click Here to Visit The Table of Contents
Click Here to Visit Previous Page:  Punching Cattle From a Jack Rabbit – Day 39
Click Here to Visit The Next Page: Halfway to Oregon – Day 41