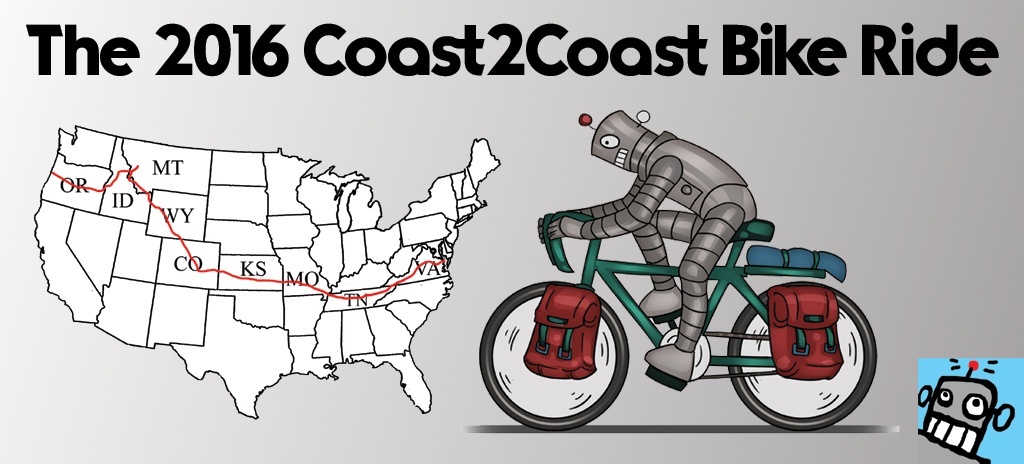 Click Here to Visit The Table of Contents
Click Here to Visit Previous Page: Bicycle Bill, Bus Drivers and Dominating the Internet – Day 3
Click Here to Visit The Next Page: Crossing a Mountain, Taking 2 Days Off & Answers – Days 5 and 6 
Charlottesville, VA To Afton VA
Day 4 – May 27, 2016
27.1 Miles for the day
235.6 Total miles for trip
2:44 Ride Time
I rolled right out of bed and into the hotels continental breakfast. I didn't even open my eyes until I finished my first bowl of fruit loops.
I spent quite a bit of time getting ready in the morning.  The Kirsteins are the nicest people in the world and don't make it obvious that they are waiting for me to get my shit together.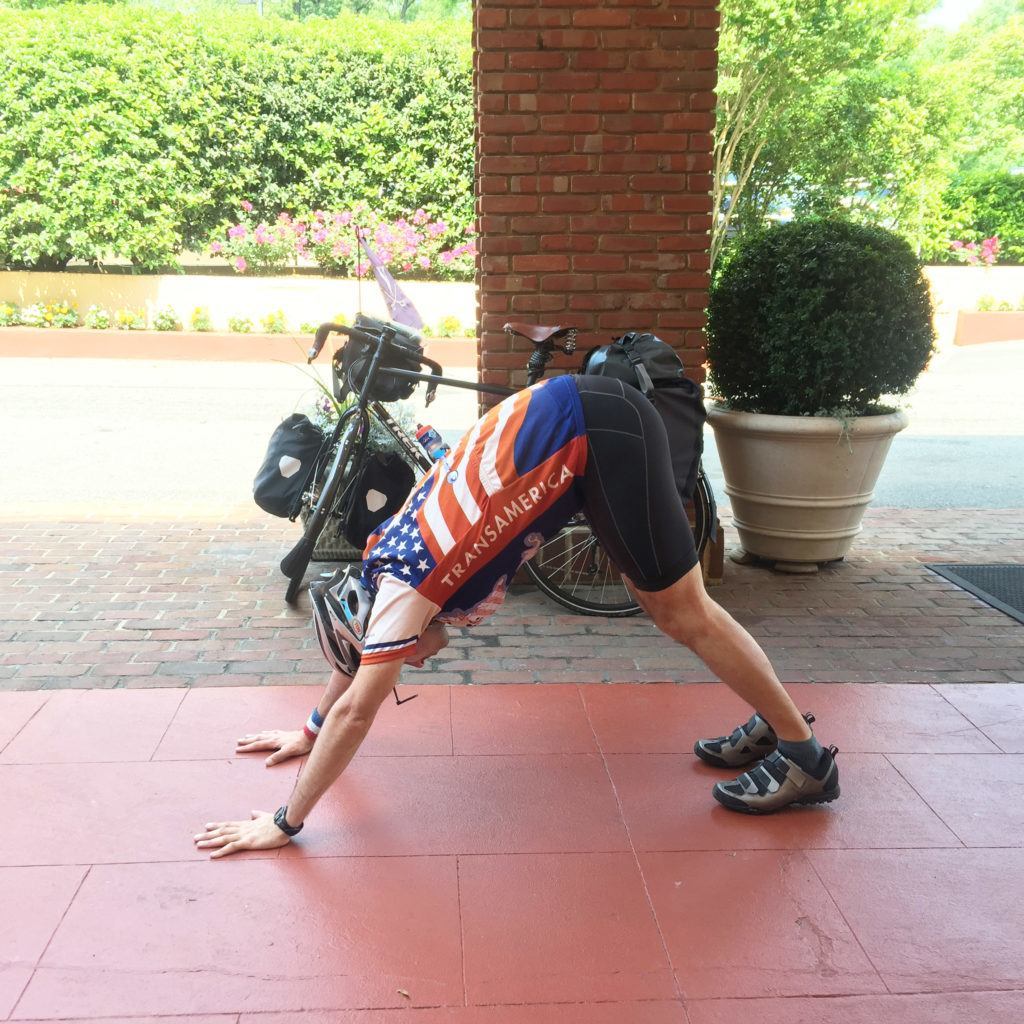 This morning when I was bumpassing  around, I decided to see if I could shed some weight from my first aid kit. I debated just throwing the whole thing away, without opening and I'm glad I didn't. Inside was a ton of first aid crap with 2006 expiration dates, which I immediately threw away. At the bottom of the back was a rolled up sketchy looking ziplock bag and when I opened it…
I FOUND MY WISDOM TEETH!!!! 
The Plan
Today I'm riding out to the bike house and Laura and Sam will swing by at some point. Now that we're in Charlottesville this is the end of the road for them. So their getting a rental car and will swing by the  house later.  They offered to carry some bags out there, but I declined. I feel like I'm carrying too much stuff and I need to sit in my own shit for a little while.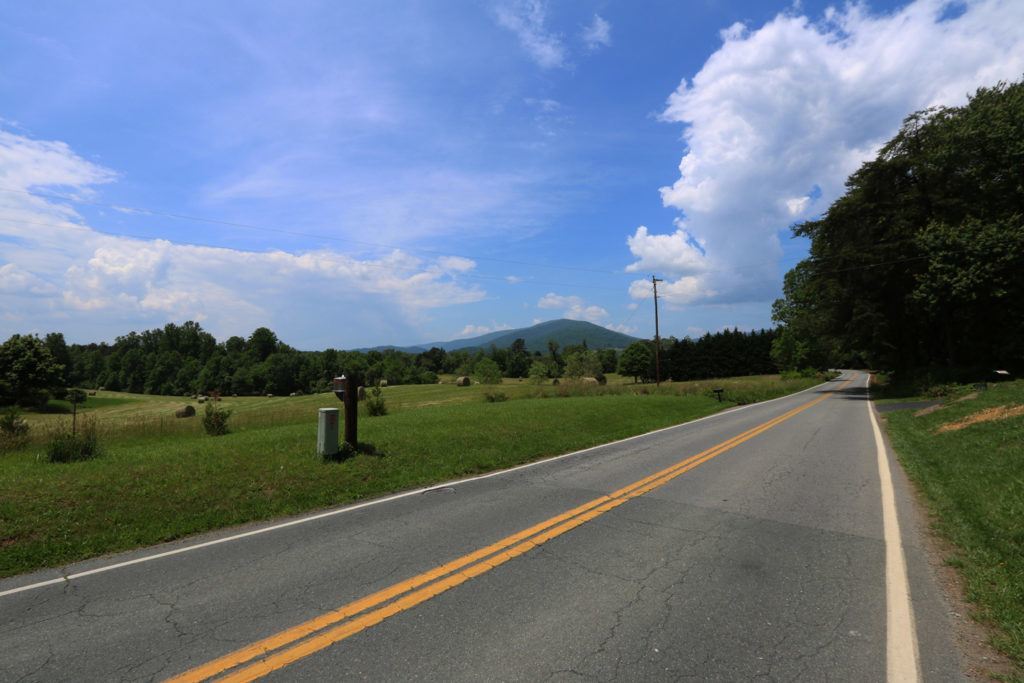 Laura has been tentatively making plans with her friends parents for dinner. So we were just gonna catch up at the bike house.
The ride was incredible. It was super hot. but i loved it.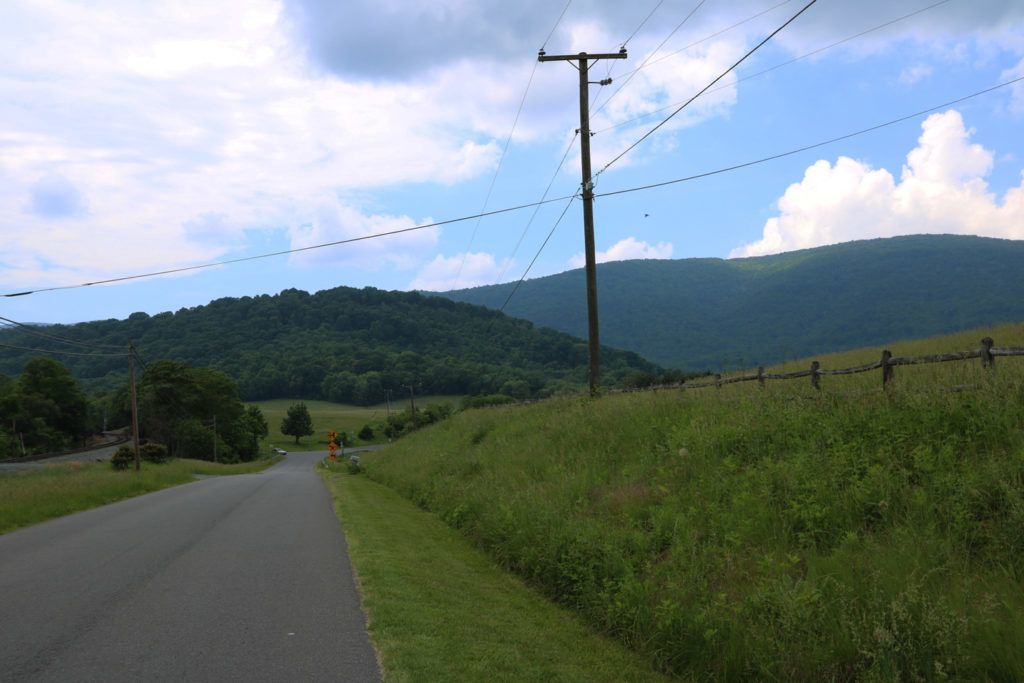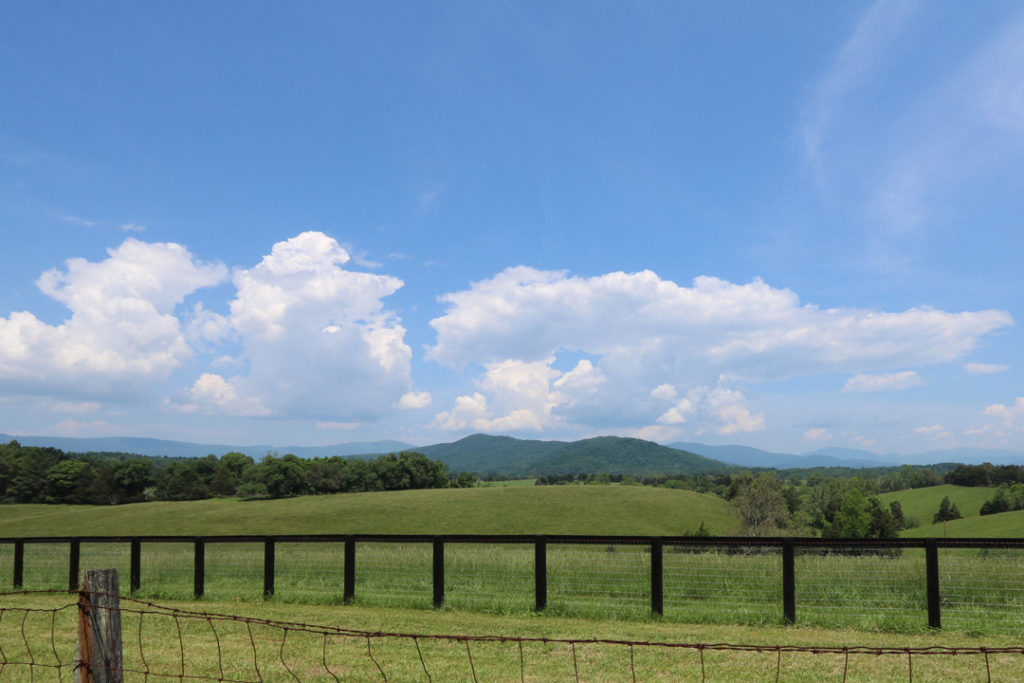 The Sonofabitch of Afton, Virginia
Ok so I'm riding up the very last hill, which ironically is also the steepest. It's like a 12% grade. I'm in the granniest of granny gears. June Curries house is in sight and  right as I crested the top of the hill in front of the Afton post office, this little red piece of shit car comes speeding straight towards me and then parks right in front of me, not even in a parking space.
A 100 year old man with a big beard gets out of the car and says "Sure is a hot day to be riding up this mountain." And then laughs hysterically at me as he walks into the post office and I now maneuver around his car.
I was dripping with sweat and my heart rate was at its maximum. I just stared at him wondering "uhhh, is this dude for real?!?"
The old Mike Riscica would have flown off the handle and punted him and his red car off the side of Afton mountain. If June Curry was still alive, she could have seen the whole thing from her bedroom window and approved of kicking that that dickhead off the mountain. BUT, Thanks to my  yoga practice, I've practiced not reacting and kept my cool.
Its been too long since my last bike tour. I forgot about these people.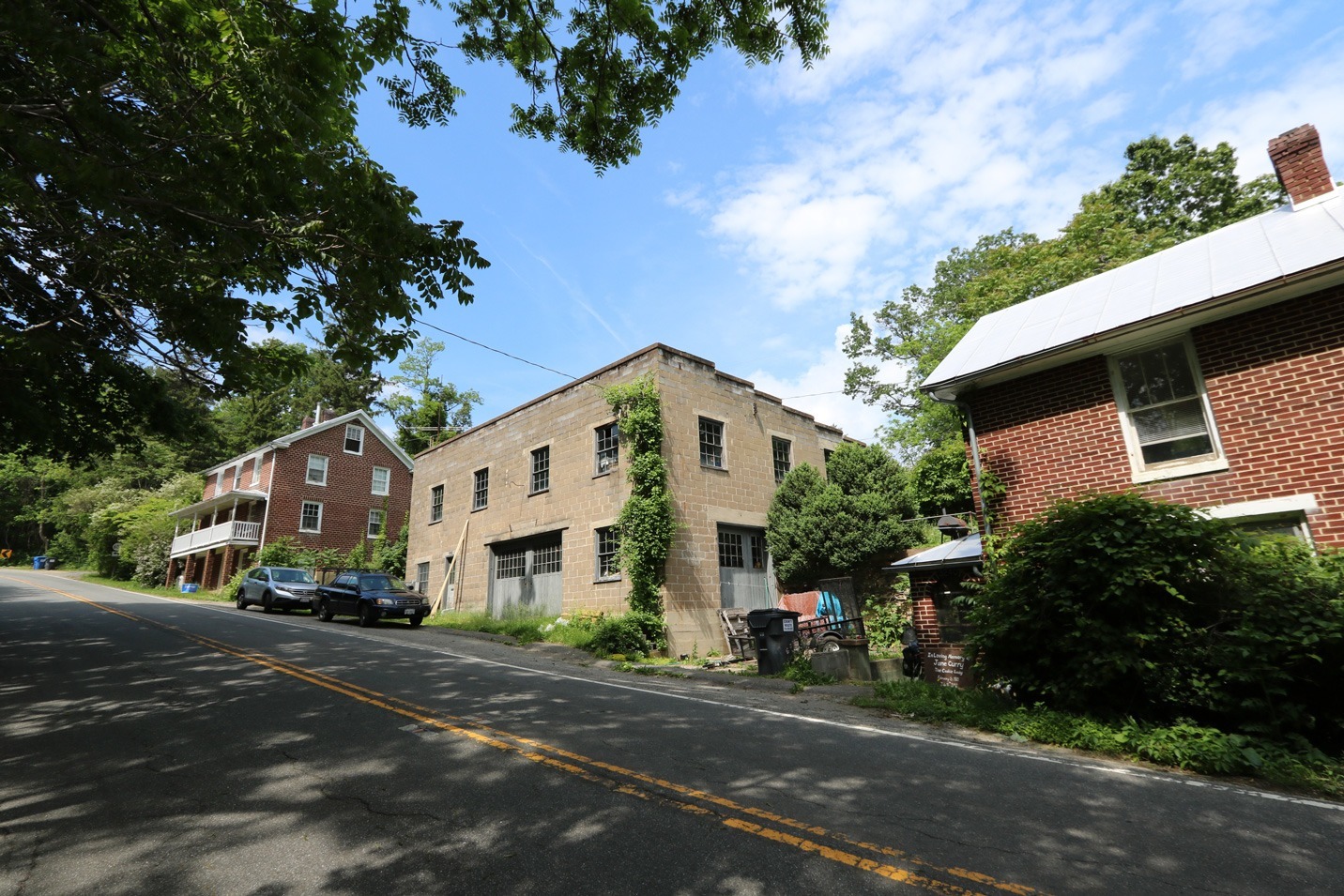 Cookie Lady's Bike House
This is my 3rd time visiting the Bike House. I stayed here in 2005 and then stopped in during a drive to Texas in 2006. My journal from 2005 does a great job explaining what the Bike House is and who June Curry is. You should go read it!
June Curry died in 2012 and I sent flowers when it happened. I had been sending money to her almost every year since 2005. She always  immediately sent me a letter right back thanking me and claiming she remembered and knew who I was.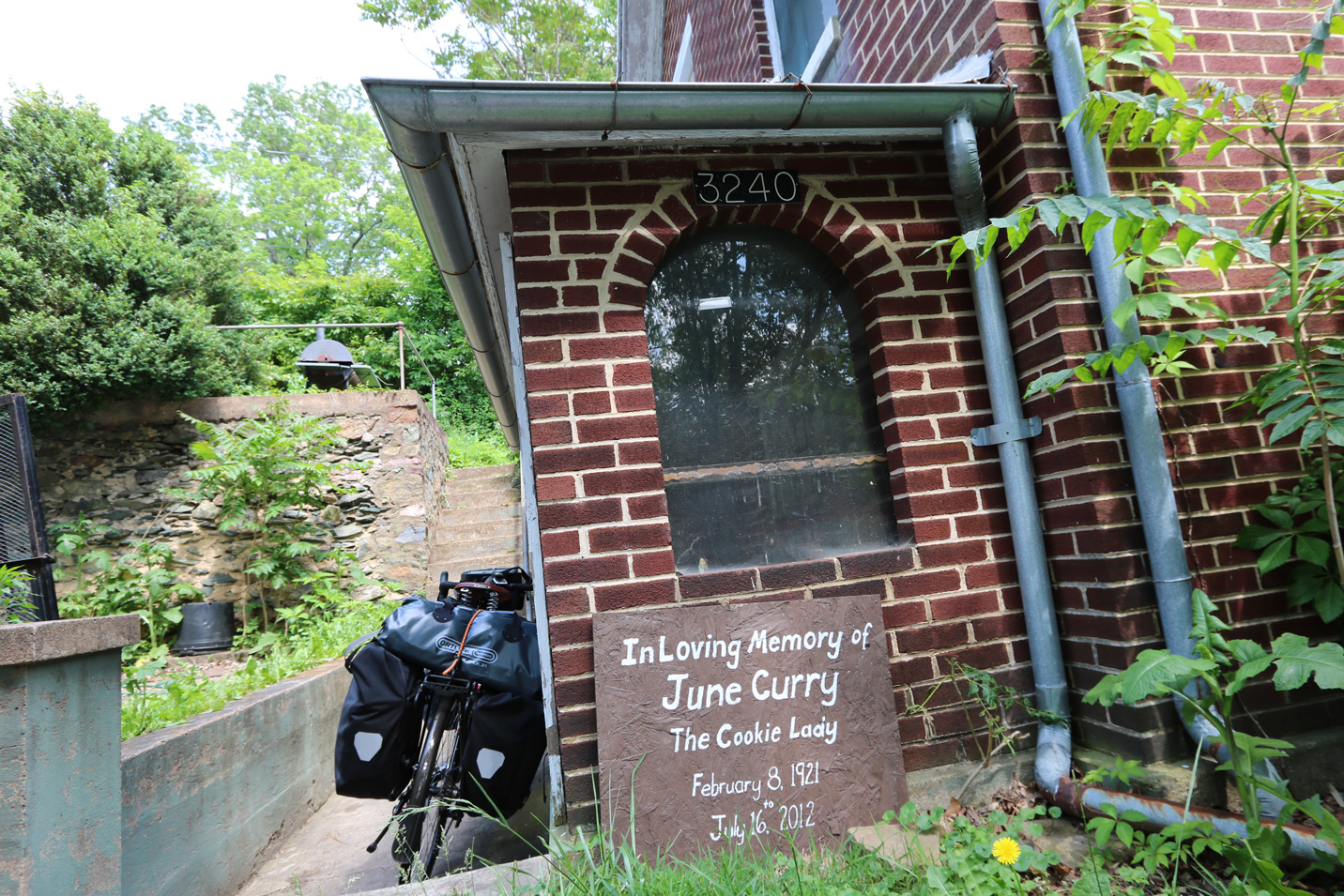 June Curry had no family. The cross-country cyclists became her family and took care of her. People from all over the world who stayed with her, regularly sent her money and  supported her.
Before she died in 2012, she worked out a deal to make sure bike house would live on and continue to support the cyclists.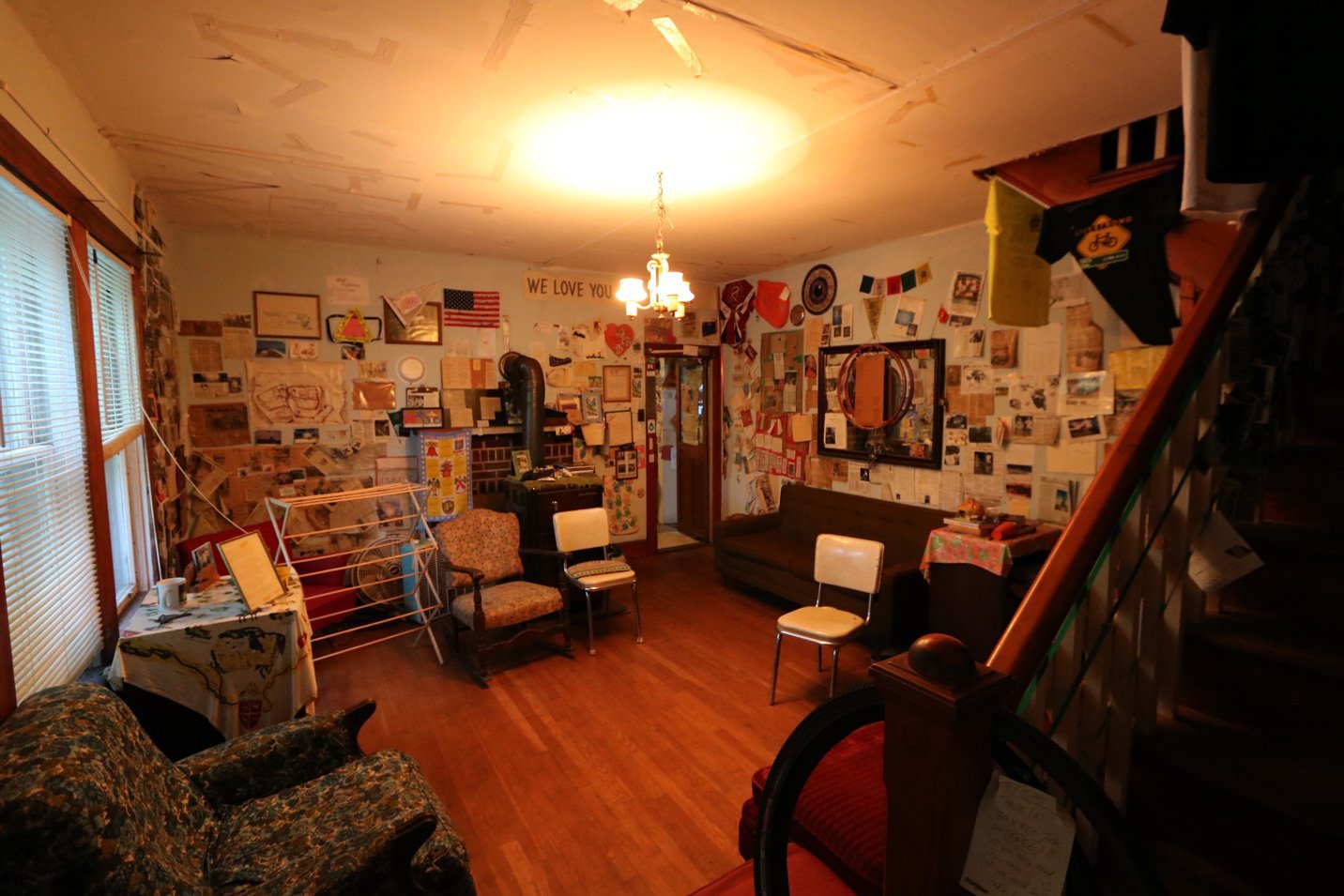 The bike house is an intense place. It felt weird being there without June. Since I get distracted so easily and there are so many things to look at, I feel like \ a time warp. I get up to pee and it takes me a half hour to come back and by that time, I have to pee again.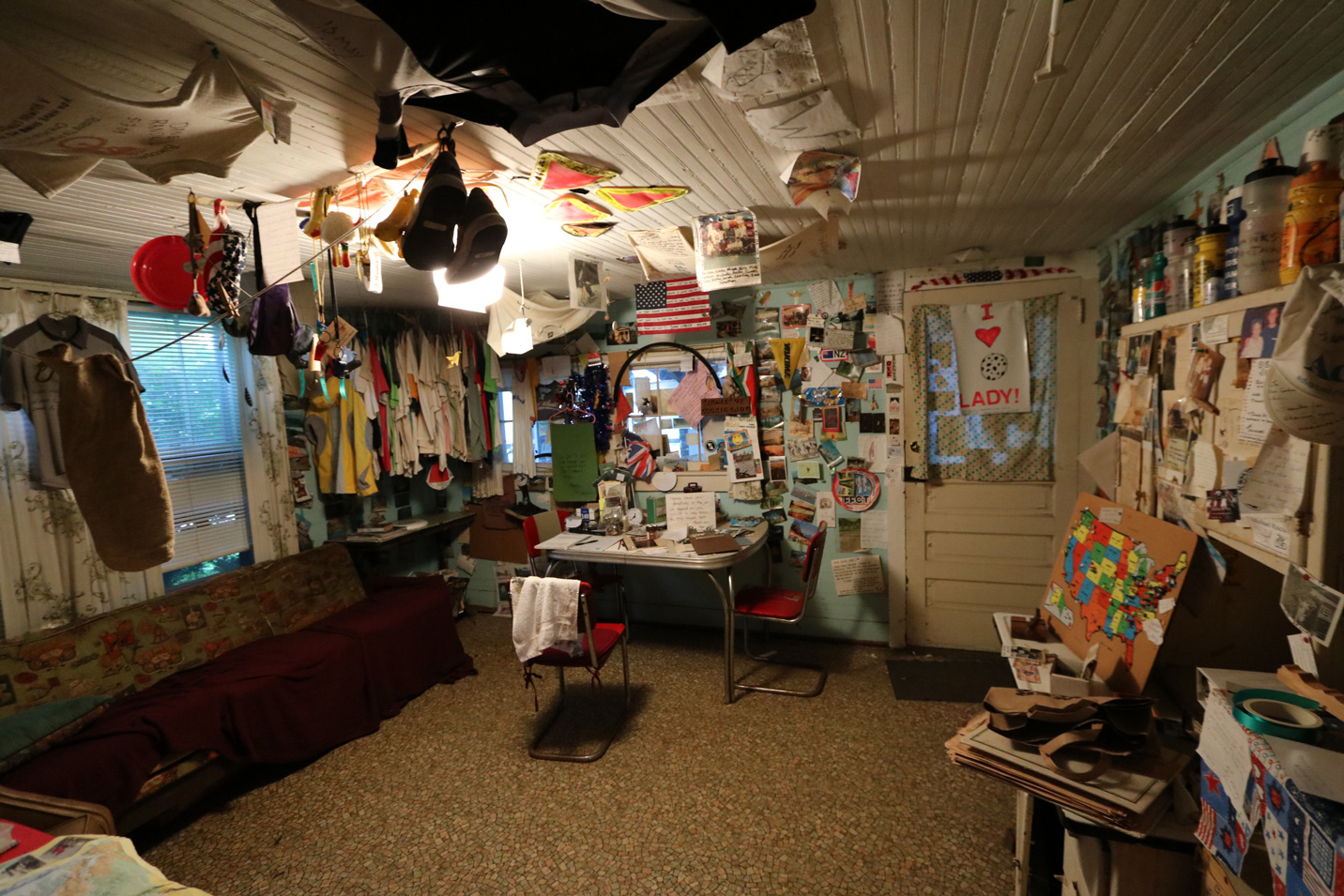 Laura and Sam showed up and were in awww of all the stuff in the bike house,  then we went out for dinner

Chilling with Amanda's Parents
Laura's friend Amanda (from architecture school) parents live in Afton. Laura setup plans for us to have dinner with them at the brewery. We had soo much fun at dinner, they ended up bringing us back to their house to hang out on the porch to watch the sunset and drink some very delicious moonshine.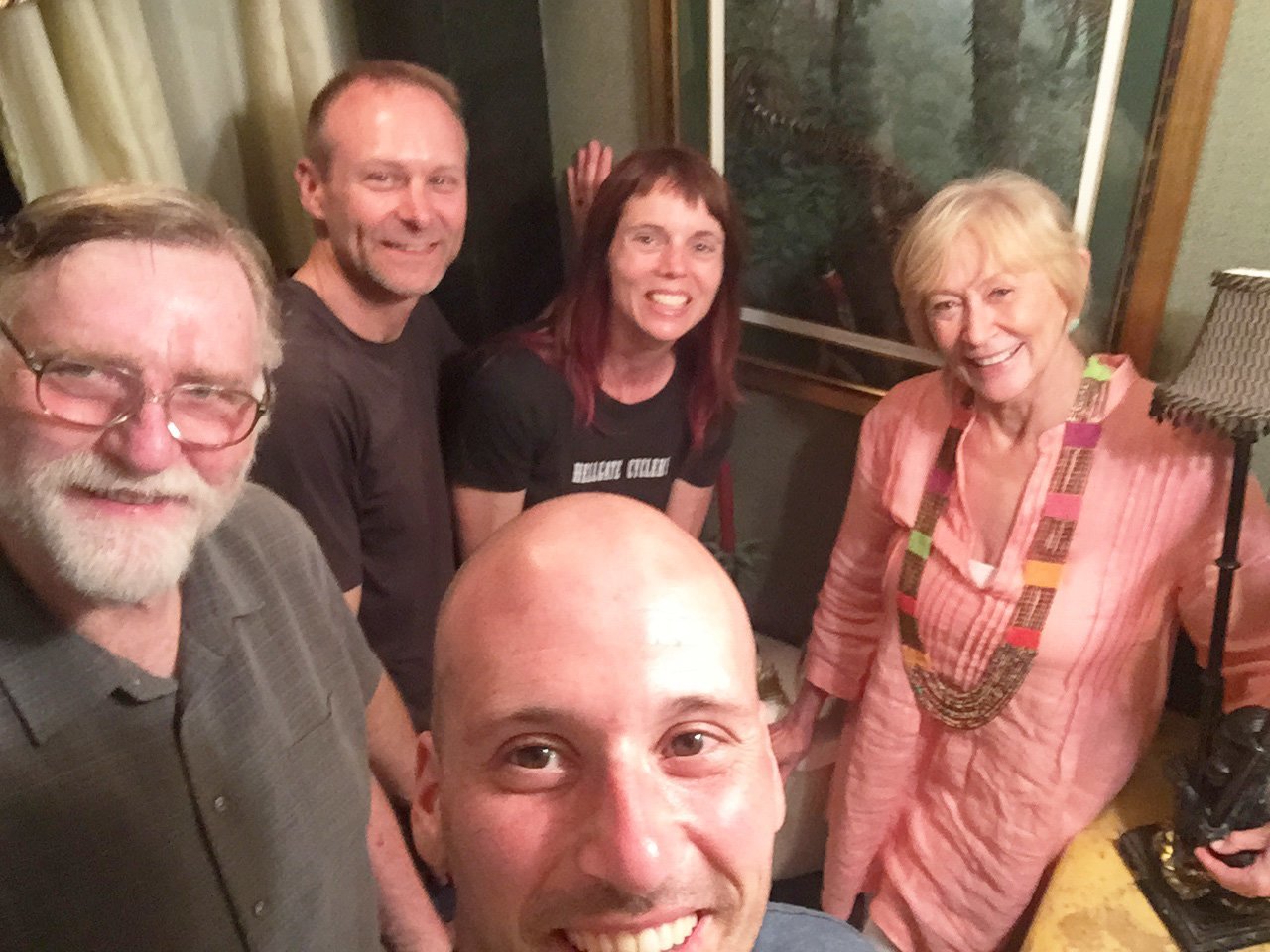 We took a selfie of everyone hanging out in the super funky bathroom, which proudly was sent to their daughter. I had a great time hanging out with Amanda's folks. Awesome people!
Items left behind today:
I cleaned out about half the crap in my first aid kit, but definitly kept my wisdom teeth .
I gave Sam and Laura my titanium cookout and pocket rocket, an extra hat and left my 3/4 full bottle of propane at the bike house.
I almost gave them my tripod, but I have already used it once.
Click Here to Visit The Table of Contents
Click Here to Visit Previous Page: Bicycle Bill, Bus Drivers and Dominating the Internet – Day 3
Click Here to Visit The Next Page: Crossing a Mountain, Taking 2 Days Off & Answers – Days 5 and 6