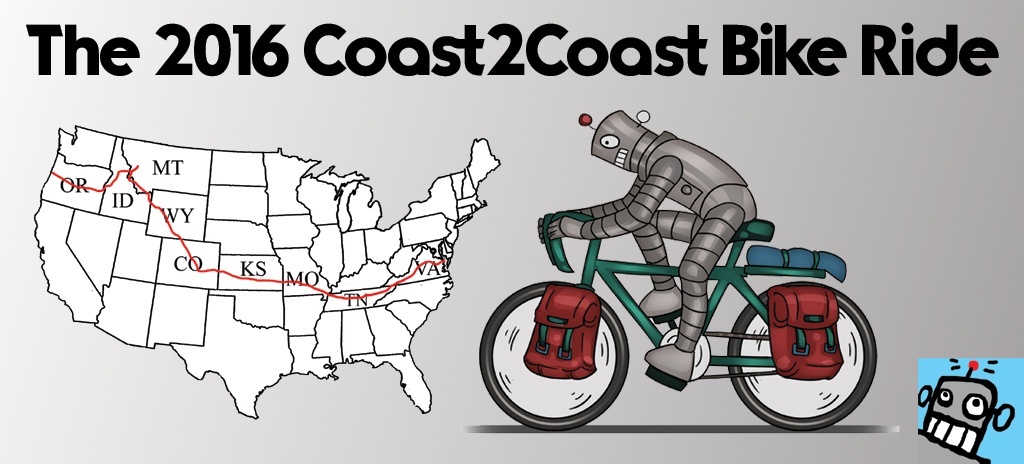 Click Here to Visit The Table of Contents
Click Here to Visit Previous Page:  Working On The Farm – Day 42
Click Here to Visit The Next Page: Easy Day to Canon City – Day 44
Day 43
Pueblo, CO To Pueblo, CO
July 5, 2016
15.1 Miles for the day
2,225.5 Total miles for trip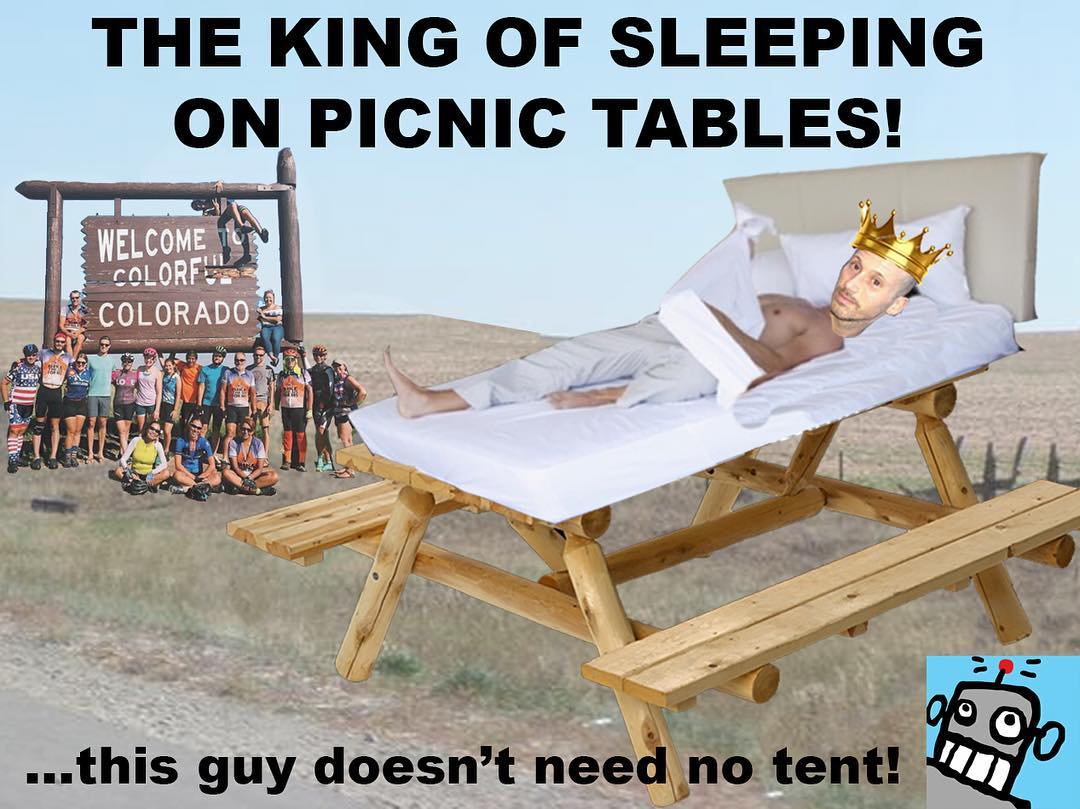 In the morning I woke up and photoshopped this picture me sleeping on picnic tables. Photoshopping dumb shit is like therapy for me. I need to figure out a way to make a living photoshopping stupid pictures. I think part of why I'm uniquely qualified as a blogger is because, I can photoshop anything. Photoshop is my #1 marketable skill. I suck at everything else in life.
As we were about to check out of our hotel room Austin lost the keys to his 2 U-locks. The dude is carry 2 steel u locks. His bike got stolen recently and he's neurotic about getting his bike stolen while on tour. I don't give him shit about the U-Locks, because he's been locking my bike too. He eventually found the keys, crisis averted.
The plan for today was to ride out of pueblo. But both of us had a bunch of errands to run. I needed to hit the post office, Walmart and make some progress on the blog. People are starting to think, I'm dead because I haven't updated.
Back in Knoxville I lost my debit card and new one was supposed to be waiting for me at the Pueblo, post office. Unfortunately, The post office couldn't find my debit card. Not the end of the world. I have other cards. I'll figure it out.
I left my flip flops at Gillian's so I stopped at Walmart for new ones. It was shit show. Everyone inside was super annoying and I hated every minute being there.
On my ride to meet Austin at the café, several drivers were trying to push me off the road. I smacked the side of some dudes van, who was trying to push me off the road and yelled "WTF" By the time I got there I was kind of a nervous wreck. I told Austin I wasn't in any mood to ride out and just needed to relax.
I sat in the face and cranked out a few blog posts. While I was there my friends from the Bike The US For MS showed up and I saw Colin (from Me, My Bike and A Camera) and Celine who I met at Gillians. I chatted with them for a bit.
After a few hours of work I texted Austin with: "Let's go drink beer!" and he was down. That's Austin's favorite sentence. He met up with me at the café and we head over to the brewery.
When we got to the brewery there was a touring bike parked in front. A guy ran out and introduced himself as Eric and started asking about our trip. He was a warm showers host and was already hosting a transam cyclist tonight. He asked where we were staying and when we told him we didn't know yet, he said, "Yeah, you'll probably be staying at my house tonight."
Inside we met James another cross country cyclist. Eric told us some really amazing stories about all the cyclist he has hosted through the years. Eric has met a lot of cyclists and knows a lot about the trail. From the stories he was telling us, I realized it was an honor to be hanging out with this guy. Not only is he hilarious, he is kind of a legend.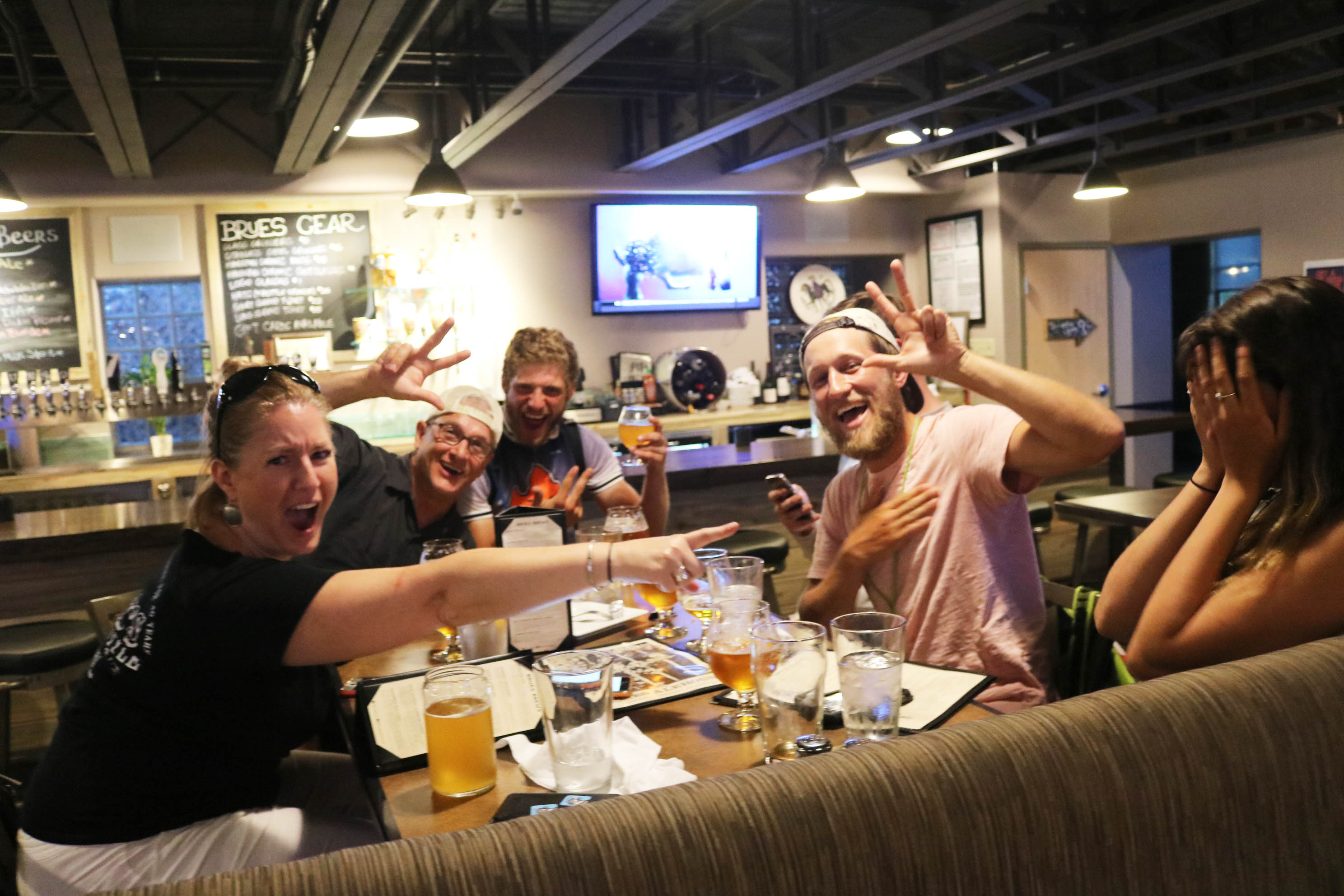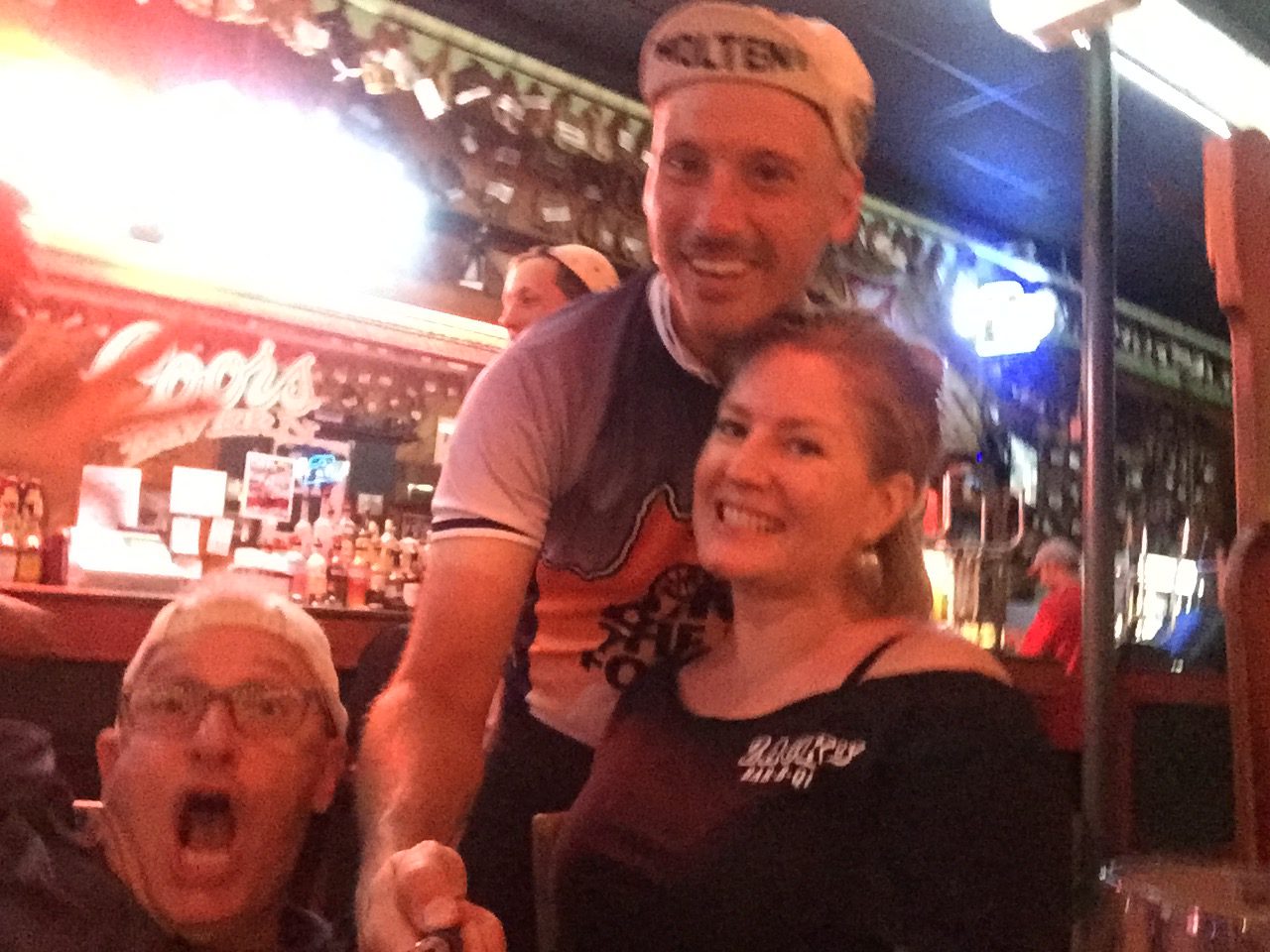 All of us wanted to keep drinking beer, so we moved the party over to the Ale house. Eric's friend Kirsten joined us and Colin (from Me, My Bike and A Camera) and Celine also joined the party.
When we got to the Ale House, one of the cooks came over and introduced himself to us. He told us all about how he loves cross country cyclists and how he has been hosting cyclists on warm showers. He bought everyone at our table a round of drinks. What a guy!
2 days ago at Gillians, Colin and I were talking about warmshowers and there was a strange profile for a chubby Latino in Pueblo and we had a good laugh about it.
After the cook left, I made the connection that he was the Chubby Latino, AND HE JUST BOUGHT US AROUND OF DRINKS!!!!!
After having more fun then anyone else in the Ale House, our crazy party moved over to a dive bar, where we drank beer with tomato juice mixed into it, from giant goblets.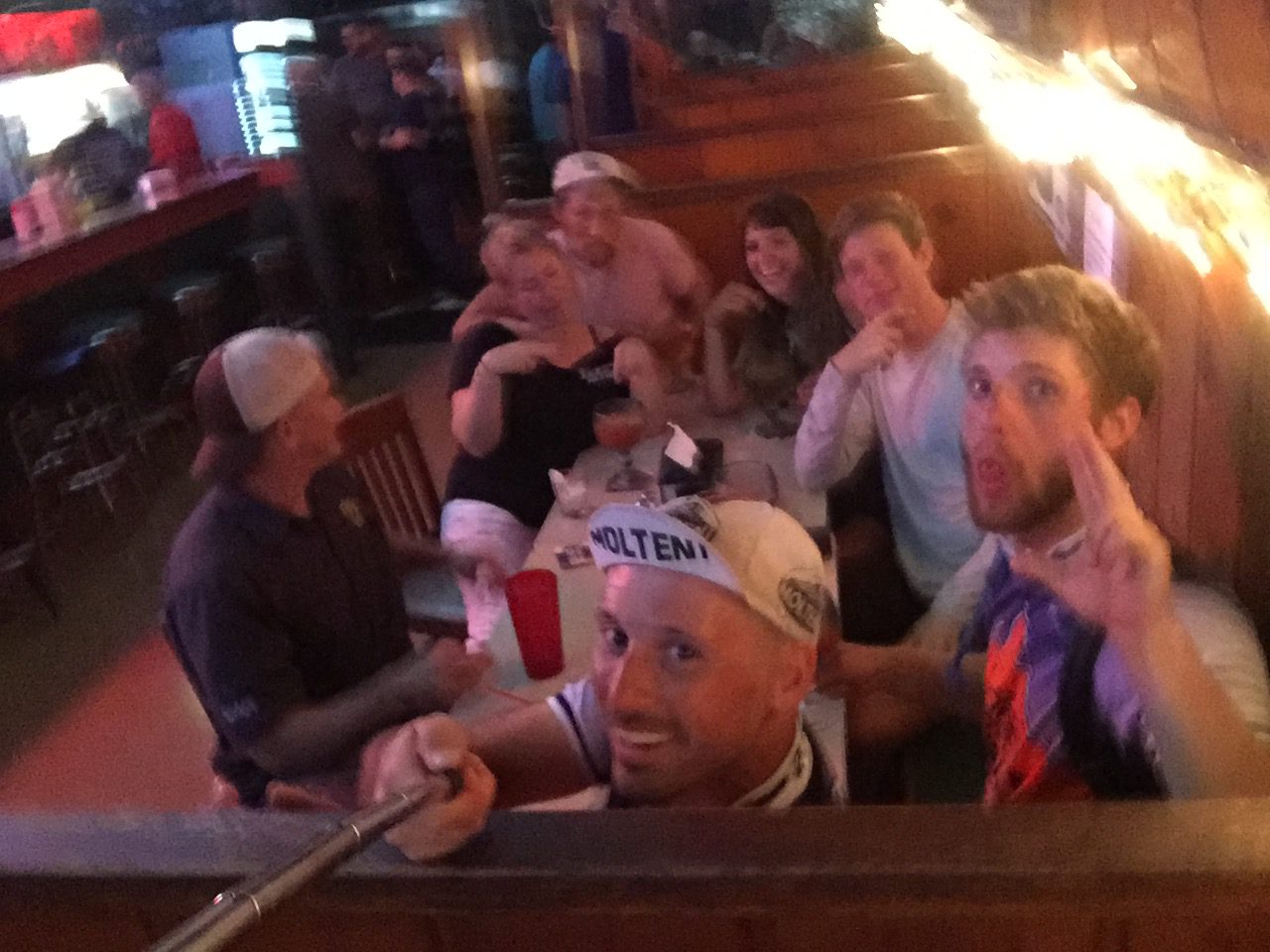 Eric had to be in Cheyenne Wyoming in the morning otherwise this fiasco would have kept going through the rest of the night.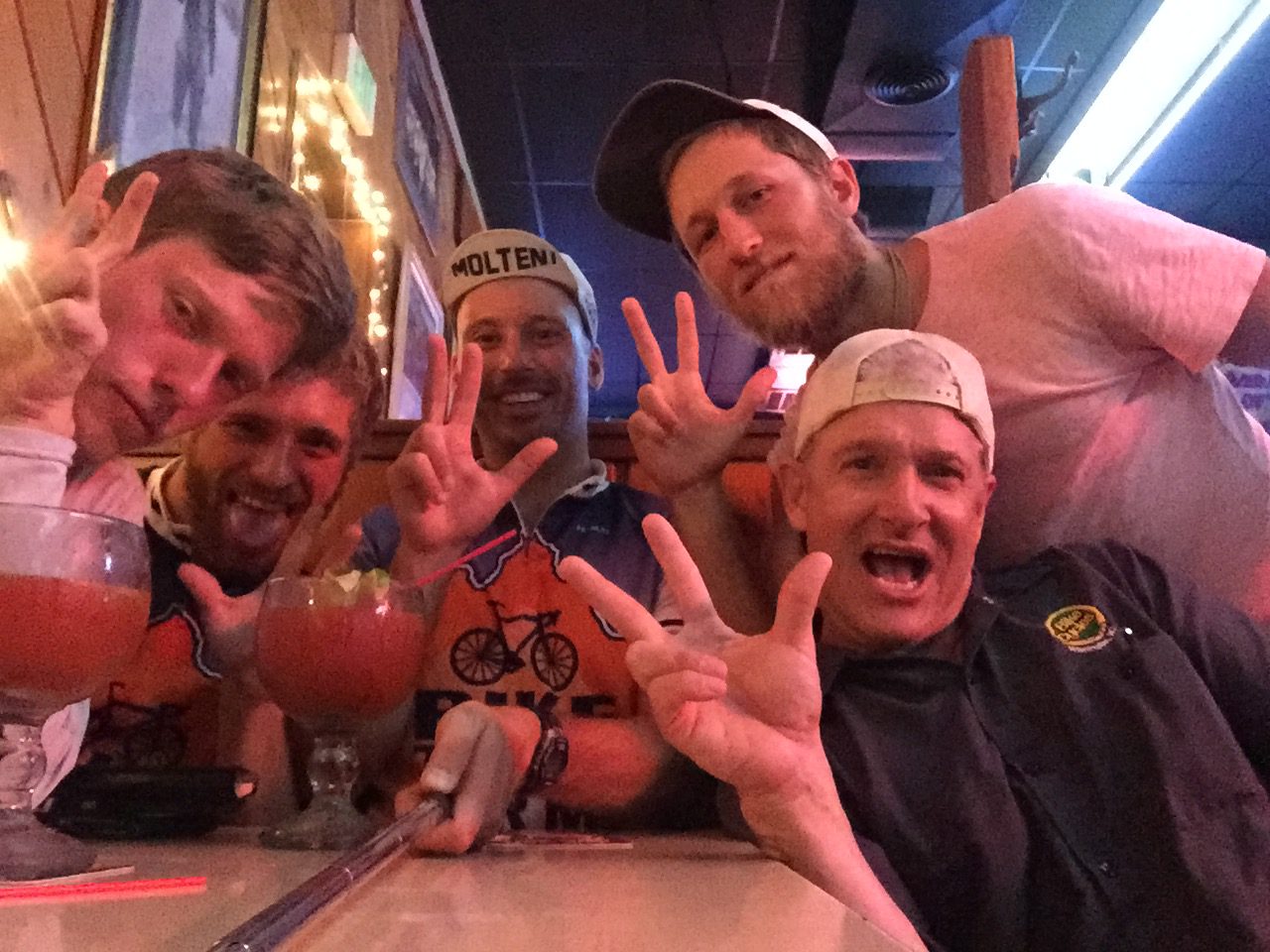 Back at Eric's house I got into a long discussion with James about bike touring. James is crazy. He's riding an old Peugeot bike that has no modern upgrades. His wheels are super heavy and rims are steel. He's carrying half the gear Austin and I are carrying and averaging 100 mile days. The guy is an animal.
Eric owns a stretch limosine for some reason. He said he bought it at an auction really cheap. Apparently he used to drive it up to the ski resorts and tell people that Shaun White was inside the limo.  Austin and I decided that we were going to sleep in his stretch limousine. I have slept in a lot of weird places, but never a stretch limo.  This is a first.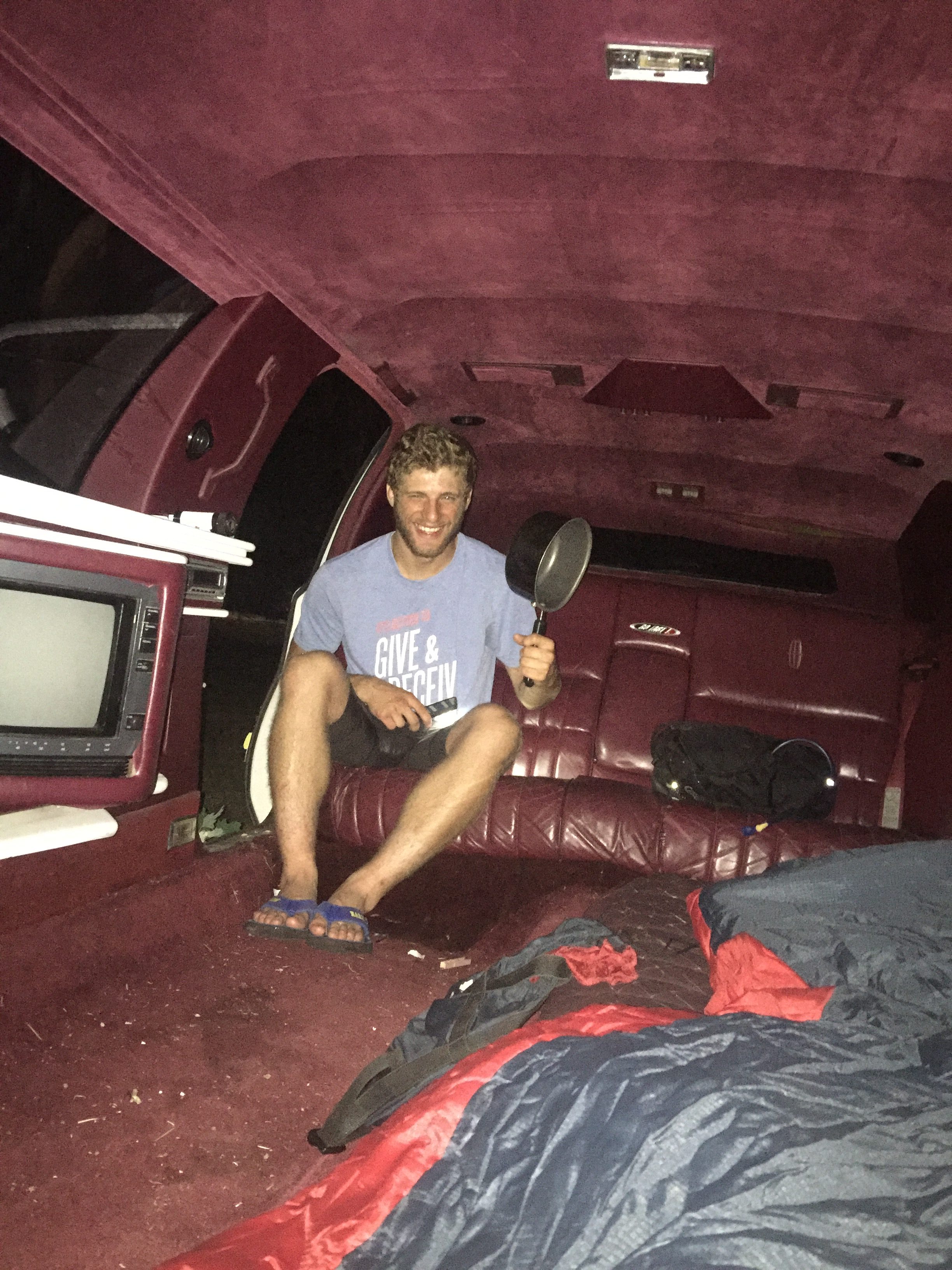 The night ended with Austin getting into the limo with a big sauce pan in his hand and he goes "Alright Dude, I brought the pot!" I laughed until I fell asleep.
I'm glad we took today off. I needed a good party. I was kind of wiped out and needed to get caught up on blogging work. I'm spending too much time writing this blog when I should be cycling or drinking beer. It's at the point where I'm spending about 2 hours per day blogging about the trip. But I'm having fun writing it. If you've been reading thanks for following along.
I feel like I need to keep writing and capturing video. I can always edit the video after the trip is over, but I can't do the writing after the trip is over. These bike trips move so fast, I need to focus my energy on the writing and capturing the days. All of the other stuff I want to do, can wait until the trip is over.
Click Here to Visit The Table of Contents
Click Here to Visit Previous Page:  Working On The Farm – Day 42
Click Here to Visit The Next Page: Easy Day to Canon City – Day 44