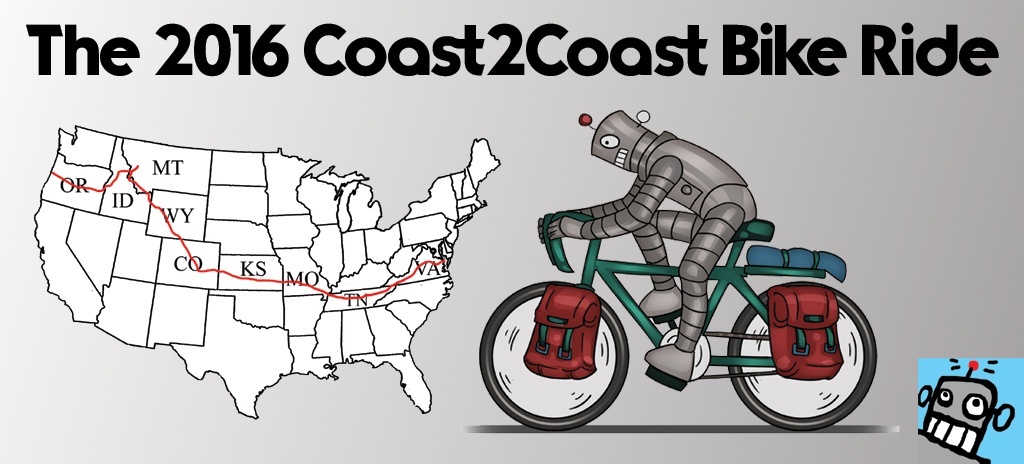 Click Here to Visit The Table of Contents
Click Here to Visit Previous Page:  Punching Cattle From a Jack Rabbit – Day 39
Click Here to Visit The Next Page: 130 Mile Day With A Bob Potter Cameo Appearance – Day 40
This summer I am meeting a ton of great cyclists on the road, many of which are also journaling like maniacs. After this trip is over, I may have to get an office job so i can get caught up on reading all these bike journals.
As I keep meeting more people I will add them to this list.
The Great People (…with websites) Who I Met on The Road This Summer:
The Powerful Austin Robinett
Austin and I met at the Newton Bike Shop and have been traveling together on and off for a few days at a time. We have a ton of fun with each others company.  Austin's journal is Cycling For Change and his Instagram is https://www.instagram.com/c4c2016/ 
Ephraim's Chicago to Seattle Ride
I met Ephraim on Day 1 of this trip on the Virginia Cap Trail, when I was cycling with Laura and Sam. He told us on the trail he was leaving in 2 months to ride from Chicago to Seattle, mostly on the Northern Tier. Well, Ephraim is now on the road and blogging all about this trip.   http://eseidman1.wix.com/chicagotoseattle2016   ….Also check out the post he wrote about our stay with him. 
Michael Morales
I first met Mike at the Newton bike shop and traveled with him for several days during the trip. It's been great getting to know him. http://www.crazyguyonabike.com/doc/17702
Emily Keane
Emily is apart of the Adventure Cycling group. Her and I have been following each other since before the bike tour began, it was cool to get to meet her in Wyoming. http://transamem.tumblr.com/ and her instagram is https://www.instagram.com/emkeane14/
Don from Pennsylvania 
I met Don at the Newton Bike Shop. Super cool dude. https://ridingdownadreamblog.wordpress.com/ 
Sven and Leslie 
I met Sven and Leslie very briefly in Kansas, but I've been following their trip and really enjoying their journal. https://l7biketouring.wordpress.com/ 
Colin 
I first met Colin and Celine at Gillian's in Ordway and traveled with him till Guffey. I had a lot of fun hanging out with them in Pueblo, Cannon City and Guffey. http://www.memybikeandacamera.com/ 
King Oleg
I met Oleg at the Newton Bike Shop and he is hilarious! He's headed to the Grand Canyon, I think. He isnt blogging but his instagram is at https://www.instagram.com/grocerybaghead/ and I've been following his trip since I met him in Kansas.
Jimmy and Jeff's Bike Adventure 
I met Jim and Jeff in Larned, Kansas and camped with them in the park. They are eastbound headed to Virginia.  https://jimmyandjeffsbikeadventure.wordpress.com/
Some Other Great 2016 Journals From Non-Transam Riders:
Ryan Conaughty's Northern Blues
I love this guy. When he finished his transam ride, I drove out to the Oregon coast to camp with him for a night. This summer he's riding the Northern Tier and killing it. I've reading bits and pieces of his trip and i cant wait to sit down and read the whole thing. http://www.crazyguyonabike.com/doc/northernblues  The Ryan Conaughty 2008 Transam Journal is also one of the best Transam journals I have read!
Joy Santee and Jeff Lee
My Friends Joy and Jeff from Crazyguyonabike are cycling The Great Divide trail this summer. Like Ryan Conaughty, this is another journal i cant wait to sit down and read. https://medium.com/@6502rules 
Some Classic Bike Touring Journals
Team Northern Tier
Shameless self promotion, this is the Northern Tier Journal I wrote the summer of 2007 from Bar Harbor Maine to Portland Oregon. http://coast2coastbikeride.com/tnt2007/ 
MikeRiscica Coast2Coast!
Another shameless self promotion, this is the Trans Am journal I wrote the summer of 2005 from Yorktown, Virginia to Florence, Oregon. http://coast2coastbikeride.com/transam2005/
Bob Potter
Bob is my best friend. He attempted a transam ride the summer of 2007 and never finished. He still had an amazing experience and wrote a fantastic journal from that trip. http://www.crazyguyonabike.com/doc/BP3
Traipsing About
I became friends with Dakota about a year ago. He was getting ready to leave to cycling across Europe with his wife. He's been a huge inspiration for me for taking this summer's bike tour.  His website is definitely one of my favorites!  http://www.traipsingabout.com/ 
Jeff Armin
This guy kills it everytime! His pictures are top notch and it's really easy to get addicted to following each day of his trip. http://www.crazyguyonabike.com/doc/america
Click Here to Visit The Table of Contents
Click Here to Visit Previous Page:  Punching Cattle From a Jack Rabbit – Day 39
Click Here to Visit The Next Page: 130 Mile Day With A Bob Potter Cameo Appearance – Day 40